Espro Sports Cleaner Reviews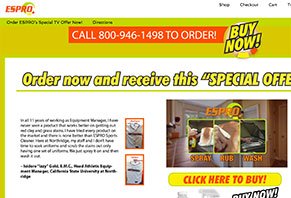 Espro Sports Cleaner claims to effectively remove stains and odors from sports equipment, carpeting, furniture, auto upholstery and interiors, and much more.
About Espro Sports Cleaner
Espro Sport Cleaner claims to remove dirt, grass, blood, grease, sweat, juice stains, and more—even if they're already set in—from uniforms, pads, shoes, gloves, and other sports equipment. On top of this, Espro Cleaner's Odor Guard is claimed to prevent and eliminate unwanted odors.
According to the company, Espro Sports Cleaner is versatile and safe on all fabrics, so it can also be used on carpets, furniture, everyday clothes (including silk), and even car upholstery and interiors. In addition, Espro is claimed to be environmentally friendly and made without butyl, bleach, or phosphates, so it's completely safe to use around children and pets.
Because of its ability to "make sports stains disappear," the company claims that Espro Sports Cleaner is used by over 100 college and pro teams, and is so simple to use that all you have to do is spray, rub, and wash (more about this next).
But with so many cleaners available on the market, many of which are available at local retailers, is Espro Cleaner worth your hard-earned money? Consider the following:
How Does Espro Sport Cleaner Claim to Work?
According to their website, Espro Cleaner works over 4 steps:
Spray the cleaner onto the stained area.
Rub into the fabric using a soft brush or cloth.
Allow Espro Cleaner to sit for 3-5 minutes.
Wash the clothing in your washing machine as normal. There is no need to use a special detergent.
According to the Espro website, you can even add the cleaner as an additive to your washing machine instead of the pre-spot process above, and you can also spray and allow to dry in order to remove odors, without washing.
Espro Sports Cleaner is also claimed to have a shelf life of 3 years, so you won't have to worry about it going bad.
Is Espro Cleaner Really Environmentally Friendly?
In short, outside of the manufacturer's claims, there's no way to know, since we're not provided with an ingredients list or a product label.
As such, we'll just have to take the company's word for it, although we didn't encounter any complaints about allergic reactions or staining from other customers (we'll talk more about this in a moment).
Other Stain Removal Options
Speaking of which, keep in mind that there are dozens (perhaps even hundreds) of similar products available on the market, many of which are less expensive than Espro Sports Cleaner, especially considering the non-refundable S&H charges (more about this in the Pricing section). To see for yourself, simply type "sports stain removers" into your favorite search engine.
In fact, these types of stain removers are so popular that you'll almost certainly find a variety of options at big box retailers near you, which could save you a decent chunk of change in lost S&H charges if you're dissatisfied.
Customer Opinions for Espro Cleaner
At the time of our research, there were 10 customer reviews for Espro Sports Cleaner on Amazon, with an average rating of 3.7 stars. There, common compliments referenced its ability to remove stains and its ease of use. Interestingly, many of the 5-star reviews came from accounts where this was their only review, which is often an indication that they may be fake.
However, some of the most common complaints referenced failure to work and failure to provide a complete list of ingredients.
In addition, there were five customer reviews on Walmart.com, with an average rating of 5 stars (as of 5/28/15). There, the most common compliments referenced that it works well and is easy to use.
Espro Cleaner is manufactured by Environmental Sports Products, LLC based out of Birmingham, AL, although the company wasn't listed with the Better Business Bureau at the time of our research.
Espro Sports Cleaner Pricing & Refund Policy
A 64oz bottle (good for "hundreds of uses") of Espro Sports Cleaner, plus a 42oz spray bottle, is priced at $14.99 plus $18.90 S&H.
For this price, you'll also receive 2 free microfiber cloths that trap dirt and absorb liquid better than regular rags, as well as a package of Espro stain wipes.
At checkout, you'll also be able to purchase the following additional products:
4oz Travel Size Bottle: $3.95
Espro Stain Wipes: $5.95
4 Additional Microfiber Cloths: $7.99
Note: You can subscribe to the company's newsletter for money-saving coupons.
Keep in mind that Espro Cleaner is also available at Walmart, Sam's Club, Amazon, and several other third-party retailers.
If purchased directly from the manufacturer, Espro Sports Cleaner comes with a 60-day refund policy, less S&H charges. This means that you'd end up losing much more in S&H charges than you'll receive as a refund.
If purchased from a different source, your refund details may vary.
In order to request a refund from the company, you'll need to contact customer service at 866-321-4243.
Can Espro Sports Cleaner Effectively Remove Stains?
Chopping to the point: As with any other stain removal product, how well it works depends on a wide variety of factors, including the type of stain (grass vs. blood, loamy dirt vs. red clay soil, etc.), how long the stain has been present, and more. As such, how well Espro Sports Cleaner works for you may not match what someone else experiences.
With this said, based on the fact that 1) we're not informed which ingredients it contains and 2) it comes with high, non-refundable S&H charges, we might recommend searching locally for Espro Cleaner, or another brand of sports cleaner.
At the very least, this could save you money in lost S&H charges and make the refund process easier if you're dissatisfied.
1 out 1 people found this review helpful

Amazing

By Kary Harrah

,

Houston, MO

,

Sep 23, 2017
Verified Reviewer

This stuff is really amazing! I have used it to remove old, dried-on stains from baby clothes that make them look practically new. It's removed blood stains that have been washed and dried several times using other ineffective products. It is the only pre-treat I use on clothing. It's great for cleaning sports shoes and smelly pet beds too.

It does not fade colors.

Bottom Line: Yes, I would recommend this to a friend

---

Best stain remover ever!

I have been scrubbing baseball pants embedded with clay for over 13 years. I tried everything, and someone told me about Espro. I have never used anything else since! You just spray it on and throw it in the wash. My son's pants are whiter than white for every game. It is worth every penny. A baseball mom's dream!

Bottom Line: Yes, I would recommend this to a friend

---

Advertisement

---

Awesome product

By Kimberly K.

,

Pittsburgh, PA

,

May 26, 2018
Verified Reviewer

This product is the greatest, my son plays on three baseball teams who all wear white pants, and they get filthy. With this product there is no scrubbing, no soaking - just spray and wash and his pants are bright white again. All the other moms have asked what I'm using and I have told them and also shared it on our web pages so our boys can all look their best. Thank you, Espro, for such a great product.

Bottom Line: Yes, I would recommend this to a friend

---

1 out 4 people found this review helpful

Does NOT work

By Carol

,

Little Rock, AR

,

Dec 3, 2016
Verified Reviewer

I have a 3 and 5 year old and they are stain magnets. Therefore I'm always looking for the best stain remover. This is NOT it! I bought a large bottle and continue to try it on different stains daily and it hasn't worked once. I am not exaggerating. Please mothers, don't buy this unless your goal is to remove imaginary stains.

Bottom Line: No, I would not recommend this to a friend

---

Advertisement

---