Eucerin Advanced Repair Lotion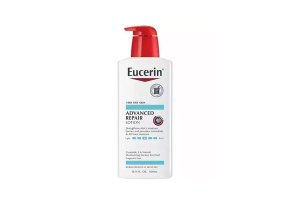 Summary
Eucerin Advanced Repair lotion claims to be an ultra-nourishing skincare product that will soothe dry, damaged skin and treat the symptoms of a variety of skin conditions.
Eucerin Advanced Repair Lotion Review
Eucerin's Advanced Repair Lotion is marketed as a breakthrough way to repair dry skin by providing it with 48-hours of moisture after a single application.
Per the company website, this skincare product is formulated with Ceramide-3 and other naturally moisturizing ingredients in order to strengthen the skin's moisture barrier so that it stays hydrated for the long term. And despite this skin cream's hydrating qualities, Eucerin claims it won't leave a greasy residue.
But will this lotion work as promised? We'll share the facts here so you can decide.
How Do You Use Eucerin Advanced Repair Lotion?
Eucerin is marketed as an ultra-hydrating daily moisturizer, meaning that it should be used by those who need more of a moisturizing boost than what you'd get from standard products.
The company recommends applying it all over your skin after you bathe or shower. As the formula contains alpha-hydroxy acids (AHA) that increase your skin's sensitivity to the sun, the brand suggests wearing sunscreen or protective clothing and limiting your sun exposure for at least the first week after using it.
We found that the FDA verifies this warning that products with AHAs can increase your risk of sunburns, and it lists other potential risks, including blisters, peeling skin, and general irritation.
Eucerin Advanced Repair Lotion Ingredients
Eucerin lists the full ingredients list for its Advanced Repair lotion online. We browsed through these ingredients, and found that the bulk of them act as emulsifiers, skin conditioning agents, fragrances and solvents.
Ceramide-3 is the lotions primary moisturizing agent. From what we learned from Truth in Aging, ceramides are plant-derived lipids that purportedly keep your skin hydrated. All four layers of your skin naturally contain this compound, and they work to create a moisture barrier that helps your skin maintain a hydration level.
There is some promising initial research in the Journal of the European Academy of Dermatology and Venereology that applying ceramides topically can improve your skin's moisture levels by restoring the skin barrier, but more extensive studies are needed to confirm these findings.
A few other ingredients caught our attention when we researched them on the EWG Cosmetic Database and Consumer Labs, two leading databases for determining the safety of cosmetic ingredients:
Cyclomethicone: This silicon-based cyclic compound is used as a conditioning agent in lotions, sunscreens, deodorants, and other skin products, but it can cause environmental toxicity in too high of concentrations.

Shea Butter: Used as a key conditioning agent in Eucerin products, shea butter is a natural vegetable fat that acts as an emollient on the skin to improve hydration. According to Healthline, shea butter has anti-inflammatory and healing properties for the skin when applied topically, partially thanks to its vitamin K concentration.

Lactic Acid: As an alpha hydroxy acid, lactic acid is a natural bioproduct of bacterial fermentation and is a common ingredient in skin moisturizing products thanks to its anti-wrinkle characteristics.

Histidine: Your body can make its own supply of this semi-essential amino acid, but there's evidence that people with rheumatoid arthritis have naturally low levels, and that supplemental treatment (both orally and topically) can improve its symptoms.
After looking through each ingredient within this lotion, nothing stood out to us as having the potential to trigger adverse side effects. This fits the customer response we saw in reviews, as we didn't read any reports of rashes, irritation, or other skin problems from using the product.
Eucerin Advanced Repair Lotion Cost
At the time of writing, the Eucerin lotion line is sold by several retailers, including Amazon, Walmart, Target, Rite Aid, and others. The price varies by location, and we saw it listed for $8.04 to $11.95.
Because this lotion is sold by a number of retailers, there's no official return or refund policy. If you aren't happy with your purchase, you should take it back to the store you bought it from and learn about their specific return policy.
You can message the company directly through their contact page for answers to specific product questions.
What Do Customers Think of Eucerin Advanced Repair Lotion?
We looked at reviews of Eucerin Advanced Repair Lotion on Amazon, Walmart, and the company website to see what customers think of it.
Amazon shoppers awarded the lotion 4.6 stars, while Walmart reviewers were less generous with a 3.8 rating.
We found that the majority of reviewers seemed to think the cream offered real skin moisturizing benefits and that it kept their skin hydrated for most of the day.
Others praised how easily the lotion went on their skin and that they appreciated that it didn't have a strong fragrance. Our research showed that many people with skin problems such as ichthyosis or eczema used the lotion daily to great effect.
The biggest drawback we noted in these reviews was that many people found that the lotion left a sticky residue on their skin, often for hours after applying it.
Some people commented other Eucerin products absorbed quickly into their skin but that the Advanced Repair lotion acted more like Vaseline, meaning that it lingered until they washed it off.
Notably, we didn't notice any complaints that could be attributed to the lotion's AHA content.
The Bottom Line: Is Eucerin Advanced Repair Lotion Worth It?
Now that we've covered the basics of Eucerin Advanced Repair Lotion, do we think it's worth it? That answer is yes, but only if you have the kind of skin that demands it. Eucerin offers a broad range of skincare products, and this lotion is designed to be a heavy-hitter from a hydration standpoint. It might be too much for most people.
We can verify that because the biggest complaint we noticed about the lotion was that it was too hydrating- meaning that the skin couldn't always absorb all the product and it left a heavy film on some user's skin.
This might make the product a poor choice for anyone looking for a general use daily moisturize and don't need extreme levels of hydration. While the company claims their lotion won't leave a greasy residue, customer experiences seem to show otherwise.
On the other end of the spectrum, those who suffer from dryness or other skin conditions are likely to find that this product works for them. There's evidence from at least one clinical trial that ceramide-3 can restore the skin's moisture barrier, a customer reviews show that many people found this lotion worked better than anything else they had ever tried.
From a price perspective, it's hard to find a lotion that's a better bargain than this, so we think Eucerin Advanced Repair Lotion is worth experimenting with if you are struggling with dry skin. If that's not your concern, consider looking at the rest of the Eucerin skincare line to see if they offer something more suited to what you're trying to address.
Customer Reviews