Eufy EverCam Reviews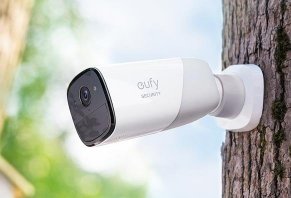 The Eufy EverCam boasts the ability to last up to a year on a single charge, along with easy setup, iOS and Android app connectivity, and facial recognition technology.
About Eufy EverCam
The Eufy EverCam is packed with potentially useful features like wireless functionality, 1080p HD resolution, a one-year battery life, facial recognition alerts, bank-grade encryption, and night vision and live streaming—all without having to worry about contracts or monthly fees.
In addition, it's ready to go right out of the box and can be easily set up using the included magnetic or screw mounts. Together, with its IP66 weatherproof rating, free local storage, and motion detection, the company advertises you'll get everything you want, with none of the hassles.
Considering that the Eufy EverCam is currently undergoing crowdfunding, is it wise to place an order and then exercise your patience? Or, are there competitors that might provide a similar level of value, but which are available now? Keep reading, and we'll help you learn more.
How Does the Eufy EverCam Work?
Eufy's EverCam security camera is about 4.2" long, 2.2" high, and 2.2" wide. According to the device's Kickstarter campaign, it's constructed from a "cutting-edge ASA composite material, which offers unrivaled strength and protection against the elements," whether indoors and outdoors. It weighs 13 oz and can withstand temperatures ranging between -4°F and 122°F.
EverCam's 140° wide-angle lens promises to offer a panoramic view of wherever it's placed. With the large f2.2 aperture and night vision, you'll also be able to record crystal-clear footage, regardless of the time of day, and whether in the backyard, living room, nursery, entrance, or anywhere else.
Taking a Closer Look at EverCam's Core System
Overall, there are five main components in a bare-bones EverCam System:
1. Eufy EverCam
2. Home Base – A rectangular 5" x 5.1" x 2.7" box that "relies on proprietary power-saving Wi-Fi and low-frequency wireless protocols [called 'HybridWave Communication] in order to reduce power consumption and to establish a secure connection."
In other words, it connects to the EverCam via your Wi-Fi network and uploads any data (i.e., video) it contains. This way, Eufy claims it reduces EverCam's power consumption by up to 70 percent, thereby allowing its Anker battery to actively operate for up to one year on a single four-hour full recharge or up to three years in Standby Mode.
One Home Base unit can support up to 16 cameras and 34 sensors simultaneously, from up to 300 feet away (direct line of sight).
3. Entry Sensor – According to the EverCam FAQ, the system's top-of-the-line, 0.09" x 0.15" Sony Exmor sensor can detect moving objects from as far away as 25 to 30 feet (8-10m), depending on the height and angle. It can also operate for two years using the included CR123 battery.
Once motion is detected, EverCam promises to help reduce false alarms by up to 95 percent using a three-step scanning and filtering process (more in a moment). Recording time can be configured to anywhere between five and 300 seconds, although it will immediately continue recording past this time if a movement is still detected. Users can live stream and make recordings on a desktop web browser.
4. Magnetic Mount – Can be installed quickly in almost any location, and also provides the ability to easily relocate and make angle adjustments as needed.
5. Screw Mount – Offers much of the same adjustability as the magnetic mount, but with additional stability and security.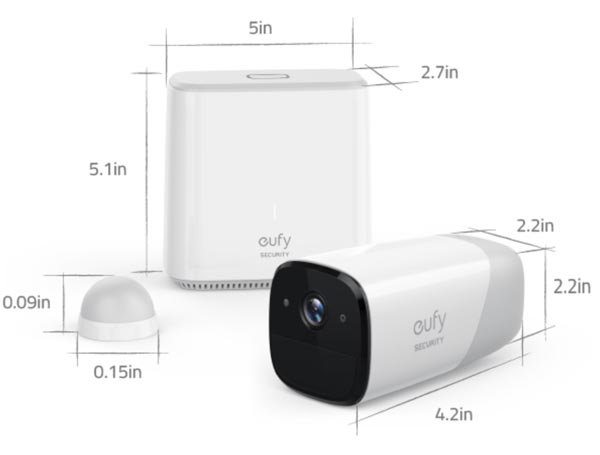 Here, we can see three core parts of the eufy system (mounts not pictured), including the EverCam (right), Home Base (center), and Sony Exmor sensor (left). Credit: Eufy Security
With these high-level details in mind, let's zoom in and take a closer look at each component.
EverCam's Recognition and Alerts
Here's how EverCam's three-step scanning and filtering process works:
Step 1: Passive Infrared Motion (PIR) Detection – If an appropriate combination of motion and body heat is detected, this will trigger recording within 0.6 seconds. Note: The website indicates that in some instances, this can be triggered by animals and even car exhaust.
Step 2: Human Detection – Here, Eufy's A.I. technology will analyze the figure and determine whether or not it's human. It does this using a deep neural network (DNN) that's designed to filter out irrelevant patterns and analyze only pertinent data.
Step 3: Facial Recognition – If a human is identified, a dedicated AI engine matches the person's face with a local database (which is updated via the cloud) built into the hardware to determine if it's 'trusted.'
After this process is complete, you'll receive a notification according to your security level preference. You can also set Scenes to mute alerts at a specific time. Users can set EverCam to not send notifications when trusted persons are detected.
EverCam Storage Capacity
All recorded footage is sent to your local Home Base, where it's stored on an included 16GB microSD Class 10 card, and can also be accessed via the smartphone app.
While you can purchase a larger capacity card from other retailers (it can support up to 128GB), the company advertises that this is enough to "store 12 months worth of videos for a system with 1 camera, or 6 months for a system with 2 cameras (10 motion detections a day and 30 seconds recording each time)."
You can also sign up for Eufy's fee-based cloud storage plan, although they don't have plans to support third-party cloud storage.
EverCam's Long-Lasting Battery
Eufy tested the EverCam at 10 motion detections a day, with 30 seconds recording each time, and found that it can last up to one year on a single charge, accomplished via USB. Similarly, if the power is cut, the Home Base will continue operating on auxiliary power for up to two days.
Eufy EverCam Security
All data recorded by EverCam is secured with AES 128-bit encryption. The microSD card can only be "inserted into the Base Station it's registered to, and you are logged on to the account tied to the Base Station. So that means you and only you can access the data."
After receiving an alert, the built-in microphone and speaker provides the ability to directly to communicate with whoever you're looking at on your smartphone. And if your EverCam is forcibly removed for any reason, a 100-decibel siren will sound.
Support and Home Automation
Upon release, EverCam will feature full Alexa support, allowing you to control it using voice commands, like "Alexa, show me the front door" if you have an Amazon Echo Show, Echo Spot, or Fire TV. It will also feature support for Google Home.
Apple HomeKit support is under development, and Eufy reports that "IFTTT support is confirmed but will be available with a software update after shipping."
On the other hand, their FAQ emphasizes that they don't plan to support SmartThings, Wink, or Nest; home automation platforms such as Home Assistant or Blue Iris; SMB/FTP/ONVIF/CFIS; or Detection Zones.
Taking a Closer Look at EverCam's App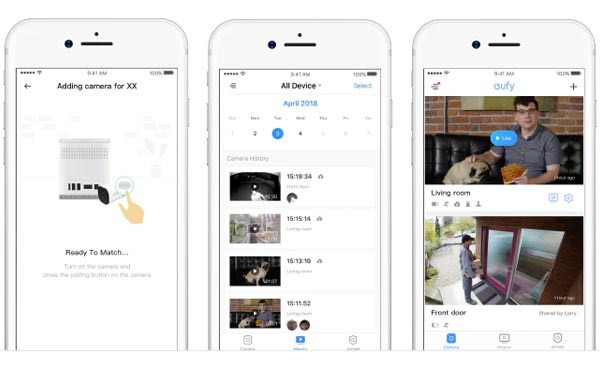 Screenshots of EverCam's app taken from their Kickstarter campaign, which promises to provide on-the-go access to all its live and recorded media. Credit: Eufy Security
While the EverCam app wasn't available yet on Google Play or iTunes, the website advertises that you can be set up in less than 10 minutes, with access to live streaming video, previous recordings, and multiple cameras, all from your smartphone.
How Much Does Eufy EverCam Cost?
EverCam is currently only available via a Kickstarter campaign ending June 5, 2018, with pledges ranging between $219 (one camera) and $329 (two cameras). The expected shipping date is September 2018 to backers in the U.S., Canada, and 28 European Union countries including the U.K.
This price includes related VAT, customs duties, and shipping costs, along with the following components:
Eufy EverCam
Home Base
Magnetic Mount
Screw Mount
Power Adapter
USB Charging Cable
Ethernet Cable
16GB microSD Card
Optional cloud storage is priced at $2.99/month per camera.
While Eufy provides a one-year warranty on all EverCams (including the battery), keep in mind that Kickstarter doesn't offer refunds, which must be handled directly by the campaign creator.
Eufy EverCam vs. the Competition
If your only goal is to purchase a wireless, Wi-Fi enabled security camera, you'll find dozens available online, with some models priced as low as $40. Furthermore, you'll find that many of these options boast the same core features as EverCam, including high-quality recording (5MP+), motion detection, wide-angle lenses, two-way communication, and night vision. Outdoor models also come with IP66 weatherproof ability.
However, if you're also looking for app access, Alexa and Google Home functionality, the ability to connect dozens of cameras and sensors to a single base, and a wide range of temperature compliance, your options will narrow considerably:
| Product | Price | Standout Features |
| --- | --- | --- |
| Eufy EverCam | $219+ | Not available until Sept. 2018, unique magnetic mount, one-year battery life |
| Arlo Pro 2 | $450+ | Can only accommodate 6 cameras, can also be powered via a solar panel, free 7-day recurring cloud recording, also works with Google Assistant, IFTTT, and Samsung SmartThings |
| Nest Cam IQ Outdoor | $298+ | Compatible with Alexa, not wireless, 4x optical zoom, monthly subscription required to access all features |
How can you choose between these options? Like most other consumer purchases, this largely depends on which features you deem most important.
For example, if the price is your primary concern, then the Eufy EverCam is clearly the least expensive. It also features a unique magnetic mount, but if you're looking for something to install soon, it won't be commercially available until September 2018.
On the other hand, while the Arlo Pro 2 is more than twice the price of EverCam, it comes with unique features like solar power ability, extensive home automation connectivity, and free weekly cloud recording.
And while the Nest Cam might represent a middle-of-the-road option from a price perspective, you'll also have to factor monthly subscription costs into your ongoing budget if a maximum functionality is at the top of your needs and preferences list.
Our Final Thoughts About Eufy EverCam
Based on the fact that Eufy also makes one of the most popular robotic vacuum models available (the RoboVac 11), it could be the case that their soon-to-be-released EverCam will offer the same level of value among consumers. Only time will tell.
But if you can wait until its release in September 2018, it seems to be the only one offering a year-long battery life and stick-anywhere magnetic mount (not to mention its facial recognition technology), both of which could come in especially handy if you need to place it in a location that would be otherwise inconvenient to access on a regular basis.
But even though EverCam comes from a popular, well-established company, it's important to keep in mind that no crowdfunding campaign is risk-free.
Bad product, bad support

By John S.

,

Fishers, IN

,

Mar 18, 2019
Verified Reviewer

I really hoped this camera system would work out as the features I read about were great, however, I couldn't get past the initial setup. The Eufy support team was undereducated on this product and provided no help after numerous calls and emails.

I would strongly suggest to avoid this product and go with one of the more established camera providers.

Bottom Line: No, I would not recommend this to a friend

---

Eufy camera 5 stars

By Dave L.

,

Cairns, Queensland, Australia

,

Feb 16, 2019
Verified Reviewer

This product is well worth the purchase.

I did my own individual analysis on the product prior to buying with much success in the states.

Eufy's person and facial recognition is second to none. Gone are the days of false reading animals or plants swaying in the background. With AI Technology you are instantly notified of any intruders so you can immediately take action and they stand no chance.

With the recent updates, Eufy has bugged out the motion sensors issues and is now a very capable product.

Bottom Line: Yes, I would recommend this to a friend

---

Advertisement

---

Eufy Security Camera - first use review

By Dennis H.

,

Barrie, Ontario, Canada

,

Dec 18, 2018
Verified Reviewer

I just received my two pack Eufy security camera and it was pretty easy to set up. The biggest challenge so far is the main one I have pointing on my driveway seems to pick people up very late and it just barely captures them before they go off screen and head down the walkway to my front door. I have the device set to maximum sensitivity but it just doesn't seem to pick motion up soon enough to create a meaningful record (in this case walking up the driveway). When you end up with short snippets of video versus longer stream of motion, it starts to feel like a wireless system comes with a big compromise to save battery life. The video quality is moderate and during the night with outside lights on maybe a C+ at best (nothing is really discernable and certainly would not be strong enough to identify any trespassers as evidence if necessary).

The other interesting thing is where they decided to put the charging plug if you choose to hardwire the power to the unit. It is right at the upper back and interferes with the fixed mounting bracket when installed on the underside of a soffit. Very strange that no one would have thought of the limitation with that placement.

Anyways, at this point, I am having a bit of a knot in my stomach about backing this product for the price I paid and wonder if it really is going to produce anything valuable.

Bottom Line: No, I would not recommend this to a friend

---