Eufy RoboVac 11 Reviews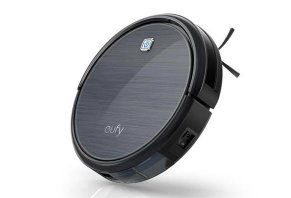 With five different cleaning modes, high-tech features like infrared sensors and a 90-minute Li-ion battery, as well as three-level filtration, the Eufy RoboVac is one of the most popular models around.
About Eufy RoboVac 11
The Eufy RoboVac 11 promises to combine many must-have features into a low-profile design, including a high-capacity Li-ion battery with up to 1.5 hours of runtime, a three-point cleaning system consisting of side brushes, a rolling brush, and powerful suction; along with one-click functionality.
The website also advertises versatile cleaning modes, infrared-based drop sensing technology, pet fur-busting high-performance filtration, and an anti-scratch tempered glass cover for protection.
While the RoboVac 11 might not be your first choice for thick pile carpeting, it's well suited for cleaning hard floors and thin carpet, and its automatic recharging functionality means that you won't have to worry about locating it at the end of each cleaning session.
Based on everything we learned during our research, combined with our past experience investigating robotic vacuums, we'll help you answer the main question in this article: How can you decide if the Eufy RoboVac 11 is right for you.
Taking a Closer Look at RoboVac 11's Specifications
Coming in at 12.8" W x 3.1" H x 13" D—or, about the size of a medium pizza—the RoboVac 11's low-profile design and swivel wheels allow it to slip underneath most furniture and obstacles, while the advanced (and quiet) brushless motor spins two side brushes underneath, as well as the front-facing rolling brush.
Underneath is also where you'll find the dust collector, infrared drop sensor (true to its name, the vacuum features a total of 11 sensors), and up to 1,000Pa of suction, which is routed through a triple filter system (two standard filters and one high-performance filter).
Together, Eufy advertises that the 6.66-pound RoboVac 11 can effectively clear hair, debris, and even small screws in its path, while the high-capacity Li-ion battery provides suction for up to 90 minutes.
On top is where you'll find the auto cleaning on/off button and tempered glass, with the pressure sensitive bumper in front for enhanced navigation.
While you can start cleaning automatically or schedule a session up to seven days in advance, RoboVac's Bounce technology "will go straight until it detects an obstacle and subsequently change direction. Different cleaning modes will cause it to take different paths." These modes include:
Automatic – After calculating the room's size, RoboVac will automatically select different modes until cleaning is complete.
Spot – If you have a concentrated area of dust or debris, the vacuum can "intensively clean in a spiral pattern."
Edge – Once a wall is detected, the vacuum will reduce its speed and then follow the wall.
Max – Starts cleaning using maximum suction power in Automatic mode, which Eufy advises is ideal for cleaning low-pile carpets.
Single Room – After confining RoboVac by closing a door and selecting the appropriate mode, it will continue in the same room until cleaning is complete. You can also use boundary strips to keep certain areas off limits.
Manual – This mode allows you to direct RoboVac using the remote control's directional buttons.
When the time comes, RoboVac 11 will automatically return to its charger and will take about six hours to fully recharge from zero to 100 percent.
Eufy recommends that you empty the vacuum's dust collector and clean the filter after each use. If necessary, the dust collector, filter cover, and foam filter can be washed with water and air-dried before reassembling.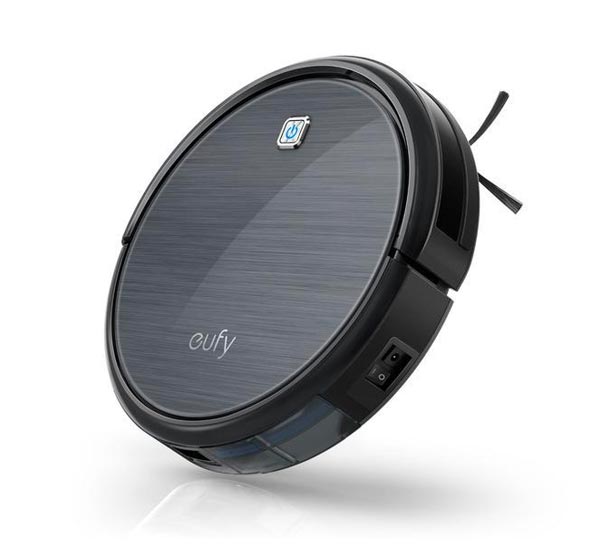 Including its scratch-resistant tempered glass top and low-profile design, the Eufy RoboVac packs a lot of must-have features into an affordable, no-nonsense package. Credit: Anker Innovations Limited
Despite all of these features, the manufacturer emphasizes that the RoboVac 11 is only for indoor use on dry surfaces (no sharp objects or other debris, either), including bare floors or "carpets with short, firm textures" less than 15mm/0.6in.
Even then, it shouldn't be used on extremely dark-colored floors, or around cables that can become entangled in the vacuum.
What Are the Differences Between the RoboVac 11, 11+, & 11C?
Everything we've covered so far applies to each of the RoboVac 11 models. However, as you move up the line, you might gain some useful additional features, depending on your needs:
| | RoboVac 11 | RoboVac 11+ | RoboVac 11C Pet Edition |
| --- | --- | --- | --- |
| Size | 12.8" x 3.1" x 13"; 6.66 lbs | 12.8" x 3.4" x 12.8"; 10.56 lbs | 12.8" x 3.4" x 12.8"; 11.62 lbs |
| Run Time | Up to 90 min. | Up to 100 min. | Up to 100 min. |
| Wi-Fi/App Connectivity | N | N | Y |
| Suction | 1000Pa | 1000Pa | 1200Pa |
| Special Features | 1 rolling brush and 2 side brushes, low-profile design, 4 cleaning modes | Power Boost Technology, upgraded 3-Point Cleaning System | Brush roll designed to reduce tangling, compatible with Amazon Alexa and Google Assistant, additional scheduling options, 16% larger wheels, can traverse ledges and clean medium-pile carpet |
If you choose the RoboVac 11C model, let's take a look at how it can link up with Eufy's iOS and Android app to potentially provide even broader functionality.
How Does the Eufy RoboVac 11C Pet Edition App Work?
The EufyHome app isn't unique to their robotic vacuums since it can provide access to all of the company's smart home devices.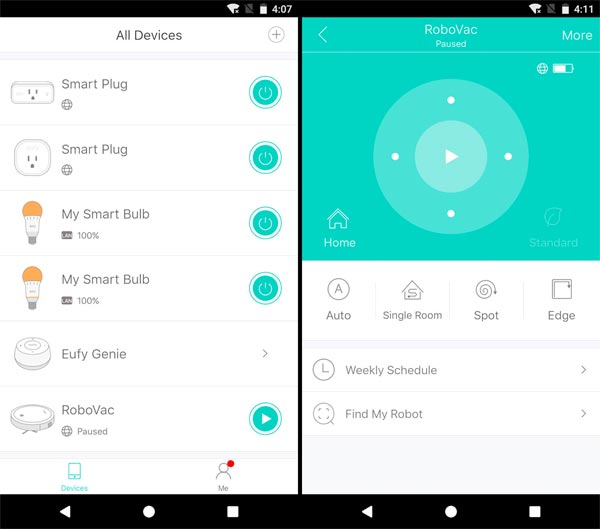 The EufyHome iOS and Android app provide remote access to most of the company's smart home devices, including the RoboVac 11C Pet Edition. Credit: Google
All you have to do is download the app, register an account with your email address, and add your RoboVac. According to their app listing, "if a device has already been set up by another family member, you can request control access to operate that device from that family member."
Then, once your RoboVac is successfully paired, you'll choose it from the device list and begin enjoying.
How Much Does the Eufy RoboVac Cost & Where Can You Buy?
We found all of Eufy's RoboVac 11 models for sale through Amazon, as well as select models through third-party retailers like Sears and NewEgg.com, priced as low as follows:
11: $250
11+: $230
11C: $300
Each device comes with a remote control that's powered by two AAA batteries, a charging base, AC power adapter, high-performance filter, four replacement side brushes, cleaning tool, and a Welcome Guide.
On Amazon, we also encountered the following replacement parts and accessories:
Rolling Brush: $11
Side Brushes (x4): $9
Replacement Filters: $10
While refund policies will depend on the specific retailer, the company also provides a 12-month warranty on quality-related issues—including return shipping.
In order to file a warranty claim, Eufy customer service can be reached at 800-988-7973 or support@eufylife.com.
What Can We Learn From RoboVac 11 Customer Reviews?
Between all three of the RoboVac 11 models, we encountered nearly 4,000 combined customer reviews on Amazon, who had cumulatively given the model lineup an average rating of about 4.5 stars.
There, most compliments revolved around effective cleaning, ease of use, quiet operation, and quality construction. On the other hand, the relatively few complaints often related to ineffective cleaning and lower quality than expected.
Professional websites seemed to have similarly high feedback for the robotic vacuum, with PCmag claiming it "sucks up dirt just as well as more expensive vacuum bots" and represents a "great value for the price."
And while TechRadar noted the RoboVac 11 "misses a lot of the high-end features such as room mapping and app integration," it noted it also "offers great cleaning performance and for anyone looking to get a cleaner on a budget, [it] will suit you perfectly."
From a company perspective, Eufy RoboVacs are manufactured by Anker Innovations Limited, who are based out of Shenzhen, China (with offices in Seattle). They've been in business since 2011.
Eufy RoboVac 11 vs. Roomba, iLife A4S, Deebot N79, and Shark Ion 750: How Can You Choose the Best Robotic Vacuum?
Searching online marketplaces like Amazon and Google Shopping, we found several robotic vacuum models competing in the same space as Eufy's RoboVac 11.
Not only were they priced similarly, but they also included many of the same core features, such as: Scheduling up to seven days in advance, three-fold cleaning (e.g., side brushes, front brush, suction), one-touch functionality, automatic return to station when running low on battery power, low-profile designs, Li-ion batteries, remote control functionality, low-pile carpet, and multiple sensor navigation systems, as well as many with two- or- three-step filtration systems.
Here were some of the top results and how they differed:
| Brand | Price | Core Features |
| --- | --- | --- |
| Eufy RoboVac 11 | $230 - $300 | 3.1" height, 100-min battery life, remote control (11C features app/smartphone control), 5 modes (including scheduling), 11 sensors, up to 1,200Pa of suction |
| Roomba 650 | $375 | 3.62" height, HOME app compatible via Wi-Fi, AeroVac Technology to address hair, pet fur, lint, and carpet fuzz |
| iLife A4S | $200 | 3" height, 140-min battery life, tangle-free brush roller |
| Ecovacs Deebot N79 | $195 | 3.1" height, 100-min battery life, 900 - 1000Pa suction power, smartphone app control, 3 cleaning modes (including manual) |
| Shark Ion 750 | $330 | 2.6" height, 60+ min of cleaning time, iOS and Android app functionality (including Amazon Alexa and Google Home), |
Despite the thousands of potential feature combinations, hundreds of different price points, and dozens of different manufacturers, the reality is that—like almost all consumer products—the 'right' option for you is largely going to come down to the factors on which you place the most importance.
Will you, for example, get nearly twice the value from Roomba 650, which is priced nearly double the iLife A4S? That might not be something you can answer in advance.
However, you can take a look at the nearly ¾-inch difference between each model's height and decide if this might make a difference in functionality in your home (such as moving underneath furniture and other obstacles).
On the other hand, if cost is one of your top factors, then the Deebot N79 is the lowest priced option above, followed closely by the iLife A4S. However, only the Deebot has app functionality (something that all models but the RoboVac 11C Pet Edition similarly lack), which could be meaningful if you place a lot of value on being able to access and operate your robotic vacuum while away from home.
Along these same lines, the Shark Ion 750 is the only model above that offers Amazon Alexa and Google Home functionality, as well as a middle-of-the-road price point. It's also the lowest robotic vacuum above at 2.6". But if battery life is your primary concern, it only offers about an hour of runtime before needing a recharge.
» For Further Reading: Best Robotic Vacuum Cleaners Buying Guide
Our Final Thoughts About the Eufy RoboVac 11
Here's the bottom line: Modern robotic vacuums utilize some advanced technology to automatically handle the mundane task of cleaning floors. But when it comes to choosing the 'best' model for you, it's not rocket science—in fact, it might simply come down to choosing your top three or four factors.
In other words, while not necessarily complex, buying a robotic vacuum is a highly personal process.
With all of this in mind, if you're looking for a sub-$500 robotic vacuum model with at least 100 minutes of battery life, two side brushes, a low-profile design, no-nonsense functionality, and a highly positive overall online reputation among customers, it might be difficult to go wrong with the Eufy RoboVac 11.
But if you live in a home with pets, paying a little more for the extra suction and specialized brush roll provided by the 11C Pet Edition might provide a great deal of added value.
» See Also: Vacuum Cleaner Buyer's Guide: 3 Steps to Finding the Perfect Vacuum