Everlance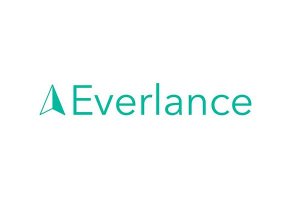 Summary
As one of the best mileage trackers on the market, Everlance provides an excellent user experience and a variety of relevant tools that make compiling mileage deductions simple.
Everlance Review: Is It the Right Mileage Tracking App for You?
Everlance is a mileage tracking app designed for those who need to track miles for their work so they can earn reimbursements or write the miles off as deductions during tax season.
The app is an efficient way to track miles for jobs in which you get repaid for mileage you travel for work and to track miles you can deduct when you file your federal tax return. No longer do you have to painstakingly write down the miles you drive and enter them into a spreadsheet.
The app is so effective, Everlance claims that the average user can record $6,500 in tax deductions each year.
Our in-depth analysis of this helpful app will equip you to make a smart decision about whether or not Everlance is the right mile tracker for you.
How Everlance Works
Signing up for Everlance takes less than five minutes. You'll be asked to provide an email address and a password, then you'll be taken to a page where you indicate if you are a W-2 worker or a 1099 worker. Freelancers and the self-employed fall in that second category.
I tested the app and chose the second category. I was then asked who I worked for. This page has several popular rideshare and delivery apps, including Uber, Lyft, Instacart and Doordash.
Once you choose your employer from these options or add a company that's not on the list, Everlance starts the automatic tracking.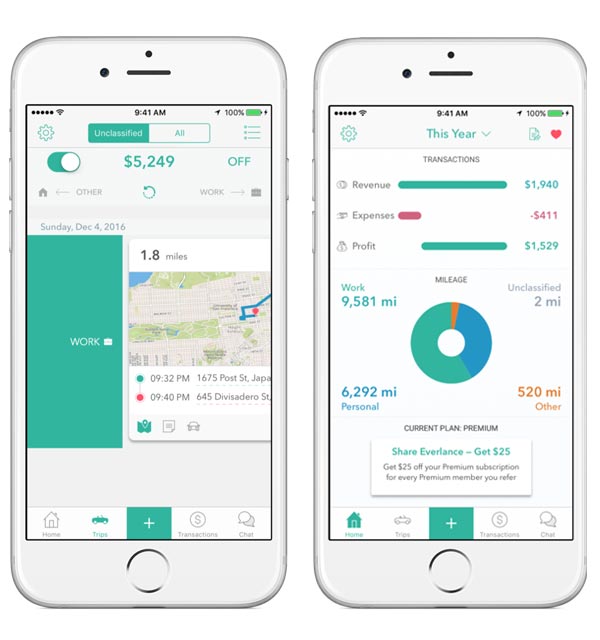 The app's home page has a menu bar on the left where you can access your trips, any expenses you've uploaded (more on that later), and add customizable options like favorite places and trips.
You also have the option of using the Work Hours feature, which lets you set work hours. Everlance classifies any trips taken within those hours as work trips and trips taken outside those hours as personal.
The menu also has an "Accountant" section where you can enter your CPA or tax pro's email and Everlance will send your end-of-the-year expense and mileage reports to him or her.
Test Drive
I wanted to know exactly how the Everlance mileage tracker worked, so I took a quick drive around my neighborhood and a few miles down the road.
What I really like about Everlance is that, once your trip starts, the app shows you a real-time map of the route you've traveled, the number of miles you've gone and the mileage reimbursement/deduction you're eligible for.
Once the trip is over, all I had to do to classify the trip is to swipe left if it isn't business-related and swipe right if it is.
Swiping left means you get to choose between a variety of options for why you took the trip, ranging from personal use to charity, medical or work-related moves.
If you're ever wondering how much you've earned in deductions, Everlance keeps a running total of your year-to-date earnings at the top of the screen.
Pricing and Features
Free Version
The free version of Everlance has the following features:
30 trips with auto-tracking
Receipt uploads
IRS-compliant reports
This package is a great fit for you if you take 30 trips or less per month and need a mileage tracker only, not a full-fledged expense tracker.
If you take more than 30 trips a month, you can still use the free version but you'll have to manually start and stop trip tracking. This is a drawback if you have a busy job that requires spur-of-the-moment driving, as you may have a hard time remembering to activate your trip tracking.
Premium Version: $5/mo
Everlance's Premium package includes:
Unlimited automatic detection
Receipt photo upload
Connects to your bank and credit card transactions
Advanced IRS reports
Tax Vault
Deduction finder
Live chat support
Phone support
This package is tailor-made for the self-employed. If that's you, then you'll appreciate unlimited automatic detection, a feature through which you never have to worry about manually starting or ending a trip.
Also, the app's advance IRS reports give you the option of printing reports for specific types of trips or all trips.
The Everlance Tax Vault feature will calculate how much you owe in taxes each month and make estimated tax payments on your behalf.
This feature is a huge help with freelancers and the self-employed, as the IRS requires you to make quarterly tax payments. Not paying enough taxes means you'll pay a fine and owe taxes when you file.
Additionally, the Premium version's deduction finder will sort through your connected bank or credit card transactions to find potential deductions you can claim on your tax returns.
Finally, if you're someone who likes to have on-demand support, Premium is the right fit. It gives you phone and live chat support, both of which will be helpful if you run into tracking problems and need a quick resolution.
Everlance vs. MileIQ, TripLog, and SherpaShare
| | Everlance | TripLog | MileIQ | SherpaShare |
| --- | --- | --- | --- | --- |
| Free version | Yes (30 trips/mo) | Yes | Yes (40 trips/mo) | No (two-week free trial) |
| Paid version cost | $8/mo or $60/yr | $4/mo–$6/mo | $5.99/mo or $59.99/yr | $5.99/mo–$10/mo or $59.99/yr–$120/yr |
| Manual tracking | Yes | Yes | No | Yes |
| Expense tracking | Yes | Yes | Yes | Yes |
| Phone support | Yes | No | Yes | No |
| Swipe-based trip classification | Yes | No | Yes | Yes |
| iTunes average rating | 4.9 | 4.7 | 4.6 | 4.5 |
| Google Play average rating | 4.2 | 4.7 | 4.4 | 4.4 |
Finding the app with the best mix of features and pricing doesn't have to be complex. Use the data we've presented in the table above to get a good idea of how much the popular mileage trackers cost and which features they offer.
Some questions to consider as you make your comparisons are:
Are you looking for a comprehensive expense tracker?
Do you plan to share your app's expense data with your CPA?
Do you work the same schedule every week?
Your answers will help you see which apps fit your specific situation.
» For Further Reading: The Best Mileage Tracking Apps
Analysis of Customer Reviews
In general, Everlance receives near perfect reviews in the iTunes store and a 4.2 rating in the Google Play store.
We read through those reviews and found the following trends, each of which can help you understand how this app performs in real life.
Common Compliments:
Customer support is very helpful when users report glitches
Excellent tool for business owners
Easy way to track miles
Common Complaints:
Trip detection starts and stops when you aren't driving
App freezes when opening
Misses trips
Updates rendered app unusable
Review Takeaways
If you're an Android owner, then you face a higher probability of app glitches and missed trips. Our advice is to consider paying for Premium. Numerous users said Everlance's support reps solved various types of app issues.
Also, because some users face glitches in trip tracking, be sure to check your recent trips to make sure your app is tracking as it should.
The Bottom Line
Everlance is an easy-to-use mile tracker with clear benefits in both its free and premium packages. Its host of features in the Premium package ensures that you have a fluid, simple way of tracking your business taxes.
Who It's Good For
You Want to Integrate All Your Business Expenses: Everlance's ability to track your miles and upload receipts and important financial transactions gives you a unified platform from which you can create reports.

Customer Support Is Important to You: The ability to have live chat and phone support makes Everlance a valuable app if you value responsive customer support.

You're a Rideshare Driver: Everlance's combination of customer service and unlimited mileage tracking means you take a set-it-and-forget-it approach to tracking your miles. Plus, if something goes wrong while you're working, you can quickly get in contact with customer support to resolve your issue.

You Need a Free Mileage Tracker: Everlance is the right choice for you because the free version creates an IRS-compliant report of all the trips you took. If you're using a CPA or the IRS audits you based on the mileage deductions you claimed, your mileage report will be an important document.
Customer Reviews