Everlance Reviews
As one of the best mileage trackers on the market, Everlance provides an excellent user experience and a variety of relevant tools that make compiling mileage deductions simple.
About Everlance
Everlance is a mileage tracking app designed for those who need to track miles for their work so they can earn reimbursements or write the miles off as deductions during tax season.
The app and many like it are popular with freelancers and the self-employed because it's an easy, nearly effortless way to record the miles you drive for work.
The company is based in San Francisco and was founded by Alex Marlantes and Gabriel Garza Rodriguez. Marlantes worked at two capital firms before starting Everlance with Rodriguez, who graduated from Stanford with an MBA in 2015.
The pair found pretty quick success, as Everlance has become one of the most popular mileage tracking apps around. The app has more than 5,000 reviews in the Google Play store and, at the time of publishing, nearly 2,000 reviews in the iTunes store.
As we've found out during our research, the leading mileage tracking apps all perform similar functions, so figuring out which one is best – Everlance included – requires testing out the apps ourselves and providing our observations.
This review will cover our experience with signing up for the app, how the mileage tracking works, what the app's fees and features are and how those compare to competitors like TripLog and MileIQ.
We'll end with two quick sections about what Everlance users are saying concerning the app and our final thoughts on the app's pros and cons.
How Everlance Works
Signing up for Everlance doesn't take but a few minutes. You'll be asked to provide an email address and a password, then you'll be taken to a page where you indicate if you are a W-2 worker or a 1099 worker. Freelancers and the self-employed fall in that second category.
I chose the second category. I was then asked who I worked for. This page has several popular rideshare and delivery apps, including Uber, Lyft, Instacart and Doordash.
Once you choose your employer from these options or add a company that's not on the list, Everlance starts the automatic tracking and you're ready to roll.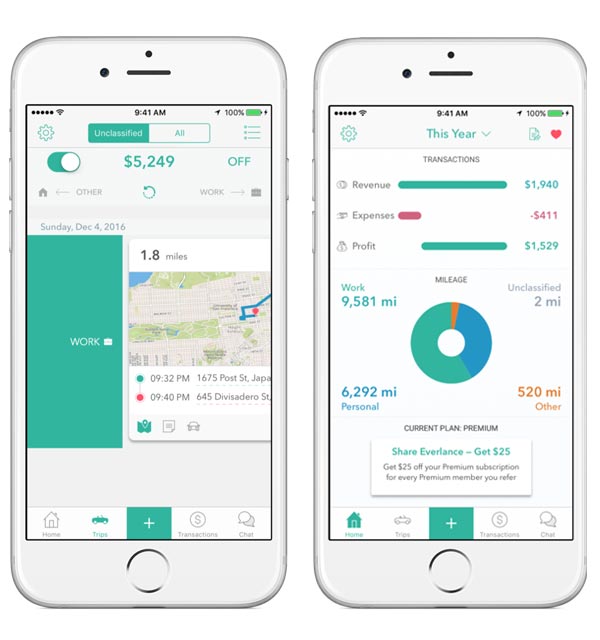 The app's home page has a menu bar on the left where you can access your trips, any expenses you've uploaded (more on that later), and add customizable options like favorite places and trips, along with work hours, a feature that we'll discuss later on in this review.
The menu also has an "Accountant" section where you can enter your CPA or tax pro's email and Everlance will send your end-of-the-year expense and mileage reports to him or her.
Taking a Drive With Everlance
We wanted to know exactly how the Everlance mileage tracker worked, so I took a quick drive around my neighborhood and a few miles down the road.
What I really like about Everlance is that, once your trip starts, the app shows you a real-time map of the route you've traveled, the number of miles you've gone and the mileage reimbursement/deduction you're eligible for.
You see, the federal government says you get a deduction/reimbursement of $0.545 per mile (at the time of publishing) for the miles you drive for business. This rule explains the running dollar total when Everlance tracks your trip.
Keep in mind that we tried the app's free version, which meant that it automatically tracked us when we started the trip but we had to manually stop our trip. With Everlance's Premium version, tracking automatically starts and stops (more on that later).
Once the trip is over, all you have to do to classify the trip is to swipe left if it's not business-related and swipe right if it is. Swiping left means you get to choose between a variety of options for why you took the trip, ranging from personal use to charity, medical or work-related moves.
If you're ever wondering how much you've earned in deductions, Everlance keeps a running total of your year-to-date earnings at the top of the screen.
Everlance's Fees and Features
Everlance has one upgrade option: Premium. You can pay for this tier either at a rate of $8 a month or as a $60, one-time payment that covers one year of using the app.
According to the information provided by Everlance's website and app, the main advantages of Premium is that you get unlimited tracking each month, whereas free users only get a maximum of 30 trips.
Another benefit of their Premium membership is that you get detailed PDF reports of your mileage and any expense spending. With the free version, you get an unsophisticated Excel spreadsheet that lists each trip you took, line by line.
Premium allows you to track your business spending through the app by entering data about your expenses, whereas Free allows you only to upload photos of business-related receipts.
We also noticed that the Premium version allows you to tell the app what your work hours are each day. So, whenever you take a trip during work hours, it's automatically logged as a work trip.
Everlance vs. Other Mileage Tracking Apps
To help you get a sense of how Everlance's pricing and features match up against similar apps, we've created a table to highlight the main points of comparison:
| | Everlance | MileIQ | TripLog | SherpaShare |
| --- | --- | --- | --- | --- |
| # of rides with free version | 30 | 40 | Unlimited | No free version |
| Monthly/yearly cost of paid version | $8/$60 | $5.99/$59.99 | $2/$20 or $3/$30 | $5.99/$59.99; Premium is $10/month |
| Manual tracking | Yes | No | Yes | Yes |
| iTunes average rating | 4.9 | 4.5 | 4.8 | 4.3 |
| Google Play average rating | 4.8 | 4.5 | 4.6 | 4.5 |
The first thing we noticed is that Everlance has the highest ratings in the Android and iOS stores. This is a testament to users' satisfaction with the app, which is something we'll cover in the next section.
Price-wise, Everlance's monthly payments of $8 are higher than the competition but the yearly fee is right there with MileIQ and SherpaShare.
The running deduction total is similar to what you get with MileIQ but MileIQ also includes the number of trips you've taken and the total miles you've driven.
While it's hard to say that Everlance is the unquestionable best choice, we do know that the user experience and the visible deduction amount push it ahead of TripLog and put it on par with MileIQ.
» For Further Reading: The Best Mileage Tracking Apps of 2018
Public Opinion About Everlance
At the time of publishing, the app had more than 5,200 reviews in the Google Play store. Its average score was an impressive 4.8.
Everlance's iTunes page boasts even better reviews, scoring an average rating of 4.9 stars from more than 2,000 reviews.
The fact that Everlance gets such high ratings in both stores means there's a good chance you'll be pleased with the app whether you're using an iPhone or an Android phone.
Final Thoughts: Pros and Cons of Everlance
As far as the user experience goes, we really like how Everlance features your year-to-date deduction total on the home screen and how you can see a running total of your deductions during a trip.
These running totals and real-time route tracking/deduction earning adds a sort of gamified element to the app. It's actually fun to watch your deduction totals rise as you drive.
The downside of the app is, in our opinion, the $8 monthly fee. While the number of business trips you take will probably pay that $8 back in the form of fewer taxes owed, we think it's a little high considering the competition charges either $2, $3 or $5.99 per month for their upgraded tiers.
The best way to decide if Everlance is right for you is to use the free version for a few days. We'll point out, though, that you can do a seven-day free trial of Premium, but you'll have to provide credit card information in order to do so.
If you aren't convinced that Everlance is right for you, feel free to download the apps we mentioned earlier in this review. Get a feel for how they track trips, which information they show on their home screen and how intuitive their features are.
» See Also: 12 Best Tax Tips for Freelancers