EverQuote Reviews
Claimed This company has claimed this profile, is getting alerted on any new customer reviews entering this page, and may engage in dialogue with its customers to address their matters.

Companies cannot pay money or provide goods in order to remove or alter customer reviews.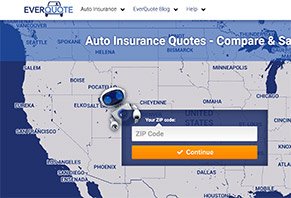 Advertising some of the biggest names in auto insurance, EverQuote's lead generation service promises to connect you with local agents who can help you save.
What is EverQuote?
In less than two minutes, EverQuote promises to provide you with fast, free, no-obligation online auto insurance quotes so that you can pay as little as possible.
EverQuote tells us that they research dozens of different insurance companies, such as Allstate, Progressive, Nationwide, Farmers, Travelers, and Liberty Mutual, match you with prequalified providers based on your need, and give you competitive rates to compare. All you have to do is enter your information, and they'll handle the rest.
Compared to the competition, EverQuote also offers free iOS and Android apps that claim to help you track your trips and become a better driver.
Sure, EverQuote sounds like they could help you save a lot of time, but is this actually the case? And if it is, what distinguishes EverQuote from other similar websites? Are there important factors you should keep in mind?
Here, we'll provide an in-depth look at what we learned about EverQuote during our research, as well as how this can help you make an empowered decision.
A Quick Look at EverQuote's Lead Generation Service
Calling hundreds of auto insurance carriers in an attempt to find the best rate would be a time-consuming process. So time-consuming, in fact, that it probably wouldn't be worth any savings you achieved.
Sure, independent agents can possibly help by providing multiple quotes through each of the carriers they represent. But how can you quickly and easily locate an agent in your area?
Enter lead generation websites. Without going into unnecessary detail, these types of websites gather a consumer's information and pass it along to individuals or businesses that might be able to meet the consumer's needs.
Based on this business model, lead generation websites are especially popular within the insurance industry (more next), but are also important in industries like financial services and lending (home loans, short term loans, etc.).
Specifically regarding EverQuote, they gather 42 pieces of personal information, including driving history, status, and insurance requirements.
Then, they deliver these real-time leads to no more than three agents in your area who are targeting clients that match your profile.
Specifically, agents can filter EverQuote's leads by risk profiles like driver age, insurance status, accidents, tickets, SUI and SR-22, homeowner status, and credit rating.
What makes EverQuote any different (or better) than all the other lead generation websites out there?
Are There Other Auto Insurance Websites Like EverQuote?
In addition to 'lead generators,' websites like EverQuote are often referred to as auto insurance comparison engines. This is a bit of a misnomer, though, since—in contrast to websites like The Zebra—you won't receive a quote after entering all of your information.
Instead, your details will be passed on to agents in your area who have paid for real-time leads. They'll then contact you to see if you'd like to obtain a formal quote through any of the carriers they represent.
It's only at this point that you'd receive a tangible quote on auto insurance.
With this in mind, there are perhaps hundreds of different websites offering the same essential service.
How can you determine which of these is right for you?
Your Quick Reference Guide for Choosing an Auto Insurance Lead Generator
In a past life, I spent nearly ten years working for a national insurance provider and an underwriter. During that time, I learned some important factors you should keep in mind if you're considering handing your information over to a lead generator:
Factor #1: You can contact an agent directly
When it comes down to it, the idea behind a lead generation website is that it can save you the time and hassle of contacting multiple local agents directly.
However, lead generators don't always vet the quality of the agents they sell to—or that they're even being sold to agents in the first place. As a result, it's like raising your hand in a room crowded with strangers and asking one of them to help with your insurance needs.
If this doesn't sound appealing, remember that you can just as easily type "auto insurance" into a search engine like Google, which will immediately display options by location. There, you'll also be able to read customer reviews and visit the agency's website to learn more about who you'll be dealing with.
Let's talk more about quality next.
Factor #2: Where does your information go?
If you take a look at customer complaints about many of the companies we mentioned above, one thing stands out: Most talk about being flooded with calls and emails soon after entering their information.
Calling agents directly is certainly one way to avoid this. But are there any other methods you can use?
Yes; find out exactly what the lead generator does with your information, whether on their website or by contacting them directly before you hand it over.
According to EverQuote's Agent FAQ, they don't sell your information to anyone other than individuals or businesses who have paid for their services. Except in instances where an agent has ordered an exclusive lead, they also won't pass your information along to more than three agents in your area.
As a result, you probably shouldn't expect to receive tons of calls or emails after entering your information on EverQuote's website. Is this what EverQuote's customers are saying?
Factor #3: Look at customer reviews
As a consumer-focused website, it probably doesn't come as a surprise that we'd recommend looking at customer feedback for any lead generator you're thinking about using. After all, bad experiences travel quickly and can speak volumes about what you might experience.
From this perspective, among more than 80 HighYa reader reviews, along with 250+ Better Business Bureau reviews and 40+ closed complaints as of this writing, most referenced receiving excessive phone calls after entering their information on EverQuote's website. Many also didn't appreciate spending the time to enter all of their details, only to find they didn't receive a quote at the end of the process.
As a company, EverQuote (formerly AdHarmonics) is based out of Cambridge, MA, and have been providing leads to agents since 2011. Based on what little feedback we could find, they seem to have a solid reputation among agents for high-quality leads with solid close rates.
EverQuote was co-founded by CEO Seth Birnbaum and CTO Tomas Revesz, both of whom came from high-level positions at Verdasys, Inc. They also obtain leads from other websites under their control like USAutoInsuranceNow.com.
Before moving on, there's one other meaningful differentiating factor with EverQuote; their app.
How Does EverQuote's EverDrive App Work?
As soon as you begin driving, the EverDrive app uses GPS and onboard sensors to track your distance and monitor your driving performance.
From there, EverDrive will display all your past drives (including maps) and break down your driving into a score of 0-100, based on five components: speeding, harsh acceleration, harsh braking, phone use, and cornering.
Depending on your score and your driving habits, EverDrive will provide personalized tips to help you improve. You'll also be able to earn achievements, compete with others on the leader boards, and take advantage of contests and other promotions.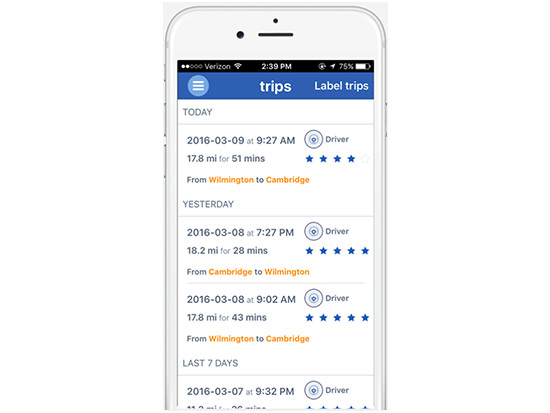 With the EverDrive app, you'll be able to view your past drives and review your performance. Image credit: EverQuote
With 130+ total reviews, EverQuote's EverDrive app had 4-star ratings on iTunes and Google Play. Most seemed to appreciate its ease of use and its ability to improve your driving habits.
However, complaints frequently claimed that EverDrive quickly drains the phone's battery and that it often isn't accurate (such as tracking activity when you're not driving).
We've covered a lot of territory here, so let's go ahead and drive it home.
Is EverQuote Worthy of Your Information?
At HighYa, our goal is to provide you with the information we learn during our research, and then leave the final decision up to you. With this said, we think there are three important things to keep in mind in this instance:
First, although EverQuote claims you'll be "prequalified" after entering your information, this only relates to matching you with an agent who's looking for drivers like you.
This does not mean that you've been preapproved for any kind of auto coverage, or that the agents who contact you will be able to improve upon your current auto insurance premium.
Speaking of which, the second point to remember is that independent agents have no control over the rates quoted by the carriers they represent.
This means that, assuming you provide the same information, an auto quote with Allstate (to name just one of the companies EverQuote advertises) from Agent A will be the same from Agent B. Hopping around to different agents won't save you money in this way.
Finally, as a consumer advocacy website, we think online feedback trends speak volumes about what you might realistically expect to experience once becoming a customer. As such, keep in mind that you could receive a lot of calls from agents as soon as you hand over your information.
I did not agree to this

By Winston M.

,

Arizona

,

Nov 6, 2019
Verified Reviewer

I responded to an ad about two Tucson students and a service that will find me the best quote for my insurance needs. In filling out the information there was a page where I was asked to "agree" to be contacted by a whole gang of insurance companies. I did not agree and closed out the conversation. Today I received my first call from an agent-based on this information. He told me it came from EverQuote. What can one do to get this stopped?

Bottom Line: No, I would not recommend this to a friend

---

HORRIBLE, SO MANY CALLS

By Alia K.

,

Broomfield, CO

,

Oct 4, 2019
Verified Reviewer

This was absolutely terrible. They said you don't have to fill in information twice, but that's a lie. You have to re-enter your information for every insurer it brings you to. Not only that, but within 5 minutes, I received about 8 spam calls from different insurance companies. This is just a giant scam to get your name and phone number into a list where they can take advantage of it. It doesn't even help you find a lower quote. Never again will I go to a site like this.

Bottom Line: No, I would not recommend this to a friend

---

Advertisement

---

EverQuote sucks

By Caroline A.

,

Pennsylvania

,

Sep 30, 2019
Verified Reviewer

EverQuotes' leads suck - pure and simple - and they won't refund your unused leads.

You have a better chance of making money by buying lottery tickets.

I don't think one of the leads actually spoke to me - they must resell the same lead a dozen times. Plus, if you go to their website they are pushing the insurance companies so they get the good leads.

Bottom Line: No, I would not recommend this to a friend

---

Waste of time.

By Judith C.

,

Toledo, OH

,

Sep 16, 2019
Verified Reviewer

I would get emails from EverQuote saying that a certain insurance agency has a quote ready for me. I click on the link to "get my quote" and it takes me to the insurance company's website. The site then asks me for all the information that I already entered on EverQuote. There is no quote ready. I could do the same thing by going to the insurance company websites directly.

Bottom Line: No, I would not recommend this to a friend

---

Advertisement

---

The title is very misleading.

By Peter O.

,

Arizona

,

Sep 10, 2019
Verified Reviewer

I had to fill in my information twice. I expected to get multiple quotes. You can get the same thing through a local independent agent. This is a scam to provide leads to agents who pay for these leads.

Bottom Line: No, I would not recommend this to a friend

---

Would not recommend this company

By Susan B.

,

Omaha, NE

,

Jul 10, 2019
Verified Reviewer

The agents at EverQuote are very nice but since I put no phone calls it kind of made me upset and told them no thank you and hung up. I did call back and tell them sorry, please get this issue corrected or you will have more people hanging up on your CSRs.

Thank you for listening to my issue.

Bottom Line: No, I would not recommend this to a friend

---

Internet marketing company and not in anyway a help. Just a paid referral service.

By Roger D.

,

Atlanta, GA

,

Apr 27, 2019
Verified Reviewer

This is a company that is a Insurance Marketing Website. It gets paid for referrals. It keeps a portion of the money and pays its referring affiliates the remainder. They HAVE NO TECHNOLOGY that will help customers save money. BEWARE! They gather your personal information and then uses it to re-market you other products and services. They also try to get you interested in Life, Home, Renters Insurance, to which they sell the leads to other companies. Complete JOKE.

Bottom Line: No, I would not recommend this to a friend

---

Complete fail

By Danny H.

,

Syracuse, UT

,

Feb 27, 2019
Verified Reviewer

I saw their ad and decided to try it because it is a lot of work to compare insurance rates. I liked what they offered, not having to talk to a zillion agents when you start looking. So I entered all the information on my home and automobiles hoping to get the best quotes from them and not a zillion agents! They did come back with a quote but it was from some funky, not mainstream company. And the quote wasn't better than what I had already found from a well-known insurance company. Plus I started getting quotes and calls by phone and email from a zillion companies! So IMO, this was a complete fail!

Bottom Line: No, I would not recommend this to a friend

---

Agents, beware...

By Robert H.

,

Medina, OH

,

Feb 26, 2019
Verified Reviewer

I signed up for EXCLUSIVE leads that are called directly into our office about 9 months ago. Leads are mostly poor quality but, at least the customers were willing to talk and I did get some business. I received an email from them yesterday that the leads were going up in cost by about 10%. Not a huge deal but, if you continue reading they very slyly mention that the leads have always been shared with three agents. Say what? I immediately called and the rep explained that yes, they are in the process of changing from Exclusive to not-so-Exclusive. Nice try EverQuote. I canceled my subscription. Agents, beware...

Bottom Line: No, I would not recommend this to a friend

---

STOP CALLING ME

By Buffy D.

,

California

,

Feb 19, 2019
Verified Reviewer

This place called me, no joke, 3 minutes after hitting submit. I was still on the website reviewing quotes when they called. I asked them to stop calling me. I blocked that number and now they are calling from a different number. I asked them to stop calling me and I blocked that number. I asked to be removed from their list.

DO NOT get involved with these folks. They are bugaboos and their quotes are not real because 1) they never pull your driving record so cannot possibly give you an accurate quote and 2) they only provided me with 2 quotes. I could've done that myself without the harassment. The ad stated it would provide many quotes so I don't have to submit my info over and over again in different insurance websites. Believe me, wasting a day of entering my info again and again would be worth it to not get calls from them. EverQuote is horrible and should be shut down. I can't believe reputable companies like MSN and CNN are promoting these guys.

Bottom Line: No, I would not recommend this to a friend

---

Scam to get info

By Elvin H.

,

Smyrna, GA

,

Feb 13, 2019
Verified Reviewer

I filled out the EverQuote info when I came across the ad in a CNN story I was reading on my phone. The ad said I would ONLY have to put my info in one time and they search all the insurance companies for you. LIE. I'm getting a crazy amount of emails now from every insurance company in the world. NOT QUOTES though. They still want me to put ALL my info in again. EverQuote seems to be a SCAM TO GET INFO. This is my actual personal experience.

I am NOT a ROBOT.

Bottom Line: No, I would not recommend this to a friend

---