EverQuote Reviews
Claimed This company has claimed this profile, is getting alerted on any new customer reviews entering this page, and may engage in dialogue with its customers to address their matters.

Companies cannot pay money or provide goods in order to remove or alter customer reviews.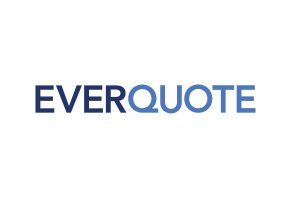 EverQuote is a service that aggregates insurance quotes from a variety of well-known carriers based on your personal criteria. Learn if customers are generally pleased with this service.
---
Bad experience! Know what you're getting into!

By Clay W.

,

Utah

,

Jun 18, 2020
Verified Reviewer

Length of Use: Less than 3 months

Overall Experience:

I wish I had not used this service. I was under the impression they would compare insurance companies for me and give me the best rates. That's not what they do. They gave my information to...well, EVERYONE! I'm being harassed by dozens of "brokers" who say they want to do what EverQuote said they would do. I have gotten a few calls by legitimate insurance companies but mostly by so-called "brokers". All these people do is ask for the same info you gave to EverQuote and pass it on to an insurance carrier who asks you for it all over again. Pure scam where they make money for doing essentially nothing. They also give your info to insurance carriers I've never even heard of. All insurance is not equal and the quotes you do get from legitimate companies seem to be for the state "minimum" requirements not for the same coverage we have. Also, all of these unknown people now have your personal info. I wonder how many of them sell it? We wound up going to a legitimate insurance broker who is contacting all of the MAJOR carriers and putting together the quotes for us. Complete waste of time!

Pros and Cons:

No "pros" were specified in this review
Misleading
Unecessary
Potentially dangerous

Bottom Line: No, I would not recommend this to a friend

---

I did not agree to this

By Winston M.

,

Arizona

,

Nov 6, 2019
Verified Reviewer

Overall Experience:

I responded to an ad about two Tucson students and a service that will find me the best quote for my insurance needs. In filling out the information there was a page where I was asked to "agree" to be contacted by a whole gang of insurance companies. I did not agree and closed out the conversation. Today I received my first call from an agent-based on this information. He told me it came from EverQuote. What can one do to get this stopped?

Bottom Line: No, I would not recommend this to a friend

---

Advertisement

---

HORRIBLE, SO MANY CALLS

By Alia K.

,

Broomfield, CO

,

Oct 4, 2019
Verified Reviewer

Overall Experience:

This was absolutely terrible. They said you don't have to fill in information twice, but that's a lie. You have to re-enter your information for every insurer it brings you to. Not only that, but within 5 minutes, I received about 8 spam calls from different insurance companies. This is just a giant scam to get your name and phone number into a list where they can take advantage of it. It doesn't even help you find a lower quote. Never again will I go to a site like this.

Bottom Line: No, I would not recommend this to a friend

---

EverQuote sucks

By Caroline A.

,

Pennsylvania

,

Sep 30, 2019
Verified Reviewer

Overall Experience:

EverQuotes' leads suck - pure and simple - and they won't refund your unused leads.

You have a better chance of making money by buying lottery tickets.

I don't think one of the leads actually spoke to me - they must resell the same lead a dozen times. Plus, if you go to their website they are pushing the insurance companies so they get the good leads.

Bottom Line: No, I would not recommend this to a friend

---

Waste of time.

By Judith C.

,

Toledo, OH

,

Sep 16, 2019
Verified Reviewer

Overall Experience:

I would get emails from EverQuote saying that a certain insurance agency has a quote ready for me. I click on the link to "get my quote" and it takes me to the insurance company's website. The site then asks me for all the information that I already entered on EverQuote. There is no quote ready. I could do the same thing by going to the insurance company websites directly.

Bottom Line: No, I would not recommend this to a friend

---

The title is very misleading.

By Peter O.

,

Arizona

,

Sep 10, 2019
Verified Reviewer

Overall Experience:

I had to fill in my information twice. I expected to get multiple quotes. You can get the same thing through a local independent agent. This is a scam to provide leads to agents who pay for these leads.

Bottom Line: No, I would not recommend this to a friend

---

Would not recommend this company

By Susan B.

,

Omaha, NE

,

Jul 10, 2019
Verified Reviewer

Overall Experience:

The agents at EverQuote are very nice but since I put no phone calls it kind of made me upset and told them no thank you and hung up. I did call back and tell them sorry, please get this issue corrected or you will have more people hanging up on your CSRs.

Thank you for listening to my issue.

Bottom Line: No, I would not recommend this to a friend

---

Advertisement

---

Internet marketing company and not in anyway a help. Just a paid referral service.

By Roger D.

,

Atlanta, GA

,

Apr 27, 2019
Verified Reviewer

Overall Experience:

This is a company that is a Insurance Marketing Website. It gets paid for referrals. It keeps a portion of the money and pays its referring affiliates the remainder. They HAVE NO TECHNOLOGY that will help customers save money. BEWARE! They gather your personal information and then uses it to re-market you other products and services. They also try to get you interested in Life, Home, Renters Insurance, to which they sell the leads to other companies. Complete JOKE.

Bottom Line: No, I would not recommend this to a friend

---

Complete fail

By Danny H.

,

Syracuse, UT

,

Feb 27, 2019
Verified Reviewer

Overall Experience:

I saw their ad and decided to try it because it is a lot of work to compare insurance rates. I liked what they offered, not having to talk to a zillion agents when you start looking. So I entered all the information on my home and automobiles hoping to get the best quotes from them and not a zillion agents! They did come back with a quote but it was from some funky, not mainstream company. And the quote wasn't better than what I had already found from a well-known insurance company. Plus I started getting quotes and calls by phone and email from a zillion companies! So IMO, this was a complete fail!

Bottom Line: No, I would not recommend this to a friend

---

Agents, beware...

By Robert H.

,

Medina, OH

,

Feb 26, 2019
Verified Reviewer

Overall Experience:

I signed up for EXCLUSIVE leads that are called directly into our office about 9 months ago. Leads are mostly poor quality but, at least the customers were willing to talk and I did get some business. I received an email from them yesterday that the leads were going up in cost by about 10%. Not a huge deal but, if you continue reading they very slyly mention that the leads have always been shared with three agents. Say what? I immediately called and the rep explained that yes, they are in the process of changing from Exclusive to not-so-Exclusive. Nice try EverQuote. I canceled my subscription. Agents, beware...

Bottom Line: No, I would not recommend this to a friend

---

STOP CALLING ME

By Buffy D.

,

California

,

Feb 19, 2019
Verified Reviewer

Overall Experience:

This place called me, no joke, 3 minutes after hitting submit. I was still on the website reviewing quotes when they called. I asked them to stop calling me. I blocked that number and now they are calling from a different number. I asked them to stop calling me and I blocked that number. I asked to be removed from their list.

DO NOT get involved with these folks. They are bugaboos and their quotes are not real because 1) they never pull your driving record so cannot possibly give you an accurate quote and 2) they only provided me with 2 quotes. I could've done that myself without the harassment. The ad stated it would provide many quotes so I don't have to submit my info over and over again in different insurance websites. Believe me, wasting a day of entering my info again and again would be worth it to not get calls from them. EverQuote is horrible and should be shut down. I can't believe reputable companies like MSN and CNN are promoting these guys.

Bottom Line: No, I would not recommend this to a friend

---

Scam to get info

By Elvin H.

,

Smyrna, GA

,

Feb 13, 2019
Verified Reviewer

Overall Experience:

I filled out the EverQuote info when I came across the ad in a CNN story I was reading on my phone. The ad said I would ONLY have to put my info in one time and they search all the insurance companies for you. LIE. I'm getting a crazy amount of emails now from every insurance company in the world. NOT QUOTES though. They still want me to put ALL my info in again. EverQuote seems to be a SCAM TO GET INFO. This is my actual personal experience.

I am NOT a ROBOT.

Bottom Line: No, I would not recommend this to a friend

---

Advertisement

---

Excellent service

By Whitley D.

,

California

,

Jan 12, 2019
Verified Reviewer

Overall Experience:

I just want to say my experience with EverQuote has been very helpful and I will refer EverQuote to many other people. And I just want to thank you guys for your good service, and I did find insurance for a reasonable cost. Thanks again.

Bottom Line: Yes, I would recommend this to a friend

---

What a scam. Don't do it!

By Jeff S.

,

Georgia

,

Jan 11, 2019
Verified Reviewer

Overall Experience:

I tried to see what various companies offered prior to my current policy expiring. After they collected all of my contact info, they sent me links to my current insurer, and my prior insurer. Neither one had an actual quote, I would have gad to re-enter all of the info again. Then, the calls started. Everybody and their brothers are calling me, most telling me if I lower my coverage here, change my deductible there, they can beat my current insurance. Once again, WHAT A SCAM. Don't do it. They just re-sell your contact info.

Bottom Line: No, I would not recommend this to a friend

---

Thought I could save time getting insurance quotes...

By James N.

,

Georgia

,

Jan 10, 2019
Verified Reviewer

Overall Experience:

This is the biggest scam on the internet. This company takes your information and sells it to third parties who do not have your best interests in mind. Seconds after completing the information on the site to get my quotes, my phone began ringing with telemarketers and scammers. DO NOT use this company!

Bottom Line: No, I would not recommend this to a friend

---

Overall Experience:

I am pleased to announce that EverQuote is a legitimate company. They took care of me as a friend. EverQuote also provided exceptional customer service. The agents took their time locating the right policy to fit my needs. The agents also were friendly and helpful. What made it a superb experience was the agents being themselves. I want to call them "the operators." These men and women brought me on the line to speak to the agents. They deserve a pat on the back too. They remembered my name and rattled off my information with no problem. They seemed to love their job because they are very good at it. I do not know what it takes to perform this type of work day in day out, but it seems simple. Sometimes jobs that are really simple some do not perform on a high level. I hope this message is forwarded to the right person.

Bottom Line: Yes, I would recommend this to a friend

---

Waste of time

By Ron K.

,

Boca Raton, FL

,

Nov 16, 2018
Verified Reviewer

Overall Experience:

EverQuote claims they help with obtaining insurance by filling out your info and the insurance companies see it and quote you.

Yet the carriers ask for all the info again. The carriers inundate you with calls and emails asking for the same info over and over again.

Don't waste your time filling out the form; you will be bothered for days by carrier representatives asking for the same info over and over again. No way to stop it once they start.

Bottom Line: No, I would not recommend this to a friend

---

Advertisement

---

EverQuote is not what I expected

By Laurel R.

,

Long Island, NY

,

Oct 18, 2018
Verified Reviewer

Overall Experience:

I went into EverQuote to find out some other options, and while I am happy with the service I have gotten from my current carrier on my car insurance, I am not happy with what I am paying. So I entered my info into EverQuote and then it gave me my options and I clicked on the first insurance company to find I had to enter all my info again! The same with the next insurance company option I clicked on.

I find this to be a major flaw in this website. The info should transfer over. I do not feel they are a true service. Just a referral company that supplies no real info. You don't get a quote until you enter your info a second time on the website of whatever insurance company you chose to click on from the list EverQuote gives you. So you're really having to search for the lowest cost yourself. I expected to get a rate from several companies that were the lowest not to have to keep searching. I can do that myself. I don't need the wasted time of entering my info into EverQuote only to have to enter it again and again elsewhere.

Just go to insurance company websites yourself and forget about EverQuote or any of the others as another insurance quote website I tried did the same exact thing. Useless.

Bottom Line: No, I would not recommend this to a friend

---

No quote online, flooded with calls and spam

By James R.

,

Grand Rapids, MI

,

Oct 7, 2018
Verified Reviewer

Overall Experience:

I thought I'd try this site and get some online quotes. Nope! All that's done is your email address and phone number are given to third parties. Then the calls begin and the spam hits your email. I used a private email address for this site so I know this site was responsible for the spam. I did not save any money. After three months I am still getting 10-20 spam emails a day. Thank goodness the calls stopped after about a week. I would not recommend this site.

Bottom Line: No, I would not recommend this to a friend

---

Scam

By Colleen C.

,

Detroit, MI

,

Oct 4, 2018
Verified Reviewer

Overall Experience:

Every quote I received was at least four times as much as I pay now. It was a colossal waste of time. You still have to go to each site to get the actual quote in some cases. There is no chance of saving money or time by using EverQuote. I would not recommend spending any time using this "service."

Bottom Line: No, I would not recommend this to a friend

---

I saved $130.00 by accident

By James L.

,

Fremont, CA

,

Sep 26, 2018
Verified Reviewer

Overall Experience:

I just got a bill for car insurance, it was high. I have had Mercury Insurance for years. I accidentally hit EverQuote, and said what the heck, why not look around to save money.

I filled out the info, and a day later 21st Century called. I was about to hang up, but I was bored, so I gave them the info they needed for a quote. Out of the blue, to my surprise, their quote was $130.00 less than I was paying at Mercury Insurance.

SOLD INSTANTLY. This website EverQuote.com gets a 10. I will refer EverQuote to all my friends and family.

I did get some emails from Farmers, etc. Too late, SOLD.

I usually couldn't care about reviews, but these guys SAVED ME MONEY!

Bottom Line: Yes, I would recommend this to a friend

---

Scam - don't trust them!

By Jess K.

,

New Jersey

,

Sep 20, 2018
Verified Reviewer

Overall Experience:

It is not true at all that they will give you the lowest quote after submitting your info. In fact, after submitting my information, they don't give any quotes! Instead, they transfer you to the insurance companies, and then the calls, email, and ads never stop. Stay away from this website!

Bottom Line: No, I would not recommend this to a friend

---

Advertisement

---

Scam. Floods you with calls, emails, and spam ads.

By Dan S.

,

Newburgh, IN

,

Sep 18, 2018
Verified Reviewer

Overall Experience:

Immediately after I gave my info, I did not get one quote.

Emails from numerous insurance companies saying click here for your personalized quote, then it takes you to their website where you're asked to resubmit all your info for a quote.

Also, the next day my social media account and my online store were bombarded with advertisements from EverQuote.

Besides that, I have received at least a dozen calls from insurance companies and EverQuote. I have told each one to take me off their marketing list and still my phone rings several times per day.

Do not use this company. They lie to you and get your information, then sell your info to dozens if not more insurance companies.

Bottom Line: No, I would not recommend this to a friend

---

Not as advertised

By Susan A.

,

Austin, TX

,

Sep 16, 2018
Verified Reviewer

Overall Experience:

The website itself was kinda hinky, jumpy. I had to enter the same info several times. No quotes. Calls started the day after, from a call center, who asked me the same questions and wanted to connect me to someone else to repeat the same info. Frustrating. Useless. 30 minutes I will never get back.

Bottom Line: No, I would not recommend this to a friend

---

Total scam!

By Andy V.

,

Canaan, NH

,

Sep 11, 2018
Verified Reviewer

Overall Experience:

They claim to provide you comparison quotes, but that's not true. What they do is to use your information to send insurance agents to your phone and email.

Instead of a quote comparison in less than two minutes, I got five calls and two emails.

DO NOT make the mistake I did! Run, not walk, away from these criminals.

Bottom Line: No, I would not recommend this to a friend

---

Super cheesy and sleazy lead generator

By Marshall C.

,

Dallas, TX

,

Sep 11, 2018
Verified Reviewer

Overall Experience:

Don't fall for their trap. It is a total scam lead generation site, they provide no services they represent. Be prepared to block a tremendous amount of phone numbers for everything under the sun, not just your request. Total scam!

Bottom Line: No, I would not recommend this to a friend

---

Awful spam calls

By Sabrina G.

,

Texas

,

Sep 10, 2018
Verified Reviewer

Overall Experience:

I hit "submit" and had ten calls in five minutes. No results on insurance options, just more 888 numbers to block. It's unnecessary spam no one needs to associate with. I thought it would do like what Kayak does for flights, but instead, it adds you to phone spam lists.

Bottom Line: No, I would not recommend this to a friend

---