Exede Internet Reviews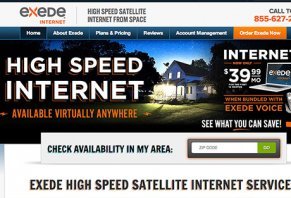 Exede Internet claims to provide satellite-based internet services, known as ViaSat-1, to customers in rural or remote locations.
About Exede Internet
Based out of Englewood, CO, Exede Internet claims to use some of the most advanced satellite internet technology to make high speed internet available to customers virtually anywhere in the United States. Whether you're at the end of a DSL pipeline or are located in a rural or remote area, Exede Internet claims they can get you connected to "high speed satellite internet from space."
But when it's all said and done, does Exede Internet really provide a usable satellite-based internet service, and if so, do they offer a good value? We uplinked to some facts and here's what we learned.
How Exede Internet Works
Using ViaSat-1, which is claimed to be "the most powerful communications satellite ever launched," Exede Internet claims to be able to provide you with high-speed internet almost anywhere in the U.S., even in extremely remote locations.
With this in mind, Exede Internet offers 4 different plans depending on your usage needs:
Classic 10 – Up to 10 GB of data usage allowable per month. Unmetered access between 12am and 5am.
Classic 15 – Up to 15 GB of data usage allowable per month. Unmetered access between 12am and 5am.
Classic 25 – Up to 25 GB of data usage allowable per month. Unmetered access between 12am and 5am.
Evolution – Unlimited email and web access, in addition to a 5 GB limit for everything else. Unmetered access between 3am and 8am.
However, keep in mid that regardless of which plan you choose, download speed maxes out at 12 Mbps and upload speed at 3 Mbps (see more about this in the Bottom Line section).
Exede Internet Pricing & Refund Policy
Exede Internet plans are priced as follows, all of which require a 24-month commitment:
Classic 10: $49.99/mo
Classic 15: $79.99/mo
Classic 25: $129.99/mo
Evolution: $64.99/mo
Along with your Exede Internet plan, you'll gain access to 12 months of free antivirus software, and a 3-year price lock guarantee. You can also save $10 per month when your plan is bundled with Exede Voice, and an additional $10 per month if you sign up for DirectTV at the same time.
Standard installation for Exede Internet hardware is included in the price, although this only involves hookup to one computer and 2.5 hours of labor. This means that, if you need to hook up to more computers, or the installer takes more than 2.5 hours, you may be billed accordingly.
Speaking of additional charges: You'll also be required to pay a one-time $49.99 setup fee, along with a leased equipment fee, which is priced at $9.99 per month, or at $199.99 if paid in full. Also, once your free anti-virus software trial ends you'll be charged $2.99 per month.
On top of this, if you exceed your allotted data usage during the month, you can purchase additional data at $9.99 per MB. Finally, if you decide to cancel your Exede Internet service prior to the 24-month contract expiring, you'll be subject to a $300+ early termination fee.
What Do Other Consumers Have to Say About Exede Internet?
Overall, Exede Internet appears to have a primarily negative online customer reputation. While a few customers seem to have had a pleasant experience, the vast majority appear to have had an almost wholly unfavorable one. Many of the most common complaints reference much slower data speeds than advertised, frequently dropped signals, and poor customer service (unknowledgeable technicians, inability to speak with managers, etc.).
What's the Bottom Line About Exede Internet?
Even though you live in a rural or remote location, you still need reliable internet access, right? If so, does Exede Internet represent the best use of your hard-earned money? Maybe, but keep the following in mind before making your decision:
Southern View
First, in order for the satellite dish attached to your house to receive an Exede Internet signal, it needs to have a clear view of the southern sky, with no trees or other tall structures in the way. As such, if you live in a rural area with a lot of trees, this could present a problem.
Download Speeds & Data Usage
Second, even if you do have a clear southern view, remember that download speeds are "up to" 12 Mbps and are not guaranteed. In addition, keep in mind that once you exceed your monthly data, downloading video/audio will be significantly slowed. However, Exede Internet claims that email and web pages will continue to download at the same speed with some plans.
With this in mind, compared to popular "land-based" internet service provider (e.g. DSL, internet, fiber-optic, etc.), Exede Internet offers very low data limits. Because of this, this satellite-based service may not be ideal for:
Online gamers.
Individuals who have "cut the cord" and use their internet connection to watch TV and download movies/music.
Households with more than a couple users (e.g. large families with multiple devices).
In fact, many people who regularly used Netflix, Hulu, and other streaming sites claimed to have reached their data cap in as little as 2-3 days. However, it's important to note that some customers who drastically monitored their usage and stuck to email and website browsing only (no downloads) claimed to have reached their data usage within a couple weeks, so your mileage may vary.
The Price
Remember that there are numerous additional fees you'll be required to pay on top of the monthly cost of your plan. This includes $9.99 per month in order to lease the equipment, additional charges for non-standard installations, $9.99 per GB of data above and beyond your chosen plan, and the need to purchase a wireless router if you don't want to be chained to Exede's modem.
On top of all this, if you're dissatisfied with the internet service you're receiving—even if it's 1 day after you signed up—you'll be required to pay a $300+ early termination fee.
Bottom line
Based on the sheer number of negative online reviews regarding Exede Internet, you may want to fully research all of your options prior to signing one of their 2-year contracts.
2 out 2 people found this review helpful

DO NOT DO IT!

I have had this service for 5-6 tears and every time the wind blows and/or it rains hard and/or snows it cuts out!

Now I need to leave and they EXPECT ME AT 65 years old to climb up on the roof and get there transponder off the satellite! Or they will charge me some ungodly amount like $300! OR I can pay their tech $50 to come and get the thing!

ABSOLUTELY RIDICULOUS. What a rip off deal and the bad internet is sooooooo expensive for the bad service.

DO NOT BOTHER.

Bottom Line: No, I would not recommend this to a friend

---

5 out 5 people found this review helpful

Viasat/Exede are a fraudulent company and practicing shady tactics

By Dan N.

,

California

,

Mar 19, 2019
Verified Reviewer

I had them for two years on a 150GB plan 12mbs, everything was fine until they decided to drop us off of this plan because they did not offer it anymore, they started slowing us down to less than .5mbs download, forget about upload, I couldn't even run speed tests, if I could it would show less than .5 download even. Keep in mind I was still paying for the 12mbs that I was promised.

They have done this on purpose, I went to complain on their forums and I noticed they hire shills who are supposedly "real customers" but have over 6,000 comments, who posts so many comments on an internet website? And it's not one or two of these guys, but a whole bunch, they turned my entire complaint on the forum into a joke, as shills do. They aren't very careful either, actually they are quite sloppy, hiring shills is illegal. Viasat is committing fraud and showing unethical behavior on their customers as well as practicing some seriously shady tactics, they also delete comments on their forums, they are completely out of control. If they charge me for something agreed upon initially and then change their mind and do not provide me the service offered, that is fraud, it's stealing, it's like I would buy vegetables at the market and get less produce for my money one day because the seller decided so, that is stealing, plain and simple.

These internet companies need to be put under control, their abuse of power towards rural customers is unacceptable. HughesNet is no better, they tell you 25mbs download but you are able to stream videos only at 144-244 resolution on youtube because that's how they decide it will be, it's ridiculous how much of a scam satellite internet truly is, it's time to get these companies under control and regulated, enough is enough.

Bottom Line: No, I would not recommend this to a friend

---

Advertisement

---

7 out 7 people found this review helpful

Incompetent and dishonest

By Alfred J.

,

Surry, ME

,

Oct 20, 2018
Verified Reviewer

I had Excede/Viasat service for about 3 and 1/2 years. A fiber to the home option came along, so I canceled the Excede/Viasat service. I had a hard time getting them on the phone, and then they claimed their system was down and I would need to call back. I told them I was unwilling to fight the war to get through again and asked them to call me back when they were ready.

They didn't call back. I had to contact them again and had a struggle to get them to release my phone number to my new fiber provider (to port my existing number over). That was finally done after a delay of a couple of weeks.

Excede/Viasat still hadn't disconnected the internet service, claiming that they couldn't do so until they read me a statement. That is what they claimed they couldn't do in my initial call to cancel. They could have, but did not call back, to read their magic message. During all those calls they had every opportunity to read it. They didn't.

They continue to bill me for monthly charges (now 6 months), and I have contacted them several times to get them to stop billing me. They finally read the magic statement to me in July.

Now they claim all monthly charges until then are valid. I just had the most unpleasant conversation with a person claiming to the "highest escalation" in management. She claimed I had refused to listen to their message and so the monthly charges are valid. She claimed I hung up when they wanted to read the message. That is absolutely false, and I repeatedly told her that. Nevertheless, she kept repeating her nonsense that I owe valid charges because they hadn't read their message to me and that I was at fault by refusing to hear it. She refused to acknowledge that I was available at any time to hear the message and that Excede/Viasat is the cause of any perceived delays. This is the same story I got from numerous prior customer service representatives prior to my nasty exchange with the "highest escalation" manager.

This is an amazing display of incompetence and dishonest practices. This company and each employee I have spoken to should be ashamed of themselves.

Bottom Line: No, I would not recommend this to a friend

---

5 out 5 people found this review helpful

Don't, don't, just DON'T!

By Ed M.

,

Elizabeth, CO

,

Oct 17, 2018
Verified Reviewer

DON'T even think about getting Viasat.

Their satellite is over the middle of the Atlantic Ocean. The ping is 650ms, so when you start clicking on your open page, you will be waiting 0.6 to 1.2 seconds before anything starts to download.

Try to watch a movie or any other streamed program and you will be watching the little circle spin as it buffers continuously.

Live gaming…they won't even let you on their gaming sites with that 650 ping.

It slows down everything else on your computer when you are online. I got rid of Viasat and everything works good now…again.

Their service will drop offline on average at least once per day.

They advertise 30MB download but this only happens during off-peak times and when you aren't being throttled or prioritized. I have had downloads as slow as 0.9MB.

Their upload speed is not advertised anywhere on their web page. It is 1.0MB…PERIOD.

After you are totally disgusted with their pathetic performance, they WILL NOT give you "satisfaction or your money back." They will keep $15 a month for the entire 24-month period or for the months you don't stay with them. It cost me $330 to get rid of them, but it was worth it to get rid of their agonizing service.

I wish I'd found these reviews beforehand. I had searched but only found positive magazine reviews…as in places where Viasat/Exede advertises.

Don't say you haven't been WARNED!

Bottom Line: No, I would not recommend this to a friend

---

Advertisement

---

7 out 7 people found this review helpful

Not a customer and have credit report

By John K.

,

Red Bluff, CA

,

Aug 25, 2018
Verified Reviewer

I am not a customer of this company and find a $375 report of nonpayment on my credit report! I did check on service a few months back, but I did not even get a callback, let alone an account or service. Scam! I do not even recommend calling them!

Bottom Line: No, I would not recommend this to a friend

---

8 out 8 people found this review helpful

Crooks

By Monica D.

,

Willits, CA

,

Jul 30, 2018
Verified Reviewer

I canceled my service with Exede three months ago. Exede sent me a box to mail my equipment back. I filled the three spots and mailed the package off in a timely manner. Three months go by, and I never received an email or letter or phone call, I get an attempt to bill my credit card $180. I call Exede to see what this is all about. They tried telling me I didn't return something on my roof. What? My roof, I'm supposed to climb my roof? It never said in the letter that was in the box that I had to climb my roof.

This company needs to be turned in. I called the call center three times and they were so rude. Hung up on me twice saying if they search their warehouse and don't see that the parts were returned they would charge me.

Bottom Line: No, I would not recommend this to a friend

---

6 out 6 people found this review helpful

Scam

By Thomas J.

,

Round Mountain, TX

,

Jul 1, 2018
Verified Reviewer

When you call customer service you get what sounds like either Mexico or someone in their personal house.

You can't be transferred to a supervisor. And when you can get transferred to the department that cancels your service, they just hang up on you.

We had their service on for two weeks, not Wi-Fi, just LAN cable. They said we had used our 25 gs. They said was all on video chat, which we don't have. On the 19th they said most of it was used on the 6th, and now say today it was used on the 19th.

BEWARE, stay away!

Bottom Line: No, I would not recommend this to a friend

---

10 out 11 people found this review helpful

Unsatisfied consumer

One minute after installation, the service quit. After talking to six agents and five hours on the phone with no help, I canceled service.

I received a $34.00 bill for the first month of service. The installiation tech said I would be calling, almost everyone does he said. The following month I received a bill from Exede for $342.00 for the early disconnect. I had service one minute and it quit. Then they started taking money from my Visa account, and each time I would call and ask for what. Then I was turned into collections for $115.00, and then received a bill for $162.00 for the satellite apparatus.

They said when it was returned I would get a refund, but they refunded $67.00, that is it. I am a disabled vet. This is a terrible company to do business with. No one seems to know anything about their jobs, and I do not want their services ever.

This has been a terrible drain to my monthly income, time, and money.

Bottom Line: No, I would not recommend this to a friend

---

10 out 10 people found this review helpful

Someone needs to file a class action suit against this company

Horrible, horrible, HORRIBLE company. If I could give zero stars, I would. They lie to you about the cost of the service then deduct higher amounts on your auto pay. Bait and Switch tactics to get you signed up. When you call them to complain, they tell you they will issue a credit. The credit is never issued. When you call them back, they tell you they don't see any documentation of offering a credit. They provide damaged equipment when they set up your service then charge a $95.00 service charge to come out to do the repairs. The Easy Care fee of $5.99 to cover service calls is charged while your service is on vacation, yet they will make it abundantly clear they don't provide any service calls while your internet is on vacation.

Bottom Line: No, I would not recommend this to a friend

---

11 out 11 people found this review helpful

A nightmare to deal with

I've been with Excede for about two years now I believe. It was grand at first, just recently getting out of an extremely slow HughesNet plan. But over time, Excede got slower over time, and somehow we'd run through our max data cap within two days (once we apparently went through 12GB IN A SINGLE DAY!), which I can't comprehend how from us just using YouTube here and there and checking emails.

Also, for anyone who has this reading these posts, whatever you do, DO NOT move while still in contract with them! I had to dish out the contract break fee just so they'd relocate my service (installation and such). I don't know why they think that's ok but come on now, who charges you the cancellation fee just for relocation?!

Please never get this, this forum post sugar-coats the extreme degree to how bad Excede really is.

Bottom Line: No, I would not recommend this to a friend

---

6 out 6 people found this review helpful

Worst internet provider I have ever seen

Here's what I don't understand. We have an unlimited plan at my house, and we still have the WORST internet I have ever seen. Our old internet providers consisted of 1 Mbps and 300 Kbps, and this STILL managed to do worse than both. I looked it up, and it said: "oh its because it has data caps." HOW can you punish people, with the most expensive option you have, for simply using the data that they paid for?! Then every time we call them, they fix the internet back to normal for about three days and then back to less than 300 Kbps; AT 9:30 AT NIGHT.

Horrible internet that shouldn't even be in business. I was hoping there was an option less than 1 star.

Bottom Line: No, I would not recommend this to a friend

---