Expedia Reviews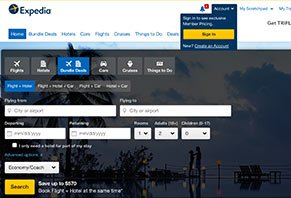 For 20 years, Expedia has offered travelers a convenient way to compare prices and book trips. However, the online agent might no longer be your best bet.
About Expedia
Founded in 1996 by Microsoft, Expedia has amassed tends of millions of consumers in that time by offering everything from car rentals to cruises.
For international packages in particular, it appears that deals abound. And, despite its longevity, Expedia boasts a friendly and modern website and excellent mobile apps—both of which are helpful when comparing prices on the go.
In fact, Expedia is so popular that it's only outranked by MapQuest and Google Maps, in terms of travel websites that get the most traffic.
However, the time that it takes to compare prices on alternate travel websites might be less well-spent than you think: Expedia's continued popularity has allowed its parent company, Expedia Inc., to acquire so much of the competition that you could use the current playing field to level a picture frame.
This long list includes TripAdvisor, Hotwire, Hotels.com, Venere, Orbitz, CheapTickets, CruiseCritic.com, BookingBuddy.com, SmarterTravel.com, SeatGuru.com, AirfareWatchdog.com, and IndependentTraveler.com.
Perhaps it's because of their many partnerships that Expedia can continue to guarantee that you get the best price when booking through their website. How do they do it?
How Expedia Works
You can use Expedia to find deals on many aspects of travel, including flights, cars, hotels, bundle deals, cruises, and even things to do when you arrive at your location.
Expedia returns search results relatively quickly. Flights are listed by lowest price, but can be filtered by departure/arrival times, flight duration, and even number of stops.
Expedia also wins points for displaying the final cost of your flight or trip in large font, as opposed to hiding taxes and their own fees until the moment before checkout.
Here's where Expedia's Best Price Guarantee comes into play: If you find a cheaper flight, vacation package, rental car, cruise or activity within 24-hours of booking, Expedia promises to refund the difference—plus give you a $50 travel coupon for future travel.
For hotel bookings, there's even more leeway—finding a cheaper rate up to two days before your check-in nets you a refund of the difference, plus the same $50 travel coupon for cheaper travel.
But keep in mind that Expedia's Best Price Guarantee only applies to exact itinerary matches, which includes airline, cabin class, hotel and room type, rental car company, vehicle class, and ship and cabin category.
To check that the booking is an apples-to-apples comparison, use Expedia's Best Price Guarantee checklist.
There are a few other rules that might limit your use of Expedia's price guarantee and travel coupon reward, including:
Comparison rates must be available to the general public. This means that a lower rate that's only available through a membership program or a corporate website doesn't count.
Changed or canceled bookings aren't eligible to receive a coupon.
Additionally, to collect the $50 coupon, you must have an Expedia Account with an associated email address and password combination. If you booked using a guest account, you would only qualify for a refund of the difference in price.
Getting a Price Guarantee Comes at a Cost
It's important to keep in mind that websites like Expedia are almost like travel agents—making suggestions and packaging vacations tailored to your priorities. And, just like the travel agent down at the local strip mall, they take a commission from any booking you make.
Conversely, since airlines and hotels control inventory, they should have the best idea of what prices and volumes are available and 99% of the time will offer the best price.
There are, however, instances in which price compare websites are especially useful—generally when you're planning a particularly complicated trip by combining a series of tickets into one itinerary, or when putting together a big vacation. Even then, don't discount your favorite airline's ability to give you a similar deal.
Why You Shouldn't Use Expedia for Hotels
Hotels have to pay a hefty fee to online travel agencies like Expedia. As a result, many hotel chains and boutique locations are attempting to buck the system by bribing guests to book directly with them instead.
But there's a trick: Travel comparison websites like Expedia insist on rate parity, which means a hotel cannot offer a rate cheaper than it gives Expedia the chance to do. However, this rule only applies to rates posted on the web.
How to take advantage of potentially substantial savings?
You must call a hotel to book your room directly. By doing so, you can score incentives like free room upgrades, beverage and food credits, and in some cases a flat 10% discount to undercut Expedia. Even better, plan ahead next time you want to book by subscribing to that hotel's newsletter for chances at an even better rate.
As for airlines, they have intensified their war to win direct bookings and are doing it by making many important things easy to do on their websites.
Want to select your seats now? Done. Want to buy upgraded seats? Done. Want to buy discounted entry to an airline club? Done. Want to buy Wi-Fi, often at a rate much lower than you will pay onboard? Done. And, while you are at this, remember you can up the ante by paying with an airline-linked credit card that typically brings free baggage check, priority boarding, or other perks.
What Customers Are Saying About Expedia
Expedia's promise of worry-free price comparisons starts to fall apart at the seams once you view the ample grievances customers have aired online. Top complaints include:
Zero flexibility changing your reservation. Unlike a hotel, which typically makes it east to change your reservation, many customers have complained this isn't the case with Expedia. Specifically, many stated that customer service quality can vary (including outsourced support)—some even claimed there were unable to speak with a representative at all.

Poor customer service. In addition to the above, we found many customers complained about frequent transfers to different departments until someone attempts to even address your issue.

Getting the worst rooms. When it comes to hotels, the more you pay the better your room will often be. Since you'll likely be paying bottom dollar for hotel rooms booked through Expedia, this means you might be assigned to a less-than-stellar room (e.g. on a lower floor, near an elevator, in an area that's under construction, etc.). And if the hotel needs to balance their inventory, the intermediary's (in this case, Expedia) rate will likely put you at the bottom of the list for possible upgrades.

And the worst seats. Most aircraft have certain seats that are considered undesirable for some reason or another. Perhaps they're too close to the bathroom, have an inch or two less leg area, or don't recline due to being in front of an emergency exit row. When you book directly through an airline's website, they will notify you if the seat you're about to choose is considered less than awesome—Expedia won't.
Another downside of dealing with Expedia? A lack of rewards. In other words, what you might gain as far as convenience from using Expedia, you could forego valuable loyalty points (hello elite status!).
Bottom Line: Think Beyond One-Stop Convenience
When Expedia opened its doors in 1995, they offered a never-before-heard-of level of convenience for those looking to take control of their vacation plans by comparing airfare among multiple carriers.
But, 20 years later, it might be time to rethink the now-dated travel habit of purchasing airfare and hotels through online agents. According to travel specialist Brett Synder, there are two final reasons to avoid Expedia:
Hidden Fees. Let's say you're about to buy a ticket and want to check the baggage fees for your flight. If you go on Expedia and click on baggage info, it just opens up a huge, long list of airlines and what their fees are, as opposed to booking directly, where the correct baggage information is always available.

Airlines aren't accurately compared. Take Spirit Airlines, for example, who are notorious for slapping flyers with fees. When searching on Expedia, Spirit's fares might look like a bargain. However, many fliers are in for a rude awakening when checking bags in at the airport—or even attempting to talk to a real person without paying Spirit's $10 fee.
Bottom line? If you're just trying to get from point A to B, go ahead and use Expedia to compare which airlines offer flights on your travel dates, since online travel agents are great for checking an average of available price points.
But, then you might be better off biting the bullet and booking on the airline or hotel's website, instead. It's a better place to view fees, customize your booking, gain rewards points, and guarantee your service.
---
Expedia used to be good...not now

By Christine B.

,

Lincolnshire, England

,

Jan 17, 2020
Verified Reviewer

Overall Experience:

I have used Expedia for a number of long haul trips...never had a problem until this time. Attempted to book a flight and car to Florida 3 times. First attempt...found a flight and car on the website...filled out the form, came to pay, flight sold out, so left it. Tried again 12 hours later...got the same flight and car at the same price. Went to book - "your trip has increased by £174." Left it for a while, then rang Expedia booking to confirm the flight was still available, it was at the lower price so continued to booking with the agent who confirmed all the dates, car, flight, and price. Came to pay...the price had gone up again by nearly £200. Then I was contacted by my bank because Expedia had attempted to take nearly £300 out of my account for car hire which came with the flight. Had enough, booked with another company, saved over £100 on the same flight. Won't use Expedia again.

Bottom Line: No, I would not recommend this to a friend

---

Great vacation package! And price.

By Gary M.

,

Ohio

,

Aug 5, 2019
Verified Reviewer

Overall Experience:

Expedia is one of the best I have ever used for vacation packages. I had a trip to Vienna, got almost bad for me and my family, they quickly fixed things. I could have been a mess. I will most defiantly use them again!

Bottom Line: Yes, I would recommend this to a friend

---

Advertisement

---

Scammers

By Ariel L.

,

Indonesia

,

Jun 18, 2019
Verified Reviewer

Overall Experience:

Two years ago I had many guests from Expedia. But Expedia never paid out what I had to get, even not one penny!

I asked them to delete our listing. Today after two tears still they didn't delete. Every day guests are booking and we have to explain for then why we don't accept guest from Expedia.

Don't book by them. Don't help hotels mafia.

Bottom Line: No, I would not recommend this to a friend

---

Lied and stole my money

By Craig L.

,

Isla Mujeres, Mexico

,

Mar 22, 2019
Verified Reviewer

Overall Experience:

I booked a room in Chichen Itza for two nights. The page said free cancellation. Not true! They took my money, claimed that they are not hearing back from the hotel about my cancellation request. You can't even call the hotel. I am very dissapointed in Expedia and the hotel. I tried to cancel 10 days before the reserved nights.

Bottom Line: No, I would not recommend this to a friend

---

Advertisement

---

Strong customer support

By Greg H.

,

Manchester, NH

,

Mar 6, 2019
Verified Reviewer

Overall Experience:

I actually had a really bad experience turned around by great customer support from Expedia. I had booked a block of rooms for myself and a bunch of co-workers at a hotel, but there happened to be a massive event (wedding, party, I'm not sure what...) scheduled that night and the noise was unbearable. I talked to the front desk about getting our rooms moved, getting accommodated at another property or something, but they weren't able to do anything. I finally called Expedia, and they *immediately* rebooked us at a hotel down the street at no additional cost. This really seemed above and beyond, and we were most grateful.

I do agree with the notes that are in this HighYa article about booking directly with the hotel when possible (especially with smaller, locally owned hotels), but for major chains and/or hotels + airfare, Expedia does seem like a great option.

Bottom Line: Yes, I would recommend this to a friend

---

Misleading information

By Charles G.

,

Orlando, FL

,

Dec 22, 2018
Verified Reviewer

Overall Experience:

On 12/18/2018, through Expedia, I browsed through car rentals in Orlando, Florida around the airport to travel from Orlando to Tallahassee. Browsing the site of Economy Car Rentals, I seen that the mileage was unlimited. So, I reserved a car for that evening around 6:30pm. I arrived at the front desk at Economy at 6pm and advised the male representative about my reservation. He advised me that there's a cap on the mileage due to living in Florida. So, I advise him to cancel the reservation. He advised he would do so.

On 12/20/2018, while checking my bank account, I observed that the monies were taken out of my account for the rental. I called Expedia and a male representative advised that he could refund me the $60 I paid for the insurance and that Economy has a no cancellation policy. It was written clearly that the rental was unlimited mileage.

Being that the Expedia site was misleading to that fact of unlimited mileage, which led me to reserve the vehicle and me not getting my money back for the reservation, I recommend not using the site of Expedia.com!

Bottom Line: No, I would not recommend this to a friend

---

They do not know what they are doing

By Wanda P.

,

Georgia

,

Jun 25, 2018
Verified Reviewer

Overall Experience:

I used Expedia to book rooms for our family vacation, and I received a call at 11:30 pm the night before we are supposed to leave for our vacation to Tennessee. Expedia messed up our vacation, and they could not fix it. The prices are good, but they do not know anything about the hotel or vacation spots that you are trying to go to. They are going to mess up your vacation, so I suggest if you are trying to find somewhere to go on vacation DO NOT use Expedia if you want to have a good vacation. Just call around directly to the hotel and book your own reservation. Thank you. I hope you keep this in mind when it comes to your vacation trips.

Bottom Line: No, I would not recommend this to a friend

---

Do not use Expedia! They do not have your back.

Playa del Carmen, Mexico

,

Nov 5, 2017
Verified Reviewer

Overall Experience:

Never ever use Expedia Mexico or USA. You may think that you are getting a great deal or saving time etc., but trust me, in the end, you are NOT!

If you book airline tickets directly with the airlines, you are given way more rights and have much more control of your booking than with Expedia! Once Expedia has your booking, you are not allowed to change or cancel any more of your booking, whereas, with the airlines directly, not only can you maybe hold the booking for 24 hours, but you can change or cancel as well.

Two days ago, by a misunderstanding, we accidentally booked flights on Expedia with American Airlines and booked in January but thought it was December. Ten hours after booking we realized our mistake and called American Airlines to find out their policies for this and see if we can not change it. They said had we booked through them directly online then YES, we could at no costs, but since we stupidly used Expedia Mexico, we had to go through them, but they could not see a problem with this. Expedia USA will change or cancel in a 24 hour period and said that Expedia worldwide was the same with the same policies so there should be no problem. And that is what we thought by using Expedia Mexico, which we are automatically directed to when we search because we live in Mexico, and thought this was best.

But NO, they said we can only change or cancel up to 10 pm that same day (we were a couple of hours over this but still under the 24 hour period). They would not change or cancel our booking without charges (that obviously they would pocket all the money because American Airlines did not charge). It would cost us $700 USD to change to the month earlier on the same dates, and yes there was a small increase in fare, which would have been ok if that was only the cost, it would cost us $500 USD to buy a whole new ticket. Even to cancel, Expedia Mexico was going to charge us to cancel plus then we would be charged more from American Airlines to re-issue the tickets. So no matter what we do, we can do nothing simply because we were so stupid as to book with Expedia Airlines.

I called American Airlines and had both Expedia Mexico on the line at the same time because the operator (Joseph) from Expedia Mexico wanted to hear for himself the policy of American Airlines. The agent told him we could change and did not understand why Expedia Mexico was refusing to do this for us. She said to talk to a manager, which he told me he was, and ask for a Sales Support Waiver to make the change. The agent Joseph hung up on both her and me. Now you tell me, what kind of service is this?

Now we leave the ticket unused and have to just buy a completely new one with American Airlines directly. How is this for customer service? Expedia Mexico does not care, and they wonder why in a couple of years they will be no existent. Why use them when you have more benefits booking directly with the airlines and the cost is the same? (AA Record Locator - USDVIS, Expedia Itinerary number - 7306666777265).

Bottom Line: No, I would not recommend this to a friend

---

Caution - Expedia rewards coupons suspended!

By Kim Smith

,

California

,

Aug 19, 2017
Verified Reviewer

Overall Experience:

I have an Expedia Corporate account that all of my employees use. We are a Gold Member and currently have 26 coupons available in our rewards dashboard. Expedia is blocking us from redeeming the rewards. This has been over a week, and I have sent many emails asking for assistance. The reward coupons used to be easy to redeem, but now the entire system is blocked with the error "We're stuffed, it appears our servers are overloaded."

Had I known Expedia would not honor rewards, I never would have switched from Hotels.com to Expedia. We now have no way to redeem coupons, which should be a $100.00 voucher to apply to a hotel stay.

Bottom Line: No, I would not recommend this to a friend

---

Good website for picking a flight

By Alex Wright

,

Panama City, Panama

,

Jan 24, 2015

Overall Experience:

Besides the fact that I usually have my booking websites preferences when I'm traveling from specific locations, Expedia is the website I use when I can't find something worth at any other websites. And I have to say that quite often I was able to find a good ticket here!

Bottom Line: Yes, I would recommend this to a friend

---

Bait and Switch

By Michelle Tobin

,

Erie, PA

,

Dec 11, 2014

Overall Experience:

I booked a flight on 12/8/14 for my son. I went through the entire process and waited for the confirmation not hitting the back button as instructed. When my son nor I received a confirmation after 20 minutes I tried calling, but the customer service number informed of technical difficulties.

So my son wrote an email through which this morning provided another number. When I called I was informed that though Expedia had all my information indicating that I'd booked a flight it was not "confirmed." And though the flight was still available as booked, the price would now be $300 more and there was "nothing" the representative could do about it.

My son predicted this very eventuality because it has happened to him before through Expedia. Consequently, I will never use Expedia again.

Bottom Line: No, I would not recommend this to a friend

---