EyeQue Reviews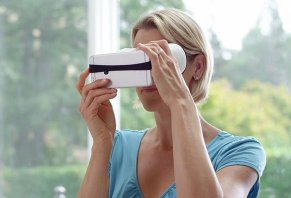 EyeQue currently offers two different at-home products that can help you test your vision, track your results, and provide insight for your optometrist.
About EyeQue
Using patented technology and precise engineering, EyeQue's at-home vision tests promise to help make caring for your eyes and taking an active role in your health fast, convenient, and affordable. And with their proprietary algorithms and cloud-based intelligence, we're told their results rival the accuracy of room-sized office equipment.
By leveraging their exclusive patents with the "ubiquity and power of smartphones," EyeQue currently offers two different app-based tests:
Refraction Eye Test – Allows you to test your eyesight and the effectiveness of your current eyeglasses
Visual Acuity Screener – Helps you check the sharpness of your distance vision
After each test, EyeQue's app will track the results over time for each member of your family via their online dashboard, while providing insight into how to care for your eyes. And all of this in a fast, fun, and fully mobile format.
But does EyeQue's technology represent an eye care solution for everyone? Specifically, for you—and for your family?
These are just a couple of the questions we'll help you come to a conclusion about, starting with a few underlying details.
What Causes Eyesight Problems?
Healthline tells us that, "The eyes are complex organs, with many parts that must work together to produce clear vision." Therefore, as you might imagine, "Problems or malfunctions in any of eye parts" can cause vision problems." Three of the most common include:
Refractive errors – These are the errors addressed by EyeQue's Personal Vision Tracker (more next), which are caused by light not focusing correctly inside the eye. Myopia (nearsightedness), hyperopia (farsightedness), and astigmatism are three common types of refractive errors.

Glaucoma and Cataracts – Glaucoma can damage the optic nerve due to the increased pressure of the fluid inside the eye, while cataracts are more common in older individuals, where the eye lens becomes cloudy.

Age-Related Macular Degeneration – Gradual damage to the cells of the macula (the area of the retina that helps us see directly in front), leading to blurred vision.
If you're experiencing anything other than a refractive error, EyeQue's products might not be for you (obviously, this is something you'll need to confirm with your optometrist). But if you are, let's take a closer look at how they claim to potentially help.
Which Testing Solutions Does EyeQue Offer?
There are currently two different products in the lineup:
EyeQue Personal Vision Tracker (PVT)
This refraction error test is designed to help adults (ideally, mid-twenties and above) assess their vision and, based on the results, buy new glasses.
The PVT system consists of four main components: your smartphone, a companion app, a cloud-based processing platform, and a device called a miniscope, which, according to the website, its inner-workings rely on something called the "Inverse Shack Hartmann" technique (US Patent #8783871).
At one end of this cylindrical device, which is made with ABS (acrylonitrile butadiene styrene) plastic and weighs less than 1 ounce, you'll find a soft, rubberized eyecup made with high-quality RoHS compliant silicone. At the other end, a safety band made from the same silicone wraps around your smartphone and exposes your eye to the normal light from the screen.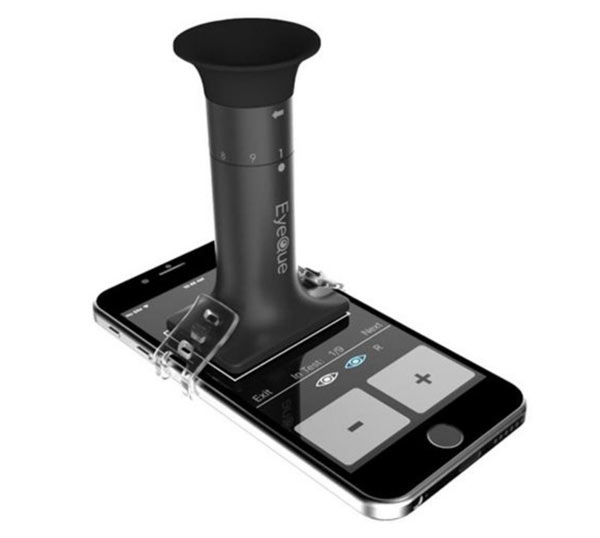 EyeQue's PVT attaches to your smartphone using a silicone band and tests for refractive errors. Credit: EyeQue Corporation
To use the PVT, you'll start by pressing the 'test' button at the bottom of your smartphone's screen inside the EyeQue app (we'll go more in-depth shortly). Then, attach the miniscope to your phone, place it over your eye so that you can see the red and green lines, and then tap the onscreen plus or minus buttons until the lines completely overlap.
Once you've completed a test on both eyes, EyeQue's powerful, patented technology will process the readings and generate eyeglass numbers.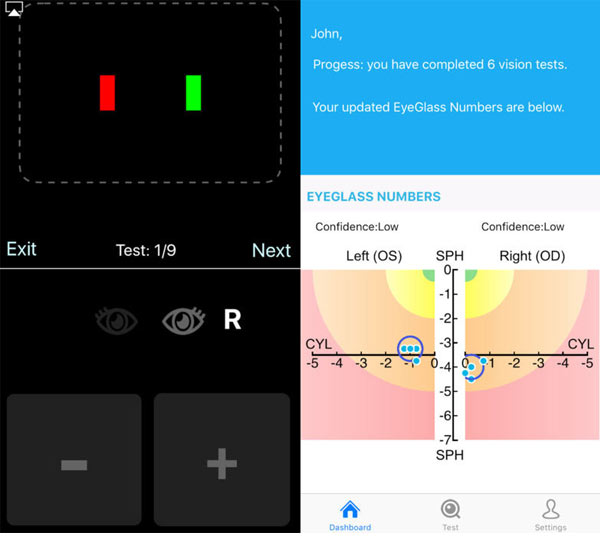 Available for smartphones running Android 4.X or above or iOS 9.3 or above, EyeQue's app can test your vision (left) and provide EyeGlass Numbers (right) you can use to help ensure your prescription is accurate.
From there, the vision test will provide you with your Spherical Equivalent (SE) refractive error, as well as your EyeGlass Numbers, which the company tells us are a "set of numbers that contain parameters defining refractive error needed for ordering eyeglasses," including your "spherical, cylindrical, and axis figures."

Another example of the EyeGlass numbers generated by EyeQue's app. Credit: EyeQue Corporation
Finally, all results are securely stored in the patented EyeQue Cloud and are accessible from your dashboard at any time, whether in-app or online.
They can also be shared directly with your doctor, used for general tracking and eyesight assessment, or to "order eyeglasses from online retailers that do not require an eye care provider's prescription certification."
EyeQue Insight Visual Acuity Screener
Compared to their Personal Vision Tracker, EyeQue's Insight device can be used by anyone age six or older to find out if they're seeing 20/20 in under three minutes. But since both devices utilize the same app, you'll still be able to track your vision changes and share the results with your doctor.
After launching the app, signing in to your family member's individual profile, and attaching the goggle-based binoculars to your smartphone, users will look through the device and "see a series of the letter "E" pointing in one of four directions (up, down, left, and right)."
They'll then swipe in the direction the "E" is facing across three different tests that measure the right eye, left eye, and both eyes.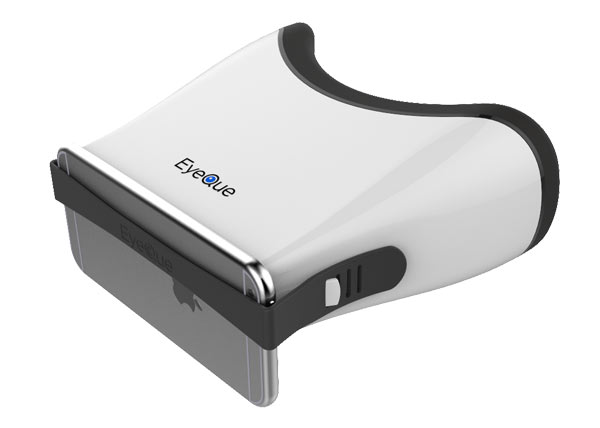 By mimicking the required 20-foot distance, EyeQue's upcoming Insight Visual Acuity Screener goggles will measure the user's vision and display results (e.g., 20/20) in two to three minutes. Credit: EyeQue Corporation
The gamified companion app is hosted by an animated character named Seymour that promises to keep kids of all ages engaged and interested throughout testing.
Finally, once the test is finished, the site's FAQ reports that results "will be shown in a format commonly used to describe visual acuity (e.g., 20/30, meaning that the user can see at 20 feet distance what someone with normal vision can see at 30 feet distance)."
Could EyeQue's Tests Cause Any Side Effects?
According to EyeQue's FAQ, it doesn't appear that either of their products has any known side effects, since it's non-invasive and only uses the low-intensity light from your phone. However, they don't recommend using their products if you:
Have difficulty holding up a smartphone while navigating the smartphone screen.
Have trouble making a rotational movement with their hands.
Have light sensitivity.
Are colorblind or have difficulty differentiating between red and green.
Or have a medical condition that affects their eyes or eyesight.
Furthermore, they emphasize that their tests work for almost everyone, although those who can't "see the pattern on the vision test due to small pupils, amblyopia, and visual field defects" might not achieve maximum results with EyeQue, as well as those who are colorblind.
Outside of this, some individuals may experience mild eye fatigue after their first few vision tests (no specifics provided). To perhaps minimize the likelihood of this occurring, they recommend taking a five-minute break after every 20 minutes of use, with no more than 30 minutes of continuous use at any one time.
Obviously, you shouldn't perform other tasks like "walking, driving, or eating while taking the EyeQue vision tests," which could prove dangerous.
How Much Do EyeQue's Vision Testing Solutions Cost?
EyeQue's Personal Vision Tracker is priced at $29.99, which includes one miniscope, a quick start guide, safety band, and storage case.
Pro tip: On Amazon, EyeQue responded to one user and noted that this product doesn't include a PD ruler, although if you email a request to support@eyeque.com with your address, they'll send you one free of charge.
Their Insight Visual Acuity Screener was only available through Kickstarter at the time of our research, with pledges ranging between $65 and $1,200 and an estimated shipping date of March 2018. At that time, the retail price will be $129.99.
For either device, U.S. customers will pay $3.50 S&H per unit ordered, Canadian customers will pay $10 per unit, and those in the UK will pay $14 per unit.
From a payment perspective, the site's FAQ emphasizes that the company does not accept any form of health insurance. If you're looking for reimbursement, you'll need to handle everything directly with your provider.
Each EyeQue device comes with one-year account subscription, which will begin when you register your serial number through the app. During this time, users can take as many vision tests as they like, although they'll have to manually renew upon expiration.
All EyeQue devices come with a 30-day money back guarantee, less S&H. In order to qualify, they will need to be received in their original case, undamaged. On the other hand, purchases for the subscription service are non-refundable.
In order to request a refund, you'll need to reach out to support@eyeque.com, or use the site's contact form.
What Are Customers Saying In Their Reviews About EyeQue's Accuracy?
On their site, seven customers had given the Personal Vision Tracker an average of five stars, with common compliments referencing:
Ease of use
Accurate results (with more than one mentioning it matched or came very close to, their prescription)
Competitive price (especially compared to an in-office test)
The only recommendation was to make the red and green lines a different color to better suit colorblind individuals.
On Amazon, more than 70 customers gave the device a lower overall average rating of three stars, with many of the same compliments. On the other hand, complaints frequently revolved around difficulty setting up, along with inaccurate/unhelpful results.
Across more than 80 combined reviews on Google Play and iTunes, EyeQue's app had an average rating of about three stars, with many of the same compliments and complaints found on Amazon.
From a company perspective, the EyeQue Corporation was founded in 2015 by CTO and COO John Serri, and is based out of San Francisco, CA. Previously, he worked as a senior faculty member at the University of Phoenix, a workplace analytics leader at Trible, Inc., and Vice President of Strategic Initiatives at Manhattan Software, Inc.
In 2017, their Personal Vision Tracker won a Consumer Electronics Show Innovation Award.
EyeQue vs. EyeNetra: Are There Other Smartphone-Based Vision Systems?
The only other smartphone-based vision system we encountered during our research that featured a binocular design, as well as game-like interactions, was EyeNetra. However, this binocular autorefractor was part of a full kit, which included an auto-lensometer, phoropter, and pre-calibrated smartphone, priced at $1,099.
The other big difference is that EyeQue is built for healthcare professionals looking to provide mobile eye diagnostics or vision screenings to patients. Also, it's backed by a body of 19 scientific papers.
As a result, if you're looking for an at-home refraction test that uses a gamified approach, a binocular-based design, and a consumer-friendly price, it appears that EyeQue is currently the only game in town.
But does this necessarily mean that you should place an order for their Personal Vision Tracker, or preorder their Insight Visual Acuity Screener? Let's address this final question as we wrap things up.
Our Final Thoughts About EyeQue
According to NerdWallet, average national prices for visiting the optometrist are $200 for an initial patient exam, $128 for an established patient exam, and $46 for a refractive vision test. So, if you need to check your or your family's vision on a regular basis, it seems that purchasing an EyeQue PVT or Insight (or both) could quickly save you some money.
However, the company emphasizes that their personal testing services are not intended to replace an annual eye health exam, so you might not completely eliminate these costs.
Outside of this, EyeQue seems to stand behind their PVT with a 60-day refund policy, which should be plenty of time to decide if it's right for you and your family. Just keep in mind that if you decide to submit a pledge for their upcoming Insight device, it's currently not set to ship until March 2018.