EZ Jet Power Washer Reviews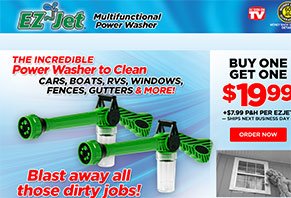 EZ Jet Power Washer promises to attach to any standard garden hose and deliver eight different spray settings, a soap dispenser, and a three-way flow switch.
About EZ Jet Power Washer
After attaching to any standard garden hose, the EZ Jet Power Washer promises to turn it into a supercharged power washer that can blast away dirt from cars, boats, RVs, windows (up to 40ft away!), fences, and gutters.
Despite this, the manufacturer tells us that EZ Jet is gentle enough to use on flowers and in delicate gardens.
At the front of EZ Jet, you'll find a rotating nozzle head with eight different spray settings (straight, jet, mist, shower, angle, flat, fan, and faucet), with a clear dispenser that can hold soap or fertilizer in the middle. This is controlled by a three-way flow switch (off, rinse, and soap modes) in back.
Whether it's leaves in the fall, dirt and grime in the spring, or mold and mildew during the summer, you understand a good spray nozzle can always come in handy.
But when reality meets the road, can you expect EZ Jet to perform even remotely similar to a power/pressure washer? Does it have any competition? How can you achieve maximum value?
Let's begin answering all your important questions by covering the basics.
How Does EZ Jet Power Washer Work?
To understand how the EZ Jet Power Washer works, it's crucial to learn how a pressure washer in general work. Typically, the term 'pressure washer' or 'power washer' references a machine that uses an electric or gas motor to power a water pump. In turn, this pump pushes water out through a hose at a high rate of speed; typically 1-2 gallons (1-8 liters) per minute.
At the end of this hose, most pressure washers feature interchangeable nozzles that can further define the spray pattern and water pressure.
This allows the exiting water to strike a small surface area with a lot of force, helping to knock away dirt, grime, and other stuck-on debris.
This isn't the case with EZ Jet. Instead, it's simply a thread-on nozzle that attaches to the end of a standard garden hose.
There is no pumps or electricity involved. Instead, pressure is increased by something called conservation of mass. Here, the area where water is flowing, inside the nozzle, is decreased, thereby increasing the water's velocity.
As a result, this water exits the nozzle at a greater velocity than it entered.
Many nozzles also feature turning mechanisms at the end that further change water pressure and pattern, EZ Jet included, along with basins along their body that can hold soap and other substances.
Like many other garden hose nozzle attachments, EZ Jet Power Washer features eight different spray settings. Image credit: Tristar Products
What does this mean in real-world terms? While traditional power washers might operate anywhere between 1,300PSI (home use models) and 4,200PSI (professional models), most traditional garden hoses aren't rated for more than 250PSI.
So, while EZ Jet might boost pressure enough for light-duty applications like spraying surface-level dirt from driveways, cleaning vehicles, watering the lawn and plants, and general household duties, you might end up disappointed if you're expecting it to perform exactly like a motorized pressure washer.
On the other hand, unlike a traditional power washer, it doesn't appear that you'll have to worry about a lot of noise with EZ Jet and it doesn't seem to draw more water than a standard spray nozzle (power washers can use 2+ gallons per minute!).
TL;DR: Despite what its name might lead you to believe, EZ Jet Power Washer is simply a nozzle that attaches to the end of any standard garden hose, and won't provide the same power as a motorized pressure washer.
It will provide quieter, less bulky operation, though, so it all depends on what you're looking to achieve.
What Does EZ Jet's Competition Look Like?
Type "garden hose nozzle" into any search engine and you'll immediately find thousands of multi-function options that provide all the same (sometimes more) spray patterns as EZ Jet.
In fact, nozzles like these are so popular that you're sure to find several options at just about any local home improvement store or retailer with a garden section.
Adding "soap dispenser" to your search term will reveal at least a dozen other online options that provide essentially identical functionality as EZ Jet. This includes popular brands like Carrand, Ray Padula, Rainwave, and Pittsburgh.
Pro tip: Feel like a search guru? Try entering the term "EZ Jet Water Cannon, " and you'll find models that don't just function like EZ Jet, except for the color, they're designed identically as well. Sometimes for less!
Even among some of these top-rated brands, you'll typically pay between $10 and $20. How does EZ Jet compare?
How Much Does the EZ Jet Power Washer Cost?
You'll pay $19.99 plus $7.99 S&H for one EZ Jet Power Washer and another $7.99 fee for a second during checkout. We're told it will ship the next business day following your order.
All EZ Jet purchases come with a 60-day money back guarantee, less S&H charges.
Pro tip: Keep this in mind when comparing the overall value of local options, since ordering the BOGO offer could cost you $20+ by the time you ship your EZ Jets back to the manufacturer.
To request a refund, Tristar Products' customer service department can be reached at 973-287-5168.
Are There Any Reviews For EZ Jet's Manufacturer?
Although EZ Jet Power Washer was too new at the time of our research for any customer feedback, it's manufactured by Tristar Products, the second-largest name in the ASOTV industry.
Because they're so large, Tristar is responsible for hundreds of hits over its nearly three decades in business, including recent ones like Copper Chef, Clear TV, Power Pressure Cooker XL, and Flex-Able Hose.
Like many As Seen on TV products (regardless of the manufacturer), most of these come with 2-star average ratings from HighYa readers, with common complaints citing less-than-stellar quality and performance, or sometimes-unpleasant customer service experiences.
Granted, we're not implying that this is what you might expect with the EZ Jet Power Washer. After all, Tristar has likely sold hundreds of millions of units over the years, with many satisfied customers.
However, we think it's important that you have a complete picture of the situation before handing over your hard-earned money.
Is the EZ Jet Power Washer Your Best Value?
We've covered a lot of territory here, but after distilling everything, it really comes down to this: Including it's not-insignificant S&H charges, EZ Jet provides many of the same features you'll find with local options—or even online options with lower shipping costs—but is priced near the top.
Yes, Tristar has been around for decades and seems to stand behind EZ Jet with a 60-day refund policy. However, we're consumers too, and if we can find something functionally identical, locally, and for less money, we're not convinced that it ranks at the top of the list from a value perspective.
Did you order the EZ Jet Power Washer? Did it perform as well as in the commercial? How did it stack up against your other garden hose nozzles? Tell us all about it in your review below!
2 out 3 people found this review helpful

EZ Jet Power Washer

By Ginger F.

,

Louisiana

,

Apr 27, 2019
Verified Reviewer

My mom bought it way back when on a TV offer, Bogo free. I see they're still sold in twos. I've had it over 8 years, I used it once and loved it, then moved around and lost it. Today I found it, Thank you God. Yesterday I was trying to use a garden fertilizer that the water mixes with it to clean my mom's and my veneer window shades, after all that work, it was still full of my bleach mixture and realized the straw was not in there to suck it up. I was so happy when I was going thru a lot of stored stuff, I found it. My life is going to be so much easier doing our blinds and my mom's trailer. Thank you EZ Jet.

Bottom Line: Yes, I would recommend this to a friend

---

Advertisement

---