EzTaxReturn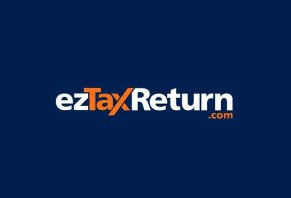 Summary
EzTaxReturn.com's tax preparation software is simple and straightforward. Its free filing option is a good fit if you do a 1040EZ or 1040A, but you'll need to pay for their upgraded software if you own a home, business, and investments.
EzTaxReturn Review: Is It the Right Tax Preparation Software for You?
EzTaxReturn is an online tax preparation software offering free federal tax filing for simple returns and $29.95 filing for more complex returns.
The site's reasonable rate for complex returns makes it stand out from other tax software companies that charge a much higher price. You don't have to worry about confusing pricing tiers with ezTaxReturn, either – pricing is straightforward.
Our review of this tax software will help you understand if its features will be a good fit for you and where its limitations lie.
Pros:
Cons:

Simple interface that won't confuse or overwhelm you
Fair pricing for complex returns
Robust audit defense services available for an extra fee

Lack of an extensive education section
Free filing still requires $19.99 for certain state filings
Doesn't support filing for 13 states
Features
The software walks you through your tax return by asking you simple questions. As it receives your answers, it will use the information you provide to fill out all the necessary supplemental forms specific to your tax situation.
The first series of questions regarding you, your household and your job is the most basic. EzTaxReturn will use the information to determine if you're eligible for their free filing option. If not, the software will notify you that you'll need to file via the paid option.
At the end of your return, the software will double-check the information in your return and notify you of any errors you need to fix.
Once the review is complete, you can submit your tax return. EzTaxReturn will notify you that you successfully submitted your return. You'll get subsequent notifications telling you when the IRS accepts your tax return or if the IRS rejected it.
Using an interview-style question format means you can answer questions with "yes" and "no," which is a relief if you find tax returns intimidating. This user-friendly style is one of the software's main advantages.
As for your tax refund, you can choose to send it to one bank account, split it between up to three bank accounts or send it to a new or used prepaid card.
Maximum Refund Guarantee
EzTaxReturn guarantees that you will get the maximum refund possible from its software. If you find an alternative method of calculation that garners a bigger refund, ezTaxReturn will refund you your preparation fees.
To apply for this refund, you'll need to submit documentation of the higher refund amount within 60 days of filing with ezTaxReturn.
This guarantee is not available to customers who use the free filing option.
Is ezTaxReturn Safe?
This software implements a wide variety of security measures to ensure that your information is safe. A few of the software's strengths include:
Maximum security data centers store your data
Software scanned 7,000 times a day to test vulnerabilities and weaknesses
Data exchanged between you and the software is encrypted
The software has not been the subject of information dumps or hacks in recent years, lending to its credibility as a secure site.
Supported Tax Forms and Schedules
The following list shows forms often used at tax time that ezTaxReturn supports:
1040 EZ/A/SR/X
1098 C/E/F/MA/T/Q
1099 DIV/INT/K/MISC/R
Schedules A through E
Schedule EIC
Schedule SE
Form 2106 (employee business expenses)
Form 2441 (child and dependent care expenses)
Form 3903 (moving expense)
Form 8812 (additional child tax credit)
Form 8829 (home office expenses)
Form 8863 (education credits)
Form 8889 (health savings account)
Form 8962 (ACA premium tax credit)
EzTaxReturn provides you with a more extensive list of their supported forms on their website.
Pricing and Plans
Federal Return
Free
Paid
1040 EZ and 1040A from 2017 and before
✔
✔
1040
✔
in some cases
✔
in most cases
1040 SR
✔
in some cases
✔
in most cases
Married filing jointly
✔
Freelancers
✔
Homeowners
✔
Rental property investments
✔
Retirement accounts
✔
Household income of more than $100,000
✔
You can file your federal taxes for free if you meet the following criteria:
Single or married following jointly
No dependents
No business or self-employment income
Income under $100,000
Taxable interest under $100,00
No income adjustments
The free filing requirements are great if you aren't a homeowner and you have a W-2 job that does or doesn't include tips. Also, it's a good fit if you don't have kids and aren't married.
If you're filing a 1040EZ or 1040A from past years, you'll most likely qualify for the free filing. If you're filing 1040, then there's a good chance you may have to pay to file.
If you don't meet the criteria for free filing, you'll pay $29.95 for federal taxes or $39.95 for a combination of federal and state taxes.
The paid filing tier accepts nearly all tax situations (homeowner, investor, self-employed, business owner) with the following exceptions:
You're self-employed and have more than one home office
You're filing as a business partnership or S-corp
You did a short sale of a home
You have undistributed capital gains
You received an early Roth IRA distribution
You have gains or losses from options
You don't know the tax rules for your pension distribution
You have more than one investment real estate property
State Filing
You'll pay $19.95 to do state taxes if you file for free. If you can't use the free version, then you'll pay $39.95 to file both your federal and state taxes.
No matter which site you choose, nine states don't require state tax returns: AK, FL, NV, NH, SD, TN, TX, WA, WY.
Furthermore, the following states allow you to file for free on the state's official website: CT, DE, HI, ME, KS, NE, NM, UT.
Beyond that, ezTaxReturn is limiting. The site only supports tax returns from 20 of the remaining 33 states: AL, AZ, AR, CA, CO, GA, IL, LA, MD, MA, MI, MS, NJ, NY, NC, OH, PA, SC, VA, WI.
If you live in one of the states the tax software doesn't support, it's most likely a deal-breaker since you'll have to go to another website to e-file.
Paid Add-Ons
In general, EzTaxReturn's paid add-ons are a good fit for you if you're worried about getting audited or concerned you'll make a mistake that requires an amendment.
Audit Protection
You can pay an additional $39.99 for audit defense. EzTaxReturn will handle your audit for you; it will correspond with the IRS on your behalf and represent you in any in-person audit meetings.
This service is distinct from audit assistance, which usually entails the tox software company giving you advice and answering questions but not representing you in hearings or directly corresponding with the IRS.
Keep in mind that audits are rare and, in most cases, only happen when the deductions you select are outside of what's normal for people in your similar tax situation.
Amendment Protection
You have two choices for amendments. Before you file, you can pay $9.95 up-front for "insurance" that entitles you to amendments. Or, you can skip the insurance and pay $19.95 if you need to amend after you file.
Downloadable and Printed Copies of Your Tax Return
You have three years of free tax return downloads. After three years, you'll need to pay $9.95 per download.
If you prefer a printed copy of your tax return, ezTaxReturn will do it for $19.95 and send it via first-class mail. You can overnight a paper copy of your return for $34.95.
This add-on is a good fit if you aren't able to print a copy of your tax return or you file by mail instead of online. Otherwise, you can just download a PDF of your return via your ezTaxReturn account and print it out.
Other Services
EzTaxReturn will charge you $29.95 to pay your filing fees out of your refund. This fee is very high considering it costs the same as what you'll pay to file your return.
Also, ezTaxReturn is willing to send your refund to a prepaid card that may require fees for the transfer, set-up and use of the prepaid card.
EzTaxReturn vs. Popular Tax Preparation Software
| | ezTaxReturn | TurboTax | TaxAct | H&R Block |
| --- | --- | --- | --- | --- |
| Free filing | Yes | Yes | Yes | Yes |
| Homeowner filing cost* | $29.95 | $40 | $29.99 | $29.99 |
| Investor filing cost* | $29.95 | $70 | $39.95 | $49.99 |
| Freelancer filing cost* | $29.95 | $90 | $74.95 | $49.99 |
| Business owner filing cost* | $29.95 | $90 | $74.95 | $79.99 |
| State filing cost* | $19.95 | $0 for free filing, $40 for paid version | $0 for free, filing $39.95 for paid version | $0 for free version, $36.99 for paid versions |
| On-demand CPA/ EA/ Tax expert access | No | Yes (extra $50 to $90) | No | Yes (extra $30 to $60) |
| Support options | Phone, email | Video, phone, chat, email | Phone, chat, email | Phone, chat, email, in-office |
| Educational resources | Minimal | Extensive | Extensive | Extensive |
| Paid access to CPAs and EAs | No | Yes | No | Yes |
| Audit services | Will correspond on your behalf and represent you in IRS audit meetings ($39.99) | Will correspond on your behalf and represent you in IRS audit meetings ($39.99) | Will correspond on your behalf but won't represent you in IRS audit meetings (free) | Will correspond on your behalf and represent you in IRS audit meetings (free) |
* Pricing reflects cost at the beginning of tax season. As the tax deadline gets closer, prices go up.
If you're trying to find out which tax service is best for you, you'll need to ask yourself the following questions:
Are you on a limited budget?
Are you worried about audits?
Do you own a home?
Do you have investment or retirement accounts?
Are you married or do you have kids?
Are you self-employed or a freelancer?
How comfortable are you doing taxes on your own?
Do you want access to a CPA, enrolled agent or other tax experts?
Do you want robust tax education resources you can reference?
How you answer these questions will guide you to the right product, as the more questions you answer yes to, the more services you'll need from your tax software. The more complex your needs, the more likely it is that you'll need to pay for a higher-priced product.
The Bottom Line
EzTaxReturn's tax software emphasizes a simple interface that won't confuse or overwhelm you. While they have certain exclusions relating to less common tax forms, their $29.95 filing tier covers most tax situations.
However, the site has its flaws too. As such, we believe it is a good fit for some filers and not a good fit for others.
Who It's Good For
You don't need handholding when you file your taxes: If you aren't nervous about making mistakes on your tax return and have extensive experience DIYing your returns, you'll most likely enjoy the software's simplicity and reasonable pricing. The lack of a robust information section won't be an issue for you, either.

You aren't worried about audits: EzTaxReturn's audit defense service will increase your filing costs considerably. If audits don't scare you and you've filed similar returns in the past without issues, you won't need to pay for the additional audit defense fee.
Who It's Not Good For
You have a very complex tax situation: If you have rental properties, stocks and other investments, retirement accounts, a house, and a business, you'll most likely want to have a CPA or EA on-demand just in case you run into problems. EzTaxReturn's lack of a paid tax-expert service means you aren't going to get expert help if you run into problems.

You lack confidence filing your own taxes: This software's lack of a robust education section as well as no option for access to tax experts means you'll be on your own as you work through the software. Even if you have a simple return, this lack of support could cause you unneeded anxiety.
Customer Reviews