Fabric Skincare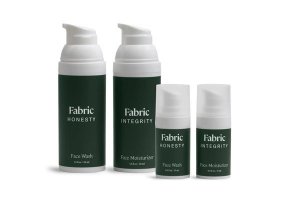 Summary
Fabric Skincare's subscription service for men provides a face wash and face moisturizer containing ingredients that run the gauntlet from fatty acids to essential oils, all of which are designed to nourish your skin.
Fabric Skincare Review: Is It Worth It?
Fabric Skincare is a men's subscription service that sends you a face wash and moisturizer made from cruelty-free and toxin-free ingredients.
Men don't have many options for skincare subscriptions, leaving them to choose between shaving-focused companies like Harry's and Dollar Shave Club for their skincare solutions. Fabric founder Assaf Sahar started the company because of this void.
"I couldn't find a brand like Fabric so I set out to create one," he said in a company press release. "Fabric is going to change the way men care for their skin by taking so much guesswork out of the equation and making their routine simple and accessible."
In our review of this product, we'll talk to you about what their products are and how to use them, the ingredients the products contain and the cost of a Fabric Skincare subscription.
We'll talk about the existing customer reviews and then conclude with our thoughts about the service's pros and cons.
Fabric Skincare's Products and How to Use Them
Fabric's sole offering is the "Standard Set," which contains two products: Honesty Face Wash and Integrity Face Moisturizer, both of which come in 1.6-ounce pump bottles.
You'll start with the company's starter kit and then choose the frequency of your subscription: once every two months or once every four months.
Like most face washes, Honesty removes dirt and oil from your skin. The product is non-comedogenic, which means it won't clog your pores and lead to pimples.
To use, you'll wet your face and hands with warm water, then work it into a lather on your face and neck before rinsing it off.
The Integrity moisturizer hydrates your skin through a variety of ingredients including coconut oil. Fabric recommends gently massaging the lotion into your face using dry hands.
Both of the products are scented with essential oils, providing an aroma of pine that most likely comes from the juniper fruit oil in both products.
In a basic sense, the Standard Set is a face-care regiment that's easy to use, features a masculine pine scent and can be delivered to your door every month.
If you want to try the product before committing to the Standard set, you can order their "Starter Kit" for free. It contains 0.5-ounce bottles of Honest and Integrity.
Analysis of Ingredients
Fabric places emphasis on the fact that their ingredients are dermatologist-tested and clean, which means you don't have to deal with any chemicals that might be considered toxic.
The company provides full ingredient lists for both products. We will focus on the active ingredients the company highlights plus Integrity's coconut oil:
Jojoba oil: Improves complexion
Coconut oil (moisturizer only): Skin hydration
Centella asiatica: Soothes/rejuvenates skin
Hyaluronic acid: Makes dry/damage skin look refreshed
Sage extract: Diminishes wrinkles
Vitamin E (moisturizer only): Protects against UV rays
Skincare companies are notorious for making fantastic claims about what their products can do. Fabric takes a more reserved approach, listing the simple benefits of each ingredient.
We turned to expert sources to help determine whether or not these benefits were applicable for all skin types.
Jojoba Oil and Coconut Oil
We've included these two ingredients in one section because they're both considered fatty acid. As fatty acids, they can provide important remedies for people suffering from essential fatty acid deficiencies.
The Oregon State University Linus Pauling Institute's Micronutrient Information Center notes that topical applications of these fatty acids can be much more effective than getting them through your diet. Your liver ends up reducing their skin-improving characteristics.
However, topical applications of fatty acids heavy in linoleic acid (coconut oil is one of them) allow the acids to do their work in reverse—skin first and then to the rest of the body.
"Topical application of oil is an effective means of delivering EFA's to the skin and, eventually to the rest of the body," the institute wrote.
Furthermore, jojoba oil includes oleic acid, an ingredient the Linus Pauling Institute says helps protect your skin from UV rays.
Our conclusion is that the fatty acids in Fabric Skincare's jojoba oil and coconut oil can help those with essential fatty acid deficiencies that manifest as dry and scaly skin.
However, coconut oil is a well-known pore-clogger, which conflicts with Fabric's claim that their products don't clog your pores.
Centella Asiatica (Gotu Kola)
According to independent supplement testing firm ConsumerLab.com, this ingredient's main use in medicine today is to treat a condition similar to varicose veins.
Another use they mention is for healing certain types of raised scars but, the site notes, there is "no real evidence" that centella asiatica can heal scars.
The ingredient's main function is to "strengthening connective tissues" in the skin. Therefore, you could conclude that applying it to the skin would lead to better skin because it is repairing connective tissue.
However, there isn't much evidence to back up this conclusion and, therefore, it's hard to say that the ingredient could provide the benefits Fabric Skincare says it does.
Hyaluronic Acid
Hyaluronic acid is naturally present in your skin but, over time, you lose it and your skin shows signs of again. ConsumerLab says that adults tend to lose about 1% of their skin's hyaluronic acid content each year, but that men lose is slower than women.
While a man's hyaluronic acid loss may be slower, it still dissipates and leaves behind aging skin.
ConsumerLab's research of several moisturizing products indicates that moisturizers containing hyaluronic acid can be hit and miss in their effectiveness.
At the same time, there's enough evidence and widespread acceptance of hyaluronic acid by major beauty companies (Peter Thomas Roth, Olay, Vichy Mineral, etc.) to indicate it is effective when paired with the right ingredients.
Sage Extract
Much of the research available about sage extract relates to sore throat pain, digestive distress and mental function.
However, outside of those areas, ConsumerLab's researchers report that there is very little evidence of sage's scientific efficacy for other conditions.
We were surprised by this so we searched for additional studies and found that most of the information about this ingredient came from websites with low credibility.
The one appropriate study we were able to find was published in 2014 in peer-reviewed journal PLOS One. The researchers studied the anti-wrinkle effects of a particular chemical in red sage. The researchers said their results indicated the chemical can help with collagen production.
However, the researchers retracted their study in 2019, a move that typically happens when the journal publisher discovers "a serious problem with an article … such as in cases of scientific misconduct, plagiarism, pervasive error or unsubstantiated data," the U.S. National Library of Medicine notes.
The takeaway here is that there isn't much—if any—scientific backing for sage extract's effectiveness.
Vitamin E
The final main ingredient in the Fabric Skincare list is vitamin E. This ingredient is contained only in the moisturizer and is a natural skin protector.
The Linus Pauling Institute's overview of existing research about vitamin E reveals that the vitamin soaks into the membranes of the cells in the top layer of your skin and protects against cell degradation.
However, while Fabric claims vitamin E protects your skin from UV rays, the institute says that "much of a topically applied dose of vitamin E alone will be destroyed in the skin following exposure to UV light."
The institute goes on to say that vitamin E becomes more stable when paired with vitamin C. However, the ingredients list Fabric has on their site doesn't indicate any added vitamin C in their moisturizer.
Because of this research and analysis, there's a good chance the vitamin E included in the moisturizer won't last long when exposed to UV rays.
Price and Return Policy
Fabric charges $40 for deliveries every two months and $45 for deliveries every four months.
Their site says that you can get a refund if you're unhappy about your products.
You'll have to contact customer support to begin the return process.
Fabric vs. Harry's and Gillette
Fabric Skincare's focus on face treatments is unique. However, two other popular male-focused subscription services provide face wash and moisturizers: Harry's and Gillette.
Harry's is a subscription company that ships razors on a frequency ranging from monthly to every six months. They also sell a face wash and a face lotion that you can add to your razor subscription or set up as a standalone subscription.
These two factors make the service stand out among the well-known razor subscription services and give it the distinction of being one of Fabric Skincare's only competitors.
Their face wash comes in 5.1-ounce tubes while the face lotion comes in 1.7-ounce bottles. There isn't a big difference in the Harry's face wash ingredients. Both use essential oils and ingredients common to most face washes.
The big difference is that Fabric Skincare's moisturizer uses coconut oil and Harry's doesn't. If you're someone who is prone to acne or is dealing with acne, a non-coconut-oil moisturizer will most likely be a better choice.
Gillette provides standalone subscriptions to their Enrich Beard & Face Wash and their Enrich Beard and Face Moisturizer.
Whereas Fabric focuses on essential oils, fatty acids and hyaluronic acid to condition your skin, Gillette uses shea and cocoa butter. These butters are high in fatty acids, which we noted are proven to help abate oil deficiencies in the skin and improve its appearance.
Our advice here is to avoid Fabric if coconut oil has proven to clog your pores in the past.
If you still want the benefit of fatty acids to hydrate and add health to your skin, then Gillette's products are a great choice. Their wash and moisturizer are a good fit if you have a beard, too, because their formulas are designed to benefit your skin and facial hair.
However, if you're clean-shaven and you don't have clogging issues with coconut oil, Fabric's products may work well for you. On top of the fatty acids its moisturizer includes, you also get the benefit of hyaluronic acid, which is missing in both the Harry's and Gillette products.
Price-wise, Gillette offers the best value because you get about 10 ounces of total product for $20, whereas Harry's gives you around 7 ounces for $16 and Fabric gives you 3.2 ounces for $40.
The Bottom Line: Should You Buy Fabric Skincare?
Based on the research we looked at, there are some pros and cons to the face wash and moisturizer that Fabric Skincare sells.
First, we like that their moisturizer includes hyaluronic acid, vitamin E, jojoba oil and coconut oil. These ingredients have proven to have positive results for skin health.
Because vitamin E isn't stable enough to provide long-term sun-blocking abilities, you'll most likely want to put a light coat of sunscreen on your face if you're headed out into the sun for an extended period of time.
Second, we like that the company focuses on delivering face products for men. This is the first company we've reviewed that focuses solely on face wash and moisturizer.
Another benefit is that Fabric Skincare's products are contained in a pump bottle. Products in a bottle are more likely to remain stable and clean than products in a jar.
One of the main downsides we see is that Fabric claims its products don't clog your pores (non-comedogenic) but their moisturizer contains coconut oil, a known pore-clogger.
However, as we mentioned earlier, the brand's moisturizer has multiple skin-healthy ingredients in it. So, if you haven't had bad experiences with coconut oil, then Fabric's moisturizer presents some distinct advantages over subscription face products from Harry's and Gillette.
Customer Reviews