Fairway Independent Mortgage Reviews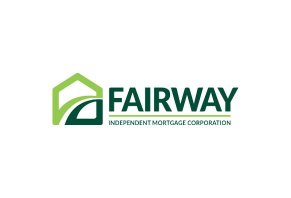 Fairway Independent Mortgage provides access to a range of conventional and non-conventional loan types and products, including fixed rate, adjustable rate, jumbo, and FHA and VA.
About Fairway Independent Mortgage
Between their easy online application process, resource-filled website, and 350+ nationwide branch locations, Fairway Independent Mortgage promises to make the home loan process as simple as possible, while earning your trust, providing a satisfactory experience, and exceeding your expectations.
In order to meet your unique needs, they offer a wide variety of loan options, including fixed-rate and adjustable-rate mortgages, jumbo and reverse mortgages, and VA and FHA lending products. And to provide tailored advice about which of these options represents the best decision for you and your family, their mortgage professionals are standing by.
Choosing the 'best' mortgage lender is a nuanced process. Here, we'll provide the essential information you need to quickly understand which step you should take next, and whether or not this might involve Fairway Independent. Let's start with their product lineup.
Which Loan Options Does Fairway Independent Mortgage Offer?
Fairway Independent Mortgage Corporation provides access to the following mortgage types and loan products:
Conventional Loans
Adjustable Rate Mortgage (ARM) – A loan that typically comes with a lower starting interest rate, although this can change on a periodic basis due to market fluctuations, thereby impacting your monthly payment.
Fixed Rate Mortgage – The interest rate remains the same throughout the term of the loan, which can last anywhere between 10 and 30 years, although monthly payments are generally higher than with an ARM.
Jumbo Mortgage – For high-value homes where borrowers have a low debt-to-income ratio and a high credit score.
Renovation Loans
Fairway HomeStyle Renovation Loan – Covers the "costs of repairs, remodels, renovations, or energy-efficient improvements" completed by a contractor. Eligibility includes primary or secondary residences, or an investment property.
Limited 203(k) Rehabilitation Mortgage – Can provide up to $35K for non-structural repairs or renovations. Insured by the FHA.
Standard 203(k) Rehabilitation Mortgage – This loan could be an option if $35K isn't enough to complete major home remodeling related to "moving or removing walls, minor pool repairs, and landscaping," per the Fairway website.
Miscellaneous Loans
Federal Housing Administration (FHA) Loans – Federally insured loans that offer a range of amenities ideal for first-time and low-to-moderate income homebuyers, including low down payments, flexible credit requirements, and fixed and adjustable interest rates.
Refinance Loans – You'll pay off your existing loan with a new one from Fairway Independent, which could feature a lower, fixed interest rate, or shorter terms. Also allows you to borrow against your home's equity (known as a 'cash out').
Reverse Mortgage – If you're at least 62 and have equity in your home, this could turn your equity into cash and isn't repayable until the last borrower leaves home.
United States Department of Agriculture (USDA) Rural Development Loans – Although eligibility is contingent on property size, location, and condition, this program can help low-to-moderate income families located in designated small towns, suburbs, and exurbs obtain 100 percent financing and low-interest rates and closing costs, with low FICO score requirements.
Department of Veterans Affairs (VA) Loans – No down payment, lower closing costs, 100 percent financing, financing fees can be rolled into the loan amount, and no prepayment penalties.
How Does the Fairway Independent Mortgage Website & FairwayNow App Work?
Browsing the Fairway Independent website, you'll find standard marketing content, in addition to an extensive glossary and resources sections, where prospective customers can learn more about common terms, access calculators and a mortgage qualifier, as well read an in-depth Homebuyer's Guide.
The mortgage application process is also fairly standard, where you'll input your and any co-borrower's information, employment details, assets and liabilities, and so forth. Note: Unlike fintech-oriented lenders such as Rocket and Lenda (to name just a couple), it appears each application will go through a standard underwriting process once submitted.
The company's FairwayNow Android and iOS app seems to largely be a mobile-friendly version of their website, with access to the same glossary, calculators, and loan information.
However, the app also allows you to scan and store documents using your phone's camera, track your loan progress with real-time push notifications, connect to third-party home-searching sites in-app, as well as the ability to call or text loan officers and realtors with a single click.
Fairway Independent Mortgage Eligibility, Rates, & Fees
General rates/APRs, fees/closing costs, and core eligibility criteria weren't listed on the Fairway website at the time of our research.
Pro tip: According to the Fairway FAQ, the company will sell your loan to another company at closing. This means that although they'll set your initial rates, eligibility criteria, and so forth, they likely won't be the one to service it following closing.
In the meantime, Fairway's corporate offices can be reached at 866-912-4800 or via website's contact form, while Servicing can be contacted at 800-201-7544.
» For Further Reading: How a Good Credit Score Can Save You Money on Mortgage
An Overview of Customer Reviews for Fairway Independent Mortgage
On Zillow, we encountered more than 9,000 customer reviews for Fairway Independent at the time of our research, who had cumulatively given the company an average rating of about five stars. Compliments often referenced stellar support, ease of doing business, and quick closing.
Fairway Independent's Denver, CO branch had 15 reviews from customers and an average rating of 4.5 stars, with many of the same compliments. Complaints—what relatively few there were—seemed to frequently reference problems during the process.
Between Google Play and iTunes, we came across more than 2,200 combined reviews for the FairwayNow app, which had an average rating of about five stars. Most compliments mirrored those found above, while the few complaints related to bugginess.
From a company perspective, Fairway Independent Mortgage Corporation is based out of Madison, WI and has been in business since 1996. According to the bio on their website, they've funded more than $50 billion in loans to date, with more than $17.5 billion of that in 2016 alone.
They held an A+ Better Business Bureau rating, based on 11 customer reviews and closed complaints, as of 3/12/18. Where details were available, most appeared to reference customer service issues. A representative always responded.
How to Choose Between Fairway Independent & Another Mortgage Provider
According to the Consumer Financial Protection Bureau (CFPB), there were nearly 14 million home loan applications submitted to U.S. lenders in 2016 alone, of which 8.4 million resulted in loan originations. In other words, there are hundreds of other mortgage lenders out there, so what's the best way to decide if you should go with Fairway Independent, or one of their competitors?
Because APR will directly impact your monthly payment, as well as how much extra you pay over the course of your loan, many professionals recommend that you start by comparing numbers between companies.
Whereas much of the competition displays their average APRs on their website, this isn't something Fairway provided, and our request was directed to the executive team when we called Servicing to inquire about the details. Again, we'll be sure to update this article as soon as we receive a response.
You'll also need to decide whether you'll go through a broker (a third party who can help you find the best mortgage for your needs), or directly through the lender, such as with Fairway Independent.
If you decide to go through a broker, writing for Forbes, Mark Greene notes that focusing on their title might not be the best starting point. Instead, ask family and friends for recommendations. And it almost goes without saying that you should learn what the broker's customers are saying about their experiences online.
Finally, before deciding on a lender, make sure everything's lined up on your side to make the process go a smoothly as possible. Diane DiPiero at TheSimpleDollar puts it this way:
"You'll need at least enough savings to cover your down payment (typically 20% or more of the home's value, but it can be less), closing costs, and your first year of property taxes and homeowners insurance. But lenders also like to see that you have some cash reserves to pay your mortgage in the event of an emergency, such as a job loss.
"Next, figure out how much money you need to borrow — and do this before contacting a mortgage lender. Going into a meeting with a lender confidently stating your requirements will steer the conversation directly toward your ultimate goal."
Let's take everything we've learned here and come to a conclusion about Fairway Independent Mortgage.
Our Final Thoughts About Fairway Independent Mortgage
If you're in the market for a mortgage, Fairway Independent seems to have a lot going for them, including the fact they've been in business for more than two decades and their almost wholly positive online customer reputation.
Based on what we learned from the professionals in the previous section, we think Fairway's biggest potential drawback is that they don't list APRs on their website.
As such, prospective customers might not have a reference point when comparing their rates to other mortgage lenders, without first handing over their personal information and having a hard inquiry pulled on their credit.
Outside of this, you might not have much more to lose than about 10 minutes of your time if you decide to submit a loan application through Fairway Independent Mortgage and find their rates don't match your needs.
» Read Next: First Time Homebuyer Tips: Expert Advice to Avoid Costly Mistakes
1 out 1 people found this review helpful

The best mortgage company

By Ali A.

,

Connecticut

,

Sep 14, 2018
Verified Reviewer

I was shopping around to refinance my mortgage and happened that I called Suzan and I am still shocked. I got the best rate and everyone was so friendly, from the loan opener Deeana to processor Dawn. To make the long story short, my loan was closed in 15 days. I will always go back to them, they are the best.

Bottom Line: Yes, I would recommend this to a friend

---

Easy and fast process!

By Kimberly O.

,

Gray, GA

,

Jul 4, 2018
Verified Reviewer

I've closed several loans with different companies. This by far has been the most streamlined and most organized loan I have had. As you move through each step, you receive a friendly call and email with updates. They also have many loan options. I highly refer Fairway Mortgage.

Bottom Line: Yes, I would recommend this to a friend

---

Advertisement

---