FanDuel Reviews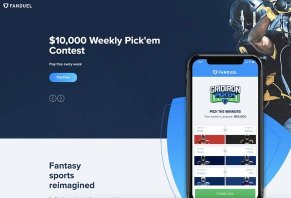 FanDuel is a New York-based daily fantasy sports site with contests for nine different sports, entry frees ranging from $0 to $26,200 and prizes going as high as $1 million.
What Is FanDuel?
FanDuel daily fantasy sports is a collection of paid and free weekly fantasy sports competitions across eight different sports, with prizes going as high as $1 million.
The company is considered one of the two leading DFS sites along with DraftKings, two companies that spearhead the more than $3 billion daily fantasy sports industry.
FanDuel is based in New York. Its founders are a husband-and-wife team – Lesley and Nigel Eccles – and Tom Griffiths. In May 2018, international sports betting firm Paddy Power Betfair acquired FanDuel, move that expanded FanDuel from a daily fantasy sports site to a daily fantasy sports site that offers sports betting in New Jersey and Pennsylvania.
This review is analyzing the daily fantasy sports (DFS) side of FanDuel and not the sports betting side. We will cover FanDuel's various DFS games, talk about the fine print and then compare what it offers to what you'll get from DraftKings and Yahoo DFS.
A Quick Word About DFS vs. Season-Long Fantasy Football
Daily fantasy sports is different than the traditional, season-long fantasy football that existed before DFS came along.
DFS games are games in which you pick your team on a weekly or nightly basis. You have a budget of 60,000 fictional dollars with which you can build a lineup of players who each have their own individual dollar cost.
Better players cost more money and players who don't score as many points tend to cost less. Once the day or week is over, you can sign up for a new contest and pick a new lineup.
Note: In this review, we're going to use FanDuel's NFL contests as a template for how the site works.
The Types of Daily Fantasy Games That FanDuel Offers
One of the keys to understanding how a DFS website works is knowing which types of games they offer. FanDuel provides seven different kinds of DFS games, each of which we'll describe in this section.
The site offers those seven different kinds of games in the following sports:
NFL football
College football
Pro baseball
Pro basketball
Pro hockey
Pro golf
Pro soccer
NASCAR
As a side note, every one of these game types has options, the most important of which are "game styles" and "slates."
"Game styles" refers to lineup variations you can have. You can choose tournaments with a full roster (QB, 2 RB, 3 WR, TE, W/R/T, DEF), a lineup with five flex positions and MVP tag you can add to any player and multiply their score by five points, and, finally, a "SuperFlex" lineup with eight position players and a "SuperFlex" position that can be a QB, RB, WR or TE.
The "Slates" option lets you choose between single games, 1:00 EST games, 4:00 EST games and all games.
Tournaments
These contests have two main characteristics: big player pools and big prizes. A good example of a FanDuel tournament would be the $3M NFL Sunday Million tournament, in which the entry fee is $9 and you get to use multiple entries (more than one lineup).
This particular tournament had 396,825 entries with $3,000,000 in guaranteed prizes (paid out no matter what). The first-place finisher wins $1,000,000, second-place gets $150,000 and third place gets $150,000. From there, prizes decrease incrementally until places 40,001-97,383, who get $15.
The first-place winner is the team who scores the most points.
Beat The Score
In this system, you sign up for a particular contest just like in Tournament mode, except your goal Isn't to get a better score than the other people in the contest.
Rather, your goal is to exceed a score that FanDuel sets for the contest. The prize pool is split up evenly between every team who surpassed the score to beat.
So, if there's a $30,000 prize pool for a 90-point Beat the Score league and 5,000 teams surpass the 90 points, then each manager gets $6.
Multipliers
A set number of top teams (top-10,000, for example) double their entry fee.
Head-to-Head
In these contests, you play one-on-one against another FanDuel manager. Entry fees range from free up to $10,600.
3-100 Player
These contests have between 3 and 100 managers with prize pools split up based on how many managers there are in your league.
50/50 Contest
The top 50% of finishers get paid out. So, if it's a 10-team contest, then the top five teams will earn prize money according to the contest's payout structure.
Beginner Contests
These are leagues for those who are new to FanDuel and DFS in general. Entry fees for these contests are lower – $10 is the max.
Beginner Contests and the other six types of games in this section can all be customized according to the entry fee, the number of managers you compete against, and other factors like game styles and slates. FanDuel's layout allows you to see the number of players in a contest, the total prize purse, and the entry fee.
If you click on a contest, you'll get a pop-up window that shows more details about the contest.
Pro tip: If you play NFL DFS, you can enter satellite contests through which you can win a spot in the World Fantasy Football Championships in New York City.
FanDuel Daily Fantasy Sports Rules and Restrictions
Different states in the country have different rules and relationships with daily fantasy sports sites. As a result, not every state allows people within its borders to play. Here are the states in which you can't play FanDuel DFS:
Alabama
Arizona
Hawaii
Idaho
Iowa
Louisiana
Montana
Nevada
Washington
Also, it's important to point out that you have to be at least 18 years old to play, and that those who are in Massachusetts have to be at least 21 to play.
A Comparison of FanDuel to Yahoo and DraftKings
Earlier in our review, we mentioned that FanDuel and DraftKings are the two main DFS websites in the country. However, Yahoo launched DFS a few years ago and is becoming an increasingly popular option, especially for people who play Yahoo's fantasy football and other sports.
In the table that follows, we've compared some of the basic features of FanDuel, Yahoo and DraftKings:
| | FanDuel DFS | Yahoo DFS | DraftKings DFS |
| --- | --- | --- | --- |
| Excluded States | 9 | 12 | 9 |
| Sports Offered | 8 | 6 | 13 |
| Range of Prizes | $0 - $1 million | $0 - $150,000 | $0 - $1 million |
| Entry Fees | $0 - $26,200 | $0 - $10,500 | $0 - $26,20 |
Based on the data we compiled for this table, we believe that FanDuel and DraftKings are identical in when it comes to the range of prizes you can win and the entry fees you have to pay.
DraftKings is the superior choice when it comes to the number of sports in which you can play DFS. For example, they have MMA daily fantasy contests and FanDuel doesn't.
We see FanDuel and DraftKings as the stronger choice for veteran players who want to play high-stakes daily fantasy contests with big prizes.
Our Bottom Line on FanDuel
Based on our research, we believe the greatest strength of FanDuel is that you get a substantial set of contests and options within those contests, such that you can find exactly the kind of contest that you feel best suits your abilities as a fantasy sports player.
We also believe that FanDuel offers something that you may value: standing as a leader in the daily fantasy sports world. They are, as we pointed out earlier, one of the two biggest names in the industry.
And, finally, it's a good thing, we believe, that FanDuel offers free contests as well as contests for beginners. These two types of contests allow you to get your feet wet with FanDuel, gain an understanding of how the site works and prepare yourself, if you choose, to participate in paid games.
The downside to using FanDuel for DFS contests is that their home page is jumbled and can be confusing for first-timers. Once you select a sport, though, the interface becomes much easier to use.
If you think that DFS may be a little too overwhelming for you, then read through our rankings of the best fantasy football sites. In the rankings, we compare Yahoo, ESPN, NFL.com, CBS Sports and Sleeper.