FantasyPros Draft Wizard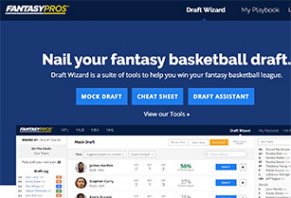 Fantasy Pros Draft Wizard is a paid tool that provides you with a wealth of fantasy football information and recommendations to help your draft be a success.
FantasyPros Draft Wizard Review: Is It Legit or Just Hype?
Are you looking for the magic bullet that will give you an amazing fantasy football draft? Fantasy Pros' Draft Wizard claims to be your ticket to the trophy.
Fantasy football is a huge business.
Forbes estimated that about 75 million Americans spend more than $10 billion a year on daily fantasy sites (DFS), fantasy insider subscriptions and paid leagues on popular sites like Yahoo.
Fantasy Pros has carved out its own niche in this business by offering Draft Wizard, a tool that will, among other features import league settings and use their proprietary algorithms to suggest which player to pick, round-by-round.
Don't have enough time to study up on your draft strategy? For between about $20 and $40, you can have what amounts to a fantasy expert sitting next to you as you draft your championship-winning (hopefully!) team.
As with all the reviews we do here on Highya, we took some time to examine who Fantasy Pros is, what they offer, what the reviews say and our overall impressions of whether or not their paid service can lead you closer to your league title.
With so much riding on your draft, finding the right tool or tools to assemble a strategy can, for some managers, make or break their season. Will the Fantasy Pros Draft Wizard take you to the title? We're about to find out.
Who Is Fantasy Pros?
Fantasy Pros is a statics-based fantasy sports site started in 2011 that offers stats and tips for NFL, MLB, NBA and NHL. Their advice comes in the form of:
Accuracy Ratings: Which experts are the most spot-on with their week-to-week fantasy projections?

Consensus Rankings: Provides the average ranking for each player based on the opinions of dozens of experts.

MyPlaybook: Import your league's settings and players so this tool can give you lineup-specific advice.

Fast Advice Search Tool (FAST): Gives you instant advice from experts for every player on your roster.

Breaking News: Up-to-the-minute notifications on your player's health and role in their offense.
The site was created, according to their FAQs page, after their founding members (Dave Kim, Tom Nguyen, Andrew Hahn) were crunching numbers on week-to-week projections from the experts.
"By aggregating and organizing the information we were collecting (rankings)," their site says, "we knew we could help people with their player decisions (such as "Who should I start?") by providing faster, more comprehensive, more timely, and more accurate advice."
Fantasy Pros is, as their website notes, in partnerships with CBS Sports, Yahoo Sports, Sportradar, MyFantasyLeague, USA TODAY Sports and the National Fantasy Football Championship.
What Does Draft Wizard Offer?
When you buy Fantasy Pros Draft Wizard (more on prices in a minute), you get access to a suite of draft-related tools: simulator, analyzer, assistant, cheat sheet creator (your own rankings for each position), auction simulator and auction calculator.
As you can see, this suite of tools is useful not only for traditional drafts but auction drafts as well. In our opinion, their Draft Assistant is the most valuable tool here, mainly because it does all the work for you by crunching the numbers and serving up the best player for each pick in your draft.
How does it do that? Well, besides tapping into the site's vast amount of information about rankings and predictions, it also integrates your league's settings into its calculations.
Whereas a generic ranking system only takes into account the default settings of a site like Yahoo and ESPN, Draft Wizard gets inside your league's settings and figures out which players have the most value based on those settings (and other factors, too).
So, for example, in a points-per-reception league, Danny Woodhead, the pass-catching running back from the San Diego Chargers, will have far more value to you than if your league didn't award points for receptions. Draft Wizard knows this and will take this into account when it suggests a pick.
Draft Assistant even takes into consideration which positions you need on your roster, round-by-round. If you're missing a running back, it will, most likely, suggest a running back to fill out your lineup.
Another feature available in this tool is availability prediction, which basically tells you the chances of a certain player still being available when it's your turn to draft. And, to top it off, the tool gives you real-time rankings for each position on your team, which lets you know where you're weak and strong.
To get an idea of how Draft Assistant works in real-time, check out this video from FantasyPros:
That, in a nutshell, describes what Draft Wizard offers fantasy football players. Now, for the pricing.
The Three Price Points for Draft Wizard
Fantasy footballers can choose between three price tiers: Pro ($19.99), MVP ($24.99) and Hall of Fame ($39.99).
MVP is a big step up from Pro: it works with keeper leagues, auction drafts and leagues with individual defensive players. It also lets you create your own cheat sheets, and allows up to 10 draft syncs. The best feature here is that MVP automatically populates your list of recommended players, whereas with Pro you have to queue up the suggested players yourself.
Hall of Fame has all the MVP features, but lets you do unlimited draft syncs and gives you an upgraded mobile experience.
In our opinion, the MVP-level membership is a great deal for someone in a keeper league or doing an auction draft.
However, there's a large chunk of fantasy football managers who aren't involved in these types of leagues, so the Pro-level membership will work just fine. But if you want your suggested picks automatically updated and you don't want the hassle of updating the list yourself, MVP is worth the extra five bucks.
The Hall of Fame package caters to serious players since it offers an unlimited amount of draft syncs. The stats on how many live drafts the average manager participates in really doesn't exist yet, but, through our own personal experience, we're willing to bet that a small percentage of people compete in more than 10 leagues.
What Are Other People Saying About Draft Wizard?
You'll be in a tough spot if you want to find tons of reviews about Fantasy Pros Draft Wizard. Since it's a software subscription, more or less, you aren't going to discover any reviews on Amazon. In that sense, the world of add-on fantasy football products is like the Wild West.
Most of what you'll find in the way of reviews are lists published by fantasy football gurus, as well as awards given out by the Fantasy Sports Trade Association (FSTA).
What the Fantasy Experts/Players Say
Most of what we found from fantasy experts pertained to Fantasy Pros' free mock-draft simulator, a tool that simulates what your league's draft will be like.
All picks but yours are automated, which means you get the practice of being in a live draft, seeing where certain players are picked and taking and getting a feel for what players will be available when it's your turn to pick.
Unfortunately, the articles we read labeled the simulator as the free Draft Wizard simulator, making it seem like Draft Wizard is free. It's not, as we discussed earlier. So, in this sense, these rankings (expert David Gonos' top-43 tools, Reviewed.com's top-five tools) aren't really assessing the paid service.
We did manage to find a complete write-up of the paid version of Draft Wizard from David Gonos, who said Draft Wizard is pretty much the greatest draft tool he's ever used. Here's what he said, in his own words:
"When I call this site the "greatest Fantasy Football draft assistant ever created," I want you to know that it's not hyperbole," he wrote. "As a matter of fact, there's not a Fantasy Football draft assistant tool that even comes close."
Aside from the experts, we found an interesting Draft Wizard thread on Reddit. We like what one user, JSCuadros, said:
"It is an automated algorithm-based software so it'll give you all possible outcomes, that's why I love it. I did multiple mock drafts while at work and saw all possible outcomes and was prepared for anybody being sniped from me. As far as the draft assistant, it is EXTREMELY useful, especially when you're stuck between two players. Worth it IMO."
Other contributors also praised the customization, value, and superiority over tools from other sites.
What the Fantasy Sports Trade Association Says
Fantasy Pros Draft Wizard has a successful history at the FSTA's yearly awards, where fantasy sports websites and apps across dozens of categories are recognized for their excellence.
Draft Wizard won Best Fantasy Sports Web Service/Tools in 2015 and was a finalist in 2014; 2013 saw a double win for Most Valuable Fantasy Tool and Most Accurate Projections. In 2012, it was a finalist for Most Innovative Fantasy Product and in 2011 it won Best New Fantasy Site.
In our opinion, users and industry experts have a positive view of Fantasy Pros Draft Wizard.
Our Conclusion: Is Buy Draft Wizard Worth It?
To answer this question, we need to take a step back and look at a typical fantasy football season.
The draft is just part of your success; the first-round draft picks get hurt or turn into busts and ruin great drafts. On the flip side, late-round sleepers can emerge in the second half of the season and become stars.
No matter how amazing your draft tools are, you aren't going to predict the scenarios we described above. So, in one sense, Draft Wizard isn't the magic bullet you've been waiting to use to slay your competition.
Think of your draft as the first act of a three-act play. Draft day is the first act, and we think Draft Wizard presents some pretty good value in that context. The second act is the first half of the season, where you'll most likely rely on your draft picks to win your matchups.
But the third act of the season, weeks 9-17, is the most crucial. Star players get hurt and replacements fill their shoes. Your leagues' waiver wire heats up and the search for players to fill roster holes becomes frenetic. This is where Draft Wizard can't help you. There will come a point where your season may very well live and die by your ability to pick up the right free agent at the right time.
Is Draft Wizard a great tool for managers who don't want to (or can't) spend hours amassing their own statistics? We think it's pretty clear that it is.
But is Draft Wizard going to be the one reason why you win your league? Maybe, but the injuries and crazy scenarios that unfold every season are such that investing your money and time into your draft as your only chance at winning would be short-sighted.
You may have the unicorn season where you use Draft Wizard to pick a legendary team that stays healthy all the way through to the championship…but that's why it's a unicorn season.
Fantasy Pros paid Draft Wizard will give you a good push out to the tumultuous sea that is the NFL season, but you're going to have to navigate your way to your destination on your own.
» See Also: Guide to the Best Fantasy Football Sites: Comparison of Yahoo, ESPN, NFL, CBS Sports, and Sleeper
CBS failure

By John F.

,

Oklahoma

,

Mar 11, 2020
Verified Reviewer

FantasyPros obviously keeps themselves well insulated from any live support. A recent use of the live Draft Wizard of my CBS league crashed and burned the draft. It totally misread the team player structure. It will take major surgery to salvage this year. To say I'm disappointed would be an understatement.

Bottom Line: No, I would not recommend this to a friend

---

Useless

By Rick S.

,

Cleveland, OH

,

Aug 30, 2019
Verified Reviewer

In both of my drafts for two completely different leagues with varying rosters, the Wizard had me taking running back after RB and then more RB's. In the first draft, I followed the Wizard exactly as it said. I had 3 RB's in first 3 rounds and in round 4 yet again had me taking an RB. After 4 RB's it finally had me move on to other positions. Draft grade at the end? DEAD last - LOL - I followed the suggestion fully and I ended up with a D- and ranked last in all spots.

Second draft - which is a keeper and I already had two Top 6 RB's - yet again, Wizard said to keep drafting RB. I ignored the suggestions fully yet each round even after the RB that it was suggesting was taken off the board, it simply suggested another RB. WASTE OF MONEY.

Bottom Line: No, I would not recommend this to a friend

---

I had to cancel my debit card to keep them from charging me - almost 2 months after my season ended!

By Scott

,

Washington

,

Jan 30, 2018
Verified Reviewer

There is no way to drop your premium plan on their website. Everything they say about going to your account settings, etc. is complete B.S., and their customer support said they couldn't find my account name. You're much better off just using their free services.

Bottom Line: No, I would not recommend this to a friend

---

Beware - won't stop charging card after canceled account

By Richard W.

,

New Jersey

,

Dec 2, 2017
Verified Reviewer

First off, the live Draft Wizard crashed during my draft, so it was completely useless. Be careful relying on it. Secondly, after I canceled my account, they continued to bill my credit card to the point that I needed to change credit card numbers. Complete hassle. Lastly, this guy Jon from their customer service wouldn't stop emailing me. Total nightmare.

Bottom Line: No, I would not recommend this to a friend

---

Advertisement

---

Mediocre at best

By CR Smith

,

Sacramento, CA

,

Nov 10, 2017
Verified Reviewer

I did 5 leagues this year with the FantasyPros Draft Wizard thinking it would be a good sample size to get an idea of how this draft wizard performs. I lost in ALL 5 leagues in week one (LMAO). I didn't even think that was possible given the amount of overlap between the players I had and the players I went up against.

The draft grades were B.S. as it showed all A's and B's, but the draft grades from Yahoo were mostly C's. One draft grade even predicted I would finish 14-0! Probably because they overvalued David Johnson. I had a feeling it wasn't great once it suggested I draft Coby Fleener in the later rounds. Too much emphasis was placed on having a back up at each position rather than taking the best player available.

Perhaps I just got unlucky, but with the amount of variance and luck involved in fantasy football, I would say save your money because this Draft Wizard is a waste of money. There are some things the site does well, but unless you know nothing about the NFL and don't watch it much, you can figure out the right moves on your own.

Bottom Line: No, I would not recommend this to a friend

---

Poor performance

By C

,

Seattle, WA

,

Sep 15, 2017
Verified Reviewer

The site crashed at the beginning of the draft. What good is their support telling me the site is back up two hours later when the draft is over? I wrote back to them several times asking for amends, and apparently, customer service is non-existent.

Bottom Line: No, I would not recommend this to a friend

---

Huge price increase in 2017

By DLJ

,

North Carolina

,

Aug 30, 2017
Verified Reviewer

I have used Fantasy Pros for a few years. The price has increased marginally along the way. In 2017, the price increase has doubled. For what I paid around $30 for in 2016, I will have to spend almost $70 for in 2017. I play in numerous leagues and while the site does help, I have not won any leagues since using Fantasy Pros. Magic bullet? I think not. Helpful? Yes, but they got greedy, and most I know are using competitor sites now.

Bottom Line: No, I would not recommend this to a friend

---