Fast Business Funding Reviews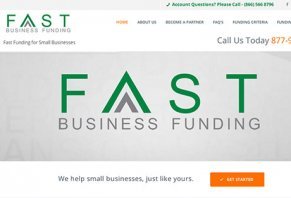 About Fast Business Funding
If you're looking for financial assistance for your small business, Fast Business Funding claims to be an alternative funding source for merchants who may not qualify for loans through traditional lenders. As such, Fast Business Funding claims to be revolutionizing the ways of traditional business finance.
However, if you're in needing of funds for your business, does Fast Business Funding represent the best available option? We poured through the facts, and here's what we learned.
How Fast Business Funding Works
Similar to LendVantage, Fast Business Funding acts as an alternative source of small business loans for merchants who may not qualify for traditional loans due to seasonal incomes, lack of experience, or something else altogether. With their flexible repayment schedules, simple, stress-free transactions, advances ranging anywhere between $2,500 and $250K, and alternative underwriting guidelines, Fast Business Funding claims to approve a much higher percentage of loans than traditional lenders, and with fewer requirements.
With this in mind, Fast Business Funding claims their process works over 3 steps:
Application – First, you'll need to complete the no-hassle online application and include as much information as you can. If you'd prefer to apply over the phone, you can also call 877-949-4082.
Approval – In addition to your application, you'll also need to provide supporting documentation showing your business's monthly sales. The company claims that one the primary factors for "your approval depends on your current status and the consistency of your business revenue." This is based on two "must-haves:"

Your business must have an average of $10K in monthly sales.
You must provide 3 months of credit card or bank statements to verify your income.

Funding – If everything goes perfectly, Fast Business Funding claims that they can have the money in your account the same day. Once your funds have been received, they can be used without limitations, including renovations, advertising campaigns, new equipment, expansions, and more.
Keep in mind that despite how it may sound, Fast Business Funding does not provide loans. Instead, they claim to "purchase future sales from a business at a discount," which are then repaid with interest.
Fast Business Funding Pricing
Fast Business Funding loans are completely free to apply for, and you won't owe anything until the process is complete and your advance has been funded.
However, interest rates depend on numerous factors, and will likely vary from business to business. On the other hand when it comes to repayment terms, you may have a small amount deducted daily in order to repay the advance, or you may have a set weekly percentage.
What's the Bottom Line About Fast Business Funding?
If you need a quick infusion of cash to cover business expenses, should you turn to Fast Business Funding? Possibly, but keep the following in mind beforehand:
Detailed Information
Unlike some of the competition, the Fast Business Funding website seems to provide less detailed information about the advances they provide, the interest rates associated with them, and more. This kind of information can often help you decide whether or not a lender is right for you without having to contact them in the first place.
With this said, whether for personal or business reasons, these types of advances may come with difficult repayment terms and/or high interest rates, so be sure you understand everything you're agreeing to prior to accepting any funds.
Customer Reviews
Although Fast Business Funding's URL was registered in November 2012 and they claim to have more than 20 years of financial management experience behind them, with the exception of affiliate websites, there are essentially zero online reviews about the company and its services. The company is not accredited with the Better Business Bureau (although they do have a B- rating), and the only complaint listed there appears to relate to the company's affiliate program; not any of its cash advance services. Because of this, it's difficult to gauge overall customer satisfaction levels.
Approval Process
Finally, while Fast Business Funding claims that they can fund their advances in as little as one day, this often represents a best-case scenario, which means that most applications may not be underwritten so quickly. Once you contact the company directly, they may be able to give you an accurate timeline based your specific circumstances.
Bottom line
Fast Business Funding may be a good option for obtaining cash for business-related expenses, however you'll need to contact the company directly for details about their services and to find out how long your advance will take to approve. Also, keep in mind that online reviews regarding the company are limited, which means you won't be able to know what to expect in advance.