Fetcharate Reviews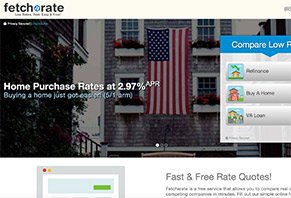 Fetcharate is an online mortgage comparison website that will send your information to up to 5 network lenders and help you find the right mortgage, for free.
About Fetcharate
In business since 1998, Fetcharate helps you find low mortgage rates, quickly, easily, and for free. How?
All you have to do is fill out a simple online form, and Fetcharate will instantly match you with up to 5 network lenders. From there, you'll be able to compare real offers from these competing companies and negotiate the deal you want. And you won't have to worry about high-pressure sales calls, either!
Because of this, Fetcharate claims to have served more than 32 million borrowers to date.
Whether you're taking out a new mortgage or refinance in order to obtain a lower interest rate, the whole process can be stressful. I mean, how do you even know where to begin?
From this aspect alone, Fetcharate's ability to match you with different lenders can seem attractive. But is Fetcharate your best option? Are they even what they seem?
To make sure we fully answer all your questions, let's start by taking a look at how the Fetcharate process works.
How To Obtain Competing Quotes with Fetcharate
On the Fetcharate.com home page, you'll first need to select whether you're looking for a new mortgage, to refinance your existing mortgage, or a VA loan. Then, you'll choose your estimated credit score (e.g. excellent, good, fair, or poor).
On the following few screens, you'll indicate the property use (primary or secondary home, investment property), type of property (single family, multi-family, town home/condo, mobile home), as well as the property's estimated value.
Next, enter your approximate mortgage balance, current mortgage rate, approximate monthly mortgage payment amount, and whether or not you've had a bankruptcy in the last 7 years.
Finally, you'll enter your DOB, first and last names, and email address and phone number.
Seems fairly simple, right? What happens next?
Does Fetcharate Provide Mortgage Loans?
After you've completed the application, Fetcharate will send your information to up to five different lenders, who will then contact you about different products they have available based on your criteria.
Fetcharate is only a middleman in this process. In other words, they only collect your information and pass it along, but they don't actually provide any mortgage loans.
These companies are known as "mortgage comparison sites," and there are dozens to choose from, which is why it's so important to do your research before choosing one (you're already off to a great start!).
Speaking of other mortgage comparison sites, is Fetcharate everything it's cracked up to be?
The Link Between Fetcharate & LendingTree
According to Fetcharate.com's home page, the company has been in business since 1998 and has serviced more than 32 million borrowers. However, this didn't make a lot of sense to us, since the company's URL wasn't registered until 2006. This certainly raised a few questions in our mind.
The puzzle started coming together, though, after we completed a mock Fetcharate application. On the final screen, the fine print at the bottom of the page read:
You are providing express consent to share your information with up to five (5) Network lenders, and for LendingTree, parties calling on behalf of LendingTree, Network lenders, or an authorized third party on their behalf to call you (including through automated means; e.g. autodialing, text and pre-recorded messaging) via telephone, mobile device (including SMS and MMS) and/or email, even if your telephone number is currently listed on any internal, corporate, state, federal or national Do-Not-Call (DNC) list.
Is it possible that Fetcharate is actually LendingTree in disguise?
After reading through the General section of Fetcharate's Licenses page (where LendingTree is immediately named), it became apparent that this is the case. And the final piece of evidence was that LendingTree was founded in 1998, which brought everything together.
So, what's this mean?
Basically, when you're using Fetcharate, you're sending your information to LendingTree. Fetcharate is simply a landing page/sales funnel for LendingTree.
What are customers saying about these companies?
Fetcharate's Online Customer Reputation
Despite the length of time Fetcharate.com has been online, there weren't any online reviews for the company at the time of our research. There was a Better Business Bureau file for the company (opened 10/07/15), although there weren't any complaints listed.
On the other hand, LendingTree had an A+ BBB rating, based on 336 closed complaints (as of 10/21/15). There, by far the most common complaint centered around excessive phone calls (sometimes 7-8 over the course of 90 minutes) after submitting information.
Elsewhere online, LendingTree held a 1-star rating on ConsumerAffairs.com, based on 356 complaints. Again, the most common complaint referenced "merciless" sales calls that never let up.
22 CreditKarma users gave LendingTree an average rating of 1.6 stars, based on similar complaints of excessive sales calls. Some users also complained that LendingTree's network lenders performed hard credit inquiries without ever receiving an application from the customer (or, in some instances, without ever having contacted the customer).
Customer feedback aside, is Fetcharate really free?
How Much Does it Cost To Use Fetcharate?
Whether you're using Fetcharate or LendingTree, both services are completely free of charge (they likely make commissions for each lead they provide to lenders).
As you might imagine, the interest rates you're offered from these network lenders will vary based on numerous factors, including current prime rates, your credit score, and more.
In any instance, we'd recommend reading through Fetcharate's Disclosures section for rate examples.
If you need to speak to someone at Fetcharate, their customer service department can be reached at (855) 977-8865 (note: This number is different than LendingTree's).
Where does this leave you?
Should You Use Fetcharate To Find Your Next Mortgage?
Other than that it's tied directly to LendingTree, one of the largest mortgage comparison sites in the industry, Fetcharate doesn't appear to be meaningfully different that the dozens of other options out there.
And while it's noteworthy that so many customers have complained about the number of sales calls they're received after submitting their information to LendingTree, this is a fairly common complaint among mortgage comparison sites.
So, should you use Fetcharate if you're looking for a mortgage? Basically, it comes down to two options. You can:
Search out different lenders on your own and apply to each one individually, or
Submit your information to a site like Fetcharate.com, where you might receive an excessive amount of sales calls.
In the first option, it can be a slow and tedious process. The second option is certainly much faster, but you might get more attention from lenders than you were expecting!
Did you use Fetcharate to obtain a mortgage? If so, how did it go? Tell us about it by writing a review below!