FiberFix Reviews
Claimed This company has claimed this profile, is getting alerted on any new customer reviews entering this page, and may engage in dialogue with its customers to address their matters.

Companies cannot pay money or provide goods in order to remove or alter customer reviews.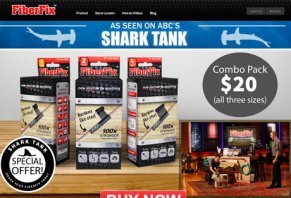 About FiberFix
Based out of Orem, UT, FiberFix is a fiber-resin wrap that claims to "harden like steel in minutes," and to provide a permanent fix to a wide variety of materials even leaking pipes. FiberFix was originally featured on the popular television program "Shark Tank" in late October 2013, and was invested in by Lori Greiner, who is considered to be the queen of QVC. During the show, Ms. Greiner invested $120K of her own money into the company for a 12% stake.
Because of the product's newness, FiberFix is not listed with the Better Business Bureau, and has minimal online reviews. However, those that do exist seem to be overwhelmingly positive.
How FiberFix Works
According to the FiberFix website, the product works in two steps:
First, wet your FiberFix roll by submerging it in water, and then removing any excess.
With latex gloves covering your hand, wrap your FiberFix roll around whatever needs to be repaired, and let it sit for a few minutes. However, most online reviews we found recommended letting it sit for at least 24 hours to achieve optimal hardening.
The manufacturer claims FiberFix can be affixed to almost any material, including metal, wood, plastic, rubber, and more. In addition, it is claimed to be 100-times stronger than duct tape, weatherproof, heat and cold resistant, and can be sanded to become unnoticeable on wood surfaces.
Based on the few online reviews we could find, FiberFix really does provide a lasting solution to broken items that would otherwise be impossible or very costly to repair. The only caveat is that FiberFix is not intended to be a patch; in other words, the material's strength comes from layering, so cutting off a small piece and using it as a single layer will likely not provide the results you're looking for. Also, because FiberFix will adhere to literally any material even your hands you must wear latex gloves when applying.
The Shark Tank Episode When FiberFix Was Pitched
FiberFix Pricing & Return Policy
If you purchase FiberFix directly from the manufacturer, it is currently offered at $19.95 per set, which includes one 1-inch roll, one 2-inch roll, one 4-inch roll, in addition to one pair of latex gloves, and one sandpaper strip. However, like most "As Seen on TV" products, you'll receive a second FiberFix set with your order, but will have to pay an additional $7.95 shipping and handling, bringing your total to $35.85. If you live outside the continental U.S. or in a U.S. territory, you'll also be required to pay an additional $10 surcharge.
All FiberFix products come with a 30-day money back guarantee, less shipping and handling charges. This means you'll be out $15.90 in shipping and handling fees, in addition to whatever costs you incur sending it back to the manufacturer. Keep in mind that this is typical of the vast majority of "As Seen on TV" products, and is how they make the bulk of their money.
With this said, it's important to note that FiberFix is also available through Amazon.com, Home Depot, Ace Hardware, Lowe's, QVC, eBay, as well as a wide variety of other retailers. Because of the expense of returning FiberFix to the manufacturer should you not be happy with its performance, we would highly recommend purchasing through a standard brick-and-mortar retailer.
Pros:
Relatively inexpensive solution to fix items that would otherwise be too costly, or too labor intensive to repair.
Can be quickly applied to a wide variety of surfaces.
30-day money back guarantee, when purchased directly from the manufacturer.
Online reviews seem to be overwhelmingly positive.
Cons:
Very new product, so we'll have to see how FiberFix performs over time.
If purchased from company's website, cost to return can be almost as much as the product itself.
Waste of time

By Eugene P.

,

Ohio

,

Dec 12, 2019
Verified Reviewer

Bought for drain repair under the kitchen sink (no water pressure there). Used as directed, close quarters to wrap tape. It would be impossible to wrap as tight as needed, even after adding the wrap it was not tight enough to do any good.

Should be stated on the package, you cannot use except in completely open areas with no obstructions. In plumbing, there are very few places where there are no obstructions.

Waste of time, money, effort.

Bottom Line: No, I would not recommend this to a friend

---

FiberFix

By Marc F.

,

Québec, Canada

,

Oct 23, 2019
Verified Reviewer

I've bought the FiberFix super glue and I'm very disappointed. It's all dried up in the tube.

Not even a drop...

Bought it at Wallmart here in Montreal.

Still waiting for an answer from the company.

Very disappointed with the product and the customer service.

Bottom Line: No, I would not recommend this to a friend

---

Advertisement

---

It works...sometimes. Be sure to buy fresh product.

By Bruce H.

,

South Carolina

,

Sep 16, 2019
Verified Reviewer

I have used the FiberFix High Temp successfully to repair an exhaust pipe.

I had previously bought some and put in my drawer "just in case". Even though it was still within the "use by" date, it was VERY hard to unroll and would not stick to itself. I had two different packages and neither one was sticky enough to be able to get it to stay on the pipe I was trying to fix. Seemed like it had already started to "set up" in the bag even though it was sealed.

SO, I DID have both a good and not so good experience with it. I think their shelf life is not as long as they thought it would be.

Bottom Line: Yes, I would recommend this to a friend

---

Amazing! Awesome product! Must follow instructions to a T.

By Paula M.

,

Phoenix, AZ

,

Sep 9, 2019
Verified Reviewer

When it rains, it pours! Plumbing leaks one after another. First a toilet next to the pipes under the kitchen sink, next the hot water heater (hose line). All in a matter of days. I went online and ordered what I needed, plus a suggested item, a roll of FiberFix next day delivery from Amazon. Due to all the leaks, the water was shut off at the main. After the repairs were made, the valve at the water main sprung a leak and luckily I ordered that roll of FiberFix. The instructions read carefully (more than once), applied as directed and it is still holding! It was late at night and a call to a plumber would have been more than I could afford. It is the best purchase I have made in a long time! Thank you FiberFix! Customer for life!

Bottom Line: Yes, I would recommend this to a friend

---

Advertisement

---

Excellent product for my application

By Dennis B.

,

LittleElm, TX

,

Aug 15, 2019
Verified Reviewer

I built a 1" PVC frame for a topper on a ATV to keep me dry in rain. With a tarp it was putting pressure on the connections due to the weight and would break if handled wrong. The fiber tape wrap around the joints makes it solid and keeps it secure with rough road treatment we go thru in hunting situations. As with any product, follow directions! Works great.

Bottom Line: Yes, I would recommend this to a friend

---

Heat Wrap Pro FAIL

By Michael E.

,

Atlanta, GA

,

Jul 26, 2019
Verified Reviewer

Had a thin break in an exhaust pipe on a Chevy truck. Noticed right away a few things where the company was contradicting themselves. Video says get wet, instructions say nothing of the kind. Saw it withstands temps of 850, 1200 and 1500, for the same product! Almost twice one temp! Installed carefully. Looked good. Next day started driving and it gave way at only 22 miles, most of those in town, less than 10 on the interstate. Waste of money, waste of time, and their website says they will "man up" thru their guarantee to make things right and to contact them, but none of the 4 email addresses are for the consumer. Huh?

Bottom Line: No, I would not recommend this to a friend

---

It works. Read instructions PLUS use a working brain (if yours doesn't).

By Karl D.

,

St. John, IN

,

Jul 25, 2019
Verified Reviewer

Used it as an extra-tough wrap around a new axe handle I bought for my go-everywhere small forest axe. I bought a 2 inch by 50-inch roll so I could put several layers of wrap around the first four inches below the axe head. Even a careful axe user occasionally bangs the axe handle against wood intended for an axe head strike! I put on the gloves, held the roll under water for about five seconds, and started wrapping. The first overlap needs a little help from your fingers to hold in place (as it DOES say in the instructions), but then one must wrap quickly. This stuff unwinds unwillingly and gets hard FAST. Work quickly. Finish with a nice, tight wrap with the non-adhesive-backed vinyl wrap so it is nice and tight and s-m-o-o-t-h. Fifteen minutes later this stuff was rock hard! This will be great protection for this new axe handle...even though I am a careful wielder of this mighty tool. Bottom line: This stuff works.

Bottom Line: Yes, I would recommend this to a friend

---

Saved me a bunch

By David S.

,

Montgomery, AL

,

Mar 27, 2019
Verified Reviewer

I saw the tape at Lowe's and decided to give it a try before calling a plumber. I used the 2-inch tape to seal a hole in a galvanized steel drain pipe elbow. The hole was about 1 inch long and 1/4 inch wide. I cleaned around the hole with the sandpaper provided and followed the instructions for soaking the tape and quickly applied it to the pipe. I wrapped it tightly around the pipe several times, layering it. In ten minutes the tape was as hard as the pipe. I can't say how long it will last, but it was applied a few months ago and is still sealing the hole. I did get the impression that following the directions closely is very important. The tape does set up very fast. There is no way I would have tackled the job of replacing that 4-inch diameter elbow and the attached pipes myself. I would have had to pay a plumbing company to do it at a huge expense. I am very happy with the results I got, and highly recommend Fiber Fix tape. Considering my experience with the tape, I have to assume that those with a poor result did not follow the instructions for its use.

Bottom Line: Yes, I would recommend this to a friend

---

Totally bogus

By John P.

,

Boca Grande, FL

,

Mar 23, 2019
Verified Reviewer

I followed the instructions to the letter - putting the tape in room-temp water for ten seconds, squeezing it dry, wrapping it tightly, and letting it set up for ten minutes - and it didn't even stick to itself. It didn't seem to have any resin on it. At least the gloves are reusable, and I also got a very small square of sandpaper.

Bottom Line: No, I would not recommend this to a friend

---

Dried out.

By Terry O.

,

Ontario, Canada

,

Nov 26, 2018
Verified Reviewer

I have no idea if this is a good product or not. The resin is dried out and the blue light is not functional.

DO NOT BUY this product! Read other reviews and you'll discover that this is common.

Bottom Line: No, I would not recommend this to a friend

---

FiberFix glue with Cure Light is the best glue

By Kate Costa

,

New Jersey

,

May 20, 2018
Verified Reviewer

I make and sell hand-made crafts, and I could not be in business without the FiberFix glue with the curing light! It is amazing! I use it to glue my products, and it is stronger than Gorilla Glue, Crazy Glue, and many other glues (I have tried at least 12 glues, putties, silicones, etc). With FiberFix, you apply a few dots of glue, then you put the tiny special light on it. I have used competitor glues with lights, and they do not work. I need a reliable glue because my business relies on it! The best part of using FiberFix is that I can complete a creation and immediately package it for shipping because the dry time is almost immediate! I buy all the FiberFix glues out at Home Depot because it is hard to find and not every Home Depot holds it in stock. I know many ways this should be marketed to women! I hope this glue becomes more widely available - it is awesome!

Bottom Line: Yes, I would recommend this to a friend

---