Fig Loans Reviews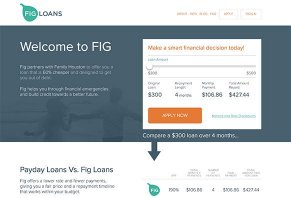 Fig Loans is a Texas-based lender who provides traditional loans and credit builder loans to consumers who want to build their credit scores and/or need quick money to tide them over until their paycheck.
About Fig Loans
Fig Loans is one of a new host of lenders who focus their financial products on individuals who are in a tough spot and need a loan that can help meet their immediate needs and improve their credit scores.
The company is based in Houston, TX, and serves residents of Texas, Missouri and Illinois.
Fig's loans max out at $500 and are designed to act as a bridge between a dire need and the client's next paycheck – it gets them from one side of the chasm to the other via a reliable solution. Fig offers credit builder and traditional installment loans.
Normally, these types of loans are offered by payday lenders who have various repayment schemes that bury borrowers in debt that can take multiple months to pay off. APRs tend to be sky high and not very consumer friendly.
However, Fig founder Jeff Zhou told us in an interview that Fig's desire is to provide loans to consumers who need help making it to their next paycheck and want to build their credit to get better lending options in the future.
"We saw a lot of people who have bad credit and credit scores between 300 and 550," Zhou told us. "The challenge they were facing was that they needed traditional credit and needed credit to build their credit scores. But nobody was giving them a chance."
But is that what Fig Loans really does? Does their business depart from the typical practices of a $40 billion industry or are they simply marketing their loans as something different than they really are.
We want to answer those questions by giving you an in-depth review of the two types of loans that Fig offers. We'll take a look at each of these loans' rates and fees, fine print and other details that will be helpful to you.
By the end of this review, you'll have the information you need to determine if Fig Loans is the right lending option for you.
Who Borrows From Fig and How Do You Apply?
At the time of publishing, the average Fig borrower had a credit score of 520, which is considered "sub-prime" or, in basic terms, really bad.
The Fig application can be done through their website and only takes a few minutes. The key bit of information you'll provide is your bank account info.
The Two Types of Loans You Get From Fig
Fig Loans offers two kinds of loans: a traditional loan and a credit builder loan.
Traditional Installment Loans
A traditional loan is when a financial institution gives you money and you pay them back for it via equal payments according to their repayment schedule.
According to their website, Fig works with local lenders in Texas to lend to Texas residents, while the fund the money themselves for customers in Missouri and Illinois. Traditional loans max out at $500 and have repayment terms of four months.
Traditional Installment Loan Rates and Fees
The big question for any kind of short-term loan is how much you'll pay in fees. Payday lenders tend to hammer you with fees and interest rates that send your APR into the hundreds.
Normally, consumers with good credit scores don't have to worry about these types of situations because they can get credit cards with decent interest rates.
However, Fig customers don't have the credit scores to get, for example, low-interest credit cards like the Citi Simplicity or Citi Diamond Preferred.
Each state has their own rule and regulations for lenders. Therefore, Fig has three different fee structures. Loans in Texas, for example, have an APR of 190$, which means you'll pay about $127 in fees when you borrow $300 for 120 days.
Basically, you've got two things you need to know: what you're being charged for on-time payments and what you're being charged for late payments.
On-Time Payment Fees
Fig Loans is what's known in the state of Texas as a credit access business (CAB), a business which connects consumers with lenders.
You'll pay Fig a CAB fee of around $0.40 for every dollar you borrow, which equals out to a yearly APR of 190%, or a monthly fee payment of around $32.
When the fees are put in the context of an APR, they seem really high. But, think about it like this. You're in tough financial straits and you need some cash to get you through the week until your paycheck comes.
Would you be willing to pay about $8 a week in fees to make that happen? When the loan's rates and fees are put in those terms, they're a little easier to comprehend.
For borrowers in Illinois and Missouri, there are no CAB fees.
Late-Payment Fees
Fig charges no late fees if you don't make your payment on time. Instead, they will report your account to the credit bureaus if you're 30 days late on your payment. This could cause your credit scores to fall by double digits.
As you get closer to that 30-day deadline, though, Fig will let you know that you need to make a payment. If you don't have the funds to make the full payment, a Fig representative told us that they can split up your payments so you can make your payment on time.
Credit Builder Loans
Whereas traditional loans required that the lender give you the money and you pay them back, credit builder loans work the opposite way.
The lender approves a loan amount, but you pay them the balance of the loan before they release it to you.
This loan is known as a credit builder loan because it exists solely to build your credit scores by reporting your payments to the credit bureaus. At the time of publishing, Fig reported their customer's loan payments to TransUnion, Equifax and Experian.
Fig's credit builder loans range from between $500 and $1,000 and have repayment terms of 12 months.
Credit Builder Loans Rates and Fees
According to Zhou, Fig's credit builder loans have only one fee: 28% APR. On a loan of $1,000, that's $280 in interest, or about $23 a month.
For a loan of $500, that's $140 in interest, or around $11.50 a month.
Considering that these loans are designed to build your credit, you have to ask yourself if you're willing to pay between $140 and $280 to see your credit score rise. That's basically what's going on here.
How Much Can Fig Loans Raise Your Credit Scores?
How much of a difference do Fig's credit builder loans make? Well, according to stats provided by Fig, their credit builder loans provide the biggest boost to borrowers who have credit scores between 350 and 499.
In fact, Fig says the average starting score in this range is 450 and Fig borrowers average an increase of 94 points.
For those who start out with scores between 500 and 549, the average increase is 47 points, according to a study Fig did on borrowers in Texas who took out four-month installment loans.
And, for the final tier (550-599), the average score increase is 23 points.
The goal here, Zhou told us, is to move consumers up into a range of credit scores that will make them eligible for non-secured credit cards and auto loans with relatively reasonable rates.
The key, he said, is pushing consumers' scores beyond 600; that seems to be the magic number at which rates drop considerably.
Now, these numbers reflect four-month loans. Fig claims that consumers who use Fig for two consecutive credit builder loans see an average credit-score increase of 47 points.
How Do Fig Loans Compare to Traditional Payday Loans?
In the beginning of this review, we mentioned how Fig is trying to offer consumers something different than what they can get from a payday lender.
When it comes down to numbers, is that really the case? To answer that question, we did some digging and found a helpful article from the magazine The Economist.
According to the article, the typical payday loan is $350. Fees on the loan are $15 for every $100 borrowed. Repayment period is two weeks. So, assuming you borrow $300, you'll have to pay $45 in fees to borrow $300 for two weeks.
Fig Loans offers better terms, based on these numbers. Here's a chart to explain why:
| | | |
| --- | --- | --- |
| | Fig Loans | Typical Payday Lender |
| Loan Amount | $300 | $300 |
| Fees for two weeks | $24 | $45 |
| Fees for four months | $192 | $360 |
As you can see, Fig's fees are far lower than what you'd get with a traditional payday lender in Texas, Illinois or Missouri.
The Final Word: Pros, Cons and Who Fig Loans is Good For
Fig's traditional loans cost about half as much as if you borrowed from a payday lender. Also, Fig Loans requires that you pay your first loan back before you get a second one. Payday lenders, on the other hand, usually offer you a second loan to pay off your first one, sending you further into debt.
Another advantage of Fig Loan is that all payments are the same amount, whereas some payday lenders will make your final payment much higher than your other payments. This puts you at risk of not making that final payment, incurring more fees and charges.
Fig Loans offers two big advantages to consumers. First, their traditional loans cost about half as much as what you'd get from a payday lender. Second, their credit-builder loans can provide significant credit score increases in a short amount of time.
The main downside to Fig's loans is that they're only available to residents of Texas, Illinois and Missouri.
Another "drawback" is the fact that you have to pay an APR of 28% for credit builder loans.
Based on our research, we think consumers with credit scores in the 400s and low 500s have the most to gain from these loans because Fig's rates and fees are much lower than payday lenders.
Also, consumers with scores in that range have the opportunity to raise their credit scores by nearly 100 points via Fig's credit-builder loans.
To close, we want to refer back to the introduction of our review, in which we talked about Fig's goal of pushing consumers' credit scores higher so they can get better credit offers.
If you find yourself making a plan to use Fig Loans to boost your score so you can get a credit card, consider exploring credit card options designed for people with fair credit.
These are the kinds of cards you can expect with credit scores in the low 600s. Our guide will help you understand the rates, fees and benefits of each card.
Editor's Note: This article was revised and updated on 9/12/18 by J.R. Duren
A different type of lender

By John A.

,

Houston, TX

,

Jul 17, 2019
Verified Reviewer

I took out a $500 loan with Fig in December of last year. Unfortunately, I was laid off in February and wasn't able to make the payments. I thought I was screwed. The last time this happened, I ended up getting hassled by my lenders day and night. Nope, Fig set me up with $20 payments a month, didn't charge me anything extra, kept my credit on track and all it took was a couple of emails. Still surprised it happened.

Bottom Line: Yes, I would recommend this to a friend

---

Fig Loans seemed like a good company at first!

By S W.

,

Texas

,

Jun 21, 2019
Verified Reviewer

I was originally denied due to my bank account not showing an insufficient amounts of direct deposit pay statements; however, I was able to email my paystubs to prove I do earn that certain amount. My job payroll system sometimes malfunctions, and I have to get a manual check. Fig Loans reconsidered their decision. Less than 1 hour I was approved.

Although Fig Loans did reconsider their decision and approved my loan, I did run into a problem right before my last monthly payment. On their website, it states that refinancing is an option. The rep mentioned as long as my income did not change, I'm current and have one payment left, it should not be a problem to approve the refinance. Well, in order to refinance their underwriters had to do another bank verification a second time around to see if my income changed. The underwriters thought different and while verifying my income through bank verification they saw I had other loans being taken out. Which I do, because I am building my credit as stated in the beginning. When did it become a requirement that you can only have one active loan? If that is the case, it needs to be stated on your website. The underwriters saw that as a "debt trap" in their words and denied my refinance.

They also said I had "high interest loans which that is my business." I can see if I was in default on those other loans or my bank account was in negative standing but my spouse and I are paying those loans responsibly in a timely manner. I only wanted to refinance with Fig Loans to extend the amount of time the loan is being reported on my credit report because it was only a 4-month term, and I didn't see much improvement in that short amount of time. I will be paying my last payment early so I will be done with Fig Loans.

Overall I would give Fig Loans a 3-star rating from beginning to end just because of the misleading refinance process, second bank verification, and bad judgment!

Bottom Line: No, I would not recommend this to a friend

---

Advertisement

---

Best loan ever for bad credit

By Sam R.

,

Dallas, TX

,

Apr 25, 2019
Verified Reviewer

A friend referred me to Fig Loans about three months ago and its absolutely been the best loan I've gotten with my credit. The approval was easy, all they do is check your bank account to make sure it belongs to you, and that's it. I was approved and that day and had my money by the next day. It gives you a choice to delay your payment by a whole 28 days if you need to. I've only delayed it by 4 days until payday but it's good to know that the option is there. It's also improved my credit score by 67 points with just 3 payments and I have 1 more payment to go and I plan on using them again to build up some more positive accounts as I plan to purchase a home within the next year. Well, I hope this can help someone. Thanks.

Bottom Line: Yes, I would recommend this to a friend

---