Figure 8 Fitness
This company has claimed this profile, is getting alerted on any new customer reviews entering this page, and may engage in dialogue with its customers to address their matters.

Companies cannot pay money or provide goods in order to remove or alter customer reviews.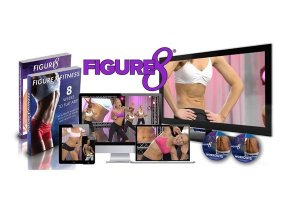 Summary
Figure 8 Fitness workout program combines dance moves with core exercises to give you a six-pack while you're having fun. This program is ideal for those who dislike traditional workout classes, but better options may be available for those who prefer variety.
Pros
A unique approach to fitness compared to traditional exercise classes
Appealing to many people who hate other kinds of exercise
A challenging workout that requires minimal space
Lots of programs available for subscribers
Possible to purchase the program outright or sign up on a subscription basis
Cons
Subscription program more limited than competitors
Some users had customer service problems
Might be too tricky for exercise beginners
Classes can start to feel repetitive
Figure 8 Fitness Review: A Detailed Look
This article contains links that should you click and make a purchase, we may earn a commission from the sale. See our Advertiser Disclosure.
Figure 8 Fitness is a home-based, eight-week workout program that combines competitive Latin dance training with core strengthening exercises to help you tone your abs and shed unwanted pounds.
The plan claims that it can help you build a six-pack without the boredom that comes with basic ab workouts.
This fitness program was founded by Jaana Kunitz, a Latin DanceSport world medal winner and certified fitness trainer who is famous for her dance-inspired workout routines.
The program includes 14 classes and instructional videos that are split into three phases, each of which is designed to help you progressively challenge your body.
Is Figure 8 Fitness the right option for you? We tested this program and shared our analysis below to help you decide.
How Does Figure 8 Fitness Work?
Figure 8 Fitness is a workout based on the idea of Dynamic Core Cardio Training.
This is a term unique to the program, which it defines as an innovative approach to cardio where you combine your body's natural movement patterns with three-dimensional exercises that keep your core muscles firing as you remain in an optimal cardio zone.
In other words, Figure 8 Fitness helps you train your muscles in three planes: forward and backward, side-to-side, and rotational. This helps you build up a flexible, toned midsection.
Signing up for Figure 8 Fitness is a simple process, especially as the company is currently offering a 30-day free trial for all new subscribers.
Once I made it in, I had the option to start accessing the online videos or join the closed Facebook group.
The main BodyFX platform gave me access to lots of Figure 8 Fitness resources, including a Quick Start guide, the basic program, and supplementary programs.
As a Figure 8 Fitness beginner, I began with Figure 8 Basic. The program starts off with a five-minute intro video that sets up the eight-week plan.
It also includes an eight-week daily workout schedule as well as a 47-page nutrition guide and progress tracker where you can record your before and after measurements, daily food intake, and overall exercise.
The plan itself is split into three key phases: Learn, Burn, and Sculpt.
Phase 1: Learn
Phase one of the program is designed to familiarize you with the three essential core moves that are foundational for the Figure 8 Fitness program.
These classes focus on form and technique so that you learn how to keep your back straight and abs engaged during the workouts, and the fluid movement patterns necessary for completing each hip movement to improve your spine flexibility and create toning.
The program recommends you stay on phase one until you feel like you have mastered the basic moves, as the next two phases will build on them.
Phase 2: Burn
Throughout Phase 2, Jaana teaches you simple yet effective core cardio movements that you repeat in different combinations to fast-paced dance music like salsa, paso doble, jive, rumba, samba, and merengue.
These exercises are meant to keep your heart rate elevated while targeting your core muscles.
Each Phase 2 workout includes a "metabolic accelerator" segment filled with power exercises that you need to perform for about 30 seconds at a time to improve your endurance and boost your post-workout metabolism.
These dance moves might be difficult because of the combination of fast footwork, body action, and arm movements, so if you're feeling challenged the program suggests dropping one portion of the movement and focusing on the other two.
Phase 3: Sculpt
In this final phase, Figure 8 Fitness focuses on sculpting the rest of your body through toning exercises that target your arms, back, shoulders, legs, and glutes with resistance bands for an extra level of fitness. No other equipment is required.
By the end of this phase, the program promises that you'll be closer to achieving your ideal physique. You can continue following the program longterm to maintain your results or move on to another BodyFX program.
Working Out with Figure 8 Fitness: My Experience
Before I was ready to begin the program, I needed to learn the three core moves of Figure 8 Fitness: a pendulum hip swing, a forward thrusting core flection, and figure-eight hip gyration.
Next came the signature moves for each style of dance, including merengue, salsa, samba, and more.
The program recommends you stay on these intro videos for as long as it takes to master the moves.
If you're following the official program, you'll move onto your first full workout class by day five, Dance Max Drills.
Days three and four both require you to take half the One-On-One class.
Once I felt warmed up and familiar with the basic steps, it was time to take the 45-minute Dance Max class. I am not a coordinated person, so this workout series was intimidating.
Jaana led the class in a studio with four participants and a giant screen that seemed dedicated to celebrating six-packs. We started with a quick warm-up made up of the signature moves and lots of core work.
My abs were burning within minutes, and I was surprised how quickly my arms started aching from holding them overhead.
Jaana's classes look simple when you watch them passively, but keeping up the rhythm turns the moves into a real workout.
Something great about this program is that you truly need no other equipment besides a screen.
Many home fitness programs make similar claims, but require you to at least have a yoga mat or dumbbells.
Figure 8 Fitness, in contrast, could be performed in just the space you need to take a step in each direction.
My lack of dance skills quickly became a detriment, and I struggled to stay on beat with Jaana and crew.
Thankfully, that wasn't a deterrent for getting in a good workout. I was still keeping my heart rate high, even though I'd never be invited to Figure 8 Fitness as a background participant.
While the class started out fun and engaging, it started to feel repetitive around the 15-minute mark. Minimal changes in music and movements made it hard for me to maintain the same intensity, and the second half of the class dragged for me.
If you love to dance and need nothing but music to keep you motivated, then Figure 8 Fitness workouts will fly by and help you get in shape.
But for me, I still prefer a more straightforward workout style like running or biking.
Analysis of Customer Reviews
More than 60 customers have left reviews of Figure 8 Fitness on our website. The reviews average 4.3 stars out of five, and 81% of customers say they would recommend this program to others. Below are the key takeaways:
Common Compliments:
High quality, engaging workouts
Workouts fly by so users forget they are exercising
Great value for a home fitness program
An effective way to lose weight
Common Complaints:
Some people never received their purchase or weren't able to access the videos
Customer service difficulties with the money-back guarantee
Too challenging for beginners
Some found Jaana slightly too chatty
Pricing
The complete set of Figure 8 Fitness classes can be purchased from the parent website, Body FX, for $47.
When you buy this program, you receive digital access to 14 video coaching and workout sessions, and you also have the option to receive DVDs of the program for an additional $10 in shipping costs.
The program comes with the following extras.
Success Trackers: Track your results each week to monitor your fitness improvements in real-time.

Workout Journal: A workout journal to track your exercise progress through each part of the series to help you gauge your progress and stay focused. It also lets you plan out the exercise schedule that fits your needs with the Figure 8 Full Workout Plan and Express Workout Plan.

PDF Workout Guide: This downloadable guide offers step by step instructions for completing the Figure 8 Fitness program, along with move modifications, warm-ups, and cool-downs.

Nutrition Blueprint: This nutritional guide is designed to help you boost your metabolism for faster workout results.

Figure 8 Express: This fast-paced workout is meant for people who struggle to fit a full-length routine or who have joint pain that limits their endurance. It comes with access to over thirty 10-minute video-coaching and workout sessions.
You will also gain access to an Exclusive Figure 8 Fitness Facebook group that lets you build accountability with other exercisers completing the program.
Your purchase is covered by the Figure 8 Triple Guarantee, which includes a 60-day 100% money-back guarantee.
Body Fx Subscription Option
Body FX is the parent company of the Figure 8 Fitness program, and it is currently possible to become a subscriber to the entire network for $11.99 per month or $108 per year ($9/month).
This subscription lets you access to over 100 hours of video workouts offered by the brand, including the original Figure 8 Fitness program and the following:
Figure 8 Ultimate: Elevate the Figure 8 Fitness program with some short but extra hard routines to keep you challenged.

Figure 8 Express: Shorter takes (around ten minutes) on the original classes to give you a great workout fast.

Figure 8 Pro: Longer, harder workouts that build off your fitness from the original program.

JNL Fusion Basic: Lose weight and gain muscle through intense workouts led by fitness model Jennifer Nichole Lee

JNL Fusion Advanced: Take the basic moves of JNL Fusion and bring them up a level.

Jaana Rhythms: Feel the rhythm through dance-based movements that get you in shape.

Challenge Workouts: A series of surprise workouts that keep you excited and engaged with the program (not suitable for beginners).

6 Minute Body: Get in a quick workout in six minutes to warm up and refresh yourself.

Clean Cuisine: Access a dozen recipes and food prep tips for better success with healthy eating.
This membership also includes nutrition education materials like meal plans, daily meal suggestions, and personalized nutrition advice from a certified Sports Nutrition Specialist.
You'll also receive daily email coaching that focuses on three areas: mindset training, fitness, and nutrition education, and the opportunity to join an online community where you can take part in program competitions for monetary prizes.
Popular Alternatives
If signing up for a monthly subscription fitness program appeals to you, a few popular alternatives to Body Fx include Beachbody On Demand, Peloton App, and Aaptiv. Here's how they compare:
| | Body FX | Beachbody On Demand | Peloton App |
| --- | --- | --- | --- |
| Price | $9–$11.99/mo. | $9–$13.33/mo. | $12.99/mo. |
| Content Type | Hundreds of hours workouts along with nutritional guides and a supportive online community. | Access to 1,100+ workouts within 50 multi-week programs. | On-demand and live stream workouts (20+ new classes offered each day) |
| Types of Exercise | Dance, cardio, lifting, fusion fitness, abdominal workouts | Dance, cardio, strength training, core workouts, yoga | Yoga, cycling, running, strength, meditation, boot camp, stretching and cardio workouts |
| Workout Length | 20–45 minutes | 15-60 minutes | 5–90 minutes |
| Approx. Number of Workout Routines | 100+ hours of workouts | 1,100+ workouts, split into different fitness programs | 10,000+ workout videos with more content added daily |
| Extra Equipment Needed | NA | Some programs require additional equipment like yoga mats, resistance bands or free weights | Most classes require access to a spin bike, treadmill, or free weights |
Body Fx comes in at a similar price point to many other home subscription fitness programs. However, this platform offers just a fraction of the content as its competitors.
Body FX also provides the least variety of workouts, as the majority of its offerings are cardio-focused dance classes that tone your core.
If that's your jam for working out, then I don't think the other platforms can fully compete. Beachbody On Demand does offer several similar programs like 80-Day Obsession and Hip Hop Abs, but you won't get as many classes as Jaana offers with Figure 8 Fitness.
Not everyone (me included) wants dancing to stand in for traditional exercise. I'd prefer to sweat it out on a run or a spin class where I can monitor my metrics in real-time and see how I'm performing.
For me, a cardio fitness class like Figure 8 Fitness makes it challenging to gauge if I am working hard enough throughout the workout.
For those who like to keep things more varied with their workouts, each of these other platforms should be a better buy.
The Bottom Line
Figure 8 Fitness is an immersive exercise program that will keep you moving from the beginning to the end of every workout.
A one-time purchase gives you total access to the plan for life, or you can also commit to a monthly subscription through Body Fx for extra perks.
Jaana Kunitz's fitness program is known for fostering a vibrant online community, and all members can join the program's Facebook group to gain accountability and encouragement before beginning.
I think this program will be a hit with women who want to lose weight but don't love traditional workouts.
The plan is easy to follow, and there are plenty of options for modifying the moves if you aren't able to complete them as directed.
However, I found the workouts to be slightly tedious and it was a challenge to maintain any intensity.
You don't need to be a dancer to enjoy this program—but it probably helps.
Those who prefer traditional fitness programs might find some of Figure 8 Fitness's competitors to be a better value.
Most offer a broader range of workout options as well as larger online communities for finding support.
Each of the options mentioned above provides free trial periods, so you might want to experiment with a few before committing to a monthly subscription.
Special Offer
Looking for a Way to Get in Shape, Lose Weight, and Improve Your Health?
Noom is offering our readers a 14-day trial for a limited time. Click here for this special offer.
---
Customer Reviews
This company is actively collecting reviews from its customers. All reviews submitted are subject to moderation and approval to ensure they meet our
Review Guidelines
.
Posted on Jun 8, 2015
Excellent instruction
This is not a scam. There are no hidden subscriptions. The shipping was pretty high, but you get 9 DVDs and the total cost averaged out to less than $10.00 per DVD. I will probably never be able to do two of the DVDs because they are very high impact and I have knee issues. She is an excellent instructor and there is more variety in the music than on the Core Rhythms (which I love.) The rest of the videos have modifications for lower impact. Jaana Kunitz is very loud on this program. I discovered if you go down to setup and turn the music louder it is a lot more fun, and you can still hear her instruction, which is excellent. This is like a real dance class and a very intense workout. The next day my abs are sore. She also includes tubing for upper body work, a workout schedule, and diet plan. I am not the best dancer so I tend to do the less complex choreography. This is a program you can build on. Yes I would recommend it to a friend if they like to dance and liked Core Rhythms.
Bottom Line: Yes, I would recommend this to a friend
Posted on Dec 30, 2015
Safe, high energy and fun ab melting workout.
I have danced with these videos and melted 7.5 inches off my waist along with following the diet and staying hydrated. The videos are high intensifying, you sweat, and make great gains while having fun. I not only endorse Figure 8, but I will be teaching it in the future with a certification through Jaana.
Bottom Line: Yes, I would recommend this to a friend
Posted on May 31, 2017
Best workout ever
I didn't purchase the DVDs; I do the workouts online. This is the best workout I've ever done in my life. I sweat more doing this than anything I've done before. It's hard. It's fast. It pushes you. I would rather do dance moves to burn calories and workout than sit in a boring gym lifting weights. Best money I've ever spent.
Bottom Line: Yes, I would recommend this to a friend
Posted on Oct 2, 2017
Life-changing!
I am in love with this workout!
I have never felt this way about any other workout that I have tried. This is so much fun that it never feels like a workout at all.
I have been doing it for four weeks, and I have lost 6.2 pounds and a total of 12.37 inches! I never thought only losing 6 pounds could make such a big difference. My clothes are fitting so much better.
I have always wanted to learn how to dance, but never could. The way that Janna teaches you really don't even realize you are learning until it all comes together.
The program that I have you stream the workouts or you can purchase the DVDs for $9 more I believe. I have both, but I have found it easier to just stream from my laptop.
If I remember correctly I paid $47 for the program and $9 extra for the DVDs. I purchased it over six months ago maybe closer to a year, so my memory isn't clear on the exact pricing. I kept putting it off, but I am so glad I decided to try it. It has truly changed my life. I didn't think I would ever be able to lose weight again. And there is a closed Facebook group where all the ladies post our highs and lows. We all encourage each other. It is like a giant wonderful family.
I have never seen anything like this.
Bottom Line: Yes, I would recommend this to a friend
Posted on Apr 6, 2018
I lost just under 2 kilos in 2 days!
Oh my goodness! This really worked for me. I had limited time to lose weight and due to a recent ankle injury put 2.5 kilos back on in 2 weeks. By modifying the steps and movements, I have lost just under 2 kilos in my first 2 days doing the basic package. Plan on alternating between steps and basic package for variety.
Bottom Line: Yes, I would recommend this to a friend
Posted on Apr 23, 2018
Love it!
These workouts really do help tone your muscles. Plus they are so fun to do! My rotator cuff is torn 50% so I did physical therapy but it still hurt a lot. After doing this workout for over a year, my shoulder does not hurt anymore. It took a long time to get to that point, but the workouts worked better than the physical therapy exercises. I still have a lot of weight to lose, but when I am finished, I will be toned. I have a really good muscle base underneath.
Bottom Line: Yes, I would recommend this to a friend
Posted on Nov 16, 2018
Effective and fun. I'll share why some think it's a scam.
Three parts:
1. Explanation of what I think poor reviews are.
2. What you get.
3. Honest negatives.
1. First, the reason some feel it's a scam - if you look, it is because they are having order issues, mainly as they are misunderstanding or misreading. The program is online and there is no "download," but rather, access.
The DVDs are an extra few dollars additional if you'll be somewhere without access to the internet.
The monthly program is optional and gives you more workouts, challenges, and community.
2. I opted for base product ($47), and community ($7) a month. Not the DVD's as it's 2018, and unless I travel to a cave, I have access to the site on my tablet, computer, or phone...
I enjoy a ton of workouts, tons of emails in my challenges to help me stick to healthy guidelines with done for you meal plans and mindset coaching...
I've easily lost inches and pounds, and gained firmness, confidence and have fun. It's beyond Zumba; more of a feel of dance.
Jaana is upbeat without being a bimbo, so you feel confident in her teaching.
3. Honest feedback.
a) I wish the staff was more present in the community or posted more often.
b) I think a slower workout would be a benefit.
These are not deal breakers, but more wishes.
Bottom Line: Yes, I would recommend this to a friend
Posted on Feb 2, 2019
A wonderful program
I began doing Figure 8 in November 2017. After already losing about 30 pounds on my weight loss journey, I wanted to try something fun to keep me motivated. And this is it. Fourteen months later I still love doing the videos and have nearly reached my long term goal. To date, I have lost 75 lbs with about 5 lbs to go. The Figure 8 program has something for everyone. From cardio to strength training, beginner to advanced, short workouts to intense, this program has it.
And I truly LOVE their protein powder. I use it in smoothies, protein pancakes, overnight oats, and so much more. The best thing about this program though is that it has kept me motivated to keep going. And I am so thankful for the entire crew at Body FX.
Bottom Line: Yes, I would recommend this to a friend
Posted on Feb 2, 2019
Figure 8 Fitness
What can I say about Figure 8 Fitness? Well, it is awesome. I hate the gym and had to do something for my diabetes, and I came across this program. The support staff are amazing, the routines are different from anything I have ever tried before, and the Facebook group support is life changing. I love how Jaana keeps us all going. They offer great nutrition help, recipes, monthly challenges to keep us all motivated. I have recommended it some of my friends...I love Figure 8 Fitness.
Bottom Line: Yes, I would recommend this to a friend
Posted on Feb 2, 2019
Fun!
It teaches you certain dance moves that also exercises parts I haven't moved in a long time! Lots of fun to learn and try to keep up with even though I'm not all that flexible...yet! Thanks for a fun video to work out with!
Bottom Line: Yes, I would recommend this to a friend
Posted on Feb 2, 2019
Figure 8 Fitness
Recently I purchased the Figure 8 DVDs and I must say this is the best exercise video I have ever used. Jaana's Figure 8 program is addictive and you find yourself looking forward to the next session. Can't recommend it enough.
Bottom Line: Yes, I would recommend this to a friend
Our Promise to You
In order to safeguard you and ensure helpfulness and relevance, our compliance team manually assess every customer review before it goes live.
We have a zero-tolerance policy for fake reviews, and companies cannot control or alter any reviews at any time.