Financial Peace University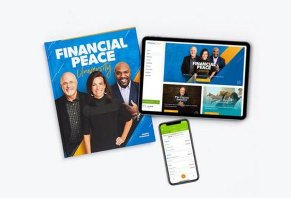 Summary
Dave Ramsey's Financial Peace University provides basic money management tools and easy-to-understand steps you can take to create financial peace and stability.
Financial Peace University Review: Pros & Cons, How It Works
What Is Financial Peace University?
Financial Peace University is a money management course that provides a nine-course, seven-step method for getting out of debt and building wealth.
"FPU" is part of the Dave Ramsey enterprise of financial management help that mixes Ramsey's financial training as well as Christian principles.
Those principles aren't prevalent in FPU, though. The course focuses on small steps you can take to get your money under control and start paying off debt.
In our review of this financial course, we'll discuss what the course offers, what the underlying philosophy they teach is, how much it costs and what other people are saying about it. We'll wrap up with a list of overall pros and cons that our research reveals.
What You Get with Your Financial Peace University Enrollment
The Financial Peace University program is available in-person and online for $129.99. The program features 11 courses that typically take place over the course of multiple nights when done in person.
The courses use videos of Dave Ramsey presentations as the primary teaching tool. Coordinators set up the classes, run the videos and facilitate small-group discussions that follow each video.
In addition to the course, you get an interactive workbook that pairs with the course, as well as a one-year membership to Ramsey's Financial Peace program.
This program gives you free access to budgeting app EveryDollar Plus, a Q&A platform you use to ask questions of FPU experts, live streams of financial workshops and an online community that, in our experience, is very spirited in their adoption of and advice about the methods taught in Financial Peace University.
If you're interested in attending an in-person Financial Peace University Workshop, you can use an FPU search tool to identify the time, date and place of an upcoming program near you.
Because Ramsey's religious beliefs underpin his philosophy about money, you'll find that all or nearly all of the programs take place at churches and, as we'll point out later in the review, Christian principles are woven into the classes you take.
For those who are ardent supporters of FPU, you can sign up to lead your own FPU programs by signing up to be a coordinator. Ramsey's organization will give you all the materials and training need to lead the courses, the website notes.
What Financial Peace University Teaches
FPU's content is based on the opening chapters of Dave Ramsey's best-selling book, "Total Money Makeover: A Proven Plan for Financial Fitness."
These chapters present the details of what Ramsey calls "baby steps," which are simple steps you implement in your financial life that will help you gain control of your money, pay off debt and build wealth.
Those seven baby steps are, per Ramsey's website:
Save $1,000 for an emergency fund
Pay off all non-mortgage debt with the snowball method
Save three to six months of expenses
Invest 15% of income into retirement
Save for child's college fund
Pay off your mortgage early
Build wealth and give
Emergency Fund
This first step—Saving $1,000—ensures you have enough money saved to cover surprise expenses that may otherwise put you further into debt. In Baby Step 3, you'll augment this emergency fund.
Pay Off All Non-Mortgage Debt With the Snowball Method
One of FPU's key principles for paying off debt is the "snowball method." This method demands that you pay off your existing debt starting with the smallest balances first.
So, if you have a $100 credit card balance, a $5,000 car loan and a $3,000 personal loan, you pay the credit card first, the personal loan second and the auto loan third.
This method gives you the psychological wins you need to build the confidence to pay off bigger debt, according to Ramsey.
Save Three to Six Months of Expenses
Once you have your debt paid off, you've not only freed up money in your monthly budget but you've given yourself a new financial start. You have no debt. At this point, FPU tells you to save up three to six months of money to cover your expenses should you lose your job or face a huge financial emergency.
This step is designed to give you a safeguard from going into debt again even in the worst circumstances.
The average household in America spends about $78,635 a year. Based on that, here's how much you should save, according to FPU:
Three months: $19,658
Four months: $26,211
Five months: $32,764
Six months: $39,317
Invest in Retirement/College Fund
With a solid amount of savings in place, you can now put your money toward your future.
Financial Peace University will walk you through these next two steps, showing you how and why it's important to put 15% of your money into a retirement fund, as well as making contributions to a 529 college savings fund or an Education Savings Account (ECA).
Pay Off Your Mortgage Early
At this point, if you've got a mortgage, then you're facing the biggest debt you've got (in most cases). FPU sees this as the last hurdle to you being debt-free.
"Your mortgage is the only thing between you and complete freedom from debt. Can you imagine your life with no house payment?" Financial Peace University asks.
Build Wealth and Give
Financial Peace University says this is the last step to their financial health course. In this step, they provide advice about investing and giving.
"Keep building wealth and become insanely generous. Leave an inheritance for your kids and their kids," their site says. "Now, that's what we call leaving a legacy!"
In addition to these areas of focus, the course gives you advice on how to teach your children smart financial habits and how to make wise decisions about leaving money to your children.
Expert and User Opinions About Financial Peace University
To gauge the effectiveness of and satisfaction provided by FPU, we reached out to past course attendees and financial experts.
Nicole Hovey, a marketing representative from Idaho-based medical software company BestNotes, told us she and her husband completed FPU in Sept. 2018.
Also, her company's executives provide their employees with free access to the budgeting app FPU endorses, EveryDollar.
She said the classes were transformational.
"I can say it has changed my whole perspective on financial planning and spending," Hovey told us. "Before I went to FPU, I would just make sure I had enough money in my account before I bought something. FPU taught the value of having a plan for my money."
She went on to say that the emphasis on paying off debt resulted in less stress and more communication with her husband, who took FPU with her.
"Once I took a good look at my debt and realizing how much less stress I would have every month, if I got rid of it, gave me the initiative to go full speed," she said. "It has helped my husband and me get on the same page with our finances and achieve a common goal."
She also told us her company's executive gave its employees free access to EveryDollar, the budgeting app FPU endorses.
As for negatives, Hovey said the religious emphasis present in the program could be a drawback for those who are unreligious. That being said, she told us that her non-religious friends were able to filter out the religious overtones and focus on the financial strategies.
"A lot of people I know that follow Dave Ramsey aren't religious. They just ignore the religious parts because they want to be financially sound I want to get out of debt," she said.
This is the same drawback we heard from Beck Beach, a personal finance blogger. Beach told us she took the course and didn't care for the religious emphasis. She believes it would be a drawback for others, too.
She also pointed out that one of the mantras in the course is that credit cards are bad. As someone who was struggling to make ends meet, credit cards were a necessary part of their financial life, Beach said.
"I was working paycheck to paycheck at the time so relied on credit cards to make it through the month," she said.
"Financial Peace says that all credit cards are bad and that you should get rid of all the ones you have. This was a con because you need credit cards if you can't make ends meet. I did make sure to pay them off each month to avoid collecting interest."
She also said one of the cons is that FPU pushes the envelope system. In this system, you make a budget and then appoint one physical envelope to your spending categories.
Then, at the beginning of the month, you fill each envelope with the budgeted amount. When you're out of cash, you aren't allowed to spend any more in that category.
"This is a time-consuming practice and difficult for someone with a full-time job. I can't get to the bank to withdraw cash every day for my envelopes," she said. "It is far (easier) to pay with a debit card and then track your budget with the Mint app."
Ken Rupert, a former coordinator for FPU from 2011 to 2015, founded his own personal finance program, Financial Black Belt.
Over the course of the four years he spent running FPU sessions, he said he became well-aware of the program's strengths and weaknesses.
"One of the pros is that it takes people who have no financial education and it provides them a very loose framework for managing their personal finances," he said. "The other pro is that it facilitates communication about finances, specifically with couples."
The downsides, he said, are that there isn't any follow up between the coordinator and the attendees after the course. Attendees are encouraged to further their financial education by setting up appointments with local insurance agents and CFP's who are part of Ramsey's network.
However, Rupert said, even appointments with CFP's don't always provide people with all the training and knowledge they need to manage not just their budget, retirement and college funds, but to handle other things like stocks, ETF's and other methods of investing.
Finally, Rupert pointed out that Dave Ramsey emphasizes investing in mutual funds when there are all kinds of opportunities for investments including the ETF's we often see in robo-advisors like Betterment and Wealthfront.
Logan Allec, a CPA and owner of personal finance site Money Done Right, told us he believes one of FPU's strengths is that it actually works.
"Perhaps most important to a financial peace course: his strategies work. Dave's method of financial peace involves paying off debt, including your house, and saving your money for retirement," Allec told us.
"This strategy is very similar to what financial leaders such as Warren Buffett coach individuals to do. This fact alone could make Dave's course right for you."
Aside from FPU's clear religious bent possibly causing some comfortability, Allec said another drawback is that FPU's strategies could take a long time to work.
"Even though Dave's strategies can lead to financial peace, they'll take a significant amount of time to work due to the power of compound interest," he said.
"If you aspire to quickly make money in order to pay off debt or take a vacation around the world, then Dave's material is not the right financial course for you."
The Bottom Line: Is Financial Peace University Worth Trying?
Ramsey's principals for paying off debt, creating an emergency fund, starting a retirement fund, opening a college savings account and paying off your mortgage are excellent principles.
The course's emphasis on identifying and ending your debt are ones that my wife and I used to pay down $22,000 of credit card debt when we first got married.
We didn't attend FPU, but we did read Ramsey's book, Total Money Makeover. As we mentioned earlier, many of the introductory principles in that book are covered in FPU.
The tools you learn are, as our sources pointed out, effective for getting a crash course on the basic principles of managing your money and paying down debt. My own experience can attest to this.
The course is not without its drawbacks, though. First, there is a clear religious thread running through the courses. Not every attendee will be comfortable with that, while others may be able to filter it out and focus on the financial principles.
Second, the course pushes some theories of budgeting and spending that not everyone agrees with. For example, FPU emphasizes cutting up your credit cards.
In our research of hundreds of credit cards, we've found that rewards cards like the Citi Double Cash, Chase Freedom Unlimited and World of Hyatt Visa Credit Card are excellent ways to earn rewards as long as you don't carry a balance.
And, if you apply the principles FPU sets out for budgeting and spending, then you should never have a balance resulting from spending more than you earn.
Third, we think it's important to take Rupert's advice into consideration. The course does not give you an in-depth explanation of what to do with your life after you leave the class.
The course suggests you reach out to Ramsey-approved financial professionals but, aside from the free access to materials for one year after your class, the follow-up is very limited.
With all this in mind, we think Financial Peace University is an excellent fit if you have no idea how to manage your finances and are in debt.
The courses will make you confront your financial situation honestly. It will give you tools to stop the bleeding, save money and look to the future.
However, remember that financial literacy is a life-long endeavor and you should leave the FPU courses knowing it is your responsibility to further your financial education.
Customer Reviews
Posted on Mar 30, 2014
Excellent material!
Dave Ramsey has a 20+ year proven track record of challenging people to "live like no one else now, so that later on you can LIVE and GIVE like no one else!" Dave doesn't teach get rich quick, in fact he warns against those kind of rip offs. Dave challenges people to create a budget, live within it, live on less than you earn, get out of debt as fast as you can (with "gazelle" intensity) and invest wisely and safely, using mutual funds that have at least a 10 year history of good returns.
Financial Peace University doesn't really teach anything new or exotic, just good old common sense, that apparently isn't very common any more!
Bottom Line: Yes, I would recommend this to a friend
Our Promise to You
In order to safeguard you and ensure helpfulness and relevance, our compliance team manually assess every customer review before it goes live.
We have a zero-tolerance policy for fake reviews, and companies cannot control or alter any reviews at any time.