Financial Rescue LLC Reviews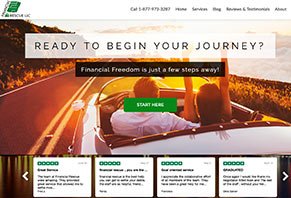 According to Financial Rescue LLC, they may be able to negotiate better terms with each of your creditors, helping you save money and improve your credit.
About Financial Rescue LLC
If you're facing the possibility of bankruptcy, we're told Financial Rescue LLC can help you get legal assistance from "attorneys and professional debt arbitrators" to lower your debt in the shortest amount of time possible.
Essentially, Financial Rescue LLC promises to help combine your unsecured debt and negotiate balances with your creditors, which could help you "significantly" lower your debt and pay it off faster. In fact, they claim you might be able to cut your debt by up to 65%!
On top of this, the company tells us they can counsel you on the pros and cons of each available option, and that the process can help clean up your credit score and help you "live a better life."
There's no doubt that debt-related stress can ruin your life, or that figuring out a way to unbury yourself from this mess can seem like an impossible task.
But when it comes down to it, should you hire a debt relief firm to help you through the process? And if so, is Financial Rescue LLC your best option?
Let's start by taking a look at some of the services the company might offer.
Which Debt Relief Programs Are Available Through Financial Rescue?
Based on the wording on their Services page, it appears that Financial Rescue LLC provides their customers with access to three different programs:
Debt Resolution Hardship Program
Here, the goal is to lower your debt as much as possible and in as little time a possible. Your case will be handled "through the assistance of an attorney program" after contracting with a law firm.
In the end, we're told all your debt will be combined together in order to leave you with a single monthly payment.
Debt Settlement Program
Comparatively, Financial Rescue's Debt Settlement program may help lower your overall debt, but isn't intended to negotiate interest rates.
According to the company, each creditor will be contacted individually on your behalf and the goal is to end up with a single monthly payment, although you'll be responsible for making these payments in a timely manner.
Legal Plan
Based on what we're told, the Legal Plan is more of an add-on to the Debt Settlement program than it is a standalone option.
Regardless, this will give you the opportunity to be represented by an attorney, without having to worry about limits, deductibles, or co-payments.
Some of the added benefits include "Legal Document Review, Creditor Lawsuit Defense, and preparation of all court filings and full court representation."
But hold on. Is this actually what you'll get by going through Financial Rescue LLC? And why would we even question this in the first place?
Is Financial Rescue LLC a Lead Generator?
In one area of their website, Financial Rescue LLC indicates that they're "a marketing service provider for debt settlement programs, debt relief services, and law firms."
While this might seem vague, they provide us with a little more clarification elsewhere: "Financial Rescue LLC (FRLLC) provides consumer leads to debt settlement providers and law firms to assist clients as advocates for their rights." Then:
"Consumers contract directly with debt relief providers, providing multiple alternatives such as debt resolution program and debt settlement programs that are designed to customize their specific needs while understanding their individual hardships and avoiding bankruptcy."
In a nutshell, this is what's known as a lead generator. In this specific instance, one company collects an individual's information (i.e. a lead) and passes it along to another company who might be able to assist a customer with their needs.
Then, depending on their agreement, the lead generator might earn a commission after passing along the information, or perhaps only once the customer makes a purchase (such as signing up for a debt relief program subscription).
Now, this is a completely legitimate business model, used by hundreds of thousands of different business, especially within the insurance and lending (personal loans, auto and home, credit cards, etc.) industries.
However, as consumer advocates, we think it's important that a company fully discloses what they'll do with your information. After all, some of these companies are notorious for spam and telemarketing calls, and you don't want to have anything to do with that, right?
And when asked (such as speaking with a company representative), we also think it's important that a company is open and honest about the services they provide.
Our Financial Rescue LLC Customer Service Experience
To get some concrete clarification about 1) exactly which services Financial Rescue provides and 2) some additional information about the third parties with whom they partner, we contacted their customer service department directly.
After posing our questions to the representative who answered our call, they basically repeated what's listed on the website and what we quoted above (i.e. that they're a marketing agency).
Then, after we pressed for some additional details, we were transferred to a second representative who first requested some of our personal information.
However, after declining to provide any of our personal details and asking which services they offer, the representative outright refused to answer any of our questions—although they did mention that Financial Rescue is not a lead aggregator.
Soon, after repeating our questions several times, the rep disconnected the call.
In the end, we can certainly understand that an open exchange of information goes both ways in a conversation. And if you're in sales, having an anonymous caller ring you up and ask for detailed information might feel like a waste of time (and potentially money).
However, if a company is truly here to serve their customers, then it's our opinion (since we're consumers ourselves!) that their representatives shouldn't immediately become defensive if customers aren't interested in handing over their information.
After all, just like you, we're only seeking answers to simple, straightforward questions that they should be happy to provide.
So, while we remain unsure exactly what you'll get with Financial Rescue LLC, will you pay a lot to get it?
How Much Does Financial Rescue LLC Cost?
Again, without the opportunity to fully understand Financial Rescue's complete suite of services, we can't know what you'll pay for them.
We are told that consultations with FRLLC's IAPDA Certified Debt Consultants are free, where you'll have the opportunity to talk about your different options. One of these consultants can be reached at 877-973-3287.
Outside of our experience with Financial Rescue LLC, what are the company's clients saying?
Are There Any Online Financial Rescue LLC Reviews? What About Complaints?
The only online customer reviews we found for Financial Rescue during our research were on TrustPilot, where the company had 38 pieces of feedback and an average rating of 8.3 stars.
There, common compliments referenced effective debt resolutions, friendly customer service, and helpful advice.
On the other hand, some customers complained that Financial Rescue LLC didn't negotiate the promised amount, didn't finish on time, and was slow to respond to inquiries.
Outside of this, we found one customer complaint on the Better Business Bureau website, where they had an A+ rating (as of 9/29/16). This claimed that the company didn't pay some accounts as promised, although it appears an amicable resolution was achieved.
From a company perspective, Financial Rescue LLC was founded by Rod Mercado in 2009 and is based out of Milpitas, CA.
Should You Sign Up for a Debt Relief Service Like Financial Rescue LLC?
According to NerdWallet's 2015 statistics, the average U.S. household has more than $64K in debt, related to credits cards and student loans alone. In other words, this doesn't factor in other unsecured debt sources, such as medical bills.
In short, most Americans are in debt up to their eyeballs and are desperately looking for a way to exit the situation. This is why you'll find thousands of debt settlement agencies out there, including Financial Rescue and Freedom Debt Relief.
Despite their popularity, though, the Consumer Financial Protection Bureau states that "Dealing with debt settlement companies can be risky. Some debt settlement companies promise more than they can deliver. Consider all of your options, including working with a nonprofit credit counselor."
Why, specifically? The CFPB notes that these companies often charge steep fees, recommend that you stop paying your bills, and often times the accumulated fees can outweigh any savings provided by their negotiations.
On top of this, no debt relief company can guarantee results. Even according to the FRLLC website:
"Individual results may vary based on program terms, ability to save sufficient funds, underwriting guidelines, the creditors in your individual profile, and the willingness of creditors to negotiate."
In the end, while we're provided with few tangible details about what Financial Rescue LLC will do for you, the Federal Trade Commission provides a quick overview of the general process, so we'd definitely recommend giving it a read.
Can You Negotiate Your Own Debt Settlements?
But the reality is that, other than their professional experience, it's completely reasonable that you can contact your creditors individually and attempt to negotiate settlements on your own.
However, just keep in mind that this might not necessarily lower your balance, since other common options include lowering interest rates and minimum monthly payments, temporarily suspending your account (such as during a medical emergency), and more.
Related: The Top 7 Money Mistakes: How Many of Them Have You Made?
Also, remember that your creditors are under no obligation to do any of this (whether you're working through a company like FRLLC, or giving it a go on your own), so keep in mind that you might run into one or more brick walls.
The Bottom Line About Financial Rescue LLC
Can debt settlement companies like Financial Rescue LLC provide valuable services for the fees they charge? Undoubtedly, since they can help remove the burden of negotiating settlements with each of your individual creditors.
But even if you're on the verge of bankruptcy, keep in mind that these companies generally don't do anything you can't on your own—with some time and effort, of course.
In the meantime, the FTC recommends also speaking with a non-profit credit counselor who can provide educational materials and help you develop a budget, which can ultimately help improve your credit score.
What did you experience with Financial Rescue LLC. Give us your insight by writing a review below!