Finhabits
Summary
Consumers looking for a way to easily invest their money or build an IRA can turn to Finhabits, a robo-advisor with standard functions and a website and app in both English and Spanish.
Finhabits Reviews - How It Works, Advantages & Disadvantages
Finhabit is an iOS and Android app you use to invest money in ETFs – big collections of stocks, bonds, currencies and other securities – and individual retirement accounts (IRAs).
Commonly known as a robo-advisor, the app uses a series of mathematical equations to maximize your earnings and minimize your tax liability.
Finhabits, launched in 2017, is the brainchild of Carlos Garcia, an MIT grad who created the app the help Americans save for their retirement.
In a 2017 interview with Forbes, Garcia talked about why he launched the company.
"I founded Finhabits to address a very real threat to Americans: the retirement crisis. When nearly half of all working-age households don't have any retirement savings, it's clear that the traditional financial services industry is failing us," Garcia said. "Quality investment advice isn't accessible to everyone, and this is why Finhabits exists."
Garcia also notes on the Finhabits website that he has a particular interest in helping the Latino community build their retirement. As a result, the company's website is the only one of the significant robo-advisors we've reviewed that has an option for reading the site and watching FAQ videos in Spanish. The app is available in Spanish, too.
As you read through this review, remember that we want to equip you to make an informed decision about which robo-advisor is best for you.
As such, this article is split up into the following sections, each of which includes our research and first-hand experience with the app:
Features and options
Fees
Comparison to other robo-advisors
User reviews
Our concluding section will cover the app's pros and cons, and provide you links to a few other robo-advisor reviews we wrote.
Finhabits' Features and Options
Before you get into the features and options the app has, you have to sign up. We did a test run of the app and will share our sign-up experience with you.
The screens you see before you sign up make the case for investing with Finhabits. Investing your money makes it grow, the fees are low, and your money is safe.
You then have the option of choosing to invest your money into a portfolio of your choosing or to sink your cash into a Roth or traditional IRA.
We tapped on both options to see what would happen. Both choices lead you to a screen where the app gives you three weekly savings plans: $10 (Retirement Starter), $50 (Retirement Plus), and $100 per week (Retirement Max).
Rather than letting you meander through a sign-up process and enter the full-blown app without a plan, Finhabits makes you commit to a plan upfront.
Granted, you can change your plan whenever you want; the point is made early on, though. Investing in portfolios or IRA's requires action.
We chose the $10 a month plan and were asked to provide an email address and password.
From there, we were asked for our name, date of birth, address, and a few other things, including your tax filing status, employment status, and income.
The app then takes you to a screen where you see how your initial investment strategy will play out until you are 76.
The app indicated that our $10-per-week investments over the next 37 years would result in $19,293 in contributions and $56,112 in gains. Adding $5 a week resulted in $84,167 gains.
It's important to point out that you can use this page to select a $5-a-week investment plan, something that wasn't offered when we were presented with the three options.
Finhabits will formulate a portfolio strategy based on the information provided. Here's a screenshot of our recommendation: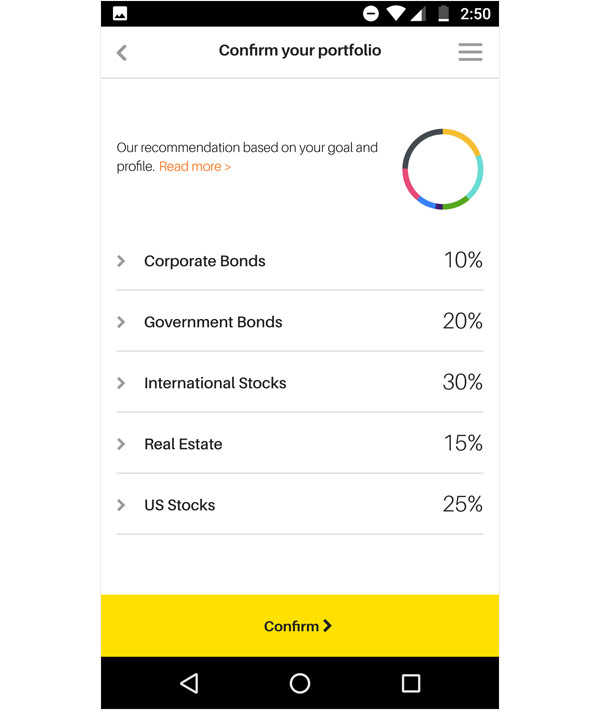 Tapping on any of the chunks of the portfolio reveals an explanation of what they are. From there, you provide the app with your social security number to verify who you are, then your bank account information.
When you're in the app, you can adjust your retirement strategy, change your investment amounts and get projections about how changes in your contributions and strategy can affect the long-term value of your retirement fund or investments.
This first portfolio you set up is known as a goal. You can have multiple goals, which means you can set up multiple portfolios. The main difference between the two is fees, which we'll talk about in the next section.
Pro tip: You can pause your weekly deposits at any time.
Finhabits' Fees
Finhabits will charge $1 a month for accounts with less than $2,500 in them. That fee changes to 0.5% once you hit $2,500 per year. According to their website, the fees are taken from your portfolio.
Here's a list to show you how much a year's worth of fees will cost you for five different balances:
$1,000: $12
$2,500: $12.50
$5,000: $25
$10,000: $50
$25,000: $125
You'll pay a 0.12% fee imposed by the various companies offering the components of the ETFs in which you invest. Those fees are calculated into the cost of buying an ETF.
Finhabits vs. Betterment, Wealthfront and Acorns
As we mentioned earlier, Betterment, Wealthfront and Acorns are three of the leading robo-advisors.
When you're choosing a robo-advisor, fees should be one of the things you consider.
If you stick with the same robo-advisor for the life of the investment, you'll pay thousands of dollars of fees and, while those fees will be cheaper than what you'd pay if you used a traditional brokerage firm, they'll still cost you a good chunk of money.
Education is another key; you want a site that will teach you about investing and finances and provide you a platform through which you can invest.
Therefore, we've listed the apps' fees and given them a grade for their educational resources:
| App | Fees | Education Grade |
| --- | --- | --- |
| Finhabits | $1/mth (under $2.5K) /0.5% (over $2.5K) | C |
| Betterment | 0.25%(under $100K) /0.4%(over $100K) | A |
| Wealthfront | Free (under $10K) /0.25% (over $10K) | A |
| Acorns | $1/mth (under $5K) /0.25% (over $5K) | B |
We believe that Finhabits ranks below the other three robo-advisors when it comes to fees and education.
In our opinion, Wealthfront is the strongest choice for fees because they're the cheapest. Accounts are free up to $100,000.
Wealthfront and Betterment, in our opinion, have the best learning pages because they have tons of content and their content covers a wide range of technical and non-technical investing and personal finance topics.
Finhabits doesn't have a robust learning base set up for its users. The other apps on this list have been up and running for at least three years while Finhabits launched in Jan. 2017.
While we think the other three apps are better than Finhabits, those other three sites don't have a Spanish-language version, which could discourage investors whose first language is Spanish. This is the one feature that sets Finhabits apart.
User Reviews of Finhabits
Finhabits gets an average rating of 4.6 stars from the 3,693 reviews entered in the Google Play store at the time of publishing. The iOS version has an average rating of 4.6 stars out of 9.2k reviews.
The most recent reviews in the iTunes store indicate users are happy with the fact that they can see their investment and retirement accounts in one place (multiple goals, like we talked about earlier) and that it's really quick and easy to invest your money.
Recent reviews from Android users were mostly good, the exceptions being two reviews. One complained that the app wasn't available outside the U.S. and the other said a glitch in the date-of-birth entry resulted in the app repeatedly telling him he had to be 18 years old to use Finhabits.
Our Final Thoughts About Finhabits: Pros and Cons
Based on our experience with this app, we believe its greatest strength is that it offers users a Spanish version of their website and their app. This is the main feature that makes the app different from the competition.
Aside from that, we think Finhabits' functionality and options are on par with the other robo-advisors. We'd say the app is most similar to Acorns because they both share the $1-a-month fee for smaller accounts.
Based on our research, we believe the main drawback to the app is the lack of educational resources on its website. Granted, the company is much younger than its competitors. However, if you're looking for a robo-advisor right now, those other sites might be a better fit.
Don't let that discourage you from considering Finhabits, though. Remember, you can always use the app for your investing/retirement account and then head to the other sites for education.
Based on our research, we believe investors looking for a robo-advisor in Spanish will find this app the best possible option.
If Spanish isn't your first language, Finahbits is similar to the other apps we've mentioned. Your decision will most likely come down to your comfortability with the app. If you find it more intuitive than, say Wealthfront, then it's probably the best choice for you.
Customer Reviews