Finishing Touch Lumina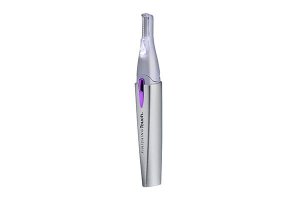 Summary
The Finishing Touch Lumina hair removal wand is designed to make your mustache and other unwanted body hair disappear without leaving you with nicks, redness, or irritation.
About Finishing Touch Lumina
Self-branded as the 'world's #1 facial hair remover', the Finishing Touch Lumina is a hair removal wand that promises to help you remove hair quickly and painlessly from your lips, eyebrows, and chin- though it claims to be powerful enough to remove unwanted hair anywhere.
Targeted towards women, this device promotes itself as a way to keep your face hair-free without suffering from nicks, redness or other irritation, and it also comes with a bright light to make it easy to spot the hairs you missed.
Will this small shaver actually help your face stay stubble-free? Let's look at the details to learn more about this product.
How the Device Works
The product website offers downloadable instructions for using the Finishing Touch Lumina hair removal wand.
These instructions made it clear that the device requires one AAA battery (not included) and shouldn't be used on wet skin. To use, you must first remove the razor's protective cap before turning it on and holding it at a 45-degree angle to your face.
Included with each razor are two comb attachments (2mm and 6mm) that let you choose the right length for the hairs you're targeting.
The direction of trimming should be the opposite direction that your hair grows naturally, and it's recommended that you use light pressure over the same skin area until all hairs are removed.
The wand's pivoting head is meant to make it easy for you to tackle hairs at every angle to ensure a clean finish. You shouldn't be too forceful while shaving, as this can damage the pivoting razor head.
Once you finish shaving, the product instructions cleaning each piece carefully to prolong its lifespan.
The included LED light on the tip is designed to make it obvious what hairs you've missed.
What Is The Cost?
The Finishing Touch Lumina website was available at a variety of retail locations, including Bed, Bath & Beyond, Ulta Beauty, CVS Pharmacy, Rite Aid, Walgreens, and Walmart. While it may range in cost based on location, the official listed price at the time of writing was $9.99.
Because the parent company doesn't sell Finishing Touch Lumina directly, your purchase will be subject to the return policy at the retail location you buy it from.
What Do Customers Think of Finishing Touch Lumina?
A little research showed us that there is an impressive amount of online feedback about the effectiveness of Finishing Touch Lumina. For example, the device had over 900 reviews on Amazon (averaging 3.1 stars) and 235 reviews on Ulta (3.4 stars) at the time of writing.
Looking through these reviews, the general theme we noticed was that many users found the Lumina easier and more efficient for hair removal than using tweezers, though many noted that the device stopped working quickly, so they were replacing it every few months. Others wrote that the trimmer seemed flimsy and wasn't durable enough to tackle touch hairs.
We also noticed a few comments that the head of the shaver wasn't fine enough for detail work and that it didn't get close enough to the skin to cut hairs at the base, which left some stubble for a few users. Likewise, while the hair removal wand is advertised for use on bikini lines, any reviewers stated that it wasn't strong enough to remove these thicker hairs.
Those with lighter hair tended to be happier with the effectiveness of this hair removal system, while those with darker hair thought it was lacking. That's likely because many reviewers noted the Lumina didn't give them an ultra-close shave, meaning that lingering stubble was slightly more apparent for dark-haired users.
Similar Product to Lumina
Several devices besides the Finishing Touch Lumina promise to keep your face hair-free, and a popular option is the Conair All-in-One Precision Trimmer.
Offered exclusively by Ulta, the Conair All-in-One trimmer is designed for full-body trimming and includes two eyebrow attachments for detail work. The trimmer runs on a AAA lithium battery and comes with tweezers and a storage pouch.
The Conair trimmer retailed for $14.99 at the time of writing, and Ulta's customer reviews awarded it 4.4 stars out of 5, which is more than a full star above the site's rating for Finishing Touch Lumina.
Saying that, reading the specifics of some of these reviews showed us that a small number of customers weren't impressed with the Conair's quality because it broke after a few uses.
The two shavers have similar selling points and come with the same attachments. The biggest difference we noticed was that the Conair didn't require you to buy a separate battery and that the Lumina included a LED light at the tip to make detail shaving easier.
Bottom Line
The Finishing Touch Lumina is a smart, low-budget hair removal tool for getting rid of unwanted mustaches, eyebrow hairs, and more without pain or irritation.
Some reviews indicate that this shaver works well when it works, but a primary customer complaint was that each wand didn't last long before it needed to be replaced- often just a few months of regular use.
Some complaints from users that it won't tackle tough spots like bikini lines, and that those with dark hair felt like it left unsightly stubble where they used it.
If you're interested in high-quality hair removal, you might be better off seeking professional treatment like waxing or laser hair removal instead.
If, in contrast, you're looking more for a low-cost product for touch-up jobs, we think that there is a good chance that you'll be happy with the Finishing Touch Lumina removal wand or its competitor the Conair All-in-One. The two devices are relatively similar, though you'll get the added advantage of a replaceable battery in the Conair to extend its lifespan.
We suggest you shop around either way, as there's a good chance the prices for these shavers will vary considerably by retailer.
Customer Reviews