FIXD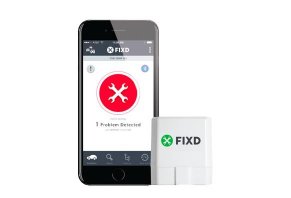 FIXD's diagnostic tool and app combine to give you a plain-language explanation of why your check engine light is on and how much it might cost to repair the problem.
FIXD Review: A Detailed Look
FIXD is a device that reads the codes causing your vehicle's check engine light to turn on, then tells you the problem and its symptoms through the device's app.
For most of us, the check engine light creates fear. We don't know what the problem is. We don't know how much the mechanic will charge to diagnose the check engine light and repair the issue.
FIXD's device tries to remedy that by telling you what's wrong with your car and giving you estimates for how much it should cost to fix the issue.
Our review will address how the device works, show you what its strengths and weaknesses are, and explain why it may or may not be right for you.
How It Works
When you buy a FIXD device, you get what's known as an "OBD-II" reader. An OBD device reads the error codes your car's computer creates when something's wrong with your engine.
The device works on all cars made in or after 1996.
When you receive your FIXD, you go through a quick setup process:
Download the app.
Turn on your phone's Bluetooth
Open the app
Input the sensor code on your FIXD device
Plug the device in and turn on your car
Within seconds, your app and OBD reader will sync. Then, the reader sends the error codes to the app. Once the information transfer is done, you'll get the following information for each code:
The problem associated with the code
The code number
Symptoms related to the issue
For example, your app may tell you that one of the cylinders in your car is misfiring. The app will tell you which cylinder is misfiring and what possible symptoms of the misfire are:
Engine hesitates
Increased vibration while driving
Hard to start
The app color-codes the issues. Red means the issue is urgent and you need to fix it soon. Yellow represents issues you can drive with but will eventually need to replace.
Also, FIXD tells you how much you should expect to pay to repair the problem. It also gives common solutions for the mechanical problem causing the code.
Once you get all the information you need, you can use the FIXD app to "clear the code," which means turning off your check engine light.
FIXD Premium
Premium is FIXD's upgraded membership. Its main advantages are that you have access to a mechanic hotline and the Identifix Network.
You can call the hotline to get advice from mechanics about the error code and how to fix the issue causing the code. The Identifix network is a database where mechanics upload their notes and advice about error codes.
The advantage here is that you get advice on how to fix the problem causing the error code. If you like to DIY car repairs, you can get insight on what to fix and how to fix the issue.
Pricing, Return Policy, and Warranty
The device costs between $49 and $60, depending on where you buy it. FIXD is available at Amazon, Best Buy, Target, Costco, Walmart, and through the FIXD website.
FIXD premium costs $7.99 a month or $59.99 a year.
If you purchased from the FIXD website, you have 30 days from the date of delivery to return your device if you aren't happy with it. To start the return, identify your order number in the email FIXD sent you after your purchase.
Your device comes with a one-year warranty that covers defects in manufacturing or materials. The warranty doesn't cover damage due to negligence (you accidentally ran over with your car, for example) or modification.
If you make a claim, you'll need to do so through FIXD's warranty portal and within one year of your delivery date. FIXD will replace your OBD reader with a new device. They will not give you a refund.
Analysis of Customer Reviews
Our FIXD customer review analysis identified common trends among good and bad reviews about the product. Review trends help understand how well the device works in real-life situations.
Common compliments:
Accurate assessment of what's wrong with the car
Drivers fixed parts based on FIXD's codes and saved money
Common complaints:
App did not connect to a device like it was supposed to
No error codes even though a car is running erratically
Error codes didn't match the actual problem
Consumers seem to fall into two camps. FIXD diagnosed the problem and provided accurate suggestions to fix the problem. Or, the device didn't diagnose the right problem or reported a healthy engine despite noticeable issues.
These observations tell you that you need to have realistic expectations when you buy FIXD. The app may suggest the fix that actually works, or it may not provide any helpful information.
Pros and Cons
Pros
Quick diagnosis: We all want a quick diagnosis of what's wrong with our car. FIXD does that, and it gives you the added benefit of listing symptoms and telling you how soon you should address the issue.
Repair estimates: FIXD removes the fear of unfair pricing. The device tells you the price you should expect to pay for repairs most often related to the engine code. You're getting an objective quote because FIXD doesn't benefit from your repair costs.
Easy to use: The entire set-up process takes around 90 seconds. You don't need to be a mechanic or car expert to know how to use it.
Cons
Multiple issues could cause one code: While it's nice to know the error code that's producing your check engine light, your FIXD device isn't going to tell you what to fix or how to fix it.
O.J. Lopez, owner of Chicago-area repair shop Fluid MotorUnion, points out that error codes for a misfiring cylinder may be due to any number of issues: a loose timing chain, a camshaft error, bad spark plugs or a damaged ignition coil.
Your inclination might be to fix the cheapest part first—spark plugs—but if that isn't the real issue, you've spent time and money without addressing the problem.
False Sense of Security
Much of our fear about engine errors is in the unknown. What's causing the issue and how much will it cost to fix it? The information FIXD gives you alleviates some of that fear. However, you're still left with an engine problem for which you have to find a solution.
And, if you don't have the mechanical expertise to pinpoint the problem, the FIXD diagnosis won't be much help.
"OBD devices tend to give consumers a false sense of security. They think having the device gives them some sort of inside information that only mechanics get," Lopez said. "But the device only tells you what's wrong, not how to fix the problem."
Inaccurate Repair Estimates
Your FIXD's repair estimates are going to be a rough estimate of a likely solution. However, car repairs can involve multiple factors. These factors could include extra repairs the app didn't estimate.
Also, you may not always find a mechanic who will quote you a price that matches what FIXD predicted.
The Bottom Line
FIXD is a device that uses well-known technology to provide an answer for why your check engine light is on. The app furthers its usefulness by telling you how severe the problem is, common solutions, and what a repair should cost.
Here are a few suggestions about who we think this app is good for and who may not like it:
Who It's Good For
You're an experienced DIY mechanic: The information the app gives you to diagnose what's wrong and give you common fixes you may be able to do on your own. This process is an efficient way for you to find the real cause of your engine problems.
"These types of devices are more for your more knowledgeable DIY guys who want more information about the engine problem," Lopez said. "I would view it as something to put in your bag of tricks."
You want to protect yourself against dishonest mechanics: One of your fears may be that mechanics will try and charge you for problems that don't exist or lie about what's wrong with your car. Knowing your engine codes gives you the information you need to counteract suspicious repair costs your mechanic quotes you.
FIXD Premium gives you an additional layer of protection. Your access to their mechanic hotline and Identifix further increases your understanding of what's wrong.
You want a simple explanation of what's causing your check engine light: The FIXD app's use easy-to-understand explanations of what's going on with your car won't make you feel stupid. Within seconds, you'll know the problem and get recommendations for the most common fixes.
Who It's Not Good For
You expect to get one solution for your car's problem: You will be disappointed if you buy the FIXD so you can get a single solution for an engine problem.
Engine codes can indicate a variety of problems. Even seasoned mechanics sometimes have to refer to repair databases to understand what might cause a certain code, Lopez said.
You want an instruction manual for the needed repair: FIXD isn't going to tell you how to fix the part that you need to replace. It will suggest easy fixes, but you'll need to find an instruction video or manual that will walk you through the repair.
---
This company is actively collecting reviews from its customers. All reviews submitted are subject to moderation and approval to ensure they meet our

Review Guidelines

.

A must-have tool

By Jimmy F.

,

Los Angeles, CA

,

Jul 3, 2020
Verified Reviewer

Overall Experience:

I've had one for about 2 years and only have good things to say about it. Also have recommended it to several acquaints and friends. For the price of $59.00+ tax, I think it's a winner.

Pros and Cons:

How easy it is to add the app to my phone
How accurate it is
The price
Once I had to disconnect and then reconnect
On my 2002 Corolla it was not easy getting to the portal

Bottom Line: Yes, I would recommend this to a friend

---

I saw this on Facebook

By Patricia G.

,

Independence, MO

,

Jun 23, 2020
Verified Reviewer

Overall Experience:

I saw this on Facebook. Decided to give it a try. It was ordered on 6/7/2020. They said they had a free trial period that would start after the sensor is received. I received the sensor on 6/18/2020 and on 6/21/2020 they charged me $69.99! Really, they are worse than the mechanics fixing people's vehicles. STAY AWAY. They have no phone number to contact as to why not received when they "shipped" on 6/8/2020.

Pros and Cons:

No "pros" were specified in this review
It was a fee to buy, they never said anything about a fee to pay for an app
Never synced to vehicle at all

Bottom Line: No, I would not recommend this to a friend

---

Expect NO Customer Service

By Roland S.

,

Austin, TX

,

Jun 5, 2020
Verified Reviewer

Length of Use: Less than 3 months

Overall Experience:

After having problems getting my unit to sync with my phone, I contacted their support. To date, I have had it for 2 and 1/2 weeks, and I have had three interactions with the company. Each time I was told to expect to be contacted in the next day or two by someone else (another person, a different dept, etc), and not once did anyone ever call back. So now I'm sure I've had it too long to get my money back, I'm sure the $70 for the premium subscription is long gone, and I'm left with a piece of crap that still doesn't work, even though I have a compatible vehicle and a compatible phone. So buyer beware!

Pros and Cons:

The philosophy of it actually telling me what is wrong with my vehicle
How easy it was to install
How easy it was supposed to be to operate
Customer Service

Bottom Line: No, I would not recommend this to a friend

---

Feel screwed

By Robert B.

,

Richmond, Quebec, Canada

,

Apr 25, 2020
Verified Reviewer

Overall Experience:

Bought this through a Facebook pop-up ad and just got it today. Ad mentions nothing about requiring to download (and pay for) an app! Of course it isn't free! Haven't used it yet and already regret my purchase. Ad borders on false advertising and I feel I've been taken, as do many other buyers based on the reviews I've read. Want to return the device but doing so will likely cast at least a couple of app payments, so I will likely smash the thing to pieces rather than get screwed for the app. This is the kind of online purchase that the government should ban for online sales just for manipulating the public into a useless sale. I will never recommend this piece of crap to anybody! Stay away from FIXD, because they're "fixed."

Bottom Line: No, I would not recommend this to a friend

---

Advertisement

---

Feel cheated

By Ian G.

,

Perth, Western Australia, Australia

,

Apr 20, 2020
Verified Reviewer

Overall Experience:

Bought the gadget expecting to at least have my car, a Mercedes Benz A200 2014 model, included in the list for diagnosis, however, it wasn't...

Secondly, when I started the app, it read the VIN well enough, then it scanned the car ok, then the price of over AUD$100 was to be charged to obtain the results...

So, to send it back I'm not happy, I will have to pay the freight back to the US, well, I'll give it to one of my nephews who gave newer cars that may be able to afford the annual payment...

Bottom Line: No, I would not recommend this to a friend

---

I think I should have known...

By Cathye L.

,

Johnson City, TN

,

Apr 18, 2020
Verified Reviewer

Overall Experience:

That the device won't work when the engine is off. The problem with this car is that it won't keep a charge so every morning is a surprise. I've wasted so much money in the last 2 years. I can't seem to find a VW mechanic anywhere in my area. I've gone through the sales pitch ad 3 times and I still see nothing about the ability to start the car in order to use the device.

Bottom Line: No, I would not recommend this to a friend

---

Sucks

By Chuck D.

,

Arizona

,

Mar 23, 2020
Verified Reviewer

Overall Experience:

Okay, the unit must work, but when I tried to use it, through the app, a ransom for $70 was demanded before it would tell me what was wrong. This POS is just another scam. Why would I have to buy these pieces of crap and then have to pay to get the results of the sensor tests? This is predatory advertising.

Bottom Line: No, I would not recommend this to a friend

---

Put your greed away.

By Richard G.

,

Ferndale, WA

,

Jan 16, 2020
Verified Reviewer

Overall Experience:

I bought three, based on the ads (rough looking guy identifies himself as a mechanic). Hi, I'm Rocky Mechanic...blah blah blah, how his friend said...he tried it...blah blah blah, and holy molly, it does everything my 12 thousand dollar pro device does. Or the one where he decided to check it for himself, plugs it in and discovers his gas cap wasn't tightened. Dramatically opens the gas door and tightens cap...problem solved. Yeah, BULL! Before you even think about it, do what I SHOULD have done...go to Google or the App Store and ask for the app. You have a choice! Choice of what? Pay $59.99 for a year's subscription (you have that many lights?) OR pay $7.99 a month. Hmmm? Three units discount brings it to $39.81 each. PLUS $7.99 MONTH (OR FOR ONE USE, IF YOU'RE NOT to quick with math). You guys should be kicked off campus! Of course, if you refund my purchase price, I'll call it even. Oh, no, not quite, I need the freight back to your dorm.

Bottom Line: No, I would not recommend this to a friend

---

Extra charges

By Robert G.

,

North Port, FL

,

Dec 29, 2019
Verified Reviewer

Overall Experience:

Bought this unit and it worked great the first time I used it but wouldn't work on another car. I tried to download the app again (months later) for the same car it worked on before but now they're telling me there's a yearly fee to use the app. I've already brought this product for $59.99 and it was free to use. I'm not paying another $59.99 a year for a one time use. What a waste of money. It was developed by a few college buddies. I guess greedy people come in all ages.

Bottom Line: No, I would not recommend this to a friend

---

Don't buy!

By Tammy A.

,

Calgary, Alberta, Canada

,

Nov 21, 2019
Verified Reviewer

Overall Experience:

When I first bought this product we loved it! It gave us codes for everything except the ABS. Then we started noticing they were adding extra stuff that you could pay a monthly fee to access. I figure, hmm, whatever, everyone needs to make some money.

Well, fast forward to about a year and we find that now it won't do ANYTHING WITHOUT A MONTHLY FEE! It says nothing about this at all. It says the app is free and just pay for the sensor and be on your way. This is a bald faced lie. Don't buy this.

Save yourself the hassle and buy a BluDriver. I'm replacing my FIXD with a BluDriver and then I'm going to plug in my Blu and run over all 3 FIXD sensors and consider myself smarter from the experience.

Bottom Line: No, I would not recommend this to a friend

---

Only good for check engine light

By Rudolph C.

,

Los Angeles, CA

,

Sep 19, 2019
Verified Reviewer

Overall Experience:

I bought the FIXD and used it for the first time on Saturday and was very disappointed!

I cleaned my filters on my 2012 S550 and forgot to plug back in the switch at the back of the right filter before starting. Of course, the check engine light came on, which I cleared after plugging back in.

My car is perfect now with no check engine light but FIXD would not forget this problem unless I call a mechanic. Very disappointed.

Bottom Line: No, I would not recommend this to a friend

---