FIXD Reviews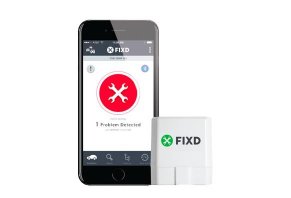 By sending data from your OBD-II port to a companion smartphone app, FIXD detects the cause of your check engine light and provides a simple explanation.
What Is FIXD?
Using a smartphone app and an OBD-II sensor, the FIXD system promises to provide real-time updates about the health of your car in less than 60 seconds, which could help prevent thousands of dollars in costly repairs.
Specifically, the website tells us this system can detect 6,800 possible check engine light causes, translate them into simple terms, provide you with a summary, indicate their severity, and then give you instructions on what to do. You'll even be warned about possible consequences if you continue driving.
FIXD can also provide users with automatic oil change and maintenance reminders, the ability to access data across multiple cars in your family, along with an active timeline.
As maintenance tasks are completed and recorded, they can even be exported into a comprehensive vehicle health record.
Based on what we learned from their website and commercial, it certainly seems that the FIXD system could help take the guesswork out of a check engine light, as well as provide other key benefits like maintenance reminders.
But is it the only option in town? And if not, is it necessarily the best? These are just two of the core questions we'll help you answer in this article, starting with a closer look at FIXD's operation.
How Does the FIXD System Work?
There are two parts to the FIXD system: the iOS and Android app (per the company, there are no Windows Phone versions in the works) and the sensor.
At about 2" long, 1.65" wide, and .78" in thick, this sensor plugs into the OBD-II port (the same one used by mechanics to diagnose problems you might be experiencing), which is available on all gas-powered cars built after 1996.
Note: Per the company's FAQ, FIXD also works with gas-powered trucks purchased in the U.S. that have a GVWR (gross vehicle weight) less than 14,500 lbs. However, it does not currently work with diesel-powered vehicles or electric-powered vehicles.
A picture of FIXD's OBD-II sensor, which gathers information about check engine lights and sends it to the app. Image credit: FIXD Automotive
The sensor's small, compact design allows it to stay out of sight while it remains plugged in at all times. There, it will gather data related to any check engine light and send it wirelessly via Bluetooth to your smartphone, where the app will translate the information into:
The severity of the problem
The consequences of continuing to drive with that problem
A 2-3 sentence definition of how that problem affects the rest of the car
In addition, FIXD's algorithm will determine your mileage and alert you when you're approaching important maintenance intervals, as well as provide factory recommended maintenance schedule for your specific make, model, year, and engine.
You can install sensors in multiple vehicles to remotely monitor the health and status of other family members, as well as receive mobile push notifications when a new problem is detected. All data collected is secured through the company's industry leading safety protocol.
In these FIXD app screenshots, we can see the vehicle's error codes, a brief description of each, along with its current mileage and maintenance schedule. Image credit: Google
Keep in mind, however, that the FIXD system is currently limited to check engine lights only. According to the product's FAQ, they "are working on expanding the capabilities to include service reminders, ABS, TPMS, [airbag, and other non-check engine lights] by licensing manufacturer-specific codes."
What Is FIXD's Maintenance Club?
Although it wasn't yet released at the time of our research, FIXD's upcoming Maintenance Club will allow members to receive the items they need once they reach their next maintenance interval, tailored to their specific vehicle year, make, and model.
The program can be customized as you see fit, and whether you're a beginner or a pro, they'll also show you how to complete the maintenance, without having to leave your home and head to the parts store.
Your membership can be canceled or pauses at any time, and no deliveries are sent without your approval.
How Much Does the FIXD App and Sensor Cost?
The FIXD app is free, although you'll pay the following for sensors:
1 Device: $59
2 Devices: $88 ($44 each)
3 Devices: $118 ($39.33 each)
Once released, the Maintenance Club membership will be free, and you'll only pay when products are shipped.
For one device, you'll also pay $5 S&H, while all other options come with free shipping.
Regardless of the number you order, FIXD comes with a 30-day money-back guarantee, less S&H, along with a one-year limited warranty. To request one, the sensor must be in good condition (not physically damaged, broken, or altered) and you'll need to send an email to support@fixdapp.com.
What Can We Learn from FIXD Customer Reviews
Between Amazon and Walmart, there were more than 160 customer reviews for FIXD at the time of our research, which gave the system an average rating of about four stars.
In general, most compliments appeared to indicate that it's easy to install and use, provides clear insight into check engine lights, and delivers meaningful value for the money.
What few complaints there were frequently related to not working properly; usually related to problems connecting. The company responded directly to each complaint on Amazon.
Between iTunes and Google Play, FIXD's app had nearly 750 pieces of feedback from users, with an average rating of 4+ stars. Most compliments and complaints mirrored those found elsewhere.
From a company perspective, FIXD Automotive, based out of Atlanta, GA had an F rating with the Better Business Bureau and 25 closed complaints, as of 9/7/17.
Of those with details available, most appeared to revolve around customer service issues and long shipping times. Again, a company representative responded each time.
Are There Other OBD-II Sensors Like FIXD?
Different Sensors & Their Capabilities
Since the OBD-II port has been standard on all new vehicles manufactured since 1996, there's been plenty of time for various technologies to develop around it. The most basic of these include:
Code Readers – Features basic code reading and clearing functionality.
Scan Tools – According to LifeWire, in addition to what's provided by a code reader, these "may include advanced data reading and playback features, extensive knowledge bases and diagnostic procedures, and even built-in testing equipment."
In addition to standalone code readers and scanning tools, there are also Bluetooth-equipped models—formally known as ELM327 scan tools—that can display much of the same information on your smartphone.
However, while scanners typically come with more robust features, LifeWire emphasizes that none of these devices can, among other things, "read manufacturer or pending codes or provide troubleshooting information or tips." This is where 'smart' dongles like FIXD enter the picture.
Smart Dongles That Go Beyond Code Reading and Sensing
A handful of OBD-II dongles can go far beyond demystifying check engine lights, tracking maintenance, and sending alerts. And while they all attach to the same port, they seemed to have carved out niches for themselves by providing unique feature sets.
Although we won't cover it here, it's important to point out that some, like Metromile, can even help set your auto insurance rates. How do these other models compare to FIXD?
Hum by Verizon
Although Hum's equipment will only cost you as little as $30, you'll also need to pay an activation fee and a monthly subscription fee of between $10 and $15, depending on the model you purchase.
For these prices, subscribers will receive access to emergency and roadside assistance, stolen vehicle location services, vehicle diagnostics, maintenance reminders, and the ability to talk with an independent, certified professional for advice if a problem occurs.
Additional features include boundary and speed alerts (for younger drivers), a monthly summary of driving history and habits, navigation, and even a Wi-Fi hotspot (depending on model).
Automatic
Depending on the model, Automatic's service provides unlimited 3G access and unlimited car monitoring, all with no fees.
Lite's features include Bluetooth syncing, trip logging, business expense apps, engine light diagnostics, fuel logging, while Pro's features include crash alerts, parking and live vehicle tracking, IFTTT apps for home automation, and the ability to utilize streaming apps.
The Lite dongle is priced at $79.95, while the Pro version will cost you $129.95.
Vinli
Originally started as a crowdfunding campaign in 2015, Vinli also provides drivers with access to a 4G LTE Wi-Fi hotspot. However, they claim to provide access to the "largest app ecosystem for your car."
Here, much like with smartphones, users will be able to choose from more than 40 different apps that can assist with everything from tracking routes and speeds and locating your car, to connecting your car to your home and even interacting with Amazon Alexa.
According to Vinli's FAQ, though, it only appears to be available to businesses and dealerships, and the "price of the device and service is determined by our channel partners."
Regardless of the smart ODB-II sensor model you choose, though, keep in mind that according to Tom's Guide, you need to be aware of potential data security concerns:
"The OBD port was never designed to power Wi-Fi hotspots, or to transmit and receive wireless data. The port is simply meant to convey diagnostic trouble codes to a car owner or mechanic.
Likewise, most cars' internal networks were never supposed to be connected to the Internet, and as a result, have loose or nonexistent security safeguards."
Our Final Thoughts About FIXD
As with most consumer products, whether or not FIXD is the right option for you largely depends on your needs and the factors you consider most important.
For example, if the initial price is your top concern, you could purchase a Hum device for as little as $50 (the retail price plus activation fee). However, you'd also need to pay between $10 and $20 per month to continue utilizing their services, which will also involve signing a contract.
On the other hand, FIXD's initial price came in $10 higher, although it was a one-time purchase; no future fees were required. However, it also included the fewest number of features (e.g., no Wi-Fi access, different app choices, IFTTT connectivity, and so forth) of the competition.
Splitting the difference, Automatic's system also didn't require monthly fees, came with a wide range of available features, and didn't require a recurring subscription or contract. But, it's Lite and Pro versions were the most expensive at $79.95 and $129.95, respectively.
The bottom line is that if you're looking to step up from a standard OBD-II scanner, but don't necessarily need all the functionality (and associated costs) offered by some of the 'smart' competitors, FIXD seems like it might meet your needs.
And if it doesn't, the manufacturer stands behind it with a 30-day refund policy. Just keep in mind that you'll have to pay to ship it back to the company.
» See Also: Avoid Mechanic Rip-Offs With These 7 Expert Tips
This company is actively collecting reviews from its customers. All reviews submitted are subject to moderation and approval to ensure they meet our

Review Guidelines

.

Put your greed away.

By Richard G.

,

Ferndale, WA

,

Jan 16, 2020
Verified Reviewer

I bought three, based on the ads (rough looking guy identifies himself as a mechanic). Hi, I'm Rocky Mechanic...blah blah blah, how his friend said...he tried it...blah blah blah, and holy molly, it does everything my 12 thousand dollar pro device does. Or the one where he decided to check it for himself, plugs it in and discovers his gas cap wasn't tightened. Dramatically opens the gas door and tightens cap...problem solved. Yeah, BULL! Before you even think about it, do what I SHOULD have done...go to Google or the App Store and ask for the app. You have a choice! Choice of what? Pay $59.99 for a year's subscription (you have that many lights?) OR pay $7.99 a month. Hmmm? Three units discount brings it to $39.81 each. PLUS $7.99 MONTH (OR FOR ONE USE, IF YOU'RE NOT to quick with math). You guys should be kicked off campus! Of course, if you refund my purchase price, I'll call it even. Oh, no, not quite, I need the freight back to your dorm.

Bottom Line: No, I would not recommend this to a friend

---

4 out 5 people found this review helpful

Extra charges

By Robert G.

,

North Port, FL

,

Dec 29, 2019
Verified Reviewer

Bought this unit and it worked great the first time I used it but wouldn't work on another car. I tried to download the app again (months later) for the same car it worked on before but now they're telling me there's a yearly fee to use the app. I've already brought this product for $59.99 and it was free to use. I'm not paying another $59.99 a year for a one time use. What a waste of money. It was developed by a few college buddies. I guess greedy people come in all ages.

Bottom Line: No, I would not recommend this to a friend

---

12 out 12 people found this review helpful

Don't buy!

By Tammy A.

,

Calgary, Alberta, Canada

,

Nov 21, 2019
Verified Reviewer

When I first bought this product we loved it! It gave us codes for everything except the ABS. Then we started noticing they were adding extra stuff that you could pay a monthly fee to access. I figure, hmm, whatever, everyone needs to make some money.

Well, fast forward to about a year and we find that now it won't do ANYTHING WITHOUT A MONTHLY FEE! It says nothing about this at all. It says the app is free and just pay for the sensor and be on your way. This is a bald faced lie. Don't buy this.

Save yourself the hassle and buy a BluDriver. I'm replacing my FIXD with a BluDriver and then I'm going to plug in my Blu and run over all 3 FIXD sensors and consider myself smarter from the experience.

Bottom Line: No, I would not recommend this to a friend

---

11 out 12 people found this review helpful

Only good for check engine light

By Rudolph C.

,

Los Angeles, CA

,

Sep 19, 2019
Verified Reviewer

I bought the FIXD and used it for the first time on Saturday and was very disappointed!

I cleaned my filters on my 2012 S550 and forgot to plug back in the switch at the back of the right filter before starting. Of course, the check engine light came on, which I cleared after plugging back in.

My car is perfect now with no check engine light but FIXD would not forget this problem unless I call a mechanic. Very disappointed.

Bottom Line: No, I would not recommend this to a friend

---

Advertisement

---

24 out 24 people found this review helpful

Monthly cost

By Tommy M.

,

Texas

,

Jul 24, 2019
Verified Reviewer

While the device gave me feedback on most emission check and failed in three and not available on a few more. I could only get standard checking with minimum feedback unless I subscribe to the $7.99 monthly payments to have the device tell me what each checkpoint is. Never knew that through all the reviews. I don't have a check engine light on so maybe it's me. But there is a monthly charge that has not been mentioned in any of the reviews or advertisements that I viewed. Not sure what my next step is at this time. But if it sounds too good to be true, it is. Not sure if I would recommend to a friend because I am on the 7-day free limited trial and don't plan on subscribing at this time. I honestly don't know if to recommend. So will select no, only let them know the monthly charge and let them decide.

Bottom Line: No, I would not recommend this to a friend

---

23 out 24 people found this review helpful

Great idea but faulty product

By Pat M.

,

Albuquerque, NM

,

Jul 1, 2019
Verified Reviewer

I bought FIXD to determine the cause of a "REAR DIFF TEMP" light that flickered intermittently on the dash. The impression through their advertising is that the cause of the warning light could be determined by using their device. Not a clear message...this is only for the "CHECK ENGINE" light. It does not have the capacity to evaluate the cause of transmission or brake warning lights that come on.

To ascertain more information, I sent an email which took 2 days for them to answer. I had also signed up for the "Premium FIXD" service, $8 per month, which gives the subscriber a phone number to call...a Mechanic Hotline, as it were (in addition to other features on the phone app). There was no answer except for a recording of hours informing me of when someone would be available. I was expecting much easier accessibility to customer service, especially after buying into the "Premium" service.

Well...the email was finally answered, and I was given the explanation that some manufacturer's systems weren't fully compatible with the FIXD device, and they were trying to work out details. "Thank you for your patience..." sounds great but with no indication when those issues will be resolved...I saw the serious limitations with this product. In the meantime, I have decided that I won't be spending $8 per month (I had canceled my subscription) as well as the $50 cost of the device. (It went back to Target for my refund.) I will be purchasing the BlueDrive OBD2 scanner for $99. The customer reviews are much more favorable regarding device features AND customer support. I was just hoping for more pleasant FIXD experience at half the price.

Bottom Line: No, I would not recommend this to a friend

---

32 out 32 people found this review helpful

FIXD is a scam

By Dan B.

,

Powell River, British Columbia, Canada

,

Jun 18, 2019
Verified Reviewer

I too thought that the FIXD app was free but to initiate it I had to sign up for an $11.00 monthly subscription fee. I am going to throw my $80.00 (CAD) investment into the garbage. There was no mention of a subscription in the ad where I bought 3 of these.

Bottom Line: No, I would not recommend this to a friend

---

6 out 15 people found this review helpful

Great piece of equipment

By Eric C.

,

Woodstock, Ontario, Canada

,

May 8, 2019
Verified Reviewer

Works great. No regrets with this purchase. Has always fix any of my concerns. Highly recommend anyone to purchase a FIXD reader, it has saved me money having to have truck scanned. Purchased another for my son. Save your money and don't get ripped off having your car scanned, this unit will tell you what is needed for the do-it-yourself repairs.

Bottom Line: Yes, I would recommend this to a friend

---

7 out 14 people found this review helpful

FIXD

By David P.

,

Orlando, FL

,

May 8, 2019
Verified Reviewer

Great little gadget. I can diagnose any issues with my car and do all preventive maintenance before any issues occur. You're better off getting the premium because the standard doesn't give you many options but still worth it guaranteed. You won't regret it.

Bottom Line: Yes, I would recommend this to a friend

---

4 out 10 people found this review helpful

Great product

By Tami Z.

,

Portland, ME

,

May 8, 2019
Verified Reviewer

Since purchasing FIXD I've helped myself and family members diagnosed vehicle issues, saving hundreds by not having to go to a garage to have them diagnose issues. I would highly recommend to everyone that drives to order this product and get all your vehicles set up. I think it's great to also have more than one vehicle set up for each device. The upgrades that you are doing are great. Keep up the good work. (I ordered 3 units when I placed my order.) Great investment.

Bottom Line: Yes, I would recommend this to a friend

---

5 out 9 people found this review helpful

ABSOLUTELY AWESOME

By Phil H.

,

Newark, NJ

,

May 7, 2019
Verified Reviewer

The best part is the live gauges you can see multiple engine sensors/functions in live time from RPS to air/fuel ratio down to fuel banks and air intake temps and many more! Was truly surprised at the capability of this extremely affordable scanner.

More than just the average scanners. Not only can it be used from any Bluetooth capable device phone tablet, etc., it gives you the codes but it explains the code explains down what damages can be caused by it. Allows you to clear all codes, it keeps a history of any codes even thrown to show your mechanic your car's history...it diagnoses the issue! The app even gives you a network of mechanics to fix your issues. Best bang for your buck, is truly worth every cent.

Bottom Line: Yes, I would recommend this to a friend

---