Fizzics Reviews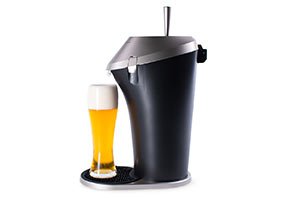 Using proprietary Micro-Foam Technology, the Fizzics beer dispensing system claims to boost the taste, look, body, and aroma of just about any type of beer.
About Fizzics
Fizzics is a freestanding, portable, battery-operated draft beer system that promises to deliver "better-than-tap flavor and taste" whenever you want, without CO2, nitrates, or gimmicks.
To accomplish this, Fizzics' patent-pending fluid and sound technology, known as Micro-Foam, infuses any style of carbonated beer with tiny, uniform air bubbles. As a result, we're told you can expect a creamy, smooth foam and improved taste, looks, body, and aroma.
The process works in three basic steps:
Insert any size container, from a 12oz can to a 64oz growler.
Pull the tap for beer.
Push for creamy, smooth foam.
Whether you're having friends over or camping in the middle of the wilderness, Fizzics' battery-operated Micro-Foam system seems like it could change how you experience beer.
But when it comes down to it, is Fizzics worth the money? Will it "allow beer aficionados and novices alike to pour expert draft quality beer"? Here, we'll talk about what we learned during our research so that you can answer this important question.
How Does Fizzics Beer System Work?
Basic Specs
The Fizzics draft beer system weighs less than 3.5lbs and runs on four AA batteries, which the company claims are good for up to 200 12oz pours.
We're told all of the components are manufactured, assembled and packaged in a "positive pressure Class 100 Clean Room environment" as required by the FDA. Additionally, resins are FDA approved food-grade materials, which are assembled using stainless steel hardware.
Using Fizzics
To assemble, you'll first place batteries in the removable top lid and attach the tap lever. The inner lining then goes inside the system canister, which then fits inside the base and over the antimicrobial drip mat.
Finally, the top lid attaches to the lining and canister and locks into place. For more details, be sure to read through the Fizzics Quick Start Guide and User Manual.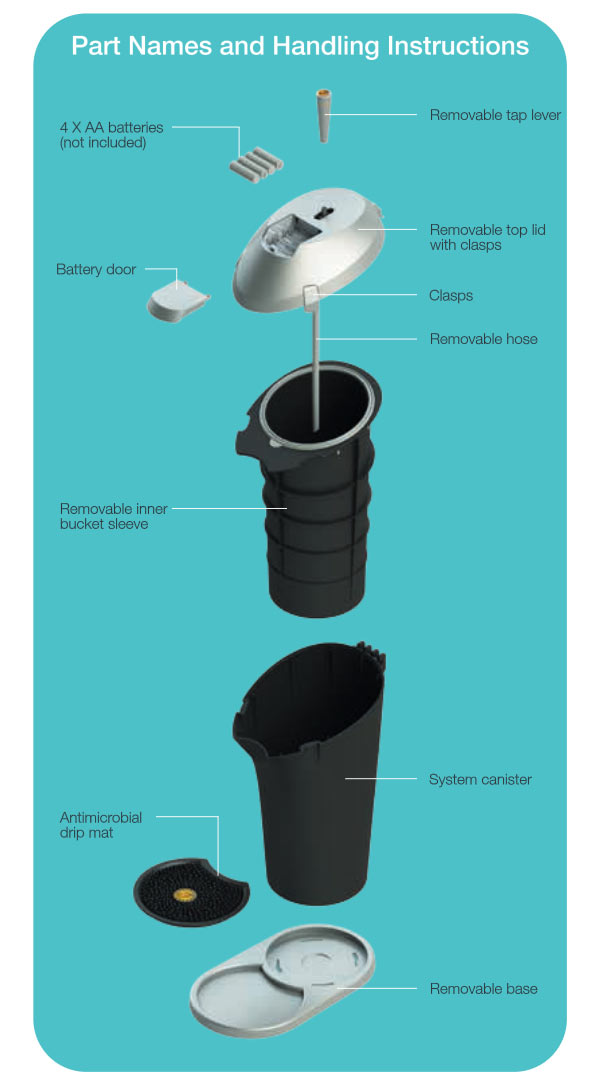 The Fizzics beer dispensing system consists of only nine key parts and runs on four AA batteries. Image credit: Fizzics
Once you're set up, Fizzics works over the following steps:
Place beer (anything from a 12oz can to a 64oz growler) inside the bucket sleeve.
Place the removable hose into the beer container.
Close the lid and lock the clasps.
Place the glass underneath and hold at a 45-degree angle. Pull the lever forward, and you'll hear the motor briefly come to life. Now, tap the beer, which is poured under pressure to maintain carbonation and body.
Once filled to the appropriate level, hold the glass upright and push the handle backward to create Micro-Foam (more about this in a second).
According to the manufacturer, Fizzics works to enhance all carbonated beer styles, including IPAs, Pilsners, Stouts, Porters, Lagers, and more.
The canister is designed to insulate your beer and keep it cold. Alternately, you can pack ice on top of a growler to "keep it cold and fresh all day long."
Cleaning Fizzics
When the time comes, Fizzics can be cleaned by setting a glass of warm water into the canister (in place of beer). Then, you'll tap the handle forward for five seconds to flush out the system.
If necessary, separate the anti-microbial drip mat from the base and separate the inner system canister to rinse as needed.
What is Fizzics' Micro-Foam Technology?
We'll talk more about this shortly, but most beer flavor-enhancing systems require CO2 or Nitro cartridges, ongoing refills, and replacement parts to continue working.
On the other hand, the Fizzics' "sonication process" utilizes a medical grade sound wave oscillator to convert your beer's natural carbonation into Micro-Foam, which consists of uniform, tightly-packed bubbles fewer than 30 microns in size.
At the same time, you'll eliminate "unsightly, bloated" bubbles that contribute to foam collapse.
The result? Fizzics claims you'll experience enhanced aroma, a preserved flavor, and a creamy mouth feel.
What about the new Fizzics Waytap system? Will it provide any meaningful differences from a taste perspective?
Original Fizzics System vs. the New Waytap
Based on what we're told by the manufacturer, the new Fizzics Waytap system functions identically to the original using the same Micro-Foam Technology.
Instead, they "placed a huge priority on design, usability, and aesthetics," resulting in a smaller, more portable size that's compatible with 12-25oz cans and 12oz bottles.
Operationally, Waytap's chamber fits over the can or bottle without latches, compared to the bottle-in-canister design of the original.
Finally, Waytap comes with a more affordable price, which is what we'll discuss next.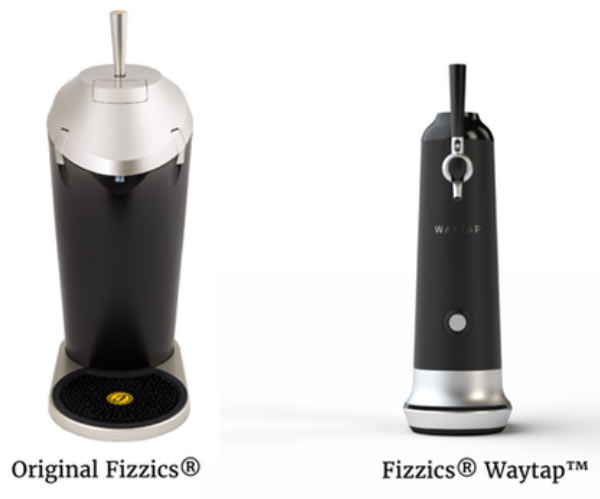 Compared to the original Fizzics system, Waytap is smaller, more portable, and priced lower. Image credit: Fizzics
How Much Does Each Fizzics Cost?
The original Fizzics model (FZ101) is priced at $169.99. In addition to directly through the manufacturer, it can also be purchased through popular retailers like Brookstone, Target, Best Buy, Cabela's, Amazon, and more.
The Fizzics Waytap system is currently available for pre-order on Indiegogo (estimated shipping December 2016), priced as follows:
Matte Black with Pearl Chrome Finish: $120
White with Pearl Chrome Finish: $120
Slate Grey with Gun Metal Finish: $140
You can also order a set of Perfect Pour glass that features an indicator on the side that lets you know when to switch from pouring pour to topping it off with foam ($25). A Waytap carrying case will cost you $35.
All Indiegogo pledges are non-refundable, although both Fizzics systems come with a 1-year warranty against defects in material and/or workmanship under normal consumer use
Note: This is only available for purchases made from an authorized Fizzics dealer.
To file a warranty claim, you'll need to send an email to info@fizzicsgroup.com.
Are Customer Reviews Frothing Over Fizzics?
Media Outlets
The original Fizzics beer dispensing system has received quite a lot of media attention since it was released, including popular tech-related sites like CNET, PC Mag, Engadget, and more—most of which referenced similar pros and cons.
PC Mag actually brought a system into their local bar and tested it against a variety of different beers dispensed with Fizzics, a traditional draft, as well as hand-poured. In most instances, they felt Fizzics delivered better results than hand-poured, with the exception of Guinness.
See Also: Teforia "Intelligent" Tea Infuser Review
However, they also noted that the Fizzics system seemed to change the flavor/complexity of some beers, especially hoppy ones like IPAs. In fact, wherever we turned, this was one of the most common complaints we encountered.
On the upside, PC Mag liked that Fizzics helped refresh a growler of beer that was a few days old, and noted that it could work as an affordable alternative to a CO2- or nitrogen-charged kegging system—but that it's still not cheap.
In the end, most tech- and beer-related sites seemed to agree that Fizzics might be best for improving store-bought beer, but it probably won't deliver the same freshness and taste as something from your local pub.
Also, if you're a purist who doesn't want to alter the taste of your beer (especially hoppier versions), it might not be an ideal solution to deliver fresh-from-tap taste.
Amazon Customer Feedback
From a customer perspective, the original Fizzics system has 108 reviews and a 4.1-star rating on Amazon at the time of our research. There, most seemed to appreciate its ease of use and cleanup, as well as the improved texture/aroma and creamy head it delivered.
On the other hand, most complaints claimed that Fizzics didn't change the taste or texture of the beer, and they felt it wasn't worth the money.
Who Founded Fizzics?
Fizzics Group, LLC was co-founded by CEO Phil Petracca and CTO David McDonald after the two wondered how to bring the fresh taste of a brew-poured beer to cans, bottles, and growlers. From there, we're told they went through more than a year of research and development.
Once they brought their product to market, the fledgling San Francisco-based company experienced immediate success. However, Phil and David also appeared on Season 8, Episode 1 of Shark Tank, where they were looking for investors to greatly expand their sales reach and enter coveted retail stores.
Ultimately, Mark Cuban and Lori Greiner worked together to bring Fizzics $2M in funding for a 16.67% combined stake.
Currently, Fizzic's Waytap system is available on Kickstarter, where they've raised more than $1M on an original goal of $50K, as well as on Indiegogo, which has raised another $1.1M+.
Does Fizzics Have Any Competition?
If you're looking to achieve the same great taste as a pub-poured beer in the comfort of your home, by far the most common option is a Kegerator (combines a keg and a refrigerator).
The problem? You can pay anywhere between $350 and $1,000+ for one of these, which also require much more maintenance than a Fizzics system and take up much more space.
There are some Mini Kegerators that could be considered countertop models within the same price range as Fizzics, but they'll use CO2 to provide bubbles, which you'll always have to replace.
Instead, if you're looking for the 30-micron bubbles delivered by the Micro-Foam Technology, Fizzics is currently your only option. But does this mean you should go ahead and place your order?
Who Is the Ideal Fizzics Customer?
When it comes down to it, we could see Fizzics appealing to a wide variety of beer drinkers, from occasional sippers to hardcore connoisseurs—which is probably why it's been a runaway success so far.
After all, whether we're talking about direct customer feedback or in-depth write-ups from professional websites, most seem to agree that it can open up a whole new experience for beer drinkers. This seems to be especially the case if you're looking to elevate your store bought beer.
However, while it might provide improvements in this regard, just keep in mind that many report it won't always match the quality you'll get from your local pub.
Given this, only you can decide if Fizzics is worth the money. If you place an Indiegogo order for the new Waytap system, though, remember that no refunds are available.
What'd you think of Fizzics? Did you order the original or the new Waytap system? What were the strengths and weaknesses? Tell us about it in your review below!
Read Next: The Risks of Backing a Crowdfunded Campaign