Flame Heater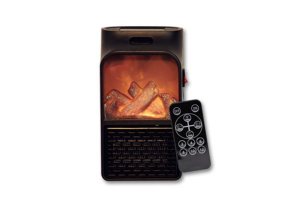 Bell & Howell's Flame Heater promises the ability to warm up a room with 600 watts of power while offering the convenience of a remote control that has a handy timed shut-off feature.
Flame Heater Review
The Flame Heater is a plug-in heater that provides 600 watts of heating power as well as a thermostat you can control by hand or with a remote control.
Flame Heater's strength is that it's small and has a thermostat whose heat setting goes all the way up to 90 degrees.
The product is a creation of Bell & Howell, a well-known brand of As Seen on TV products that include several different kinds of flashlights, indoor lighting as well as a variety of other indoor and outdoor household products.
As you'll read later in this review, this heater is reasonably priced. However, that doesn't mean we should skip the analysis of the product. Even if buying the Flame Heater won't cause a lot of harm to your wallet, it's still smart to want to maximize your money by buying the product that best fits your needs and budget.
In this review, we'll help you see how the heater works, talk about how much it costs and then compare it to other heaters priced similar to the Flame Heater.
How Flame Heater Works
The beauty of the 600-watt Flame Heater is that it plugs right into an outlet. There are no cord or size issues, which means you can use it in virtually any room with a power outlet, provided there's enough space to safely run the heater.
You'll notice that the front of the heater has a digital display that projects a fireplace scene, complete with background flames, wood, and a soft orange glow.
The heater comes with a remote control whose functions mirror the buttons you'll find on the heater itself. Basically, you have the following options:
On and off
High-speed and low-speed fan
Thermostat temperature control
Timed shut-off
We called Flame Heater's customer service line to find out how big the heater is and how long the automatic shut-off was.
The phone rep told us that she did not know the dimensions of the heater. As for the automatic shut-off button, she told us that you can set how long the heater stays on before it automatically shuts off.
Another important factor to consider here is the real-world meaning of 600 watts. As we pointed out in our review of Handy Heater, another plug-in wall heater we'll talk about in a few minutes, one watt of power can heat 10 square feet of space.
So, based on that conversion, the Flame Heater can heat a 60-square-foot room. Now, at first look, that may not seem like a lot. It's not, as most rooms are bigger than 60 square feet (10 feet by 6 feet).
However, keep in mind that there's a good chance that the heater will warm the 60 square feet closest to it, so it may be able to do a great job of heating the desk area of your office or your side of the bed, depending on where your outlets are.
While we can't say for sure exactly how much space the heater can heat in the room in which you'll run it – walls, insulation, etc. play a role in effectiveness – we do believe it could do a good job of heating a particular area of the room in which you'll be for a few hours.
Flame Heater Price and Return Policy
At the time of publishing, the Flame Heater is offered for $29.99 with free shipping. Also, the site offered a deal in which you could add a second heater for $6.95, to bring the grand total for two heaters to $36.94.
The site notes that their heaters come with a 60-day, money-back guarantee. We read through the fine print to confirm this fact and found that, in order to start a return, you'll need to call the Flame Heater customer service line at 844-771-2614. Phone reps are available from 8 a.m. to 8 p.m. EST.
Once you talk with them and confirm your return and refund, you'll need to send all the original packaging and the heater to: ATTN: Returns, 400 RETURNS RD., Wallingford, CT, 06494
How Flame Heater Compares to Other Plug-In Space Heaters
One of the things we like to do with the products and services we review is to compare them to similar products and services. When you look at something on its own, it may look amazing or awful but, until you compare it with other purchasing options, you can't really get a comprehensive sense of its value.
In this section, we're going to compare the Flame heater to Handy Heater and to the top-rated small heater on Target.com.
Price-wise, the Handy Heater is $10 cheaper than the Flame Heater. However, it has 350 watts of power, which is 250 watts less than the Flame Heater. So, for 60 percent of the price you get about 60% of the heating power.
In that sense, the two heaters offer equal value because their pricing is proportional to their heating power.
In our YouTube review of the Handy Heater, we point out that it didn't do a very good job of heating the office in which we used it. This finding corresponds with the square-foot-to-watts ratio we mentioned earlier.
As for Target's best small heater, their Honeywell Dual Position Heater gets an average rating of 4 stars from more than 45 reviewers.
The heater has 1,500-watt and 750-watt settings, which means it can heat a room of up to 150 square feet, which is a bit more accommodating for the average room size than what the Flame Heater offers.
Also, the Honeywell heater is $19.99 – you're getting more than twice the heating power for $10 less.
In our opinion, the best value in this group of three heaters is the Honeywell. Also, the heater's cord allows you to move it around and point it in the direction wish, whereas the Flame Heater and Handy Heater can only point in one direction.
However, the Honeywell heater doesn't have a remote control or auto shut-off feature like the Flame Heater does.
Our Conclusions About the Flame Heater
We believe this heater has some interesting aspects to it that could make people happy should they find themselves in certain situations.
For example, if you work in an office and only need the area around your desk warm, then this heater is a great fit because its heating power will most likely keep you in a blanket of heat.
Also, we really like the convenience of having a remote control. Imagine yourself in bed on a freezing cold night. Your nightstand is small, so you can't put a traditional heater like the Honeywell on it. The remote control allows you to turn up the heat on your Flame Heater without ever getting out of bed.
Now, what you gain in convenience you give up in heating power. Because the Flame Heater is powered by 600 watts, the math indicates it's not going to be able to heat an average 10-foot by 10-foot room. If it's pure heating power that you need, then the Honeywell heater we mentioned earlier seems like it can do the job.
In general, we believe the facts point to this heater being good in certain situations but, as an overall room heater, there are probably better options out there.