Flat Tummy Tea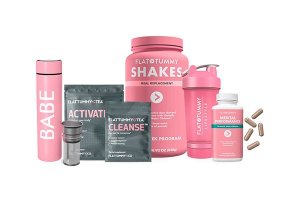 Summary
Flat Tummy Tea's brand of teatox products includes a morning and nighttime blend they claim will help you drop water weight, remove toxins, and get regular.
Flat Tummy Tea Review: Is It Legit or Hype?
Medically Reviewed by Anthony Dugarte, M.D., C.S.C.S
What Is Flat Tummy Tea?
Flat Tummy Tea is an herbal detox brew that claims to help you kick that bloated and sluggish feeling and get back on track. To be clear, by "track," they're inferring digestive—not the kind you run on. Although, that's not to say that Flat Tummy Tea promises that you'll lose pounds without sweating. In fact, "Work It" is one of the brands nine steps to achieve—you guessed it—a flat tummy.
Beyond smoothing your stomach, Flat Tummy Tea claims to help increase your metabolism, improve digestion, and may boost your energy levels.
Tea detoxes that claim to help you lose water weight and possibly shed a few extra pounds of fat aren't anything new.
But, while each of these products claim to clear out toxins, improve digestion, and boost energy, Flat Tummy Tea takes a different approach.
Instead of focusing their branding hype on the hope of losing big inches, the Australian-based Flat Tummy Tea targets the 20-30-year-old female market with uber-hip marketing that sounds like you're talking to a sassy best friend.
And, it's working: The company, which was founded in 2013, has already accumulated a social media following of over 600,000 by promising to "help babes get back on track by kicking bloat's ass."
How Does Flat Tummy Tea Claim to Work?
Flat Tummy tea is marketed as a two-step herbal tea detox that comes in two or four-week packs. The two steps include separate teas for morning and night, both of which are made with 100% natural, earth grown herbs.:
Step 1: Activate
Blended from 10 natural ingredients that have been traditionally used to help support your metabolism, the Activate tea claims to help you increase your metabolism, give you an energy boost, and get your digestion ready to start the day, supposedly leading to a flat stomach.
Drink one cup of Flat Tummy Activate Tea every morning with breakfast. To do so, steep the loose leaf blend in hot water for five to seven minutes, then remove your tea strainer and drink.
According to the FAQ on their website, Flat Tummy Tea's Activate contains the following ingredients:
Peppermint (leaf)
Lemon Balm (leaf)
Liquorice (root)
Dandelion (leaf and root)
Cleavers (leaf)
Fennel (seed)
Green Tea (leaf)
Caraway (seed)
Cardamom (pods)
Step 2: Cleanse
Step two is the Cleanse tea, which the brand claims will detoxify your intestinal tract and reduce your water weight. This step supposedly keeps your flat stomach, which Flat Tummy Tea claims will start to become more svelte within the first few days.
Because the Cleanse tea contains a natural, gentle herb that has a mild cleansing effect, it's used differently than Activate tea. First, start with a shorter infusion time (3-5 minutes) and work out what's best for your body. Drink Cleanse tea every other night for the first week, and then every three nights thereafter.
Compared to their Activate blend, Flat Tummy Tea's Cleanse includes the following ingredients:
Senna (leaf)
Peppermint (leaf)
Cassia Chamaecrista (pods)
Liquorice (root)
Caraway (seed)
Dandelion (root)
Rhubarb (root)
Using Flat Tummy Tea can be as simple as sipping away morning and night. However, the brand provides nine additional tips, from diet to motivation, to help their tea drinkers achieve an even flatter tummy:
Cut back on the veggies: Cut back on vegetables like broccoli, cabbage, brussel sprouts and cauliflower, since they have sugars and starches that can cause gas, aka bloating.
Continue working out. Sweating helps reduce water retention by shedding salts while helping you to maintain (or even shed) weight.
Add fiber to your diet: If you have anything built up in your intestines, fiber can help flush it out and reduce bloating.
Track your progress: Staying motivated is difficult. Flat Tummy Tea encourages you to take before pictures and pics of your progress along the way. They claim it helps keep you accountable and encourage you to share on social media for extra motivation.
Whoops moments: You're encouraged to stay away from carbs and high-sugar foods by keeping an extra pack of Flat Tummy Tea in your purse (whether morning or night wasn't mentioned.)
Eat less: Flat Tummy Tea encourages you to dish out smaller portions and wait twenty minutes to see if you're still hungry.
Keep drinking to a minimum: They encourage Flat Tummy Tea drinkers to sip water instead, at least while working to get their tummy back to flat.
Chill: Flat Tummy Tea encourages relaxing at the end of the week, allowing your body to adjust to the changes.
New gear: To keep your motivation high, Flat Tummy Tea suggests users treat themselves to some cool, new workout gear.
According to Flat Tummy Tea's official website, their tea is delicious and naturally sweet. However, you can add lemon or honey to taste.
Are Flat Tummy Tea's Ingredients Effective?
Between their active and cleanse formulations, Flat Tummy Tea offers 13 ingredients. Here we will highlight a few of the ingredients backed with the most scientific support.
Single-Herb Treatments
Thought to have many functions including anti-inflammatory, anti-microbial and muscle relaxing effects, peppermint has been studied extensively in humans.
In 420 adult patients undergoing a medical throat examination, those that received 10ml of peppermint oil had fewer spasms in the muscles of their throats when compared to the control group. Similarly,
Similarly, 8,269 patients had a procedure in which a thin scope with a light and camera was sent down their throat to look at the stomach and small intestine. Those that received 20mg of peppermint oil had less stomach spasms then the control group.
Senna is thought to be a powerful laxative when supplemented in constipated individuals. In fact, senna was the most studied laxative in a review and found to be superior to other laxatives.
The proposed energy boosting effect of Flat Tummy Tea may be related to the green tea content. This benefit is thought to be made possible by 2 key components of green tea, caffeine and catechin.
In 10 healthy men, green tea extract (50 mg caffeine and 90 mg catechin) increased energy expenditure and fat oxidation over 24-hours.
Treatment With a 2-Herb Blend
Peppermint may work even better when combined with caraway oil - also thought to be effective in heart burn and digestive issues..
In 96 adults with indigestion, those treated with pills containing 90 mg peppermint oil and 50 mg caraway oil experienced reduced stomach pain, as well as decreased feelings of pressure, fullness, and heaviness when compared to placebo over 8-weeks.
Treatment With a Multi-Herb Blend
Adding more ingredients to the blend may be even more effective. Though Flat Tummy Tea has not been specifically investigated, other multi-herb blends with overlapping ingredients offer promising results.
An herbal blend that contained about half of Flat Tummy Tea's Active Blend ingredients was tested in 120 adults with indigestion. The blend included bitter candy tuft, matricaria flower, peppermint leaves, caraway, licorice root, and lemon balm. Those treated with the herbs reported lower symptom scores over 8-weeks when compared to placebo.
Safety and Side Effects
As the company does not provide details regarding the amount of each ingredient, fully characterizing the safety is challenging, especially with long-term use.
Peppermint, senna, green tea, and caraway were safe in the studies reviewed in the previous section. Additionally, a blend consisting of multiple Flat Tummy Tea Active Blend ingredients was not associated with adverse effects.
The fact that the available literature tested these ingredients at multiple doses and in various methods of delivery (teas, oils, capsules, aromatherapy, etc.) is also more convincing of their safety.
Although Flat Tummy Tea includes ingredients that appear to be generally safe, keep in mind that their Activate contains a small amount of caffeine (about two milligrams per cup) – ingesting later in the evening may cause restlessness. The manufacturer also suggests not to drink their tea if you are pregnant or under 18.
On top of this, Flat Tummy Tea claims that the ingredients in Activate tea may also cause dehydration, so it's important that you remember to drink plenty of water.
Finally, according to the Flat Tummy Tea website, their cleanses may affect contraceptive pills. Because of this, the company recommends using extra protection while on their program.
Though we did not encounter evidence of these side effects in our literature review, it's still safest to discuss use with a physician before starting a new supplement.
Pricing and Refund Policy
Flat Tummy Tea is available in two different purchasing options (taken directly from the company's website):
FT FOUR (four-week pack) $36.75.00 USD
1 x Activate tea (four weeks worth)
1 x Cleanse tea (four weeks worth
1 x Flat Tummy Tea zipper bag
1 x Flyer
FT TWO (two-week pack) $27.00 USD
1 x Activate tea (two weeks worth)
1 x Cleanse tea (two weeks worth)
1 x Flat Tummy Tea zipper bag
1 x Flyer
Note that Flat Tummy Tea doesn't come with a strainer. However, these are available at every grocery store and can be purchased for under five dollars.
Shipping to the United States is free, or $5.95 if you choose priority mail. There's also free shipping throughout Australia. The rest of the world can purchase Flat Tummy Tea for delivery at $7.95.
Flat Tummy Tea offers no refunds unless you receive a faulty product, in which case you must notify the manufacturer within seven days. Again, the manufacturer doesn't offer refunds for lost shipments or dissatisfaction—once it leaves their warehouse, you're out of luck.
Our Bottom Line: Is Flat Tummy Tea Worth Purchasing?
Without the company offering information detailing the amount of each ingredient included in their blends, it's challenging to describe the safety or efficacy of this product.
What does work in Flat Tummy Tea's favor is the fact that they do include some ingredients that have been individually tested in human subjects and shown to be effective in reducing stomach spasms and sensations of fullness, relieving constipation, and boosting energy.
Additionally, a multi-herb blend containing some of their ingredients was proven to safely reduce the symptoms of indigestion.
Available data from testing in different doses, combinations of herbs, methods of delivery, and patient populations does provide some comfort that these ingredients are safe, though it does not confirm.
The manufacturers are fairly clear that they do not promise drastic weight loss, but instead, only helping reduce water weight and bloat. So, if you're looking for something to help you drop ten pounds or more, you'll likely be disappointed by anything other than a healthy diet and exercise.
On the other hand, if you enjoy hot tea in the morning and at night, and are looking to increase your regularity, you might find Flat Tummy Tea worthwhile. Even still, their prices are slightly steep for tea.
With expectations in mind, the complete lack of refund offered by Flat Tummy Tea's manufacturer makes us hesitant to recommend a purchase, since it doesn't appear that the company stands behind their products after they've gotten your money.
Customer Reviews
Posted on Apr 19, 2021
It's been 3 weeks...
I ordered 3 weeks ago and they said the order had left the warehouse. Allegedly FedEx is having shipping issues - yet I get FedEx in my neighborhood every single day, and I'm not that far from their warehouse.
The tracking code hasn't updated at all in the past 3 weeks. I'm already ready to return this once I get it but by the looks of the rest of the reviews, I won't be getting a refund.
Sounds like Ivory Paper Co 2.0...
Bottom Line: No, I would not recommend this to a friend
Posted on Jan 28, 2021
It took 24 days for me to get the bundle
I ordered this tea on January 1st, 2021. Starting my New Year's resolution! Yay me. Ok, on 01/07/2021 my tracking showed label created, on 01/15/2021 tracking showed label created, on 01/20/2021 same thing. I sent FTT crew an email on 01/18/2021, because, guess what, no number anywhere to call them. Go figure. Ok, so finally a response from FTT, it's out of their hands because of the pandemic and I need to call FedEx. Guess what, I got my $181.50 bundle on 01/25/2021...yay. Will return with another review in 3 weeks. Lets give it a try.
Length of Use: Less than 3 months
Bottom Line: Yes, I would recommend this to a friend
Pros and Cons
Lollipops
Cleanse tea doesn't taste bad
Customer service, no phone number
Shipping time
Posted on May 29, 2020
Paid for expedited shipping, still haven't received
On May 15, 2020 I made a purchase of $118. The purchase was also a priority shipping order. I never received a notice and online the order is still unfulfilled. I emailed, sent a message through messenger. Left a word or 2 on their page which they turned around and deleted all negative posts. As of today I still have no word after sending another email or message. They are either out of product or short on help. Some people haven't received their product in a month. Lawsuit is in effect.
Bottom Line: No, I would not recommend this to a friend
Pros and Cons
Their lollipops
Customer Service
Not responsive to queries
Not respectful
Posted on Jan 27, 2020
Never received order, got runaround from company
I received an email on 1/13/2020 stating my order has shipped. I have looked on UPS tracking for my order and it says it has not shipped. I contacted Flat Fummy Tea via email as there's no number to call and the girl told me that I have to contact USPS to have them see if my package is sitting there waiting for pick up using my name as the tracking info they supplied was not "scanned" by UPS. UPS stated that it is not possible. I also called USPS and they advised that my order was NOT in the system at all. I have requested a refund from the company and highly doubt they will be cooperative. I have also contacted my credit card company for this issue. I would not order anything from this company unless you want to deal with the runaround and waste of time and money. Extremely frustrated and will never purchase from them again.
Bottom Line: No, I would not recommend this to a friend
Posted on Apr 11, 2019
Racing heart
I am a naturally fit and healthy person. I was looking for a little something extra to get rid of any extra bloat before a big vacation! I turned to this product because of the advertisements and celebrity endorsements.
Well, I started the tea on a Sunday and by Thursday quit. My body suffered horribly side effects, from extreme lightheadedness to chest pain and stomach cramps. I was going to the bathroom non-stop and felt as if everything was being drained from me. By the end of the week, I took myself to the local emergency room to get my vitals checked, I knew something was not right. My heart rate was 130 and that was 24 hours after stopping the tea. The doctors said these teas are packed with stimulates and caffeine to send your body soaring even if it is advertised as all natural. Needless to say, my heart rhythm was normal, but I have to follow up with a stress test and more check-ins to make sure my heart rate returns to normal. Throw out this tea! I thought it was actually going to kill me!
Bottom Line: No, I would not recommend this to a friend
Posted on Dec 14, 2018
Not worth it!
I bought this back in September for a cleanse. I never finished it. The protein powder isn't very good. I had the vanilla. I don't know how I can leave a review on the website now. I paid $120 USD for this plus customs and shipping, around 200 CAD total. I was wondering around getting groves and they sell this at Superstore in Canada...80 for the 4-week protein powder packs and 40 for the 4-week tea. I feel ripped off. I wouldn't buy again though. Definitely better protein powders out there!
Bottom Line: No, I would not recommend this to a friend
Posted on Dec 12, 2018
Works well for me
I exercise a normal amount. I eat very decently but by no means perfect, simply above average. This product works well for me. I prefer the lollipops. I have terribly bad sugar cravings. I've used their stuff since about 2015.
Bottom Line: Yes, I would recommend this to a friend
Posted on Oct 15, 2018
For people who don't want to waste money on scam
I got this tea a while ago. If you have an allergic reaction to it and want to return it, they won't return your money, they don't care how you feel about it, and if it worked for you. So if you want to go for something like pay for something that doesn't work and waste your money, sure, go ahead.
Bottom Line: No, I would not recommend this to a friend
Posted on Jul 30, 2018
Pure crap!
This is the worst tasting overpriced shake I have ever had. I tried almond milk. I could barely get it down. After all that I was hungry after two hours.
When I first purchased this shaker, I was thinking I could buy something that I could quickly mix in my blender bottle with water or almond and go with my morning. Oh, yeah right! The stuff was horrible.
I wrote Flat Tummy Tea and they said to try mixing in a blender with fruit and all sorts of crap. Why didn't you all put that in the instructions on the website before I purchased? If that was the case I wouldn't I have bought it!
With that being said, people, don't waste your money! I bought over a month worth of product and they wouldn't even give me a partial refund! At least when I have tried stuff on Amazon they give refunds! Flat Tummy Tea acts as if they are here to help and they care, but they are full of BS! Just pure greed and selfishness!
Bottom Line: No, I would not recommend this to a friend
Posted on Jul 8, 2018
Flat Tummy Tea is a fraud
I just received my Flat Tummy shakes, and I ordered four-weeks worth. They tell you it is best to do the shakes twice a day to get the optimum results. Well, they only send you 20 packets for four weeks, which only gives you the ability to only take one a day. I spent $71 bucks on this. To me, this is scamming the customer and price gouging.
I have taken it twice, and the shakes are supposed to suppress your appetite and what is happening to me is it is making me have gas, and I am still feeling hungry. I would think if it is supposed to help flatten your stomach, it definitely shouldn't give you gas.
One last thing, the company only answers by email, they don't have a customer service number to call. So if you have a complaint or a question, you have to wait for someone to decide whether they want to respond or not. Very unprofessional and I definitely will never order from them again.
Bottom Line: No, I would not recommend this to a friend
Posted on Jun 12, 2018
Pleasantly surprised
So, I gave in to the Instagram marketing and purchased the complete 4-week Flat Tummy Tea program. I work out and eat regularly healthy, but I was still semi bloated and needed to prep for a beach vacation happening in a few weeks. So, I purchased the tea set (came with the AM/PM tea, shakes, and appetite suppressant lollipops).
MATCHA SHAKE:
I first had the shake with coconut milk (FAIL). I didn't read the instructions, and the shake ended up being way too thick. The next few times I tried it with just water and the flavor is fine, but the texture is really the gross part. I did notice I was full for longer and it was a good meal replacement instead of a heavy lunch or dinner.
TEAS:
I love the AM "Activate" tea - Its peppermint and cardamom flavors are incredible. Steep for a few minutes and enjoy with breakfast. I am a big fan of tea so was happy this one had a great flavor without having to add honey, stevia, or lemon.
PM "cleanse" tea - Very light, I didn't find any discomfort, there is a disclaimer that says that this has a gentle cleansing effect that may make you go to the bathroom, but I didn't find anything to be irregular from my normal movements.
APPETITE SUPPRESSANT LOLLIPOPS:
These are a little too sweet for me, but I can say that they did help me reduce snacking in between meals. Not a huge fan of suppressing my appetite but I would say these are better than having the go-to chips I normally reach for.
Review:
I am pleasantly surprised by the program.
After about a week of use, I can honestly say that I REALLY see a difference in my waistline! My little 'pooch' that I couldn't get flat is visibly minimized and that motivates me to work out and target my 'problem zones' even more. One thing I did notice while drinking this tea is that I have been waking up in the middle of the night to pee. Maybe that's what has been helping reduce the bloat? Either way, very happy with the results and will continue to use the Flat Tummy Tea to help me get to my body goals!
If it's not the tea working and just the focused working out, I still will give some credit to this tea for motivating me. I would definitely recommend this to a friend.
Bottom Line: Yes, I would recommend this to a friend
Our Promise to You
In order to safeguard you and ensure helpfulness and relevance, our compliance team manually assess every customer review before it goes live.
We have a zero-tolerance policy for fake reviews, and companies cannot control or alter any reviews at any time.