Flea Doctor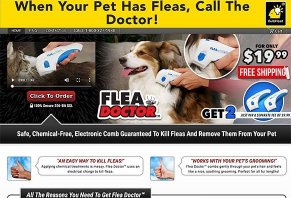 According to the company, Flea Doctor from Telebrands uses two AA batteries to generate an electrical charge inside the comb's teeth that kills fleas, but remains unnoticeable to pets.
What Is Flea Doctor?
Flea Doctor is an electronic comb that uses Comfort Charge Technology to find and kill fleas deep inside your pet's coat, without relying on expensive or messy chemical applications. Then, they say you can instantly discard the dead fleas in the trash, without ever having to touch them.
The website tells us you simply have to brush the device through your cat or dog's fur, which causes it to release a slight electrical charge. They won't feel a thing, but it's enough to instantly kill fleas regardless of your pet's age or the length of their fur.
Can you expect Flea Doctor's technology to work as well as advertised, though? Are there third-party options that work similarly but might deliver better value? These are the two core questions we'll help you answer in this article, starting with the device's underlying functionality.
Does Flea Doctor's Comfort Charge Technology Work?
Based on what we learned from the website and commercial, Flea Doctor's functionality seems straightforward.
Two AA batteries send a low-voltage charge to the device's metal teeth. The charge is low enough that your pet likely won't feel a thing—at least according to the manufacturer—but it's high enough that it instantly kills fleas because they're so tiny, along with their eggs and larvae.
To learn more, we reached out to several customer support representatives and asked them how long Flea Doctor lasts with each fresh pair of batteries, what the electrical charge's measurement is, along with the device's number of teeth and their length, although none were able to assist.
With this in mind, its teeth appear to be about ¼-inch long, so if your pet has long or dense fur, we imagine they might not reach to the base of each follicle where fleas typically reside. But, what about the efficacy of Flea Doctor's electrical charges?
Searching the National Institutes of Health's PubMed for variations of terms like "electric lice comb," "electronic flea comb," and "flea shock electrocution" returned no relevant clinical results for these types of devices.
We also reached out to the National Humane Society, who advised they had no one available to comment on the efficacy of this technology.
With these details in mind, most of the Flea Doctor devices sold on Amazon come with three-star or lower ratings. While a handful of customers reported positive results, most complaints claimed the machine didn't work as advertised.
Specifically, customers frequently reported that the comb's teeth aren't long enough to penetrate anything but the thinnest coats. Even when they were long enough, others wrote that the device's electrical charges didn't kill fleas, while several also referenced less-than-stellar construction quality.
Furthermore, even if electronic flea combs always worked as advertised, John Speed, President of Kilauea Pest Control, warns, "fleas have a very quick reproductive cycle."
Therefore, "even if you were to comb out 100% of a pet's fleas, the source will still be there, spreading into the home or the pet's immediate sleeping area," he advises.
"At this point, the harborage area (bedding, surrounding carpet or upholstery) should be treated with a pesticide, specifically an Insect growth regulator (IGR) to stop the reproductive cycle, as well as killing the adult fleas," he recommends.
How Much Does Flea Doctor Cost & Where Can You Buy?
One Flea Doctor electric comb costs $19.99 plus shipping. You can add-on a second device for an additional $9.99 fee which comes with free shipping.
You can upgrade to the Deluxe model—which features gold teeth for better electrical conductivity and a lifetime guarantee—for an another $9.99 per comb.
Flea Doctor is also available from third-party manufacturers on Amazon for between $13.28 and $19.99, although none of these options come with the second-device discount offers or Deluxe upgrades.
All Flea Doctors ordered from Telebrands come with a 30-day satisfaction guarantee, less return shipping and fees associated with the BOGO offer. You can contact customer support at (855)668-1655.
Flea Doctor vs. Third-Party Electronic Flea Combs
Combining slight electrical charges with metal comb teeth isn't a new concept, and has been used in various lice treatment devices for years. More recently, it's moved into the flea control industry.
As such, there are a handful of third-party devices competing for the same customers as Flea Doctor, which advertise many of the same features and benefits.
In fact, although we're discussing the Telebrands version in this article, there are several other functionally identical Flea Doctor devices available from third-party manufacturers on Amazon.
Here's how a couple of the differently-designed options compare, as well as a brief overview of their key aspects:
| | | | |
| --- | --- | --- | --- |
| Brand | Price | Average Amazon Rating | Features |
| Flea Doctor | $19.99, second device for $9.99 fee | Varies by manufacturer | L-shaped design, on/off button, rubberized handle for better grip |
| Flea Killer Comb for Cats & Dogs | $20.43 | 3.6 stars, 28 reviews | Rounded, u-shaped design, features on/off button, made in Britain |
| Eyenimal Electronic Flea Comb | $24.99 | 1.6 stars, 3 reviews | Works using 2 AA batteries, US-based customer support |
The good news is that choosing the right option for you will primarily involve deciding which factors are most important, and then finding the one closely suited to those factors.
For example, we can see that Flea Doctor is the lowest priced option in our table above, although it only beats the Flea Killer Comb by $0.44. On the other hand, it bests the Eyenimal by $5, or about 20 percent of the purchase price, and also offers a second device at half the amount. You can even upgrade to a Deluxe model if you think it will better suits your preferences.
However, the Eyenimal also comes with the lowest average Amazon customer rating of the group, with Flea Killer as the highest (albeit with only three reviews) and Flea Doctor falling somewhere in between.
Design-wise, Flea Doctor is the only L-shaped option in our table, whereas Flea Killer features an upside-down u-shaped design and Eyenimal is T-shaped with a large bulb at one end for a more comfortable grip.
Combined, Flea Doctor comes with the lowest price and the only L-shaped design, but does this mean it will deliver the highest level of value? Let's conclude in the next section.
Bottom Line: Should You Place an Order for the Flea Doctor?
Based on what we learned from online customer reviews related to third-party Flea Doctor devices, combined with the overall lack of clinical support that electronic flea combs work as manufacturers advertise, we think your money would be better spent on professional extermination services that can help you address the source of your flea infestation and get rid of them for good.
Still, if you're willing to put aside these concerns and want to try Flea Doctor out for yourself, we'd recommend doing so through Amazon. While you won't get the chance to place a discounted order for two devices or upgrade to the Deluxe model, you could save a few dollars in the process and perhaps make the return process faster and easier if it doesn't meet your expectations.
>> Continue reading: Natural & Safe Pest Control Solutions to Get Rid of Roaches, Ants, & Bugs
The shock it gives.

By Kathy C.

,

Florida

,

Jan 2, 2020
Verified Reviewer

The beeps get quicker when a flea is being electrocuted. And when that happens its shock is enough to make my dog jump. And she also growls and almost bit me. So I comb a little bit before turning it on. As soon as I see a flea on it, I then turn it on. Comb a little bit longer and put it aside while I pick a few fleas off.

I live in an RV park. I can spray my home and my little yard. But I also need to walk my dog. If the park owners don't spray the rest of the park, I still need to use a type of elimination process. That's either pesticides on my dog (which I don't like to do). Or give my dog a pill which killed my other dog. Or bathe her regularly. I do the latter and I spray lavender on her. The fleas don't like it that much.

Bottom Line: No, I would not recommend this to a friend

---

It sucks!

By Ricky D.

,

Oregon

,

Nov 7, 2019
Verified Reviewer

The comb doesn't get the baby fleas that get away because it doesn't reach them. This product is not made to get the fleas that are all the way to the skin of the cat. Just the fleas in the hair.

Bottom Line: No, I would not recommend this to a friend

---

Advertisement

---

Terrible product, misleading ad

By Mike M.

,

Torrance, CA

,

Aug 6, 2019
Verified Reviewer

Batteries installed easily. That was the best part. Why it has such an annoying beep apparently designed to make your cat squirm and run evades me because if it was doing its job as described, it would make a small crackle sound when it encountered an enemy flea so no beeping would be needed. Mine, however, must have been installed so I would remember what a cheap lousy product I have just wasted my money on as it worked for 10 minutes before just making me catatonic with that stupid beep. Am returning it. Lousy bulb head thing is also made of cheap plastic and should be sold at a 99 cent store. Reminds me of those electric fly swatters that claim to do the same thing to flies using a miniature tennis racket that can only zap blowflies and then shorts out. Phony.

Bottom Line: No, I would not recommend this to a friend

---