FLEX Cup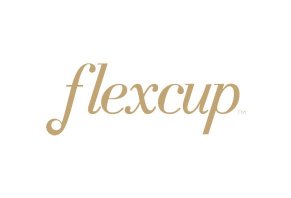 FLEX Cup is a reusable black silicone menstrual cup with patented ReleaseRingTM technology designed to make it easy for you to take it out.
FLEX Cup Review: A Detailed Look
What Is the FLEX Cup?
FLEX Cup is a reusable menstrual product designed to make your period easier to live with.
This black silicone cup sits in the vaginal canal, where it creates a seal and collects period blood. Since it's non-absorbent, the cup doesn't disturb your natural lubrication or put you at risk of Toxic Shock Syndrome.
CEO Lauren Schultze Wang started FLEX Cup's parent company after dealing with yeast infections caused by tampon use for more than fifteen years.
She wanted to create options for females that are both healthier and more comfortable to use. Beyond their menstrual cup, the FLEX Company also sells single-use menstrual discs.
The FLEX Cup is purportedly comfortable enough to be worn for up to twelve hours without you changing it, giving you more flexibility for your period care.
Should you ditch pads and tampons for good and use a menstrual cup like FLEX Cup? We'll go through the crucial facts here.
How Does FLEX Cup Work?
Like most menstrual cups, the FLEX Cup is made out of medical-grade silicone that is both safe and reusable, in contrast to pads and tampons.
Tampons work by absorbing blood and your vagina's natural lubrication. This can cause it to create small tears in the skin that potentially produce an opening for dangerous bacteria to enter the bloodstream.
Menstrual cups, in contrast, sit slightly higher in the vagina and collects blood, rather than absorbing it. This doesn't disrupt your natural lubrication or pH level, and it makes it safe enough to sleep in or wear all day without taking out.
This menstrual cup claims to differ from other options because of its ReleaseRingTM design. According to the company website, this unique pull tab makes it simple to break the FLEX Cup's suction and pull it out without problems.
To insert the FLEX Cup, it's best to fold it into a "tulip" (pictures are available on the product website), so that it collapses in on itself while creating a point to make insertion easier.
Start by inserting it into your vagina tulip-point first, and turning it around inside until it opens up and creates a seal that holds it in place and prevents leaks.
You can check out the company website for more visuals for the insertion process.
Those who aren't used to menstrual cups might feel the ReleaseRingTM when they insert it, but it should become less noticeable as it warms and conforms to your body shape.
When you remove most menstrual cups, you need to reach inside the vagina to break the suction before it comes out. Some people object to this step because it can be messy. The FLEX Cup's ReleaseRingTM streamlines this process and makes it less likely you'll get blood on your hands.
The company suggests that you thoroughly wash your hands before beginning and remove the cup either over the toilet or shower drain.
Hook your finger in the ReleaseRingTM to break the seal and slowly pull the cup out, taking care not to spill the menstrual fluid in the process.
You might want to practice this release technique a few times before inserting the FLEX Cup to ensure you're comfortable with it.
Once removed, empty the cup's contents in the toilet or drain, and wash it and your hands with a fragrance-free soap before rethreading the release ring through the hole and reinserting it. Once your period is done you can boil the cup in a pot of water for ten minutes to sanitize it.
FLEX Cup comes with a discreet storage pouch for when not in use.
What Do FLEX Cups Cost?
At the time of writing, the FLEX Cup website sells to sizes of this menstrual cup, both of which are priced at $39.99.
Slim Fit: Meant for first-time cup users or those with light flows (contains 22 mL, capacity of two super tampons)
Full Fit: Ideal for experienced cup users, those with healthy periods, those who have given birth, or women over 30 (contains 300 mL, capacity of three super tampons)
Unless you specify otherwise, your order will come with two free single-use menstrual discs. These disposable cups work similar to the FLEX cup, but they need to be changed and tossed as regularly as a tampon.
It's also possible to buy FLEX Cup at several retail locations, including Target, CVS, and H-E-B. You can use the FLEX Company store locator to find your closest location.
Due to the personal nature of FLEX Cups, the company doesn't accept returns or issue refunds unless there is evidence that the product arrived damaged. You can take any questions to the company customer service directly at hello@flexfits.com or (800) 931-0882.
What Do Customer Reviews of FLEX Cup Say?
The FLEX Cup has reviews on the company website as well as Amazon.com. On Amazon, the cup averages four stars out of five after more than 60 reviews.
We read dozens of reviews from people who reported that the cup felt soft yet high quality and that it was easy to insert and take out.
Many noted that the cup didn't seem to press against their bladder as other brands did and that wearing it made their period seem both shorter and more manageable.
Other reviewers noted that the FLEX Cup almost let them forget they were on their periods because it was so convenient and mess-free. A few indicated that they appreciated it was made from black silicone so that it didn't become stained over months of use.
While most people seemed to like the ReleaseRingTM feature on this cup, a few wrote that they could feel it poking them when they wore the cup and that it was slightly uncomfortable when they shifted positions or sat down.
Other menstrual cup brands, such as the Diva Cup, are built with a stem you can cut off to your preferred length so that it's comfortable yet still easy to pull out.
Most reviewers seemed to like the sample FLEX Discs that came with their order, though they didn't see any reason to order them because using the FLEX Cup eliminated a need for them.
Overall, it seems to us that people who have experience with other menstrual cup brands that already like the concept found a lot that was superior about FLEX Cup. It's those who never used a menstrual cup before who found it slightly tricky to master.
The Bottom Line: Should You Purchase FLEX Cup?
As with all menstrual cups, we think the FLEX Cup has a lot of strong selling points.
To start, it's reusable. If you typically have to buy a $10 box of tampons every few months, the cup will pay for itself within a year, and it should last you up to a decade (women who give birth may need to upgrade to the larger size).
Other benefits of using a menstrual cup include eliminating your risk of toxic shock syndrome. The medical-grade silicone material won't dry out your vagina or cause irritation, and you won't have to stress about changing it every few hours.
Pricewise, you'll pay a little more for the FLEX Cup than the competitor Diva Cup, which sells for $29 on Amazon. Both brands offer two sizes of cups and are built from silicone, so the central difference between them is the ReleaseRingTM feature.
Overall, we think the FLEX Cup is well suited for anyone interested in using a menstrual cup but feeling slightly squeamish about the process of breaking the seal to remove it.
This cup takes extra steps to offer users a mess-free experience, and customer reviews seem to show that it delivers on this promise.
But remember, every body is shaped differently, and some brands of menstrual cups may fit you better than others.
If you tried one brand of a menstrual cup and found it was uncomfortable or leaked, we suggest experimenting with another brand like FLEX Cup to see whether the cup's shape is a better fit for your body.