Flex Glue Reviews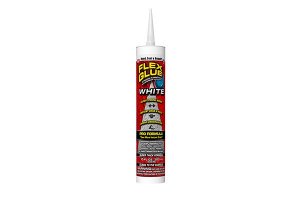 Flex Glue is an all-purpose, rubberized, waterproof adhesive that promises to provide quick-bonding action on a huge variety of surfaces, allowing you to use it in a multitude of situations.
What Is Flex Glue?
Flex Glue claims to be a phenomenally strong, rubberized, thick adhesive capable of bonding, sealing, or repairing "virtually everything" in a variety of situations, both wet and dry.
In the commercial, spokesman Phil Swift demonstrates Flex Glue's instant grab capability, bonding together multiple objects ranging from smaller bricks to large cinderblocks and then picking them up seconds later. We're even shown the product holding together two pieces of wood that in turn are supporting a thousand-pound set of weights.
The manufacturer states that the adhesive is ideal for a wide variety of practical uses, from home and garden to automotive, marine, construction, plumbing, electrical, DIY projects, and general maintenance. It's also mildew and UV resistant, paintable, solvent-free, VOC compliant, low-odor, and shrink and crack-resistant.
Based on what we learned from the website and commercial, it certainly appears that Flex Glue could be useful in a wide variety of situations.
But, how well can you expect it to work in reality? Are there any surfaces or situations that it isn't a good fit for? Does it have any competition? These are just some of the key questions we'll help you answer.
How Much Does Flex Glue Cost & Where Can You Buy It?
Flex Glue is available directly from the manufacturer (although other options in the "Flex" family—more soon—are sold at a variety of retail locations, so this may change), at the following prices:
4 oz. Squeeze Tube (Clear) - $12.99
6 oz. Squeeze Tube - $12.99
9 oz. Cartridge Pro Formula (Clear) - $14.99
10 oz. Cartridge Pro Formula (White) - $14.99
You will be assessed a shipping charge depending on the size of your order, but it's very minimal.
All orders are eligible for a 30-day money back guarantee, less shipping, handling and processing fees. You will most likely not get any of your shipping charges refunded and will have to ship it back at your own expense. Customer support can be reached at 833-411-3539
Other buying options include Amazon, Walmart, Home Depot, Lowes, Walgreen, and more.
What Do We Know About Flex Glue's Manufacturer?
Flex Glue is brought to us by Swift Response, LLC, who's been in business since 2011, is based out of Weston. FL, and also manufactures other products in the lineup, including Flex Seal, Flex Tape, and Flex Shot.
The company held an A- rating with the Better Business Bureau, based on five closed customer complaints, as of 1/29/18. No additional details were provided.
How Does Flex Glue Work Compare to Other Rubberized Adhesives?
We spoke with several customer service representatives looking for specifics about Flex Glue's formula during our research, including active ingredients, although none were able to provide additional insight.
What about third-party sites? Searching online for terms frequently used on the Flex Glue website like "rubberized adhesive," "thick paste adhesive," and "waterproof glue" returned a handful of results that matched some of Flex Glue's single claims (e.g., waterproof, thick, quick-bonding, multi-surface, etc.), although none that combined all aspects into a single product. And certainly, none that delivered the same instant results—especially the underwater component.
With this said, some of the closest options we encountered included:
| Product | Price/Quantity | Active Ingredient(s) |
| --- | --- | --- |
| Flex Glue | $19.99 (6 oz), $24.99 (10 oz) | Unknown |
| Loctite Super Glue Ultra Gel Concentration | $6-$13 (4-6 oz) | Ethyl Cyanoacrylate Unknown: (rubber-toughened formula, can't be used on many plastics, sets in seconds, ideal for vertical applications) |
| Gorilla Glue Construction Adhesive (30 sec. drying time) | $13 (9 oz) | Polyurethane |
| Instabond Adhesive (30 sec. drying time) | $17 (3.5 oz) | Cyanoacrylate (requires separate activator spray) |
| Mr. Sticky's Underwater Glue | $15 (1.6 oz) | Cyanoacrylate (2-part system w/dual syringe) |
Cumulatively, it seemed like Flex Glue offered the greatest amount of adhesive in each tube, although it also came with the highest overall price compared to the close competitors above. As mentioned earlier, it also comes nearly $20 in combined processing and S&H charges, none of which are refundable; whereas many of the competing adhesives could be found locally, also potentially putting them in your hand faster.
Our Final Thoughts About Flex Glue
When comes to choosing the right adhesive for the job, it's all about the application. Specifically, the material, surface type, and surface area.
Cyanoacrylate (the most common active ingredient among Flex Glue's close competition, although we couldn't confirm this is what's contained in the product at hand), is classified as a 'speciality' cement most often recommended when working with plastics, since it "basically bonds plastic at a molecular level, and the bond becomes seamless."
On the other hand, polyurethane adhesives (another common ingredient in all-purpose options) sticks to most things, is waterproof, requires no mixing or measuring, and can typically set within 20 minutes—again, all of which match many of Flex Glue's claims.
The biggest difference between it and third-party options doesn't necessarily come down to effectiveness, though. Instead, it's perhaps more closely related to value. How so?
Whether you choose cyanoacrylate, polyurethane, or another active ingredient based on the surface type, area, and material you're working with, purchasing locally could potentially:
Provide the assistance of a retail professional to help you choose the best adhesive for your needs
Put the product in your hands in a matter of minutes
Save on processing charges and S&H fees
Make the return process as easy as hopping in your car, and also save on returning S&H
---
Overall Experience:

It sucks. That commercial is rigged. I have put it on clean rubber, clean glass, clean plastic, and nothing sticks. I hold it there for about a minute, although technically it says 10 to 30 seconds, I hold it for about a minute and it does nothing. The spray, on the other hand, to stop leaks works wonderfully, but the glue sucks. I will stick to lock tight glue now. For those reading this review, this is not fake, it's serious. If you have any questions you can email me and I can give specific details if you need.

Bottom Line: No, I would not recommend this to a friend

---

Overall Experience:

Flex Glue might hold a brick, but would not hold a piece of acrylic panel on the rear window of my pickup, with a slight bend. I have it braced up and hoping it will hold tomorrow. Broke out rear window of my truck, as a weekend fix I bought a piece of acrylic sheeting to get me by. I cut the sheet to size and applied Flex Glue. Even with a very minor bend in sheet, it would not hold. I installed bracing to hold sheet flat.

Bottom Line: No, I would not recommend this to a friend

---

Advertisement

---

Product performance

By Suzanne C.

,

Eatonton, GA

,

Jun 7, 2018
Verified Reviewer

Overall Experience:

I bought the product to mend a shelf bracket and to hang mounting brackets for window blinds. The glue does not set instantly. With the shelf bracket and mounting brackets for the blinds, it took 24 hours to get a strong bond. However, two weeks after putting up the blinds that are not raised or lowered, the brackets came loose and fell off the window crashing to the floor.

I would not recommend this product to anyone.

Bottom Line: No, I would not recommend this to a friend

---

Unable to use

By Tom Rowland

,

Cleveland, TN

,

May 18, 2018
Verified Reviewer

Overall Experience:

I'm sure the product works if you can get it out of the tube. We worked and worked, and it would not squeeze out. I put it in a drawer and got another product. Disappointed. Sorry I couldn't use the product. Just needed to repair a brick in steps.

Bottom Line: No, I would not recommend this to a friend

---

Advertisement

---

Commercial is a LIE

By William N.

,

Savannah, GA

,

Jun 14, 2018
Verified Reviewer

Overall Experience:

The product does NOT set instantly, the commercial is false advertisement, and although I only paid $12.99 for mine from a store, it was and is a waste of money. Why do the TV stations let people get on and tell LIES to the public, money is that important?

Bottom Line: No, I would not recommend this to a friend

---

Waste of money.

By Victoria O.

,

California

,

Jun 3, 2018
Verified Reviewer

Overall Experience:

This glue sucks. It's supposed to stick immediately. BS. It took over two hours to hold two pieces of wood together. And good luck getting it out of the tube. Not worth the $40 I paid. I would not recommend this product.

Bottom Line: No, I would not recommend this to a friend

---

Terrible

By Cathy L.

,

Florida

,

Jun 6, 2018
Verified Reviewer

Overall Experience:

I purchased to put a simple, lightweight aluminum light fixture up. I put the glue on, held it for two full minutes, and it did no work. I even purchased compression rods to hold it up while it dried for 48 hours. It still fell.

Bottom Line: No, I would not recommend this to a friend

---

Doesn't set up like they show

By Curtis H M.

,

Jasper, IN

,

Jun 16, 2018
Verified Reviewer

Overall Experience:

I tried to glue a fake drawer front to the cabinet and it slid off. I tried to hold it in place, but it didn't set up, just kept sliding down. Not as advertised by any means. Fake, and a scam in my opinion.

Bottom Line: No, I would not recommend this to a friend

---

Flex Glue tube stinks

By Edward B.

,

Selden, NY

,

May 26, 2018
Verified Reviewer

Overall Experience:

It is very hard to squeeze out of the tube once you use it and store it with the airtight cap on. I kept squeezing and squeezing and very little came out at a time, then the tube split open. They need to find a better way to get the glue out to reuse it, until they do, I would not buy it again unless I needed a whole tube at one time.

Bottom Line: No, I would not recommend this to a friend

---

Don't bother

By Dan B.

,

Minnesota

,

Jun 4, 2018
Verified Reviewer

Overall Experience:

I tried to use Flex Glue on a cement statue. It so does not work like commercial shows. Put the glue on, press, and everything is to be glued together. That did not happen and what a mess. I need a refund ASAP.

Bottom Line: No, I would not recommend this to a friend

---

The commercial is extremely misleading.

By Connie W.

,

Washington

,

Sep 21, 2018
Verified Reviewer

Overall Experience:

1. It is very hard to squeeze from the tube.

2. It does not in any way adhere immediately.

3. It needs to be clamped.

I first used it to make a table organizer, which required gluing wood to wood. It did not adhere enough to even let them set to dry, I had to press them with weight, and it took hours before it held enough to touch. The project took 24 hours to put together due to glues inadequacy.

Then I used it on glass/metal to reattach a rear view mirror to a window. I needed something that adhered immediately. Not even after ten minutes to allow it to tack up. No way was it instant, nor in the five minutes was I able to hold it in place.

I guarantee there is no way if you try it like in the commercial where they show with two cinder blocks that you can pick it up any time soon. HAHA.

I have used tape and spray with much better results.

Bottom Line: No, I would not recommend this to a friend

---