Flex Seal Liquid Reviews
Claimed This company has claimed this profile, is getting alerted on any new customer reviews entering this page, and may engage in dialogue with its customers to address their matters.

Companies cannot pay money or provide goods in order to remove or alter customer reviews.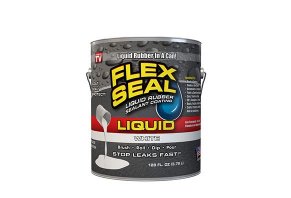 Flex Seal Liquid is a liquid rubber solution that allegedly coats and seals just about anything, including basements, roofs, gutters, chimneys, tools, sporting equipment, and more. Learn how customers are rating this product.
---
Flex Seal explosion

By Barb E.

,

Sep 12, 2019
Verified Reviewer

Overall Experience:

Was spraying Flex Seal to seal seams in a can when it exploded. My entire arm was burned bad. I'd like to attach pics but no option for it. I was in the yard alone with absolutely no source of ignition. This stuff is extremely dangerous. Please think carefully before using! Wouldn't let me rate "no" stars but believe me it's a no star review!

Bottom Line: No, I would not recommend this to a friend

---

This stuff explodes!

By Rich H.

,

Phoenix, AZ

,

Jun 28, 2019
Verified Reviewer

Overall Experience:

I was using Flex Seal when the whole thing exploded! I spent one month in the Burn Hospital in Phoenix. This stuff can be very dangerous!

I had used Flex Seal two weeks prior to the explosion with no problem in the exact same spot that the second can exploded.

Apparently, Flex Seal has a very volatile propellant. There were no open flames near me nor anywhere close to the space I sprayed. I've read online that people had Flex Seal explode while spraying outdoors on their roof.

Do not use this product unless you completely wrap your self in flame proof clothing. Including protecting your face.

Bottom Line: No, I would not recommend this to a friend

---

Advertisement

---

Flex Seal won't cure

By Dan L.

,

Meadville, PA

,

Feb 19, 2019
Verified Reviewer

Overall Experience:

I used Flex Seal on an automotive project on a section of the dash on a vehicle I am restoring. I poured Flex Seal in an area I prepared, applied a 3/8 inch thick by 12 inches wide and 15 inches long. It has now been 6 days and it still hasn't cured, air temp in the shop is 65 degrees. I don't know what to do at this point to make it cure. Not sure if using a heat gun would help or hurt the outcome.

Bottom Line: No, I would not recommend this to a friend

---

Flex Seal in small fish pond

By Cathy B.

,

Jun 23, 2018
Verified Reviewer

Overall Experience:

I scrubbed pond with water, no actual cleaners, and I sealed the leak per directions and let it sit for 24 hours. This morning water has an oily film on the top, the water looks cloudy, and the plants look sick. Thankfully I moved the fish out. It has fixed the leak, but the oily smear is concerning.

Bottom Line: Yes, I would recommend this to a friend

---