Flex Seal Liquid Reviews
Claimed This company has claimed this profile, is getting alerted on any new customer reviews entering this page, and may engage in dialogue with its customers to address their matters.

Companies cannot pay money or provide goods in order to remove or alter customer reviews.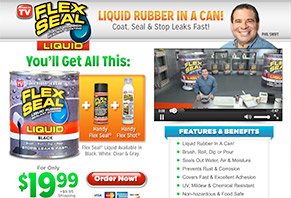 Flex Seal Liquid is a type of rubber that goes on as a liquid but dries as a solid. Now, you can seal just about anything to keep out water, sound, and more.
About Flex Seal Liquid
Called "liquid rubber in a can," Flex Seal Liquid starts as a liquid but dries as a strong, flexible rubber that seals out water, air, and moisture; prevents rust and corrosion, and stops noise and vibration.
On top of this, Flex Seal Liquid is UV, mildew, and chemical resistant; expands and contracts, provides fast coverage and excellent adhesion, and can be painted any color. This means that—whether you choose to brush, roll, dip, or pour Flex Seal Liquid—it can coat and seal just about anything, including basements, roofs, gutters, chimneys, tools, sporting equipment, and more.
Flex Seal Liquid is also completely non-hazardous and food safe, so you'll be able to use it around plants and animals—it can even be used to seal a pond with live fish!
Even if you've never purchased a home improvement product from an As Seen on TV company before, the over-the-top claims made by Flex Seal Liquid's manufacturer might give you pause. After all, can you really expect it to work this well? Even if it does, is it worth the high price? Is there any competition? Is it safe?
There are a lot of important questions about Flex Seal Liquid, and you need some answers before handing over your hard-earned money. Let's start with exactly how the product works.
How Do You Use Flex Seal Liquid?
According to the manufacturer, Flex Seal Liquid is ideal for the following surfaces:
Concrete, glass, brick, stucco, masonry, wood, copper, plastic, tile, fabrics, vinyl, fiberglass, ceramic, porcelain, metal, aluminum, and natural stones, foam asphalt, EIFS, TPO, PVC, EPDM, CSPE Hypalon polyurethanes, and more.
Regardless of the surface you're working with, the manufacturer recommends scuffing it in advance using sandpaper or steel wool and then cleaning it of any grease, oil, and dirt.
After stirring, you'll apply Flex Seal Liquid using whatever method you choose. If you're brushing or rolling, the manufacturer recommends using even, sweeping motions, and applying several coats. If dipping, you'll insert the object directly into Flex Seal Liquid, completely coat the surface, allow any excess material to drip back into the can, and then hang the object in a vertical position.
Finally, if you're pouring Flex Liquid Seal, you'll do so directly onto the surface while gravity will take care of filling cracks, holes, and other hard-to-reach areas.
From there, Flex Seal Liquid reacts with the air to dry to the touch within 6-12 hours, and fully cure within 24-48 hours.
Then, you should reapply as necessary. When stored properly, Flex Seal Liquid has a shelf life of 24 months, although a skin may form on top that needs to be removed before reusing.
Sounds pretty useful, right? But ask yourself this: What exactly does Flex Seal Liquid contain?
What Is Flex Seal Liquid Made From?
Other than what we've already covered, we're provided with very little additional insight into Flex Seal Liquid, including what ingredients it contains or exactly how it works.
Fortunately, there seem to be dozens of products just like Flex Seal Liquid, which you can see for yourself by typing the phrase "pourable rubber," "waterproofing rubber," or "liquid rubber" into your search engine of choice. It even seems like these types of products are so popular that you'll probably be able to find at least a couple options at your local home improvement retailer. After all, they've been used for years, especially in commercial roofing and waterproofing applications.
Although most of us tend to use the term "rubber" as a catch-all term, the reality is that there are many different kinds of rubber, each of which is formulated for a specific purpose; e.g. harder rubber for car tires, softer for pencil erasers, etc. With this in mind, these liquid rubber products seem to be made using a type of rubber called EPDM (ethylene propylene diene monomer M-class).
In its non-liquid form, you'll often find EPDM rubber in thin sheets sold at your hardware store, which can be used in a wide variety of applications, including landscaping, insulation, and even as liners in fish ponds (as was mentioned in the Flex Seal Liquid commercial). Is Flex Seal Liquid really food safe though?
While we definitely wouldn't recommend making a habit of eating off of pourable rubber, the reality is that some EPDM rubbers can be classified as food safe by the FDA. However, there's no specific mention of this FDA approval on the Flex Seal Liquid website, or in their commercial.
How much will you pay for Flex Seal Liquid?
How Much Does Flex Seal Liquid Cost?
Flex Seal Liquid is available in black, white, clear, and grey colors, and is priced as follows:
Large (16oz, enough for about 20sqft): $14.99, plus ~$6 S&H
Jumbo (32oz, enough for about 40sqft): $29.99, plus $9.95 S&H
Giant Gallon (enough for about 150sqft): $89.99, plus free S&H
Regardless of which option you choose, you'll also receive "free" cans of Flex Seal and Flex Shot (more about this next) for an additional $9.99 S&H.
All Flex Seal Liquid purchases come with a 30-day refund policy, less S&H, although this only applies to unused cans. In other words, if you open it, you bought it.
In order to request a refund, you'll need to call customer service at 844-484-2101.
Who Makes Flex Seal Liquid?
Although there wasn't any manufacturer information listed on the Flex Seal Liquid website, their complementary products—Flex Seal and Flex Shot—are made by Swift Response, LLC based out of Weston, FL. The company wasn't listed with the Better Business Bureau at the time of our research, although dozens of consumers have spoken up about their experiences with these other products. What'd they say?
Here on HighYa, both products had an average rating of 2 stars. Granted, many complaints seemed to reference business practices (e.g. poor customer service, high/non-refundable S&H charges, etc.), although multiple customers also cited failure to work as advertised (and even when they did work, they may not have lasted a long time).
Admittedly, this is the most common complaint for many ASOTV products, so it's not unique to Swift Response or any of their products, and doesn't mean you'll necessarily experience the same.
Taking all of this together, should you lay your money on the line for Flex Seal Liquid?
Is Flex Seal Liquid a Solid Deal?
The bad news? We don't have any customer feedback for Flex Seal Liquid quite yet. The good news? Although we don't know its exact formula, there appears to be a lot of nearly identical products out there, many of which can be purchased locally.
The biggest difference with these other options? In contrast to many of the other As Seen on TV products we've reviewed, at $89.99 per gallon, Flex Seal Liquid appears to be more expensive than much of its mainstream competition. And when you consider that you'll also pay $10 extra for Flex Seal and Flex Shot (which you may or may not want), this might put Flex Seal Liquid at $20 or more above local options.
Did you decide to buy Flex Seal Liquid? What type of project did you use the liquid rubber on? How'd it do? Tell us all about it by writing your review below!
Flex Seal explosion

By Barb E.

,

Sep 12, 2019
Verified Reviewer

Was spraying Flex Seal to seal seams in a can when it exploded. My entire arm was burned bad. I'd like to attach pics but no option for it. I was in the yard alone with absolutely no source of ignition. This stuff is extremely dangerous. Please think carefully before using! Wouldn't let me rate "no" stars but believe me it's a no star review!

Bottom Line: No, I would not recommend this to a friend

---

This stuff explodes!

By Rich H.

,

Phoenix, AZ

,

Jun 28, 2019
Verified Reviewer

I was using Flex Seal when the whole thing exploded! I spent one month in the Burn Hospital in Phoenix. This stuff can be very dangerous!

I had used Flex Seal two weeks prior to the explosion with no problem in the exact same spot that the second can exploded.

Apparently, Flex Seal has a very volatile propellant. There were no open flames near me nor anywhere close to the space I sprayed. I've read online that people had Flex Seal explode while spraying outdoors on their roof.

Do not use this product unless you completely wrap your self in flame proof clothing. Including protecting your face.

Bottom Line: No, I would not recommend this to a friend

---

Advertisement

---

Flex Seal won't cure

By Dan L.

,

Meadville, PA

,

Feb 19, 2019
Verified Reviewer

I used Flex Seal on an automotive project on a section of the dash on a vehicle I am restoring. I poured Flex Seal in an area I prepared, applied a 3/8 inch thick by 12 inches wide and 15 inches long. It has now been 6 days and it still hasn't cured, air temp in the shop is 65 degrees. I don't know what to do at this point to make it cure. Not sure if using a heat gun would help or hurt the outcome.

Bottom Line: No, I would not recommend this to a friend

---

Flex Seal in small fish pond

By Cathy B.

,

Jun 23, 2018
Verified Reviewer

I scrubbed pond with water, no actual cleaners, and I sealed the leak per directions and let it sit for 24 hours. This morning water has an oily film on the top, the water looks cloudy, and the plants look sick. Thankfully I moved the fish out. It has fixed the leak, but the oily smear is concerning.

Bottom Line: Yes, I would recommend this to a friend

---

Advertisement

---