Flex Seal Reviews
Claimed This company has claimed this profile, is getting alerted on any new customer reviews entering this page, and may engage in dialogue with its customers to address their matters.

Companies cannot pay money or provide goods in order to remove or alter customer reviews.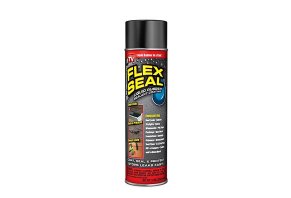 Flex Seal is an aerosol spray containing a liquid rubber sealant that allegedly seeps into cracks, and to prevent leakage lasting for a while. Learn what customers are saying.
---
Complete failure, did not seal or even slow the leak

By Frank S.

,

Florida

,

Oct 1, 2020
Verified Reviewer

Length of Use: 6–12 months

Overall Experience:

Tried to seal a small leak on a water return line to my pool. Expensive, worthless. Would not even slow the slow drip in a 2-inch PVC pipe. Junk. Better to throw your money in a wishing well than purchase Flex Seal products.

Pros and Cons:

No "pros" were specified in this review
Did not even slow a slow drip on a PVC pipe

Bottom Line: No, I would not recommend this to a friend

---

Product is inconsistent

By Colleen B.

,

Oroville, CA

,

Sep 11, 2020
Verified Reviewer

Length of Use: 6–12 months

Overall Experience:

My review is for the paint on the product.

Although the odor is really bad, I liked the consistency and coverage I got with a quart of grey well enough. The downside was that once opened you have to use it all as it continues to dry in the can.

With that in mind, I purchased 6 small cans of clear. The clear was too thick to spread and was drying as soon as exposed to air. I could only pour it on an outdoor bench and any attempts to spread even drips turned into a gummy, cloudy mess.

It was like epoxy resin with zero working time and the manufacturer says it cannot be thinned out.

I doubt I'd purchase again.

Pros and Cons:

It is thick enough, multiple coats not needed
Working time too short
Product is inconsistent
Toxic odor that lingers

Bottom Line: No, I would not recommend this to a friend

---

Advertisement

---

Product capabilities are wildly exaggerated

By Hank S.

,

Little Rock, AR

,

Sep 4, 2020
Verified Reviewer

Length of Use: Less than 3 months

Overall Experience:

I needed to seal a 1/8 inch gap between a concrete floor and wood sill stringer. The length of the gap was 7'3" long. I bought 2 cans of Flex Seal to make sure I had enough. Not only did I not have enough Flex Seal, but after 3 applications, over 3 days' time, the gap was still unsealed. I finally reverted back to the old tried and true application of silicone from a tube. Done! First pass!

This product is simply a colossal marketing scam. It absolutely DOES NOT perform "As Shown On TV!"

Don't get taken in by all of the false claims. Any other competitor's product will perform better and cost you less money and time.

Flex Seal is a complete waste of money.

Pros and Cons:

No "pros" were specified in this review
Does not perform as advertised
Too costly

Bottom Line: No, I would not recommend this to a friend

---

Does not work!

By Kathy S.

,

Dallas, TX

,

Aug 31, 2020
Verified Reviewer

Length of Use: Less than 3 months

Overall Experience:

I bought a gallon of Flex Seal to fix a leak in my pond liner. It did not stop the leak. I also tried the tape witch also didn't work. $120 is way too much to spend on a product that does not work.

Pros and Cons:

No "pros" were specified in this review
It does not work

Bottom Line: No, I would not recommend this to a friend

---

Don't buy this overpriced, substandard product

By Steve B.

,

Huntington Beach, CA

,

Aug 6, 2020
Verified Reviewer

Length of Use: Less than 3 months

Overall Experience:

Product is way overpriced and very substandard in comparison to other better products. The product is misrepresented to the max, it doesn't work under pressure at all. People listening and watching aren't mechanical, most are not very handy, so they don't know the difference, they're buying this product unsuspecting and getting ripped off.

Pros and Cons:

No "pros" were specified in this review
It doesn't work!

Bottom Line: No, I would not recommend this to a friend

---

Poor customer service on new orders

By Clifford O.

,

Flower Mound, TX

,

Jul 6, 2020
Verified Reviewer

Overall Experience:

I placed an order for Flex Seal Paste on 6/27/2020. On 6/30 I sent an email requesting an estimated delivery date. On 7/2 I sent a second email requesting an estimated delivery date. Twice I did not hear from them. On 7/3 I called and spoke to a lady that told me it would be an additional 30 days before I would see my product. To me, this is absolutely unacceptable. So, if you have plenty of time to finish your project, I guess it would be OK. So buyer beware.

Pros and Cons:

No "pros" were specified in this review
Not sure, I haven't received my product yet, delivery times are unacceptable
The lady I spoke to told me if I didn't agree with their delivery times I could cancel my order
I wanted this product now, not 30+ days
I did my part, I paid for the product so that was my promise, so I wanted Flex Seal to keep their promise and ship my product
Terrible customer service, bad

Bottom Line: No, I would not recommend this to a friend

---

Terrible!

By Heather H.

,

Missouri

,

Mar 10, 2020
Verified Reviewer

Overall Experience:

I purchased the Flex Seal tape, I tried to use it to repair a hole in a garden hose, I even let the hose dry out overnight then applied the tape. It leaked immediately! So I dried the hose out again overnight and tried again using a lot of tape this time, taping the hose up at least a foot of it for one small hole then let the tape even set another entire night, went outside the next day turned on the hose, it immediately was leaking out everywhere! Complete rip off!

Bottom Line: No, I would not recommend this to a friend

---

Advertisement

---

Won't spray

By Steve H.

,

Iuka, MS

,

Feb 19, 2020
Verified Reviewer

Overall Experience:

Bought 3 cans of black spray. When attempting to use, no product comes out of the can. All 3 with the same lot number. Called the company and talked with Aleisa and she never asked for lot numbers, then said: "take them back where you bought them for refund". Total lack of care as to which lot number is not working, this is a direct reflection of the company ethos, of any.

Bottom Line: No, I would not recommend this to a friend

---

Yellow Flex Seal

By Butch E.

,

Port Charlotte, FL

,

Jan 23, 2020
Verified Reviewer

Overall Experience:

Do not buy this junk. I must now paint my house because the Clear Flex seal turned YELLOW. Purchased 4 cans, turned yellow within 6 months. Stupid company wants proof of purchase from six months ago.

Bottom Line: No, I would not recommend this to a friend

---

Sorry

By Vicki W.

,

Chicago, IL

,

Jan 7, 2020
Verified Reviewer

Overall Experience:

I recommended to my daughter to buy Flex Seal glue for a project she had. Well, this product gets a double FF. I thought maybe she had used it wrong so I took it home and used it on the kitchen table, again double FF. On the commercial, it sticks immediately, in the directions it's 24 to 48 hours. This is false advertisement. Also, it was extremely hard to release the glue from the tube. She said she kept her receipt. They should stop selling this product before a class action is started.

Bottom Line: No, I would not recommend this to a friend

---

Pissed off

By LaQueena H.

,

Louisiana

,

Nov 5, 2019
Verified Reviewer

Overall Experience:

This product does not work. I wish I could sue them for false advertisement. I will not be purchasing anything from these liars. I hope no one else does as well. So please keep bonding flower pots. It does not seal leaky roofs, so stop claiming to seal leaky roofs...I have a metal roof and it's still leaking despite using the tape and metal jar.

Bottom Line: No, I would not recommend this to a friend

---

False advertising

By Sheila S.

,

Wiggins, MS

,

Nov 2, 2019
Verified Reviewer

Overall Experience:

Worst product ever, all of it. I used it all to repair a leak on my trailer on the top on the tear the nail hose, I even doubled it, I bought a gallon of it, I bought it in a spray can, I bought the tape, it's all hard to work with. It dries up and then cracks open. Nothing of this product has worked. I can't believe that people get by selling stuff to people who have no idea that it doesn't work. I think I read one, maybe two good reviews and know what it must've been a simple job, maybe a bad job, they said it was a good product, it's not.

Bottom Line: No, I would not recommend this to a friend

---

Advertisement

---

No good

By Henry P.

,

Nevada

,

Oct 29, 2019
Verified Reviewer

Overall Experience:

This does not work. I tried the tape on a small water leak and it did not work. I tried to seal a roof, it did not work. I tried to run a bead on my boat to seal it but it dried up and cracked all three products. No good.

Bottom Line: No, I would not recommend this to a friend

---

Best stuff on the market

By Robert K.

,

Bloomington, IL

,

Oct 28, 2019
Verified Reviewer

Overall Experience:

This is one amazing product. I have used it to seal my basement wall, and used it everywhere on my travel trailer as I was restoring it.

I purchased a used 2000 model Coachman 25-foot travel trailer. The wheel well wasn't sealed which allowed water to enter the interior and rot out the floor, which was the reason it was sold as a "fixer-upper". I sealed the wheel well with Flex Seal tape and coated the remaining well with the spray-on Flex Seal. The floors were replaced and the subflooring coated with Flex Seal. Then the floor was covered with laminate flooring. The roof needed repair and I used Flex Seal tape to seal the edges and all the flanges of any vents. Then coated the roof liberally with Flex Seal liquid white. Lastly, the trailer's awning appeared to need replacing. I found only the first 8 inches of the awning had sun rot. So I coated the entire length with 8-inch Flex Seal tape. Then sealed all edges with white liquid Flex Seal.

My wife and I used the travel trailer all summer. Not one issue with any leaks. I strongly recommend Flex Seal to anyone who has a need to eliminate water from entering their home, or camper. Excellent product. You must follow the manufacturer's recommendations and to be sure to clean surfaces before applying.

Bottom Line: Yes, I would recommend this to a friend

---

Waste of money

By Valerie G.

,

Texas

,

Sep 30, 2019
Verified Reviewer

Overall Experience:

Bought this as someone recommended it to keep my galvanized tub from rusting. Painted it, waited, filled. Start peeling a few days later. Drained tub, mind you we're talking 200 gallons, left another thicker coat of paint, waited, filled. I just drained it again for the winter and it's peeling everywhere and got bubbles. Went thru two 1-gallon buckets on a 6ft tub. Waste of time and money.

Bottom Line: No, I would not recommend this to a friend

---

SHAM

By Butch B.

,

Dayton, OH

,

Sep 5, 2019
Verified Reviewer

Overall Experience:

People who buy this stuff are nuts. I did and I'm sorry I wasted good money on a very substandard product. Phil Swift sure likes to sell junk. I wonder what Jesus thinks about the lies He hears coming from us. I like to keep my friends, therefore, I would never recommend these products.

Bottom Line: No, I would not recommend this to a friend

---

Fixed my leak

By Gina D.

,

South Louisiana

,

Aug 31, 2019
Verified Reviewer

Overall Experience:

The Flex Seal tape is hard to work with, and the liquid does not spread evenly without a little extra work. All in all, these products did their job and held up. I had a leak in my roof, that came in the attic than dropped down onto my white ceiling tile. The liquid was used both on the roof and in the attic, the tape on the ceiling tile. Worked great, held up until it was repaired. Yes, I would purchase again and do recommend it.

Bottom Line: Yes, I would recommend this to a friend

---

Advertisement

---

Seriously?

By Sherman B.

,

Kentucky

,

Aug 15, 2019
Verified Reviewer

Overall Experience:

After following the instructions on both the tape and spray and waiting the time allotted for it to cure...WOW. What a huge disappointment. I spent good money on the purchase only to be hoodwinked. Buyer beware. If it looks good on a commercial, well, you can bet it's not good for the consumer...

Bottom Line: No, I would not recommend this to a friend

---

No good, do not buy

By Steven M.

,

Conway, SC

,

Jul 31, 2019
Verified Reviewer

Overall Experience:

My septic system pipe running out my metal roof started leaking. I guess the rub bearish boot around pipe gave up on keeping water out. I used 3 cans of Flex Seal spray on it. Letting it dry each little bit I sprayed before another coat. Still leaked. Never will I buy another can of Flex Seal.

Bottom Line: No, I would not recommend this to a friend

---

Doesn't work

By Kenneth N.

,

Bay Saint Louis, MS

,

Jun 10, 2019
Verified Reviewer

Overall Experience:

I used both the Flex Seal tape and liquid spray on my RV and it leaked and caused $20,000 worth of damage and I put a complaint against the company and they denied it after I sent both pictures and estimate for the damage. I have informed all family friends and co workers to spread the word and not buy as they don't stand behind their product. They were willing to pay me for the product but give no money towards the damage. DO NOT BUY as it doesn't work and we followed the directions to the letter. Poor customer service and false advertisement! BEWARE of this product!

Bottom Line: No, I would not recommend this to a friend

---

Absolute JUNK

By Mike T.

,

St. Louis, MO

,

May 27, 2019
Verified Reviewer

Overall Experience:

I have a small wall fountain made of some sort of resin material. It developed a small hairline crack, so I bought a can of Flex Seal. I followed directions very carefully and applied two coats of Flex Seal to the entire inside of the reservoir. After waiting the recommended 48 hours, I was excited to fill the reservoir with water to see if the Flex Seal was going to hold. The reservoir only holds about a quart of water, so not a lot of water pressure. The Flex Seal seemed to have no effect whatsoever. It still leaked at about the same rate as it was leaking to begin with. This product is nothing but junk!

Bottom Line: No, I would not recommend this to a friend

---

Omg, this product is the best

By Wilfredo E.

,

Connecticut

,

Apr 30, 2019
Verified Reviewer

Overall Experience:

Omg, this product is the best for making a fool of customers! I work for a maintenance company. We bought boxes upon boxes of this stuff to have as back up, but mainly for little tiny drips we would get in a small area. Didn't work. Then we said ok, maybe not meant for what it said so we tried to use for a small hole we drilled. Man, it never even dried over it, it just leaked through the tiny hole before it dried. My company threw all 200 cans away. I took them and tried to give another chance and again didn't work. So I sold 195 of them for $1.06 each can to a little corner store in my area. Every can he sold was an angry customer, lol. I hate these products.

Bottom Line: No, I would not recommend this to a friend

---

Advertisement

---

Too broke for Customer Service

By Yvonne L.

,

Fraser, MI

,

Mar 26, 2019
Verified Reviewer

Overall Experience:

So the second I made an error and hit submit I tried to call, email, no response. After receiving the two products (tape and caulking), I called customer service and the person "Katey" was VERY rude. I could tell right away she did not care about my issue of ordering the tape instead of the caulking. I wanted to return, or maybe exchange for a second caulking since the amount is such a STINGY, small amount I may not be able to caulk much with 1 tube, but miss "Katey" was SO rude, I said forget the error. Forget there was NO RESPONSE to try to let the so-called "business" know and just go on and make a review to let anyone know this place only caters to collecting money, so make sure you don't make a mistake of needing any customer service. ONE very rude customer service rep. Never again.

Bottom Line: No, I would not recommend this to a friend

---

Flex Seal is a JOKE!

By Jim D.

,

Rockwood, IL

,

Mar 11, 2019
Verified Reviewer

Overall Experience:

Flex Seal is a JOKE...they shouldn't even be allowed to use the word "seal" in the name! Had two cans of the clear and one black none of which did ANYTHING to seal a few small leaks that didn't amount to much to fix. Should have known it was a SCAM when I saw the fake commercial with cutting the boat in half! DO NOT BUY FLEX SEAL!

Bottom Line: No, I would not recommend this to a friend

---

Failed

By EW S.

,

Richmond, VA

,

Feb 22, 2019
Verified Reviewer

Overall Experience:

Used three cans of product on the roof leak and still it dries up, cracks, and leaks.

Bottom Line: No, I would not recommend this to a friend

---

-10 stars

By Robert P.

,

Payson, AZ

,

Feb 13, 2019
Verified Reviewer

Overall Experience:

I've purchased all of the Flex Seal products. Silicone tape pint can of sealant. It's all garbage. The Silicone in the bathroom doesnt last long. The tape weather's like all duct tape products. The pint can doesn't seep into cracks...my roof and walls are ruined because I trusted the product and used as directed.

This company should be fined and ashamed for false advertising.

Bottom Line: No, I would not recommend this to a friend

---

Does not work

By Bill N.

,

Bowling Green, KY

,

Jan 19, 2019
Verified Reviewer

Overall Experience:

I bought Flex Seal to seal a leak in a horizontal aluminum rain gutter seam. I made sure the surface was clean and dry. Initially, I sprayed it three separate times. The seam continued to leak, even after spraying it on four more times. It never did seal the leak, I finally used just black tar roof patch, and that was over two years ago, it still has not leaked. I think Flex Seal products are overpriced worthless products, don't waste your money.

Bottom Line: No, I would not recommend this to a friend

---