Flex Seal Reviews
Claimed This company has claimed this profile, is getting alerted on any new customer reviews entering this page, and may engage in dialogue with its customers to address their matters.

Companies cannot pay money or provide goods in order to remove or alter customer reviews.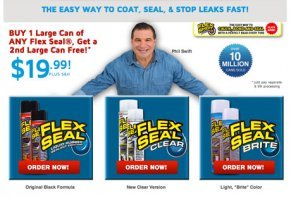 Flex Seal is an aerosol spray containing a liquid rubber sealant that promises to seep into cracks and prevent leakage.
About Flex Seal
Designed by Phil Swift and a product of Swift Response, LLC, Flex Seal is an aerosol spray containing a liquid rubber sealant that promises to seep into cracks, and to prevent leakage.
The makers of Flex Seal claim that it will last for years without cracking, peeling, or losing any of its sealing properties, whether from summer heat or winter cold.
The company claims that Flex Seal can be used on gutters, roofs, pipes, window trim, cement driveways, AC drip pans, ductwork, and more, though it is not intended to protect against extreme wind or water pressure.
As with most "As Seen on TV" products, Flex Seal comes with a 100% satisfaction guarantee.
How Flex Seal Works
Before using Flex Seal, you should shake the can well, clean and dry your surface, and spray in smooth, sweeping motions approximately 12-14 inches from the contact point.
The company recommends that several thin coats be applied to an area larger than where the leak occurred, and that temperatures should be higher than 60°F.
When you're ready to apply Flex Seal, simply press gently on the nozzle, at which point a thick, rubberized liquid will shoot out, which will seep into cracks and holes.
Over the course of 24 hours, depending on temperature, humidity, and thickness, this liquid will dry and become a watertight, flexible coating on just about any surface, which will continue to strengthen over time.
After using Flex Seal, the can should be inverted and sprayed in order to clear the nozzle.
Flex Seal comes in three color versions: Original black formula, the light "Brite" color, and the new clear version.
While all three versions can be painted over after drying, the clear version has a slightly modified formula, which may require additional applications in order to get the job done.
Flex Seal Pricing, Shipping, and Return Policy
One large can of Flex Seal currently costs $19.99, plus $9.95 shipping and handling.
Along with your order, you'll also receive a second large can as an added bonus, though you'll need to pay an addition $9.95 for "shipping and handling," which is where many of these "As Seen on TV" products really make their money. After ordering, your shipment should arrive within 2-4 weeks.
If you're unhappy with Flex Seal for any reason, you'll have up to 30 days to return the unused portion, minus shipping and handling costs.
To initiate a refund, simply call 800-307-6201 to obtain an RMA. Once the product is received and inspected, your credit card will be quickly refunded.
Pros:
Rubberized coating claims to seal any leak, crack, or hole.
Fairly inexpensive when compared to other major solutions.
Portable, easy to use, and not messy.
Dries in 24 hours.
Cons:
Flex Seal is an "As Seen on TV" product, which often do not live up to your initial expectations.
Numerous complaints that the coating breaks off and peels after a very short period of time, or that it doesn't work as promised. Some have even claimed to have used two cans and still experienced leakage.
Similar solutions can be purchased at your local hardware store for as little as $5, without hassles or shipping and handling charges.
Terrible!

By Heather H.

,

Missouri

,

Mar 10, 2020
Verified Reviewer

I purchased the Flex Seal tape, I tried to use it to repair a hole in a garden hose, I even let the hose dry out overnight then applied the tape. It leaked immediately! So I dried the hose out again overnight and tried again using a lot of tape this time, taping the hose up at least a foot of it for one small hole then let the tape even set another entire night, went outside the next day turned on the hose, it immediately was leaking out everywhere! Complete rip off!

Bottom Line: No, I would not recommend this to a friend

---

Won't spray

By Steve H.

,

Iuka, MS

,

Feb 19, 2020
Verified Reviewer

Bought 3 cans of black spray. When attempting to use, no product comes out of the can. All 3 with the same lot number. Called the company and talked with Aleisa and she never asked for lot numbers, then said: "take them back where you bought them for refund". Total lack of care as to which lot number is not working, this is a direct reflection of the company ethos, of any.

Bottom Line: No, I would not recommend this to a friend

---

Advertisement

---

Yellow Flex Seal

By Butch E.

,

Port Charlotte, FL

,

Jan 23, 2020
Verified Reviewer

Do not buy this junk. I must now paint my house because the Clear Flex seal turned YELLOW. Purchased 4 cans, turned yellow within 6 months. Stupid company wants proof of purchase from six months ago.

Bottom Line: No, I would not recommend this to a friend

---

Sorry

By Vicki W.

,

Chicago, IL

,

Jan 7, 2020
Verified Reviewer

I recommended to my daughter to buy Flex Seal glue for a project she had. Well, this product gets a double FF. I thought maybe she had used it wrong so I took it home and used it on the kitchen table, again double FF. On the commercial, it sticks immediately, in the directions it's 24 to 48 hours. This is false advertisement. Also, it was extremely hard to release the glue from the tube. She said she kept her receipt. They should stop selling this product before a class action is started.

Bottom Line: No, I would not recommend this to a friend

---

Advertisement

---

Pissed off

By LaQueena H.

,

Louisiana

,

Nov 5, 2019
Verified Reviewer

This product does not work. I wish I could sue them for false advertisement. I will not be purchasing anything from these liars. I hope no one else does as well. So please keep bonding flower pots. It does not seal leaky roofs, so stop claiming to seal leaky roofs...I have a metal roof and it's still leaking despite using the tape and metal jar.

Bottom Line: No, I would not recommend this to a friend

---

False advertising

By Sheila S.

,

Wiggins, MS

,

Nov 2, 2019
Verified Reviewer

Worst product ever, all of it. I used it all to repair a leak on my trailer on the top on the tear the nail hose, I even doubled it, I bought a gallon of it, I bought it in a spray can, I bought the tape, it's all hard to work with. It dries up and then cracks open. Nothing of this product has worked. I can't believe that people get by selling stuff to people who have no idea that it doesn't work. I think I read one, maybe two good reviews and know what it must've been a simple job, maybe a bad job, they said it was a good product, it's not.

Bottom Line: No, I would not recommend this to a friend

---

No good

By Henry P.

,

Nevada

,

Oct 29, 2019
Verified Reviewer

This does not work. I tried the tape on a small water leak and it did not work. I tried to seal a roof, it did not work. I tried to run a bead on my boat to seal it but it dried up and cracked all three products. No good.

Bottom Line: No, I would not recommend this to a friend

---

Best stuff on the market

By Robert K.

,

Bloomington, IL

,

Oct 28, 2019
Verified Reviewer

This is one amazing product. I have used it to seal my basement wall, and used it everywhere on my travel trailer as I was restoring it.

I purchased a used 2000 model Coachman 25-foot travel trailer. The wheel well wasn't sealed which allowed water to enter the interior and rot out the floor, which was the reason it was sold as a "fixer-upper". I sealed the wheel well with Flex Seal tape and coated the remaining well with the spray-on Flex Seal. The floors were replaced and the subflooring coated with Flex Seal. Then the floor was covered with laminate flooring. The roof needed repair and I used Flex Seal tape to seal the edges and all the flanges of any vents. Then coated the roof liberally with Flex Seal liquid white. Lastly, the trailer's awning appeared to need replacing. I found only the first 8 inches of the awning had sun rot. So I coated the entire length with 8-inch Flex Seal tape. Then sealed all edges with white liquid Flex Seal.

My wife and I used the travel trailer all summer. Not one issue with any leaks. I strongly recommend Flex Seal to anyone who has a need to eliminate water from entering their home, or camper. Excellent product. You must follow the manufacturer's recommendations and to be sure to clean surfaces before applying.

Bottom Line: Yes, I would recommend this to a friend

---

Waste of money

By Valerie G.

,

Texas

,

Sep 30, 2019
Verified Reviewer

Bought this as someone recommended it to keep my galvanized tub from rusting. Painted it, waited, filled. Start peeling a few days later. Drained tub, mind you we're talking 200 gallons, left another thicker coat of paint, waited, filled. I just drained it again for the winter and it's peeling everywhere and got bubbles. Went thru two 1-gallon buckets on a 6ft tub. Waste of time and money.

Bottom Line: No, I would not recommend this to a friend

---

SHAM

By Butch B.

,

Dayton, OH

,

Sep 5, 2019
Verified Reviewer

People who buy this stuff are nuts. I did and I'm sorry I wasted good money on a very substandard product. Phil Swift sure likes to sell junk. I wonder what Jesus thinks about the lies He hears coming from us. I like to keep my friends, therefore, I would never recommend these products.

Bottom Line: No, I would not recommend this to a friend

---

Fixed my leak

By Gina D.

,

South Louisiana

,

Aug 31, 2019
Verified Reviewer

The Flex Seal tape is hard to work with, and the liquid does not spread evenly without a little extra work. All in all, these products did their job and held up. I had a leak in my roof, that came in the attic than dropped down onto my white ceiling tile. The liquid was used both on the roof and in the attic, the tape on the ceiling tile. Worked great, held up until it was repaired. Yes, I would purchase again and do recommend it.

Bottom Line: Yes, I would recommend this to a friend

---