Flex Shot Reviews
Claimed This company has claimed this profile, is getting alerted on any new customer reviews entering this page, and may engage in dialogue with its customers to address their matters.

Companies cannot pay money or provide goods in order to remove or alter customer reviews.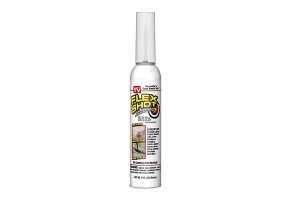 Flex Shot is a pressurized can of rubber sealant that allegedly replaces your messy caulk gun and give you a perfect waterproof seal every time. Learn from customer reviews.
---
Great product

By Doug J.

,

Florida

,

Aug 5, 2019
Verified Reviewer

Overall Experience:

We have a 2006 Winnebago Voyage 38J. Have had constant water leak issues when it rains hard. I have re-caulked many areas on the roof with silicone. It stopped the leaks, but when we drove the coach to the next campground, the roof would leak again. Checked the roof and all the silicone was cracking and coming loose! I removed all the silicone from the roof repairs, cleaned and sanded the areas. I used white Flex Shot on every area. This was 1 year ago, we now have a leak-free roof. Thank you Flex Shot! Great product.

Bottom Line: Yes, I would recommend this to a friend

---

SCAM!

By Michael K.

,

New York

,

Mar 30, 2019
Verified Reviewer

Overall Experience:

My cartop carrier had a crack in it. So I figured I'd go and get a tube of silicone. Then I remembered seeing the Flex products on TV. I thought it a little pricey, but I thought I'd give Flex the benefit of the doubt. So, I bought a can of Flex Shot. SAVE YOUR MONEY! All it is is silicone, as soon as I cut the tip open I knew I'd been had. I dealt with silicone many times in my lifetime, so I know what I'm talking about. Same distinct smell as silicone. Same consistency, same texture. ALL IT IS, IS SILICONE! $13 to be had, when you can get a squeezable tube of silicone for around $3.50 or $4.00. If you got a caulk gun get the cartridge. You get more and pay less. FLEX SHOT IS A TOTAL RIPOFF! If I could give this review zero stars I would.

Bottom Line: No, I would not recommend this to a friend

---

Advertisement

---

Doesn't last

By Judy K.

,

Colorado

,

Oct 23, 2018
Verified Reviewer

Overall Experience:

I have two cans of Flex Shot Clear that I have to throw away. Neither has been used, but evidently, when you buy it, you better use it right away. Its seems they lose their ability to come out when you push on the nozzle. All the air is gone from the cans. Bummer, there goes $40.

Bottom Line: No, I would not recommend this to a friend

---

Overall Experience:

The product claims to be a rubberized sealant. I bought two cans for a job that I thought needed something more reliable than silicone. I was very disappointed when I started applying the caulking, only to find out it was just silicone.

Don't waste your money. Just pay $5 for a full-size tube of silicone and save money.

Bottom Line: No, I would not recommend this to a friend

---

Flex Shot does not work on water

By Dawn Marcou

,

Michigan

,

Jun 21, 2017
Verified Reviewer

Overall Experience:

I tried to use Flex Shot on a water tank on a refrigerator. I put the Flex Shot on it, let it sit awhile, tried the water, and sure enough, water came shooting out. So I would say this product does not do what it says. I will never buy it again. I'm not sure if Flex Steel is related to this product, but I put Flex Steel on the water tank, and it did not work either. Water squirted out the sides where there was no tape. Both of these products are not any good if you ask me. I will never buy either one again. I did not want to give any stars, but I had to in order to upload my review.

Bottom Line: No, I would not recommend this to a friend

---

Flex Shot is the best ever

By Bob Kempa

,

Colorado

,

Apr 16, 2017
Verified Reviewer

Overall Experience:

I used Flex Shot for my tub (linoleum meeting tub), removed all old caulk (12 years old) and finalized with IPA. I then taped off with blue masking tape and applied flex shot. Best Caulk job I have ever attempted as the old fashion caulk gun has never done me right.

I then used Flex Shot around my kitchen sink. Worked great.

Wear disposable gloves for all work as you can use your finger to smooth.

I then used flex shot to repair a few cracks around my gas fireplace molding which after 12 years had cracked, I will let dry and cover with matching paint.

Thank you. It worked as described on TV.

Bottom Line: Yes, I would recommend this to a friend

---

Flex shot tube

By Jim Stangl

,

Edina, Minnesota

,

Dec 7, 2016
Verified Reviewer

Overall Experience:

Used to seal my kitchen sink. It applied great.

After use, the tube would not stop oozing material. I could not stop it and it used up the tube. I'm very disappointed.

Bottom Line: No, I would not recommend this to a friend

---

Advertisement

---

Works for me

By Kathy

,

Phoenix, AZ

,

Oct 6, 2016
Verified Reviewer

Overall Experience:

I use the Flex Shot in my upstairs bathroom to caulk around my tub and shower. Being a two story home we have a little shifting from time to time which causes the other caulks to pull away from the wall leaving gaps which let the water seep down through. I would have to re-caulk several times a year. The Flex Shot is flexible enough to move and keeps its seal. I also use it around my baseboards where little gaps can form. At those times during the year when ants find their way in I use the Flex Shot to seal those gaps and it stops my ant problem. I also use it to seal the bottom of my bathroom mirror where it meets the counter top. It keeps the water from seeping through and causing those gray areas at the bottom of the mirror. The only problem I have with the Flex Shot is that I can't find it in stores anymore. The stores carry the Flex Liquid and the Flex Seal but not the Flex Shot.

Bottom Line: Yes, I would recommend this to a friend

---

Caulking must

By Dewey

,

Eden, NC

,

Jan 24, 2016

Overall Experience:

As I wrote about Flex Seal (see my previous review), Flex Shot's quality is yet to be seen as most caulk is OK for awhile, the quality will tell with time. BUT please understand this, ANY caulk you use or apply around anything must be tooled. Yes tooled, which means your finger, or a special tool to press it into place because when it dries it shrinks. What they show on TV is so wrong. Caulk will shrink when dried & mostly no seal will be made. You must tool the caulk, cut the corner off a square piece of hard but flexible plastic & run along the caulk to tool it in place, clean the plastic as needed. This is a must on any caulk or you're wasting your time, money & caulk. I have 25 years of experience.

Bottom Line: No, I would not recommend this to a friend

---

Don't waste your money.

By Dewey

,

Eden, NC

,

Jan 8, 2016

Overall Experience:

I used rubberized (elastomeric coating) coatings all my life in my business as a roofing contractor. I rolled or sprayed it over polyurethane Foam Coating as a UV protectant, and a GOOD rubberized coating depends on the amount of solids content which is titanium dioxide. One cannot put enough of the solids in a spray to do this. Flex Seal, which I've tried, is one of the biggest rip offs of the century because when it dries, about 1/2 is gone with the wind in evaporation.

One application requires five or more to completely seal anything temporary. Lowes has Rust-toleum Leak Seal and another spray that's much better and cheaper than this junk. Please don't waste your money. The truck underwater is a lie, no Flex Seal is ever going do that. These people play off the ignorance of the public or the uninformed consumers. Beware!

Bottom Line: No, I would not recommend this to a friend

---

Yes I believe it's a scam

Overall Experience:

Call order, they try to force you to order more than you want. Website, first of all, it doesn't say buy one get one free, it says buy 2 cans for $19.99 + $9.95 s/h + $9.99 for processing. Second, tried to order two cans online, then AFTER I put in my credit card info, mysteriously there was two more cans on my order they tried to charge me for, NOT FREE, which totaled my bill to just over $80.00. Quite a bit for an order that was supposed to be $39.93 all together. A family member ordered cans of this stuff, and after three days, it shrank and peeled at the edges. Just got two words for you - DON'T BUY, BIG SCAM.

Bottom Line: No, I would not recommend this to a friend

---

Bad web ordering practices

By Wayne McRae

,

Moore, OK

,

Nov 17, 2015

Overall Experience:

I went to their site to see how much it would cost with 19.99 and shipping. The total price was 39.93, which is almost double the advertised item. I did not push the order button, I took my name and information out of site and got off the web. Next day I am being charged for the item. I called and they would not refund my money. They said they would not charge freight. I do not want the product due to their way of doing business. They said I could send it back at my own expense. I would never recommend them to anybody and I will tell people of their business tactics.

Bottom Line: No, I would not recommend this to a friend

---

Advertisement

---

They over charge your account. Be careful it's a scam.

Howell NJ

,

Nov 9, 2015
Verified Reviewer

Overall Experience:

I ordered one bottle of Flex Shot that I seen on TV for $19.99, nothing else. They charged my account $80 and don't want to refund the money. Be careful -- scam.

Bottom Line: No, I would not recommend this to a friend

---

Total garbage

By Don Mcmillan

,

Nanaimo British Columbia

,

Oct 23, 2015

Overall Experience:

Flex Shot is just a remake of Flex Seal. Total crap products. Doesn't work. Seal only lasts a few weeks. This guy should be thrown in jail for false advertising.

Bottom Line: No, I would not recommend this to a friend

---

White Flex Shot

By Jim

,

Jacksonville FL

,

Oct 3, 2015

Overall Experience:

Bought two cans of white spray Flex Shot. Shook it real good.Ffrom one, yellow thing that came out made my white roof of my camper look like crap. First can spread out pretty decent, second can got halfway through. Then it started dripping out. Made a mess, got it all over my hands. Am NOT really impressed, especially when it came out yellow and dried. Seems like it's all talk. For the money you pay for it, it should really be a better product. I'm going to go back to the old fashion way to seal cracks on my camper. I will never buy it again. Spent $26 on 2 cans. I could have bought four tubes of caulk or some real good camper sealant. What a waste.

Bottom Line: No, I would not recommend this to a friend

---

Flex Shot Bathtub Seal

Aug 12, 2015
Verified Reviewer

Overall Experience:

Finally I tried Flex Shot. It was very easy to use compared to even a nice no drip caulk gun (they still ooze out after you stop trigger, just not enough to drip, so material waste). Very easy to control the Flex Shot and I really liked the way you seal the tip after use. Just let a little sealant out the top maybe 1/4" and let it cure. To reopen just pull this plug out. Much better than how I seal a common caulk gun, nail in tip hole and then wrap with kitchen film and put rubber band around, not really effective seal, material goes bad inside caulk tube.

I also really like that Flex Shot is supposed to be somewhat tolerant of a little moisture on the surface being sealed silicone is not.

However, I do not like the Flex Shot website at all. Lots of marketing hype and hard to check out without them trying to load you up with other stuff. I accidently bought a can of Flex Seal I didn't want and they said unless I paid extra it could take up to four weeks before they even ship the product. Yuck.

Keep in mind Flex Shot is not paintable and water does not clean it off your fingers. Overall I like Flex Shot and it is flexible enough to solve the gap problem with my tube. It does cost quite a bit more than regular silicone in tubes.

Bottom Line: Yes, I would recommend this to a friend

---

Bad Product

By Linda

,

Arden, NC

,

Aug 6, 2015

Overall Experience:

The second we popped the can open it started spewing out all over everywhere. It didn't stop spewing until the can was empty. Totally unacceptable.

Bottom Line: No, I would not recommend this to a friend

---

Advertisement

---

Still waiting to arrive

By E Asper

,

Harrisburg, PA

,

Jul 13, 2015

Overall Experience:

I don't have a review because even though I ordered on Dec. 17 and received an email confirming the order - Order Number: #388047797. I then received a second email on the 19th - "Your order FLEX00830441 has been shipped." I have not received any other word and cannot reach them at the email: CSR@webcsr.info. Don't order from CSR, you will be throwing your money away.

Bottom Line: No, I would not recommend this to a friend

---

Expensive Garbage

By Bert Windham

,

Cleveland, OH

,

Jul 10, 2015

Overall Experience:

Flex Shot is just another infomercial scam that promises the moon, and then charges you for the sun through hidden fees. Don't do it as your credit card will charged at least three times what you expect. Why pay more than $50 for a few ounces of caulk that you could buy for about $3 at any hardware store.

Bottom Line: No, I would not recommend this to a friend

---

Flex shot hype

By John Zimmerman

,

Willows, CA

,

Jun 30, 2015

Overall Experience:

I am a licensed engineer with expertise in the field of joint sealants (referred by non-technical folks as caulking). Though I have never used the product I know it is not a "state of the art" or "break-through" product but a hyped product. There is only one commonly used & readily available category of high performance sealant recommended for tough atmospheric conditions such as water immersion and with high strength - polyurethane. But it is not water cleanup. Silicone sealant is also high performance but lacks the strength and isn't recommended for immersion (except when adhered to glass. For indoors or on a house (where immersion or very high strength isn't required a high quality siliconized acrylic is the best choice. All these are about $6. Notice that Flex Shot hides the data on their product mentioning only "rubber," asks for $2 more to ensure safe delivery (scam) and doubles shipping for a second tube.

Bottom Line: No, I would not recommend this to a friend

---

Deceptive pricing

By Bryan Carl

,

Marietta, GA

,

Jun 26, 2015

Overall Experience:

The hyped TV ad implied an attractive two-for-one sort of offer and an additional can of Flex Shot (a whopping 2 oz.) for only 19.99 plus shipping. Shipping/processing stated at $9.99 but in the fine print, an extra $9.99 is tacked on for "processing" the "absolutely free" 2 oz. can.

Further, when ordering online, it is very difficult to get to the closing of the order as you must wade through a half dozen special offers for more stuff requiring specific refusals for each in order to proceed.

I haven't even tried the product yet but so disgusted with the ordering fiasco, I'll never recommend this business. Stay away from this.

Bottom Line: No, I would not recommend this to a friend

---

Save your money

By Robert Cook

,

New Jersey

,

Jun 26, 2015

Overall Experience:

Very deceptive website and offer. You are lead to believe that you get two cans for 19.99 and S&H for 9.99. But that is for only one can.

Bottom line it is caulking in an aerosol can.

Bottom Line: No, I would not recommend this to a friend

---

Advertisement

---

It works great!

By Anonymous

,

Copake, NY

,

Jun 15, 2015

Overall Experience:

I had a leak in my camper and used Flex Shot with Flex Seal over it and that was a year ago and still no leak. Regular caulk shriveled up and cracked! Most of the reviews have to do with shipping costs that don't have to be paid if the product is bought in Walgreens or Walmart.

Bottom Line: Yes, I would recommend this to a friend

---

Buy Flex Shot only if you want other companies calling you to sell their products

By Julie

,

Fl

,

Jun 12, 2015
Verified Reviewer

Overall Experience:

After purchasing Flex Shot over the phone, I have had non stop calls from other company's trying to sell me crap. These companies always mention Flex Shot so I know that's how they got my info. If you don't mind this sort of thing, then fine buy Flex Shot. However if you don't want every company they sell your info to calling you, it's best to purchase Flex Shot at your local store. I will never buy this product again, no matter how great it works. Thanks for giving us a way to let others know our experience so the pit falls maybe avoided.

Bottom Line: No, I would not recommend this to a friend

---

Great product

By Sasha

,

Lovely, KY

,

May 7, 2015

Overall Experience:

Just fixed a hole in my kids swimming pool with water in it. So far it is holding and not leaking. I'm giving it a few moments to dry and then I'm going to fill up rest of way. However, so far it's working amazing because the plastic bottom on the pool was leaking in the seam and then I added about a foot of water and then noticed the leak grabbed my flex shot. Now the seam is holding up great and that was like an hour ago. The water is still a foot over the seam and so far no leaks! Great product!

Bottom Line: Yes, I would recommend this to a friend

---

I Love Flex Shot

By Sherry Craner

,

Bridgeton, NJ

,

May 4, 2015

Overall Experience:

I use this product on my pond liner, there was a cut in it and nothing else had worked. It fixed it with no problem. I have used it to grout my tub, great nice clean bead. Hasn't yellowed at all. Then I used it on my blacktop driveway on the cracks, as hard as this winter was the flex shot didn't shrink or crack. My brother in law, who paves driveways checked it out and said he couldn't believe it held up in the winter. I plan to do the rest this summer. I have used this to stop a leak around my chimney. I've used it on different things at my Mother's house. I have had no problems, and intend to by more. The uses are endless.

Bottom Line: Yes, I would recommend this to a friend

---

Flex shot sucks!

By Jessie

,

NC

,

Feb 24, 2015

Overall Experience:

I got a package of the Flex Seal and Flex Shot. I had no issues with Flex Seal. It's the Flex Shot however, that I'm upset about. Will not buy anymore. The pressure in Flex Shot runs out before the product is out of the can. I have 3/4 to 1/2 of product left and no pressure in the can.

Bottom Line: No, I would not recommend this to a friend

---