Flex Tape Reviews
Claimed This company has claimed this profile, is getting alerted on any new customer reviews entering this page, and may engage in dialogue with its customers to address their matters.

Companies cannot pay money or provide goods in order to remove or alter customer reviews.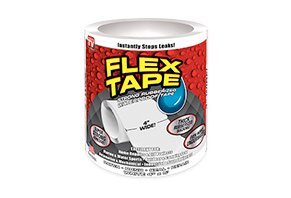 Flex Tape is a rubberized, waterproof tape that features a triple thick adhesive that the company claims grips on tight and instantly creates a watertight seal to patch, bond, seal, and repair. How are customers reviewing this product?
---
People are right...worthless.

By James H.

,

Indianapolis, IN

,

Oct 23, 2020
Verified Reviewer

Length of Use: Less than 3 months

Overall Experience:

I bought Flex Tape to repair a small leak in an aquarium that houses my crested gecko. A very small and slow leak and a very small amount of water. The surfaces are basically smooth and pretty much dry when I applied it. Once any water touched the tape it came loose and continued to leak. Waste of money and it pissed me off. If I could give it 0 stars I would.

Bottom Line: No, I would not recommend this to a friend

---

Flex Tape

By David T.

,

Kansas City, MO

,

Sep 4, 2020
Verified Reviewer

Length of Use: Less than 3 months

Overall Experience:

I just applied the tape on my gutter and it went on very tight and sealed good. It was easy to use the product so I was pleased about that. Now I am waiting on the results but it has to rain to see if it will stop a leaky gutter. I might do a follow up on the results if need be.

Pros and Cons:

Easy to use
Bonds instantly
Not very noticeable, clear
Sticks to your fingers, so be careful

Bottom Line: Yes, I would recommend this to a friend

---

Advertisement

---

Used to be good

By Geronimo A.

,

Arkansas

,

Sep 1, 2020
Verified Reviewer

Length of Use: 6–12 months

Overall Experience:

Purchased this product about a year ago for a hole in a vinyl pool liner. I had low expectations going in so I was happily surprised when it stuck instantly and held tight. Bought it again recently and couldn't get it to stick at all except to the part that was completely dry. Very disappointed. Did they change the formula? Oh well, if this had been my first experience I wouldn't have been surprised. Thought I had a good, convenient way to fix small holes. Now I don't. I won't waste money on it again.

Pros and Cons:

Ease of use
Doesn't do what it claims to do

Bottom Line: No, I would not recommend this to a friend

---

Misleading advertising

By Katie C.

,

Reno, NV

,

Aug 4, 2020
Verified Reviewer

Length of Use: Less than 3 months

Overall Experience:

I bought this tape to fix very small holes in my vinyl pool. Cleaned the surfaces as directed and applied the tape with the pool empty. Filled it 1/4 full - leaking instantly. I actually assumed I hade done it wrong so I fell back on their claims that the tape will seal an active leak. That was totally untrue. This tape is super sticky until it hits the water and then it is NOT sticky at all and will not adhere to anything. My kids will now wait to swim while I find a better product.

Pros and Cons:

No "pros" were specified in this review
Falsely advertised for its effectiveness on simple pool repairs

Bottom Line: No, I would not recommend this to a friend

---

Pool liner

By Kim D.

,

Edison, NJ

,

Jul 24, 2020
Verified Reviewer

Length of Use: Less than 3 months

Overall Experience:

Terrible. Didn't stick at all. Most reviews say the same. False advertisement, didnt even hold for a few seconds. Very disappointed. Purchased once. What a waste of money.

Pros and Cons:

No "pros" were specified in this review
Didn't work on pool liner

Bottom Line: No, I would not recommend this to a friend

---

Waste of money

By Sarah O.

,

Branson, MO

,

Jul 1, 2020
Verified Reviewer

Length of Use: Less than 3 months

Overall Experience:

We bought Flex Tape to have around the house for a variety of repairs. It was a COMPLETE waste of time! It didn't work or even hold up. I won't be buying it again!

Pros and Cons:

No "pros" were specified in this review
It didn't work

Bottom Line: No, I would not recommend this to a friend

---

Product is a waste of money and does not work as advertised

By Davene K.

,

Fairland, OK

,

Jun 18, 2020
Verified Reviewer

Length of Use: Less than 3 months

Overall Experience:

Flex Steel Tape is a waste of money. I paid $21.98 for a large size roll to use on a tear in a swimming pool liner. When the tape got wet it was not sticky. You wouldn't even get it to stick at all. It was a waste of time and money. It is falsely advertised and should be taken off the market. It was utterly useless. I wish there was a way to get my money back.

Bottom Line: No, I would not recommend this to a friend

---

Advertisement

---

Horrible

By Melissa T.

,

Manheim, PA

,

Jun 10, 2020
Verified Reviewer

Length of Use: Less than 3 months

Overall Experience:

Do not waste your money, it doesn't even stick properly. Within a half an hour it was peeling itself off, it was completely pointless to buy it. If I could give half of a star I would.

Pros and Cons:

No "pros" were specified in this review
The fact that it doesn't stick completely
The fact that it literally peels itself off

Bottom Line: No, I would not recommend this to a friend

---

Useless

By Steve B.

,

Windsor, Ontario, Canada

,

May 18, 2020
Verified Reviewer

Overall Experience:

Does not work on copper pipe. Tried to use it on a cold water pipe. It does not keep its seal for even one minute. Worthless product. I gave the remainder to my grandkids for crafts.

Bottom Line: No, I would not recommend this to a friend

---

Flex Tape

By Joe L.

,

Pittsburgh, PA

,

Apr 1, 2020
Verified Reviewer

Overall Experience:

Great result. The tape worked on a broke pipe in my house. Bathtub drain had a hole in the pipe. Water was going everywhere. Went to store. Bought a roll. Read directions. Applied. No more leak. But did the guy above really cut a hole in his boat? That's kind of dumb.

Bottom Line: Yes, I would recommend this to a friend

---

Flex Tape

By Joan B.

,

Mar 31, 2020
Verified Reviewer

Overall Experience:

We had a leak in our pipe under the laundry tub. Tried Flex tape, tried double taping it. DOES NOT WORK. Plumbing Putty did work.

Contacted Flex Tape for a refund per their guarantee instant sealing of water on their cover of Flex Tape.

THEY HAVE IGNORED TWICE NOW. Sent invoice from Walmart and copy of Flex Tape cover (we used the tape up on pipes so could not send back).

Time for Attorney General and false advertising.

Bottom Line: No, I would not recommend this to a friend

---

Flex Tape does not work

By Darryl Z.

,

Gainesville, FL

,

Dec 16, 2019
Verified Reviewer

Overall Experience:

No good. Will not stick underwater as claimed. Will not stick to porcelain or any surface that has moisture. Tested this on several different areas and surfaces. Would not even stick to elbow pipe under a sink that had a crack in it. All surfaces I tested it on were cleaned well, and it still did not work as they claim. Avoid the Flex Tape.

Bottom Line: No, I would not recommend this to a friend

---

Advertisement

---

This stuff is falsely advertised and complete crap!

By Bertha T.

,

New York

,

Nov 20, 2019
Verified Reviewer

Overall Experience:

Purchased a roll of Flex Tape locally. Various uses on TV are completely hype. Does not seal a water hose, does not seal pipe leaks in the basement, and is falsely advertised. I connected two dry water hoses together following directions and water came spurting out in multiple directions. Tried another larger strip of tape and same results - garbage. Had a pinhole leak on a water tank and again - would not seal, would not even adhere to area and water spurting out everywhere. Also tried a larger piece over this tiny hole with absolutely terrible results. I called customer service and they have been trained to say it's not recommended for those applications, when they show those applications on TV. Don't support this item/company - a total scam. Hope the guy eventually drowns in his Flex Seal boat!

Bottom Line: No, I would not recommend this to a friend

---

Worked well on pool guard

By Paul V.

,

Melbourne, Australia

,

Nov 12, 2019
Verified Reviewer

Overall Experience:

I'm glad I didn't read any reviews before I purchased Flex Tape or I may not have bought it. After trying several products to repair a rip in a pool guard/cover which didn't work, I tried Flex Tape and it repaired the problem perfectly. It took some trial and error to work out how to use it best but once applied correctly it saved me having to buy a whole new cover. Heat and cold haven't affected the seal. Just placed an order to buy some more for any other issues which it can be applied to. It did take a while to be delivered but Australia is a fair distance away!

Bottom Line: Yes, I would recommend this to a friend

---

Worked great on a split soaker hose

By Maureen K.

,

Idaho

,

Oct 23, 2019
Verified Reviewer

Overall Experience:

This past spring we noticed we had gusher when we were running the soaker hose zone on our sprinkler system. Seeing many dollar signs before my eyes at the prospect of calling out a professional to replace the entire length of hose (which I don't even know where it starts and ends), I decided to try the "repair" route. Flex Tape to the rescue! It was a bit challenging to use as it is VERY sticky, and I had to be sure to keep it debris-free as I was lifting up the portion of split hose and carefully wrapped it around a few times. But it fixed the problem. Not even a drop leaked out as I tested the zone. We'll see how it survives over time, but even if I have to do another repair come next spring, it will be more than worth it!

Bottom Line: Yes, I would recommend this to a friend

---

Flex Tape

By Clifford T.

,

Nebraska

,

Sep 16, 2019
Verified Reviewer

Overall Experience:

The commercial shows them slapping it on a big leaking hole in the side of a pool and it appears to stop the leak instantly.

I followed the directions to the letter and it was worthless in fixing a small leak in a pipe. I even put multiple layers on.

The second it got wet the adhesive stopped being sticky. I am very disappointed.

Bottom Line: No, I would not recommend this to a friend

---

Flex Tape doesn't work

By Anthony V.

,

New York

,

Sep 10, 2019
Verified Reviewer

Overall Experience:

I bought this tape to repair my solar pool cover with holes and rips and after 2 weeks the tape peeled off and since I bought it over 30 days ago they won't refund my money, very upset and misleading.

Bottom Line: No, I would not recommend this to a friend

---

Advertisement

---

THIS TAPE IS GREAT

By Pat A.

,

Greenville, SC

,

Aug 26, 2019
Verified Reviewer

Overall Experience:

I had a leak under my kitchen faucet. I'm retired on a very strict budget. I wrapped the leak in Flex Seal Tape. IT WORKED! Its been 2 months and still good. I am more than excited that I didn't have to pay a plumber, $125.00 base fee, more for parts.

It has worked wonderfully for me.

Bottom Line: Yes, I would recommend this to a friend

---

Don't waste your money!

By Mary D.

,

St. Marys, GA

,

Aug 23, 2019
Verified Reviewer

Overall Experience:

I bought a roll for a leaking fiberglass bath that is leaking read instructions followed to the letter! First shower it's leaking and no help! It's $13 down the drain along with the water! Don't waste your money!

Bottom Line: No, I would not recommend this to a friend

---

Flex Tape

By Ronnie C.

,

Orlando, FL

,

Aug 7, 2019
Verified Reviewer

Overall Experience:

Tape does not work. Sealed pipe under the sink. Not worth the $12.00 we lost buying it. Opened box, instructions say peel off backing. CAN NOT peel. Watched several videos and it did not explain anything to help. This stuff is a sham. Money lost.

Bottom Line: No, I would not recommend this to a friend

---

My boat broke

By Gessi K.

,

Michigan

,

Aug 6, 2019
Verified Reviewer

Overall Experience:

So before I bought the tape, I saw a video of Phil Swift saying it would fix a boat if there was a hole in the bottom. I decided to cut a hole in the bottom of my boat and try it. Turns out it didn't work and changed the dimensions of my boat. Complete rip-off and false advertising. Would not recommend if you cut holes in boats. Safe shopping!

Bottom Line: No, I would not recommend this to a friend

---

Don't believe the commercial

By Joe S.

,

New York

,

Aug 5, 2019
Verified Reviewer

Overall Experience:

Like other people have previously said, it doesn't work on a garden hose. I have a tiny hole in my hose. I tried Flex Tape twice. The hose still leaks. Hard to believe that they say it will stop a two-inch leak in a pool but won't stop a tiny little hole in a garden hose.

Bottom Line: No, I would not recommend this to a friend

---

Advertisement

---

Small leaks in pools

By Lee W.

,

Wisconsin

,

Aug 2, 2019
Verified Reviewer

Overall Experience:

After spending $24.00 for Flex Tape because it is said that it's waterproof, it does not bond to kid's swimming pools, very poor quality. I tried both inside and on the outside with no satisfaction.

Bottom Line: No, I would not recommend this to a friend

---

Rip-off

By Danny C.

,

Morganton, NC

,

Jul 25, 2019
Verified Reviewer

Overall Experience:

I paid over $13.00 for a 4" X 5' roll at Lowe's to fix a leak in my pool underwater and this stuff is worthless. Money thrown away, it did not stick underwater, it's supposed to stick to anything, but it didn't stick to vinyl pool liner. Don't waste your money.

Bottom Line: No, I would not recommend this to a friend

---

Didn't work

By Sharon T.

,

Deltona, FL

,

Jul 25, 2019
Verified Reviewer

Overall Experience:

Had a small leak in a vinyl swimming pool, saw this ad on TV about working in water. Well, let me tell you, we drain the pool, put a patch on the inside of the liner and also one on the outside of the pool, then refilled and this am...the pool is still leaking. Was a waste of my money.

Bottom Line: No, I would not recommend this to a friend

---

Terrible!

By Heather H.

,

Missouri

,

Jul 20, 2019
Verified Reviewer

Overall Experience:

This tape won't even stop a small leak in a water hose! Yes, I let the hose dry out and even let it sit 24 hours after I taped it. It held for about 5 seconds, then was leaking again! You'd be better off using duct tape! The commercial they have cutting a boat in half then using flex seal to put it back together, I'm absolutely sure that boat SANK within a matter of minutes!

Bottom Line: No, I would not recommend this to a friend

---

A waste of my money

By Sherr D.

,

Ontario, Canada

,

Jul 19, 2019
Verified Reviewer

Overall Experience:

I bought it to seal the hole in our garden hose. What a waste of money. 1. It's very hard to cut then apply as it sticks to your fingers. 2. It didn't do the job it's supposed to do. Wasted the whole role because it was hard to cut and keeps to sticking to everything. Until now the hole in my garden hose is not sealed by it.

Bottom Line: No, I would not recommend this to a friend

---