FlexZilla Reviews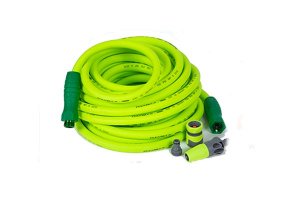 FlexZilla's hybrid polymer construction and cold resistance down to -40 degrees promise to provide kink-free operation and ease of use, no matter the climate or weather.
About FlexZilla
Constructed from a revolutionary hybrid polymer that combines super strength with extreme flexibility, the FlexZilla 5/8" garden hose promises to provide kink-free, tangle-free operation and a lightweight design.
Other features noted on the FlexZilla website and in the product's commercial are that it's constructed of UV stabilized material (won't degrade in sunlight), performs in any extreme weather condition, comes with 3/4-11 1/2 GHT threaded fittings for leak-free connections, and is drinking water safe.
Outside of its unique material, though, perhaps the biggest standout feature for FlexZilla is its SwivelGrips on each end. Their hollow plastic handles allow the hose to rotate inside, while your hand remains in the same position.
This also allows you to quickly snap the adjustable nozzle kit into place, giving you the ability to switch between different pressures (from a fine mist, all the way up to a powerful jet spray).
Look, we've all dealt with the frustration of a kinked hose. Sometimes, it can take more time to unroll and re-roll your garden hose than it does to actually use it, right?
Well, will FlexZilla turn the situation around and make your outdoor tasks a breeze? Is it any kind of revolution? Will it be "the best hose you'll ever own," as claimed on the website?
In this article, well lay out all the facts learned during our research, so you'll be able to answer all these questions, and more. Including: "Is FlexZilla the right option for me?"
Before diving into the details, let's get FlexZilla's price out of the way.
How Much Does FlexZilla Cost?
25 ft: $39.98, plus $8.99 S&H
50 ft: $59.98, plus $10.99 S&H
75 ft: $79.98, plus $12.99 S&H
100 ft: $99.98, plus $14.99 S&H
All orders come with a bonus three-piece nozzle kit, as well as a 60-day money back guarantee, less S&H.
Note: The Returns Policy page indicated FlexZilla comes with a 30-day refund policy, so we emailed customer support at support@flexzilla.com to learn more. We'll update this article as soon as a response is received.
The hose also features a lifetime limited warranty, ensuring that the kink-free hose "will be free from defects in material and workmanship for life, from the date of purchase, under normal use."
Legacy Manufacturing Company's customer service department can also be reached at 877-374-1045.
Are these prices competitive with other kink-free garden hoses? Let's find out.
Are There Other No-Kink Hoses Like FlexZilla?
If you search online for terms like "no-kink hose" and "kink-free hose," you'll find several popular brands, including:
| Brand | Price | Lengths | Material |
| --- | --- | --- | --- |
| FlexZilla | $$50 - $115 | 25' - 100' | Hybrid Polymer |
| Neverkink | $20 - $40 | 50' - 100' | Vinyl |
| The Perfect Garden Hose | $30 - $140 | 25' - 100' | Polypropylene with internally expanded brass fittings |
| Aqua Joe | $30 - $40 | Up to 50' | Gelastex (synthetic) |
| Pocket Hose Ultra | $20 - $40 | 25' - 100' | Elastomer rubber |
| Bionic Steel Hose | 25 | 50' - 100' | Stainless steel |
While each of these options promises to deliver no-kink operation, we can clearly see there are differences in materials, lengths, and prices. Given this, how can you choose a kink-free garden hose that will meet your needs?
First, it's important to keep in mind that you can hit just about any garden hose with a hammer (as in the FlexZilla commercial) and leave it unscathed. Similarly, most hoses will be fine if frozen, as long as no water remains inside (although they might not feature the exact same levels of cold temperature resistance).
FlexZilla's "hybrid polymer" doesn't tell us a whole lot about the actual material it's made from, although these types of materials are fairly common in adhesives and sealants. But based on the below video, with the right parts, it appears this material allows you to quickly and easily address any punctures or customize to meet your needs:
https://youtu.be/a-AQBn2wq2k
Is this the best material for you? According to Home Depot, vinyl might be ideal in mild climates, rubber is often more expensive but are typically more durable, while hoses made of vinyl and rubber can offer a decent compromise between the two.
Given this hose's different material, are customers finding its higher price delivers more value than the competition?
Are There Any Online FlexZilla Customer Reviews?
The FlexZilla hose seemed to have been around for a while at the time of our research, as we found neatly 1,200 customer reviews for the product on Amazon, where it had an average rating of 4.3 stars.
There, most compliments appeared to revolve around the kink-free operation, good quality, light weight, competitive price (note: prices and shipping charges were meaningfully lower on Amazon than directly through the manufacturer, although it didn't come with the three-piece nozzle kit), and ease of use.
On the other hand, frequent complaints seemed related to mold accumulation, kinking (more than one customer included pictures to support their claims), and nozzles that had a tendency to pop off.
Reading through the dozens of questions answered by other Amazon customers, we also learned that FlexZilla is made in Taiwan and features a 500 PSI burst strength.
We encountered similar ratings and reviews on other websites like TractorSupply.com, HomeDepot.com, and Walmart.com.
From a company perspective, these garden hoses are manufactured by Legacy Manufacturing Company based out of Marion, IA, who also makes a variety of automotive and industrial products. Others in the same lineup include an air hose, power cord, and lubrication hose.
Our Bottom Line About FlexZilla
While we didn't test the FlexZilla garden hose ourselves, it comes from a manufacturer will an extensive product selection and who's been around for years.
Furthermore, despite its meaningfully higher price than much of the competition, it appears that most customers are pleased with FlexZilla's price-to-value ratio, based on their mostly positive online feedback. Just keep in mind that if you purchase directly from the manufacturer through their As Seen on TV offer, S&H charges are nonrefundable—and you'll be responsible for paying to ship it back to the company if you're not satisfied.
Speaking of which: Because this hose such a popular product that's been on the market for years, you might find it sold locally at retailers like Home Depot, Sears, Tractor Supply Company, Northern Tool, Sam's Club, and even some independent hardware stores.
If purchased this way, it might provide the opportunity to try out FlexZilla without waiting for it to arrive in the mail, as well as potentially avoiding lost S&H charges (and paying for return shipping) if it's not for you.
Need more lawn and garden tips for spring? Try reading 5 Tips For Achieving the Greenest Grass on the Block.
1 out 6 people found this review helpful

Sorry water hose

By Donald K.

,

North Carolina

,

Jul 9, 2018
Verified Reviewer

I get mad every time I use the hose, but it is too expensive to throw it away. I bought a 100-foot hose from Tractor Supply and am so sorry. This is my first review on anything.

Bottom Line: No, I would not recommend this to a friend

---

3 out 6 people found this review helpful

Algae growth

By Ron R.

,

Columbus, NE

,

Jun 27, 2018
Verified Reviewer

I thought FlexZilla was the best hose ever, and I WAS WRONG! After two years of use, the hose has developed an algae growth inside the hose. This has happened at my home where city water is used and on my farm where well water is used. The algae has ruined a pump on my sprayer. The hoses were drained and stored inside during the winter and were taken care of like any other hose that I have. I am extremely disappointed with FlexZilla, and I hope the company contacts me as I think I deserve my monies back!

Bottom Line: No, I would not recommend this to a friend

---

Advertisement

---