FlightHub
Claimed This company has claimed this profile, is getting alerted on any new customer reviews entering this page, and may engage in dialogue with its customers to address their matters.

Companies cannot pay money or provide goods in order to remove or alter customer reviews.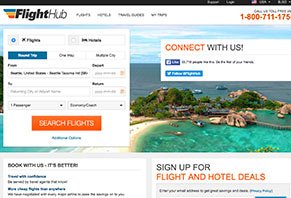 FlightHub is a Canadian online travel agency that claims to offer their customers the best deals on airfare and hotels—backed by a Best Purchase Guarantee.
FlightHub Review: Will You Really Get the Best Price?
Are you looking for cheap travel prices with a side of authentically Canadian customer service? FlightHub is an Ontario-based online travel agency that promises the lowest possible prices and multiple conveniences, including:
Instant E-ticket delivery that arrives immediately after your booking.
Transparent all-in pricing that never surprises you with hidden fees or extra charges.
Zero hold time when calling their customer service.
Beginning-to-end customer support that extends beyond the ticket buying process to support during and after your trip.
Additionally, FlightHub customers can conveniently monitor their reservations online or through a mobile app, receiving travel alerts, schedule changes, or other important information about an upcoming trip.
How Does FlightHub Do It?
The skilled travel specialists at Flighthub boast over two decades of serving Canada's travel needs offline. Now, Flighthub has caught up with the world of internet commerce by expanding to online bookings with a software database that they claim can't be beaten.
Flighthub claims direct access to wholesalers, airlines, and hotel suppliers in Canada, allowing their customers to enjoy insider savings without needing to visit multiple websites or locations to compare the best prices.
Why Else Does FlightHub Claim to Be a Better Choice?
Flighthub appears geared towards those who don't travel frequently, with a support section that answers questions like "How do I use an E-ticket?" and "How do I get a passport?" alongside standard queries such as "When do I need to check in for my flight?"
Aside from their promises of superior customers service, Flighthub offers travelers daily deals that range from $20 off flights to Europe to 55% off hotel bookings.
Flighthub offers travel guides to a variety of their destinations, including information on top tourist attractions and weather.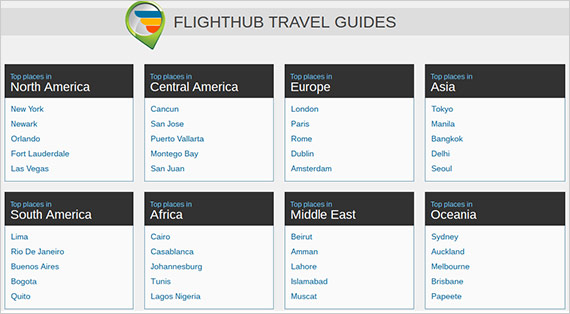 Screenshot of www.flighthub.com
These guides also conveniently display prices converted into Canadian dollars. However, the items that are listed, such as how much it costs to rent a tennis court for one hour or the price to purchase one kilogram of tomatoes, don't appear particularly useful to the average traveler.
What's Bad About Booking With FlightHub?
First off, Flighthub is aimed at serving Canadian customers. As they are a third-party vendor, not an airline, there isn't a route map available on their website. However, all of their potentially handy travel information is only relevant to those based in, or traveling to, Canada.
As far as actually using FlightHub's search engine, I found it to be clunkier than my personal favorite, Google Flights. Flighthub isn't the worst airfare search I've seen, in that it doesn't force you to enter airport codes. Additionally, it does offer a convenient drop-down calendar for picking your dates.
However, this is a very no-frills search that fails to offer any flexibility in your searching that might help you discover a lower price, such as the date-by-date low prices displayed in Google Flight's drop-down calendar, or the totally convenient flexible date option available at SkyScanner.
Like other third-party online travel agents, Flighthub also lacks information on low-cost options Southwest Airlines and Spirit Airlines, which don't allow their prices to be displayed anywhere other than their official websites.
Next up on the negatives? While Flighthub doesn't come right out and admit it, customer reviews of their service state that there are hidden fees—Flighthub membership fees, to be exact.
According to customers, making a booking through Flighthub automatically signs you up for a Flighthub Elite Membership, where you're given the exclusive opportunity to enjoy monthly charges of $5.95 in exchange for:
Access to exclusive travel agent prices
Member-only priority customer service line
Seat sale alerts as they happen
Free Best Purchase Guarantee on all bookings
Elite offers and discounts from their travel partners
Those promises are confusing, as Flighthub already claims that customers get the best possible price and never have to wait for customer service assistance. Are these benefits promised to every Flighthub customer or are there additional elite offers and sale alerts for members?
We called Flighthub to clarify whether or not their membership was mandatory—or, at least, automatic when booking through the website. The company's phone tree doesn't provide a direct line to speak with customer service. Instead, we were forced to choose bookings and then requested to be transferred to the appropriate party. After a 12-minute wait, we decided to terminate the call.
So much for that "zero hold time when calling customer service" that Flighthub promised.
With our question about whether or not membership is automatic left unanswered, our best guess is that it's the former, as your Flighthub Elite Membership login appears to be the same information used to book through Flighthub, leaving us to understand that there's no distinction between being a customer and an Elite Member.
An additional warning: Because Flighthub is based in Canada, U.S. customers might be charged an international transaction fee due to the currency conversion banks must perform when you book with this company.
We'll take an in-depth look at customer reviews in a moment. But first, let's examine Flighthub's Best Purchase Guarantee.
Is FlightHub's Best Purchase Guarantee That Great?
If you're booking a flight in the United States, the U.S. Department of Transportation regulates that any non-refundable ticket purchased at least seven days before the flight is subject to a 24-hour grace period during which you can hold, change, or cancel your reservation.
While Transport Canada doesn't appear to enforce the same rule, most major airlines, including Air Canada, still offer their customers that grace period.
Which is why we were surprised to learn that Flighthub's much-touted Best Price Guarantee isn't anything more than a similar grace period. Actually, it's a little less. According to their website:
"The Best Purchase Guarantee plan allows you to cancel your booking within the same day (11:59 PM EST) you made the purchase. No questions asked! Simply select the Best Purchase Guarantee plan during the checkout process. The cost is $19.99 per passenger. If you would like to apply your Purchase Guarantee, please call us toll free at 1-800-900-1431, or email us at guarantee@flighthub.com."
So, instead of allowing you 24-hours, Flighthub only gives their customers until midnight on the day of purchase. Additionally, they'll charge you almost $20 for the convenience, which doesn't seem like such a great deal.
What Customers Are Saying About Flighthub
Flighthub isn't positively reviewed around the web, with complaints ranging from high ticket prices to hidden fees.
One customer left the following complaint on TripAdvisor:
"I tried to book a flight from Toronto to Barcelona today. The price on the confirmation was different than the one quoted before pressing the Book now button. When I called the 800 number to immediately complain the best they claimed they could do was to charged me $150.00 to cancel the order! Contacted the credit card company to report the fraud all they can do is initiate a dispute resolution."
While this customer doesn't explicitly state how long it took him to notice the price difference, if it occurred on the same day as his booking, the $150 fee would contradict FlightHub's Best Purchase Guarantee.
Previous Flighthub customers replying to the above complaint also called the service a ripoff. One person stated that they were not allowed to use their Flighthub credit to purchase any other flights, being told that none were available. Another claimed that his refund was never actually sent.
Aside from switching prices after purchase and failing to refund money, Flighthub is also accused of sneakily charging customers a monthly membership fee of $5.95 without their approval.
The general consensus over 34 comments? That those who used Flighthub won't be doing so again.
Our Bottom Line on Flighthub
How does Flighthub get away with switching ticket prices? A quick peek at their Terms & Conditions states the following:
"All prices displayed on the web site are subject to change without notice until ticketed. In some instances, a fare may change after a reservation has been made. In this case we will contact you to advise you of the fare increase before we proceed any further.
"The prices set out on the web site may not include taxes or airport charges or other fees. In this case taxes, airport charges and any additional fees will be displayed during the booking process but prior to payment submission. Special conditions may apply to the prices set out on the web site. In the event that your booking is being processed via third party discounters, a service fee may apply."
What the above fine print allows Flighthub to do is bump up the purchase price of your ticket after confirmation, then potentially take weeks or months issuing a refund, as one previous Flighthub customer states were their experience in this thread.
What's the bottom line on Flighthub's travel services? Lacking any superb search features or customer protection policies that allow you to cancel your purchase after their short grace period, I don't personally see any reason to book through Flighthub once you look past their marketing hype.
A better alternative is to use a third-party online travel agent, such as Google Flights or Skyscanner, to search for ticket prices. Then, book directly with the airline of your choice. That way, you get the convenience of viewing all possible ticket prices without becoming obligated to a middle man, should your plans change.
This company is actively collecting reviews from its customers. All reviews submitted are subject to moderation and approval to ensure they meet our

Review Guidelines

.

Horrible experience

By Mary W.

,

Phoenix, AZ

,

Mar 13, 2020
Verified Reviewer

Booked a flight to Chile from Toronto. Because of coronavirus, we had to cancel the cruise and subsequent flight. Even though the airline waived all fees to change the booking, they said we had to go through FlightHub. After 3 hours on hold, I gave up. Using this company was a very costly mistake. I should have read the reviews before I booked not just read what was on their website. Will not make that mistake again.

Bottom Line: No, I would not recommend this to a friend

---

STAY AWAY!

By Scott E.

,

Toronto, Ontario, Canada

,

Feb 18, 2020
Verified Reviewer

These guys are criminals. We bought cancellation protection because we wanted to secure a good flight price and when we went to change our flights they told us we only bought their 24-hour cancellation...which at 8pm when we booked only lasted 4 hours...why in the heck would anyone pay $100 for 5 people to have cancellation protection for 4 hours!? After more than an hour trying to speak to someone we just got "sorry for the inconvenience" over and over. We didn't even want to cancel, we just wanted to change our booking, they didn't care. They were happy to get the booking and an extra $100 in charity. These guys are crooks, STAY AWAY!

Bottom Line: No, I would not recommend this to a friend

---

Advertisement

---

NEVER GOING TO USE FlightHub AGAIN - FLYER BEWARE!

By Bibo W.

,

Canada

,

Jan 15, 2020
Verified Reviewer

I had to cancel my flight to Cairo in November 2019 because my father passed away. I called FlightHub, and they wanted to charge me $200.00 for canceling - I refused under these circumstances and tried to explain. They said we could get it down to $100.00. I refused, in the beginning, under the circumstances, and I felt this was not the right thing. However, in the end, I paid the $100.00. They told me that a refund would be deposit into my account within 6 - 8 weeks.

I called FlightHub back after six weeks, and they told me I have to wait for eight weeks. I called again after eight weeks, they said they issued the refund, I told them I did not get anything so far into my bank account. They asked to be to call the bank. I called the bank, and the bank told me that no refund has been received. And, if they got that, it will be processed right away. I called FlightHub back and let them know what the bank told me. They told me that I have to provide my credit card records as proof that I did not get a refund. This is only to forward me to their accounting department to resolve the situation with them. And, they will not let me talk to their accounting department until I provide my records. I said this is an invasion of my privacy, and I am not going to do so. Further, I replied back to why you did not check with your bank if the money has been transferred from your account to mine. The lady on the phone told me, "we are not going to do so until you provide your credit card records." She also mentioned that "we have already refunded you according to our system." I asked her, "Where did the money go then?" She replied, "we could investigate that right directly after you provide us with your credit card records."

FlightHub was horrible to deal with. You are going to lose your money and a lot of your time with them. NEVER GOING TO USE FlightHub AGAIN. FLYER BEWARE!

Bottom Line: No, I would not recommend this to a friend

---

No death exemption for flight giving

By Lorraine N.

,

Toronto, Ontario, Canada

,

Jan 15, 2020
Verified Reviewer

I booked a trip to spend time with my family in another country and before my travel date my father died. The FlightHub website clearly states that there is a death exemption if you need to make changes, which I decided to exercise. I contact FlightHub to tell them of my loss and I need to make an adjustment to make funeral plans and attend. That is when my nightmare worsened and the excuses started and I was told nothing can be done. I called the airline and they said that FlightHub has to initiate the change and I should have no problem due to my loss. All documents requested were sent to FlightHub and after over 3 days of calling them it was more excuses and being passed around, with no compassion and no help. Beware, they are based in Ottawa with no oversight and that can work against you. I was pretty much told to buy another ticket and forget about this one.

Bottom Line: No, I would not recommend this to a friend

---

Advertisement

---

Terrible experience

By Anu M.

,

Ontario, Canada

,

Dec 12, 2019
Verified Reviewer

I saw a really good price on FlightHub from YYZ to MEL. I clicked on the book now button...put in my credit card info. A pop-up showed up and said the price changed only after I put in my credit card info. And clicked submit. I refreshed the page, the same great deal was still there. So I tried again. The same thing happened! I called them and complained and asked them to give me the price I was promised on the website. They refused. I hung up and called back again later that day. They then said the price has now gone up and there's nothing we can do. Me being the idiot that I am, I decided to book with them anyway over the phone. But asked the customer service rep to look into getting me a discount because I wasn't getting what I promised. He said he would look into it...and never did. I called them again, spoke to the manager and explained the situation about what had happened on the website. I even sent them a screenshot of the price that was shown to me at the time I was trying to book online.

I continued to complain for a couple of days. The last person I spoke too said she would look into all of the calls - she didn't believe that I had called and tried to deal with this prior to buying my ticket. She then went on to say she will call me back after 48 hours to discuss the matter. Nothing happened. No call back. It has been about a week.

I'm very disappointed in the customer service and the website. This is def a scam and I would never recommend FlightHub to anyone again. Terrible experience. The price should not change after I put in my credit card info. Nor should the cheaper price continue to show up on their website even after I refreshed the page.

Only after I called and complained...the price went up. Absolutely ridiculous!

Never again will I use FlightHub again. Going to pay directly to the airline next time.

Bottom Line: No, I would not recommend this to a friend

---

Nope

By Sherece S.

,

Ontario, Canada

,

Oct 15, 2019
Verified Reviewer

Multiple bad experiences with this company. Everything is a massive extra fee. Customer service is horrible...Honestly, it is better to just buy straight from the airline. Makes no sense to buy through them.

Bottom Line: No, I would not recommend this to a friend

---

Bad

By Ivy C.

,

Richmond, British Columbia, Canada

,

Sep 24, 2019
Verified Reviewer

I brought the ticket on June 19, they did cancel me three times, kept on saying the airline did not confirm my booking, so that why cancel? I did buy one the next day, they did try to me bill over $150 more than on June 19 and in less than 1 minute did confirm on June 20, and on June 21, the ticket fee was lower than on June 19. I try to call them to ask why, you always said because the airline changed the deals, not them, you can't cancel your ticket, or we need to bill you and additional $200.00 and the airline will bill you an additional $600.00, Canadian cheap deals, this is not true. Customer service is absolute garbage, those reps are a bunch of losers, they are full of zero brain, very disappointing.

I did check the same ticket and routing today, only needed to pay $1,549.84 CAD, how come on the Juen 20 I need to pay $1545.44 CAD, shows only 6 seats left!

Bottom Line: No, I would not recommend this to a friend

---

Thieves.

By MS L.

,

Quebec, Canada

,

Sep 22, 2019
Verified Reviewer

Bought a ticket for Japan with them plus an extra cancellation fee...that lasted only 24 hours. I often looked at cancelling my flight for different personal reasons. Ticket originally purchased was $577. It was said in the reimbursement process that they would keep $200 as a cancellation fee. Still, they only reimbursed $377 plus AN EXTRA $200 fee. So my cancellation cost is $400 and not $200. Called them. Referred me to their "explicit policy on their website" (which was never that explicit in the process of cancellation itself). Scams, thieves. Should not be in business. Who could stop them once and for all?

Bottom Line: No, I would not recommend this to a friend

---

Total ripoff!

By Richard S.

,

British Columbia, Canada

,

Sep 20, 2019
Verified Reviewer

I agreed to a certain amount on the website and was invoiced for that amount but my credit card statement shows an extra $250.00!

I also paid for an upgrade on the flight, which cost an extra $400.00 but the airline ticket shows no upgrade!

Bottom Line: No, I would not recommend this to a friend

---

Frustrating

By Bette F.

,

Boston, MA

,

Sep 8, 2019
Verified Reviewer

I had to change travel plans and the woman gave me so much of a runaround when after 45 minutes I got the very simple answer I needed. I am now still on the phone and they still can't seem to get it right...NEVER AGAIN.

Bottom Line: No, I would not recommend this to a friend

---

Beware of this site, never trust them!

By Mohammad E.

,

Toronto, Ontario, Canada

,

Sep 7, 2019
Verified Reviewer

They have no costumer services at all. If you wanna change your ticket they block your modification in your account access! When you have to call them they will answer you from somewhere in the world and they don't care about time and how much you'll loosing, just saying BUY NEW TICKET with new payment, it means double price for one roundtrip ticket.

You can find much better than this flight site.

Bottom Line: No, I would not recommend this to a friend

---