Flore Precision Probiotics by Sun Genomics Reviews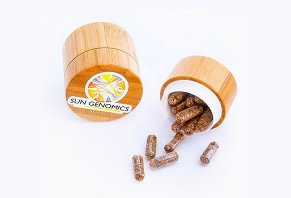 Floré Precision Probiotics by Sun Genomics are formulated based on the results of sequencing your gut bacteria DNA, which the company claims can deliver customized results.
About Flore Precision Probiotics by Sun Genomics
After reading, testing, and interpreting the entire DNA sequence of your gut bacteria (collectively known as your microbiome), Sun Genomics customizes their Floré Precision Probiotics to help restore balance, reshape how you feel, and give you complete control of your health.
Their website explains that the process works over four steps:
Order your kit.
Collect a sample from the comfort of your own home following the included instructions.
After receiving your sample, Sun Genomics will use DNA sequencing techniques to analyze the unique signature of your gut bacteria composition.
The company will "analyze millions of permutations" to identify the best bacteria combinations, craft your Floré Precision Probiotics tailored to your unique profile, manufacture them in a CLIA facility, and ship them directly to your door.
When taken regularly, the company advises their personalized formulas can help beneficial bacteria crowd-out harmful microbes, resulting in more energy and an "optimal state of capability."
Will Sun Genomics' technology-driven approach to their Floré Precision Probiotics deliver meaningfully better results than the lower-priced competition? Is there nothing else quite like their service currently on the market today, as advertised on the website?
Give us a few minutes, and we'll quickly help you learn all the core facts that can help you make a more empowered decision.
The Basics About Probiotics
The basic concept behind probiotics (Floré Precision or any third-party brand) is fairly straightforward: Our digestive tract (otherwise known as the 'gut') contains trillions of bacteria cells that have a meaningful impact on our health, since they help promote digestion and are one of the single most important factors related to immune function.
As mentioned on the Sun Genomics website, there are thousands of different types of bacteria (known as strains) in our gut, and each of us will have a unique combination and ratio, collectively referred to as our microbiome.
Sometimes, the ratio of 'good' to 'bad' bacteria in the gut can be thrown off due to a unique combination of factors, including antibiotic use, less-than-stellar nutrition habits, excess stress, and a recent illness, to name just a few. This condition is referred to as dysbiosis ("an imbalance in the microflora of the body") on the Sun Genomics website.
By taking probiotic supplements, the idea is to rebalance gut bacteria and optimize digestive health. The problem, as presented by Sun Genomics, though, is that each of us has a unique bacteria balance. So, why would we choose one of the hundreds of one-size-fits-all formulas that currently line store shelves?
How Does the Floré Precision Probiotics Process Work?
After placing your order, Sun Genomics will send you a complete kit containing a bio bag, mailer bag, collection hammock, wand, and swab.
You'll start by removing and unfolding the hammock, removing the adhesive strip covers, placing it over the toilet bowl, and securing it in place.
After completing your bowel movement, you'll rub the wand tip onto the stool and collect a sample that evenly coats the tip. Then, fold down the tip onto the pink square, slide it into the casing, and write the collection date on the back.
Once this is complete, you'll also need to obtain another sizable sample using the swab by unscrewing the cap, collecting, and screwing it back into the tube.
When you're finished, lift the toilet seat cover, remove the adhesive portions of the hammock, and let it rest in the bowl for at least five minutes before flushing.
Finally, you'll place the collection wand and swab into the bio bag and seal tight, place the bio bag into the mailer bag, and seal the bag as well. Apply the included mailing label to the bag, and you're ready to ship it back for analysis.
Using Sun Genomics' completed Collection Kit, they will sequence the genome of your gut bacteria and create a customized Floré Precision Probiotic as a result.
After receiving your samples. Sun Genomics will "analyze your gut composition and record which microbes your body has both ample and deficient supply of."
Compared to competitors (more soon), the company emphasizes that instead of using 16 S-methods, which only look at a portion of DNA, they read through the entire DNA of microbe population of your gut. This way, we're told they can determine all of the species that make up your gut composition.
Based on this information and using a custom micro-manufacturing technique, they will then craft a customized Floré Precision Probiotic with bacterial strains identified as the best match for your reactions and sensitivities. According to the website, all of their strains are sourced domestically and tested in-house.
Sun Genomics emphasizes that with regular use, your overall health will improve. However, since every person's results and reaction times will differ, they can't predict exactly what you'll experience or how long it will take.
Could Floré Precision Probiotics Cause Potential Side Effects?
After years of writing about dozens of different probiotic supplements, we've learned from sites like WebMD and the Natural Medicines Database, as well as from interviews with medical professionals, that the side effects caused by probiotics generally aren't too bad for most people.
If anything at all, these include mild, temporary digestive upset and bloating, which usually pass within a few days of regular use.
However, if you're pregnant or have an infant with short bowel syndrome, you'll likely want to avoid taking these supplements. To help ensure you're getting the most bang for your buck (whether with Floré Precision or another probiotic formula), make sure that you talk with your doctor before making a financial commitment.
Related: The Side Effects of Probiotics: What to Watch for, When to Talk to Your Doctor & When You Should Say No
How Much Does Floré Precision Probiotics Cost?
Sun Genomics has priced their Floré Precision Probiotics system at $297. This includes:
Microbiome Collection Kit
Whole genome DNA sequencing
Microbiome Profile Analysis and score, which is said to involve "a patented system developed by our team to help you track your gut health over time."
Scientific Consultation and Weekly Surveys – According to the company, this allows you to "better understand your microbiome and how your diet and lifestyle are impacting your overall health and wellness."
Sun Genomics will also use this information to craft a personalized, natural, gluten-free, non-GMO, and vegan probiotic formulation and ship it directly to your door. If you don't cancel your subscription, you'll continue receiving a new Collection Kit and three-month probiotic formulation once every 90 days, and charged $297 each time.
Important: The website emphasizes that "Good science and personalization takes some time as every piece is reviewed by our team of scientists." As such, the company currently has a 10-12 week turnaround between the time your sample is received and your Floré Precision Probiotics arrive at your door.
Related: Clearing Up the Confusion: A Guide to Buying Quality Probiotics
In addition to their Precision Probiotics, Sun Genomics' Floré Tots (also $297) program offers the same testing and customized formulations, just in "low dose quantities using lyophilized powder."
According to their terms, no refunds are available once a user's sample has been sent for sequencing. The only way to reach out is via the contact form via their website.
Sun Genomics' Floré Precision Probiotics vs. the Competition
We didn't encounter any third-party companies offering the same suite of services as Sun Genomics at the time of our research.
However, ProTrea provides their customers with a relatively similar service, including access to stool-based DNA sequencing, and the ability to receive customized probiotic supplements based on the results.
Comparatively, the biggest differences are that ProTrea only identifies 11 major strains of beneficial gut bacteria across the Lactobacillus and Bifidobacterium bacteria families. The company also sells a line of pre-formulated probiotics and other health-related dietary supplements.
Cost-wise, ProTrea charges $89 for their Genetic Analysis Kit, while their personalized probiotics are priced between $30 and $81 for 30, 60, or 90-day supplies.
Thryve is another company offering customized probiotics, although their formulations are only based on an online questionnaire, versus in-depth DNA sequencing. Their monthly probiotics are priced at $39 per bottle.
Outside of this, companies like uBiome ($0 - $399), DexaFit ($89), and DayTwo.com ($299) can provide testing and analysis of your gut microbiome—and even make nutrition and supplement recommendations in some instances, but without providing direct access to custom probiotic formulations.
Are Floré Precision Probiotics Worth the Price?
While we didn't test any formulas ourselves during our research, Floré Precision Probiotics come from Sun Genomics, a company who's been in business since 2016 and was founded by CEO Sunny Jain, molecular microbiologist with 19 years of experience. They held an A rating with the Better Business Bureau, with no closed complaints, as of 8/7/18.
Based on our investigation, they're also currently the only company we encountered at the time of this writing who advertises that they test the entire DNA of microbe population of your gut, versus only a handful of more popular strains. Whether or not this will deliver better results for your money, however, remains to be seen.
Speaking of which, at about $100 per month, Floré Precision is the most expensive probiotics we've written about to date, which is certainly a big factor to consider when purchasing any new dietary supplement.
And while many online customers claim that probiotics, in general, helped restore digestive balance, HighYa readers often don't report meaningfully better results by paying more for a probiotic supplement.
Another important factor to keep in mind is that refunds aren't available after your collection kit has been processed, even if your customized probiotic formulation doesn't deliver the expected results.
Considering these factors, it's important to have an in-depth conversation with a healthcare professional about your needs and expectations before placing an order, who could help recommend a probiotic supplement that will deliver the most bang for your buck.
1 out 1 people found this review helpful

Custom probiotics

By T L.

,

Denver, CO

,

Jul 12, 2019
Verified Reviewer

I first heard of Sun Genomics on an HVMN podcast interview with the founder, Sunny Jain. It was impressive and I decided to give it a try. I am so happy that I did, I noticed great improvements. One of a few specific issues I was addressing was years of sinus and immunity problems. I have had longstanding trouble with phlegm and mucus and upper respiratory infections. The Microbiome sampling and analysis reported that I was missing a key probiotic strain of A. muciniphila, the most abundant mucolytic (mucus degrading) bacteria in a healthy individual. After taking the probiotics I absolutely noticed a difference in this area. No other company can provide you with this information and then supply a remedy (at least none that I know of at the moment). Sun Genomics is well worth the money and the wait. Highly recommended.

Bottom Line: Yes, I would recommend this to a friend

---

Advertisement

---