FLX Electric Bike Reviews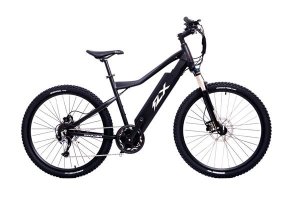 With a downtube battery, pedal assist and throttle capability, easy-to-replace motor, and a competitive price, the FLX Electric Bike could get you rolling for less.
What Is FLX Electric Bike?
The FLX Electric Bike lineup features high-performance mid-motors, powerful 17 amp batteries, electric pedal assistance, and efficient drivetrains that deliver greater range, quicker acceleration, and bigger power.
This way, their website claims that FLX (pronounced flux) works exactly like a normal bike, except you'll be able to climb hills easier and reach top speed faster. And once you engage the throttle, you could reach speeds up to 46 mph on full power.
Combined with what they call an elegant but battle-tested design that can take a beating, FLX's electric bikes promise not just to perform, but also to look good while doing it.
Considering their competitive price, you're here because you want to know if the FLX Electric Bike will deliver a better value than other brands. Is it really the "best eBike," as referenced on their Indiegogo campaign?
Though FLX could certainly help put the fun back into cycling and get more happy riders onto bicycles, are there any important factors to consider before jumping into the e-bike arena?
We all come from different backgrounds, so in order to make sure we're on the same page, let's briefly cover some basics.
Your Quick Reference Introduction to Electric Bikes
Here, we'll quickly go over the basic concept of e-bikes, as well as some general points you might not have considered.
As the name implies, e-bikes involve an electric component that's intended to help make pedaling easier. Because of this, as outlined by NYCEWheels.com, they typically feature three more parts than a traditional bicycle:
Motor – This can entail a variety of designs, although the most common are built into the hub of a wheel (either the front or rear) or into the hub (the area on the frame where the pedals connect). Once engaged, they provide the pedal-pushing power.
Battery – This is what powers the motor. As with the motor, there are a variety of designs and materials, although most modern versions are lithium ion.
Console – Similar to a car's dashboard, your e-bike's console will provide essential information like remaining power, speed, and so forth. Some will feature more options than others.
While electric bikes like FLX might sound a lot like an electric scooter, or even an electric motorcycle, the biggest distinction is that the latter are intended to provide full motoring power, while e-bikes are mostly intended to help make pedaling easier.
However, they're not necessarily designed to help you pedal faster. For example, some e-bikes are designed to help you maintain a 15 mph average speed (which isn't much faster than a traditional bike), but while pulling hundreds of pounds.
Before moving on, it's also important to note that the addition of an electric motor to bikes like FLX can change their vehicle classification, depending on where you live. Bicycling Magazine gives but a couple of examples:
"According to Portland State University's TREC Transportation Insight for Vibrant communities, as of December 2015, at least 40 US states and Canadian provinces had a minimum operator age for e-bikes, typically 14 or 16 years of age. In Alberta, 12 year olds can operate an e-bike, but in Quebec, you must be 18."
Depending on your intended use, this means it's probably a good idea to check your local laws before spending thousands on an e-bike.
Now, let's take a look at FLX's specific features, as well as the differences between each model.
Which E-Bike Models Does FLX Offer?
Overall, there are three models in the FLX Electric Bike lineup. As it turns out, though, they have far more features in common than not, so let's start there.
What Are FLX Bike's Standard Features?
The FLX Bike's control setup looks a lot like a standard bike, including two brake levers and a shift lever for the rear derailleur.
The major differences are the inclusion of a throttle near the left grip, a central LCD display, along with a manual selector to navigate your different options.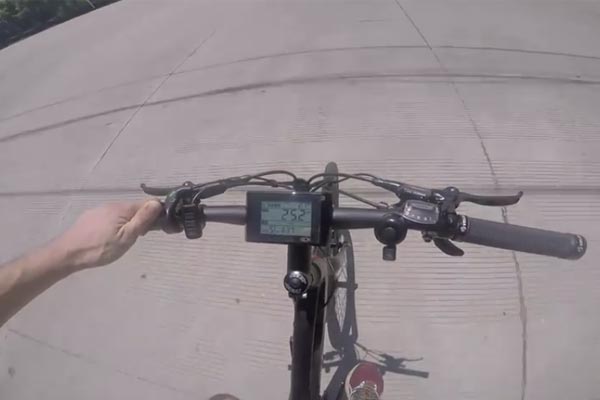 In this speed test video screenshot, you can see the FLX Bike's basic controls, including LCD display (center), throttle (left), shift lever (right), and brake levers. Image credit: FLX Electric Bike
This selector is where you'll be able to choose between five different pedal assist modes; Economy (power level 1, or basic assistance) can get you between 70 and 100 miles per charge, while speed mode (maximum assistance) will get you between 25 and 50 miles.
According to their speed test video, you can remove the speed regulator on your FLX for use on a private road, or off-road.
Their website also tells us that all FLX Bikes use high-quality components that can be ordered online or picked up at any local bike shop, including Shimano Alivio 9-speed cassettes, hydraulic disc brakes, adjustable saddles, and quick release wheels.
From a fit perspective, while the site indicates FLX Bikes can fit riders between 5'2" and 6'5", will likely be most comfortable for those between between 5'4" and 6'2".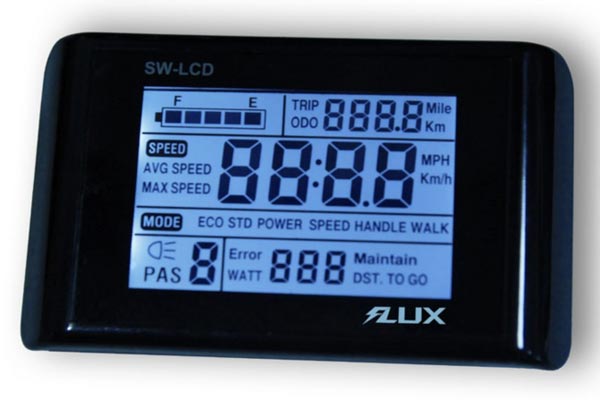 FLX's LCD display provides mode, battery indicator, distance, speed (average and max), and power level (including remaining distance) information at a glance. It can also provide USB charging and power optional lights. Image credit: FLX Electric Bike
What About FLX Bike's Battery & Motor?
FLX Bike's 13Ah and 17Ah lithium-ion batteries are powered by the same Panasonic cells used in the Tesla Model S, so we're told they'll retain 90% of their initial capacity after 400 cycles. All electronic components are sealed so that they can get wet.
Based on actual third party tests, their website notes that the 17Ah battery can take you 46 miles on full power (pedal assist level 5), and even up to 85 or 100 miles in pedal assist level 2 or 3.
When the time comes, the included 3A charger will fully recharge the 13Ah battery in fives hours and the 17Ah battery in six hours.
If you need to secure your bike in public (such as commuting), the battery features a built-in key lock, or it can be removed and taken with you. When removed, it also features a USB port that can help charge your other devices.
The battery powers a maintenance free (650W peak, 250W normal) Bofeili brushless mid motor that's mounted between the pedals (compared to a hub-based motor), which they claim can be removed and replaced by unscrewing a couple of bolts.
Now, let's take a look at how these features are implemented into each FLEX Electric Bike model.
FLX Roadster
Compared to the other models, the FLX Roadster promises to provide the best combination of economy and speed.
It features Kenda Koast 27.5X1.5 tires, a custom aluminum fork w/fender eyelets, 160mm brake rotors, an 11-34t cassette, and a claimed weight of 46 pounds, with the battery.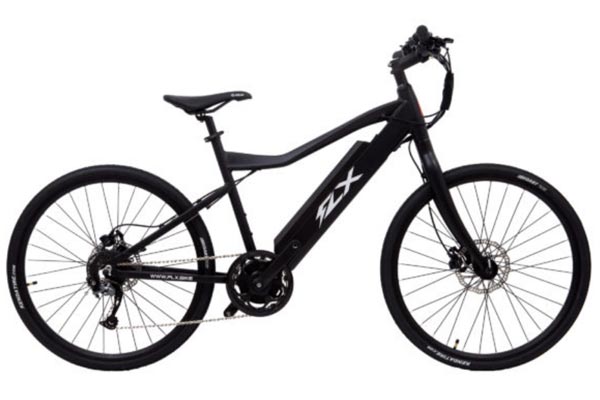 The Roadster is FLX's least expensive electric bike model and is intended for paved and other hard-packed surfaces. Image credit: FLX Electric Bike
FLX Trail
If you're looking for wider tires that can accommodate rougher terrain, the FLX Trail model features Kenda Nevegal 27.5X2.25 wire bead tires. You'll also find an SR Suntour XCR coil suspension up front to smooth out the bumps.
Claimed weight with battery is 51 pounds.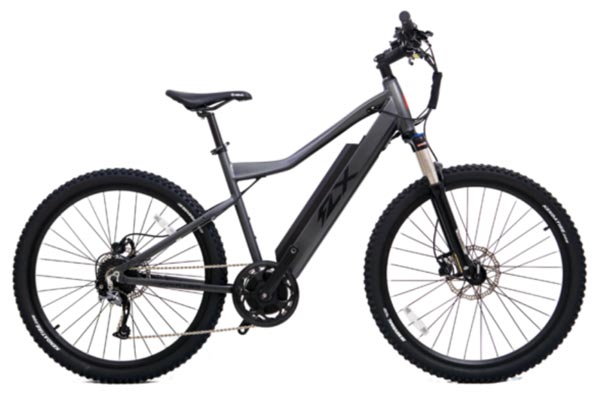 Adding short-travel front suspension and wider tires with more aggressive tread, the Trail model is intended to help you get off the pavement. Image credit: FLX Electric Bike
FLX Attack
The FLX Attack model adds an SR Suntour Epixon air suspension fork with 120mm of travel and a remote lockout (allows it to work like a non-suspension fork for improved efficiency on smooth surfaces), as well as an SR Suntour air shock in the rear.
Since it's intended for more aggressive riding, you'll also find 180mm brake rotors on the Attack. Weight is just shy of 52 pounds.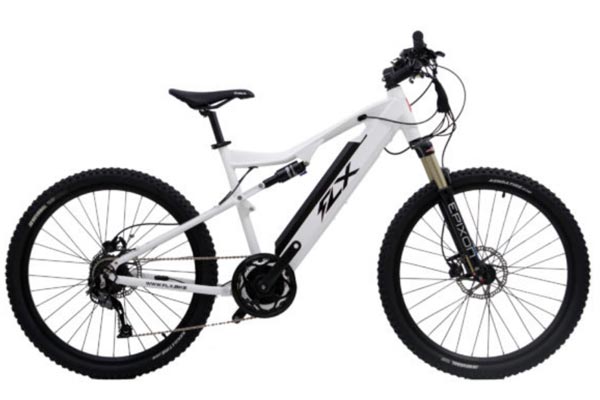 The Attack is FLX's flagship model, with the largest battery capacity, front and rear suspension, and front fork lockout. Image credit: Flex Electric Bike
What will you pay for each of these models?
How Much Does the FLX Electric Bike Cost?
FLX Bikes are available in Gloss White, Gun Metal Gray, and Matte Black, with 13A or 17A motors. When checking out, you can choose between "Made to Order" (made just for you w/8-12 week delivery window) or "In Stock" (ships from a local warehouse within 2-5 days):
FLX Roadster: $1,699+
FLX Trail: $1,799+
FLX Attack: $2,399+
Additional accessories—everything from smartphone mounts to extra batteries—can also be purchased for anywhere between $10 and $650.
All bikes come with free S&H and a 1-year warranty. If one of your electronics malfunctions, the website indicates they'll ship any required replacement parts, which you can take to your local bike shop (they'll also pay for any repair costs covered under warranty).
In order to request a refund or process a warranty claim, the customer service department can be reached at (415) 621-9121. We also emailed hello@flx.bike to inquire about refund details, and will update as soon as a response is received.
Considering these prices can be thousands less than many competing e-bikes, are customers reporting a solid value with FLX?
What Can We Learn From FLX Electric Bike Reviews?
The FLX Bike got its start in a May 2016 Indiegogo campaign, where the fledgling product raked in more than $1.7 million.
While ElectricBikeReview.com got their hands on a pre-release version of the Trail model, it only featured pedal assist (no throttle override) and a gen two motor (new ones have gen three motors). Overall, they felt the motor was smooth and relatively quiet, although they noticed a little bit of a delay.
They also like that the brakes featured motor inhibitors, which work to kill the motor when you pull the brakes, so you don't inadvertently keep going.
Nick's Picks also created a very in-depth, useful three-part review that we found very insightful:
If you don't have time to watch the whole thing, here are his highlights:
FLX Electric Bike Pros
Nick liked that FLX's pedal assist was easy to use and very functional. He found the display was easy to change between settings and gave good readouts, while the grips worked well and felt solid.
Finally, he appreciated the fact that many useful accessories were available.
FLX Electric Bike Potential Cons
On the other hand, Nick really seemed to dislike his FLX Bike's throttle (even going so far as to call it "garbage"), since he felt like it took way too long to activate and just wasn't functional.
Specifically, he felt the only way it might be useful is if you needed to take a brief break on a long ride.
Other aspects that disappointed Nick were the limited battery power using pedal assist (without the throttle), which he found only lasted about 46 miles, as well as some questionable quality products like seat and tire tubes.
In the end, he thought that the FLX Bike might work best for someone looking to step up to a new electric bike, as well as those with injuries or physical limitations. However, he didn't recommend it for commuters traveling 6-10 miles (or more) one way.
The popularity of the FLX Bike has already spawned at least one Facebook group, as well as several Meetup groups around the country.
Who Founded the Company Behind FLX Electric Bikes?
FLX Bike was co-founded in 2014 by Pete Leaviss and Rob Rast, who claim they're "on a mission to get people out of cars and back onto bikes."
Before launching the company, Pete worked as a mechanical engineer, while Rob worked as a Business Development Manager for QT Technologies and as founder and CEO of California Rast Trading Company.
FLX vs. Other Electric Bicycles: Which One's For You?
The reality is that electric bikes are all the rage nowadays.
Searching online, you'll quickly be met with a dizzying array of design options ranging anywhere between a few hundred bucks to well over $8,000. Some of these come from household name manufacturers, while many are sourced from companies you've probably never heard of.
A quick sampling includes the Trek Electric Bike Collection ($3K-$5K), the Specialized Turbo lineup ($2,500-$9,500), the Giant E+ range ($3K-$7,700), Haibke ($1,800-$16,500+), and IZIP Electric Bikes ($1,599-$4,199). Given these mostly higher prices, will FLX's electric bikes deliver more bang for your buck?
Comparing the individual specs for each of these lines' most affordable models, the closest two options to FLX's Roadster appear to be Haibike's XDuro Urban Plus ($3,599) and IZIP's E3 Diamond Dash ($2,599).
Why? All three options feature mid-drive motors, li-ion downtube batteries, LCD multifunction displays, decent drivetrains from Shimano or SRAM, and hydraulic disc brakes.
The biggest differences are that Haibike's option also comes with the COBI smart connected biking system (including headlight), as well as thru-axles instead of quick release axles (which can provide improved stiffness and steering feel), but also weighs 56 pounds. The Diamond Dash only has a 16-35 mi range.
Where does all of this information leave you?
The Bottom Line About FLX Electric Bikes
Bbased on what I learned during my research, as well as my nearly two decades' experience cycling everything from fixed gear bikes to mountain-tamers, I can say that FLX has jammed a whole lot of features into a very reasonably priced package.
In fact, dollar-for-dollar, you might be hard pressed to currently find a quality electric bike with this many features, at this low of a price. As you can see, similarly equipped models from popular competitors might cost you twice the price.
Does this mean the FLX lineup will be perfect for all riders? If you're used to ultra high-end biking gear, then based on what I read in their specification sheets, some of their components might leave you wanting.
But for the vast majority of riders—especially those looking for a quality e-bike without paying an arm and a leg—FLX's electric bikes could just fit the bill.
Also, based on some of the company's recent firmware and component upgrades, it seems like they're listening to customers and trying to provide the best cycling experience possible.
FLX Trail in Taiwan

By Barry K.

,

New Taipei City, Taiwan

,

Jan 8, 2020
Verified Reviewer

Ordered FLX Trail from the factory in Shanghai 2 years ago to be delivered to Taiwan. Turned out to be a nightmare in Customs and the first one never arrived. Wasn't the FLX team, but the Chinese Freight Forwarders who were a bit shady. The FLX Customer Service in Shanghai was very helpful despite the mess-up, and eventually delivered a new FLX Trail in a case to the Shanghai Airport which I carried back. So all good in the end.

And the bike is great for the steep Taiwan mountains! Very comfortable to ride, feels like a normal MTB, but of course a lot heavier. Power is enough, but I try to conserve the battery and get some exercise. Cranking it on 5 on steep climbs will drain the battery after a couple of hours. And the motor has skipped a few times. But overall, very well built, solid, powerful fun e-bike for on and off road. Components are fine. The Bafang drive motor seems adequate for the price point. It doesn't match up to a Bosch though if you want a bit higher standard.

Bottom Line: Yes, I would recommend this to a friend

---

Just what I needed

By David B.

,

Minneapolis, MN

,

Nov 27, 2019
Verified Reviewer

I lived in Boulder and Aspen, Colorado during the 1980s. This was the advent of the Mountain Bikes, and Hybrid Touring/Mountain Bikes.

It was my generation that pioneered mountain biking and off-road trails. In the outdoor lifestyle of Western Colorado, one would always find bikers out in all types of weather.

I purchased a Nishiki Hybrid that I could do a little off-road riding, and still was very easy to eat up miles on the open roads. It was not the best off-roader, or touring bike, but was a terrific compromise. I have accumulated untold miles over the years on that wonderful bike.

I have been living with a disability for a few years now that, though I could still ride, fatigue would overcome me, and I found myself in the predicament of not being able to make my way back home at times, I would just "run out of gas". Looking at my beloved Nishiki became a reminder of days gone by, instead of eliciting the anticipated joy of new biking adventures.

A friend showed me the FLX info online while the company was still in the funding phase, and I was able to order one at an introduction price. It was frustrating to have to wait for it, but it was well worth the wait.

The FLX enabled me to experience the pure joy of feeling the breeze on my face when beginning a bike ride again, it's a quality of life I've regained.

The bike is shipped mostly assembled, and my familiarity of bikes made it easy to put together. I did not need to refer to online instructions (though I did view them once finished to make sure I completed them correctly).

I found the build quality very good. Most of the components are high quality, my only issue was with the reflectors on the pedals that fell off after a few miles.

I easily added a carrying rack over the rear wheel, and though the seat was quite comfortable, I replaced it with a higher quality one I used on the Nishiki.

The computerized settings display is very easy to see, and changing up the rate of power assistance is simple, and conducive to simple muscle memory. Having full power in addition to pedal assist is a huge benefit to me, particularly in those situations when fatigue overtakes me. The battery is simply outstanding! I am constantly amazed by how far I can go on a charge. This is true when I choose to ride in full power mode also.

Having the motor at the pedals is logical sense, and contributes to a more equalized weight balance. BMW cars have an almost 50/50% weight balance which creates superior handling over almost all other cars. That superior handling increases active safety (being able to avow accidents). The same is true for this bike, the equalized balance gives the rider better control when needing quick maneuverability to avoid taking a spill. It contributes to shorter braking as well. Having a centralized weight balance with the motor at the center of the bike utilizes both front and rear brakes equally, and more efficiently, which creates shorter stopping footage than a bike with a heavier back end when the motor is on the rear wheel.

Having the motor on the front wheel is ridiculous, and could be outright dangerous, as any kid would tell you after having a friend sit on the handlebars while riding and trying to turn.

Different bikes fit different people, meaning the comfort position while riding. The Nishiki had the perfect fit and feel for my body. I was delighted to feel that perfect fit with the FLX Roadster model. I can't say everyone will have the same experience, but I suspect most may find it so.

The power that the bike provides is impressive. I get a kick out of passing younger people as I ride around the lakes here in Minneapolis. I take particular joy while passing a group of younger men clad in spandex, wrap-around sunglasses, and biking "tap dance" shoes. Inevitably they push harder to catch up, but I simply bump the power level a notch, pedal harder and pull away. They surely know it's an electric bike, but still galls them the old man passed them. Often people will pull over once I've stopped to check out the bike.

Overall, this has been a superior bike for me. I'm not an expert by any means, but I suspect most will be very pleased with the FLX.

My generation, the Baby Boomers, are experiencing chronological superiority now, and all the effects of aging. For many, like myself, we lose a quality of life by not being able to easily do what we once enjoyed while younger. For those who miss the joys of biking because of aging bodies, the FLX Roadster can bring back the pure simple joy of unconcerned biking. The bike is easy to ride, safely engineered, and with a quality build. And they won't have to be concerned about the loss of vitality, the bike will do the work for them, if they wish.

I am not affiliated in any way with FLX or anyone who works for the company.

Bottom Line: Yes, I would recommend this to a friend

---

Advertisement

---

Cracked frames, BEWARE, Chinese frames

By Paul A.

,

United Kingdom

,

Jul 31, 2019
Verified Reviewer

Hi, I've just noticed that my seat tube is fracturing but there is plenty of seat tube inside. It's only done 600 miles of road use.

I've seen other cases of this. There is a serious problem with gen 1 bikes.

If this broke I couldn't even imagine the consequences but basically, my bike is now useless. Two years use really isn't any sort of longevity.

Bottom Line: No, I would not recommend this to a friend

---

Unhappy with the company and bike

By David R.

,

Eastern North Carolina

,

Jan 19, 2019
Verified Reviewer

I was an initial buyer and waited about six months for the first bike to be built. One of the factors that appealed to me was that this appeared to be a USA (California) based operation. It is not. One of the founders has lived in China for nearly 10 years and the other divides his time between China and the US. They recently just opened a warehouse north of San Diego. My first bike arrived, and after assembly, the motor did not work. Multiple emails and phone calls later the bike was exchanged for a working model. I paid extra for things like a suspension seat, fenders, light, etc. I never got them and never got a refund. I was told that if I gave them a favorable review, they would send me a cell phone holder...never got it.

Recently my bike was in a storm and the $600 battery got wet and burned up. Please note that the ads describe the bike as being "waterproof." One of the co-founders, Rob Rast, is also featured in a video being hosed down while extolling the waterproof resistance of the bike. Don't believe it. I ordered a replacement smaller battery only to discover that the motor doesn't work now. Trying to return the battery has been a nightmare as customer service is non-existent. After multiple emails, they said that they don't usually allow returns, but if I did want to return the battery it would cost me $100 for restocking plus $30 shipping. I absolutely would not buy anything from this company.

Bottom Line: No, I would not recommend this to a friend

---

Advertisement

---

Very flimsy bike

By Nico D.

,

District of Columbia

,

Dec 3, 2018
Verified Reviewer

I've had this bike for 2 years, straight out of Kickstarter. At first, I loved it, as it was my first e-bike. It is a true life changer and the best mode of transportation in many cities! It "flattens" hills, which is an incredible feeling. You get pretty quickly to 20 miles an hour, which is a great cruising speed. It's also nice to be able to take the battery out and recharge it elsewhere.

Sadly, the bike is extremely poorly built:

1. They claim the battery can go for 30 miles or more. Mine gets weak after 15 and dies at 20 miles, in ideal conditions (I would say 15 miles max in winter).

2. This is the flimsiest bike I've ever had. So many screws, nuts, and bolts have popped at least once. My two fenders are broken (one is because the bike fell while standing).

3. To top it up, the motor died after 14 months of use...I emailed them right before it broke. They emailed back and forth to tell me that they were about to get spare parts in a shipment. After six weeks, I finally got a replacement, and had to pay $75 for a known issue! Four months after changing the motor (it was a 4-hour project...), I can sense that there is something wrong again when I pedal...

4. They sent a bike seat with the wrong "minimum depth" marking on it, so of course, the frame cracked...They want $280 to ship me a replacement frame, for THEIR mistake. They also offer to cover the welding cost, but the worst part about it is that no bike shops want to service it anymore (because of liability issues). So I'm on my own...

5. They are extremely slow at handling problems. Both times (for the motor and the frame), it took ~20 emails (mostly me asking "can you please reply?") and six weeks!

6. More minor details - I don't find the "user interface" of the control panel very intuitive or efficient. For example, you need to set motor speed every time! The gears were never really aligned, despite a professional tuneup after 200 miles.

In short: Don't buy this bike, it's too flimsy and too much work. There are great alternatives!

Bottom Line: No, I would not recommend this to a friend

---

The Blade

By Fred N.

,

Albuquerque, NM

,

Sep 25, 2018
Verified Reviewer

This is the second bike that I've ordered from FLX, and I can't say enough about the bikes and service that I've received. My first bike was the "Trail," put 2500 miles on it before I sold it and bought the "Blade."

Rob, Pete and the FLX gang have really put together some fantastic bikes.

The Blade is a monster and so fun to ride.

Bottom Line: Yes, I would recommend this to a friend

---

BS on speed and how long the battery lasts

By B S.

,

Honolulu, HI

,

Jul 23, 2018
Verified Reviewer

Looking on their YouTube video where Pete rides an FLX bike, he hardly pedals and he claims 37 mph. I pedal my butt off a slight downhill and only get 32 mph. I call and I get an explanation because I have the ATTACK model, what I should've bought was the TRAIL model. I said why don't ALL 3 bikes have the same motor? And the guy hung up. Now on their website, it states 28 mph with pedal assist on ALL 3 bikes (the 3 they started selling). I wrote a review on their website but they don't post anything but 5-star reviews!

Bottom Line: No, I would not recommend this to a friend

---

I just bought two of FLX Trail

Just got my FLX Trails today. Very good quality. I had a little problem with the batteries but got help from them. Fast shipping. Really helpful with the problem and the bikes very good quality.

Bottom Line: Yes, I would recommend this to a friend

---

Awesome ride

By David Crum

,

Cincinnati, OH

,

Apr 21, 2018
Verified Reviewer

I bought the FLX Trail to add a little excitement back into my life. I have always loved to bike, but this is a whole new experience.

The bike is SOLID, easy to assemble and very fast. I am 6'2," 315 lbs, and this bike flies in top speed. Even leg burner hills are very easy to climb. I have taken this bike on some off-road trails, and it handles great. Just make sure you turn down the pedal assist to level 2 or 3.

Great ride! Don't think about it, just order one; you won't be disappointed.

Bottom Line: Yes, I would recommend this to a friend

---

FLX Blade

San Diego, CA

,

Mar 5, 2018
Verified Reviewer

Two gentlemen from the company brought this bike to my home to try out. Amazing demo!

First of all, even though the motor kicks in once you start pedaling, you don't even need to pedal because the bike has a throttle.

The learning curve is almost non-existent. You look at the screen to see the level of power you're on, use the up and down arrows on the 5-button keypad to choose, and start your ride with a foot or finger. The other three buttons are power, light, and the last one I didn't have time to figure out - no time to study - the ride was too good.

The bike fit me good (5'11"), and I'll make a few personal changes for my riding style, but to each their own. I can see it being a good fit for a range of heights with the current models.

Bottom line, I see this company growing and getting better and better. I know there are a lot of great Electric bikes on the market, and I'll post on those, too, but I think this bike is great enough to stick with the loyalty of my city, San Diego, and then just buy them for the rest of my life! Good guys, good company, good bike. I'm sure 5 stars wherever they are!

Thanks for the ride guys!

Bottom Line: Yes, I would recommend this to a friend

---

Freedom, absolute freedom!

By Bob

,

Monrovia, CA

,

Jan 3, 2018
Verified Reviewer

I received my FLX in January of 2017. I purchased the bike in July of 2016. Five months is a long time to wait, but believe me, it's worth the wait.

I've had my right knee replaced and have arthritis in my left knee and in my lower back making it difficult for me to get around. I get around rather slowly with a cane. Now that I've explained my physical ailments, let me tell you how I'm doing now since receiving my first generation FLX trail bike. Freedom, absolute freedom!

My son, a mechanical engineer, assembled the bike for me in no time at all, although he assured me one doesn't have to be an engineer to assemble this bike. The bike is solid. I've taken it to professional bike mechanics, and they have stated that this bike is very well put together, is "beefy," yet much lighter than other E-bikes.

I've got over 2800 miles on it since January. A couple of months ago I was hit by a car (their fault). I received minor scrapes and abrasions, however, the bike came through with flying colors. My gears started slipping after shifting to a higher gear after the accident, but I had my mechanic look at it, and he just replaced the chain and no further problem. I tell ya, this bike is awesome.

This is my main form of transportation. I do have a car, but my wife uses it for work, leaving me stranded, were it not for my FLX. I have changed out the stock seat for a more comfortable (for me) ride. I also changed the trail tires for road tires so I can boost out better "gas" mileage as I travel on designated bike paths here in SoCal. I keep the trail tires in case I want to off road.

At 75 I feel great, have received compliments on how I've lost weight and look forward to using this bike for years to come. I apologize to Pete for bugging him with phone calls regarding the length of time for the bike to arrive. He was gracious and kind each time I called. Customer service is tops. Sagui is simply wonderful and a pleasure to work with. I don't use the throttle as I don't get any health benefits from using it. It's a bicycle; you pedal for power, and I love it.

Everyone that wanted to try out my bike has loved it. Nothing but accolades for FLX bike, Pete, Rob, Sagui and all the rest of the FLX team. Thank you so much.

Bottom Line: Yes, I would recommend this to a friend

---