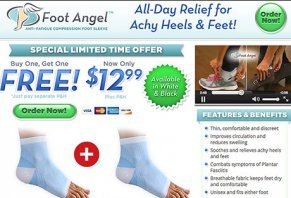 Foot Angel is a new "As Seen on TV" foot sleeve that claims to provide seven compression zones in order to help relieve your chronic foot pain and swelling.
About Foot Angel
Foot Angel is an "As Seen on TV" anti-fatigue compression foot sleeve that claims to feature 7 different compression zones and 3 levels (gentle, moderate, and firm) to help relieve ankle and foot pain related to the arch, plantar fascia, heel, ankle, and even your whole foot. In addition to relieving pain, Foot Angel's compression is also claimed to provide support, improve circulation, and reduce swelling.
Foot Angel is claimed to be made of a lightweight and breathable fabric that helps keep your feet dry and comfortable, while being comfortable enough to be worn under socks or hosiery, and even to bed. Foot Angel is also claimed to be thin enough to fit inside any shoe, sneaker, or boot.
According to the Foot Angel website, this compression sleeve is unisex and can be worn on either foot. And when the time comes, it is also machine washable.
Foot Angel Pricing and Where to Buy
At this time, Foot Angel is not sold directly by the manufacturer on its own site. It is currently available on CVS for $12.99 and on Amazon from multiple sellers for $9.90 and $11.95.
Can the Foot Angel Help Improve Circulation & Reduce Foot Pain?
Because your feet support the weight of your entire body, if they're swollen or painful it can greatly impact your life. So if you're looking for some relief, can Foot Angel provide it to you? Perhaps, but consider the following prior to placing your order:
Clinical Evidence for Foot Angel
While there is no clinical evidence provided on the Foot Angel website that shows the sleeve performs as advertised, as we mentioned in our compression wear article, compression garments in general have been shown to "increase circulation, promote blood flow, speed up wound recovery, reduce the risk of forming a blood clot, improve venous function, and much more." Ultimately, this means that at least in theory, Foot Angel could help provide you with reduced swelling and pain.
However, remember that not all compression wear is created equal, and not everyone will benefit from the same level of compression. In other words, depending on what's causing your foot pain, Foot Angel may provide too little, too much, or just the right amount of compression based on your physician's diagnosis.
On the other hand, the Foot Angel website claims that the compression sleeve should not be used under any circumstances if you are diabetic, have poor blood circulation, or have inflammation or open wounds on your feet.
Foot Angel's Online Reputation
Although the Foot Angel URL has been registered since May 2014, there are currently no online customer reviews available for the product.
However, the compression sleeve is manufactured by Ontel Products Corporation based out of Fairfield, NJ, a popular ASOTV products manufacturer. The company holds a C rating with the Better Business Bureau based on 280 closed complaints (as of 10/13/14), most of which appear to reference constant upsells during phone calls, unwarranted credit card charges, difficulty obtaining refunds, and very long shipping times (often lasting several months).
S&H Charges Are Worth Their Weight in Gold
Next, most "As Seen on TV" products come with very high S&H charges. In the instance of Foot Angel, if you accept the second "free" offer, you'll pay a total of $13.98 for shipping, which is ultimately more than the cost of the product itself, and none of which is refundable. And when you add in what you'll pay to ship Foot Angel back to the manufacturer, you'll have spent quite a bit more in S&H charges than you'll ultimately receive as a refund.
Important note: According to many of the company's Better Business Bureau complaint responses, it appears that refund checks are mailed instead of being reapplied to the original credit card.
Spreading Your Contact Info Far & Wide
Finally, according to the Foot Angel Privacy Policy: "From time to time, we make the e-mail addresses of those who access our site available to other reputable organizations whose products or services we think you might find interesting." This means you'll very likely receive unwanted spam/sales calls soon after placing your order.
Bottom line:
If you suffer from frequent, recurring foot pain and are looking for an OTC remedy, you may want to take a look at additional options available at your local pharmacy or big box store, which may provide you with much of the same support as Foot Angel, but without the high S&H fees should you be dissatisfied.
Foot Angel

By Phyllis L.

,

Ohio

,

Jan 9, 2020
Verified Reviewer

My husband and I both bought Foot Angel at Jungle Jims in Fairfield, Ohio. Not realizing it is only ONE sleeve! (First disappointment.) We had to pay $12.99 each. One was S/M the other was L/XL. Both are the same size! My foot is small and I could not get either one on my foot! What a joke. (Second disappointment.) Last of all, we do not live close to Fairfield to return these! So disappointed in this product!

Bottom Line: No, I would not recommend this to a friend

---

14 out 15 people found this review helpful

I will never, ever do business with this company again!

I ordered Foot Angel in 2015. It took several months and many phone calls to the customer service department. Instead of receiving the product, I started seeing money being taken out of my bank account. One was for a magazine subscription I never wanted or needed but was told I authorized. Another was for a discount warehouse I had never heard of.

I finally received the Foot Angel several months and over $200.00 less. I had told customer service to cancel my order and refund my money. The woman was unpleasant and not helpful. I was told to return the unopened package and I would receive a refund when the company received it. I've never received anything. Not a dime, not a phone call, nothing else. I spent a great deal of time canceling subscriptions I didn't want.

All that money that was taken from my account is gone. I suspect this is how they make their money. I would give this a minus 5 stars if I could. Recommend this to a friend? I wouldn't recommend it to someone I couldn't stand.

Bottom Line: No, I would not recommend this to a friend

---

Advertisement

---

5 out 5 people found this review helpful

Great product with flaws

By Lori Wampler

,

Old Orchard Beach, ME

,

Oct 21, 2017
Verified Reviewer

I have posterior tibial tendinitis, so my arch has fallen and is very painful. I have orthotics, but they only work when I wear work shoes. I wanted to walk for exercise, and this ankle brace has made it possible for me. I can't wear it for hours on end as it cuts into the top of my foot. Wearing it for my exercise walks, however, is perfect. Doesn't have time to cut in and eliminates the pain. Being hard to put on is why it works. If it was loose enough to get on easily, it would be worthless. So, suck it up and put some elbow grease into it. It's worth it.

Ordering from As Seen on TV, however, has not been so good. I purchased my first one at a pharmacy and wore it out in about two years. They don't sell them at the pharmacy, so I ordered two online. It's been two weeks and nothing. They have emailed me back and said they will ship new ones, but that doesn't help me in the here and now. So, I'm still waiting, but it is definitely worth the wait. I hope this helps.

Bottom Line: Yes, I would recommend this to a friend

---

3 out 3 people found this review helpful

Good buy at a real store

Oregon

,

Aug 19, 2017
Verified Reviewer

It sounds like the ordering experience has been a disaster for many. That's unfortunate because the product itself is actually pretty good. I have plantar fasciitis in both feet and the moment I put these on my feet felt better.

Although they're not attractive with flip flops, I can now wear flips at least around the house and never really could before. They work great in all my other shoes and to wear at night, which means I can put my feet on the floor in the morning without excruciating pain.

I did not find them too difficult to put on. They are compression socks and need to be firm. I got size S/M for my women's size 7.5 C-width feet.

Bottom Line: Yes, I would recommend this to a friend

---

Advertisement

---

6 out 7 people found this review helpful

Foot Angel

By Joe

,

Canada

,

Apr 1, 2017
Verified Reviewer

This product does what it claims to do!

I am not sure what people expect from a compression sock, but, yes it will be difficult to put on and take off. That is the nature of a compression fit.

3M sells a product for the same purposes with bulky trim finishing and velcro. These are very uncomfortable and not very durable. Once I received my Foot Angel Socks nearly two years ago, I have not put the 3M sock back on my foot since.

For those of you who are too old to slide the sock foot onto your feet from lack of muscle strength, that is unfortunate (you must be at least 75 years of age or older to be in this category). For the rest of you (unless you are disabled), get a gym membership and get in shape.

My foot discomfort stems from exercising and playing sports for 35 years. Additional foot support is a very welcome device.

Tommy Copper is very expensive. These socks perform as advertised for a fraction of the expense.

This product (in my opinion) is terrific!

Bottom Line: Yes, I would recommend this to a friend

---

6 out 6 people found this review helpful

It has been such a help with my pain.

By Toni

,

Santa Rosa Beach, Florida

,

Feb 8, 2017
Verified Reviewer

I broke my ankle a long time ago, and now that I'm in my 50's, I experience a lot of swelling and pain. My heels were hurting as well. I wrapped my ankle and heel every day with an ACE bandage and then would put on a sock.

I bought a Foot Angel at CVS to give it a try. I wear a size nine shoe but purchased an XL Foot Angel. Wow, what a difference. My swelling subsided, and I feel so much better.

My only wish is that it came in a flesh color so it wouldn't be so noticeable.

Bottom Line: Yes, I would recommend this to a friend

---

4 out 4 people found this review helpful

Love!

I have bone spurs on both the bottom and top of my left foot and they swell up something fierce.

I got these hoping to help stop my foot from over flexing at night. I use it along with my brace and they work great. Definitely recommend!

Bottom Line: Yes, I would recommend this to a friend

---

3 out 4 people found this review helpful

If only...

By Sue

,

Utah

,

Dec 17, 2016
Verified Reviewer

This product provides excellent relief from the pain I have from plantar fasciitis, tendinitis, and the pain through my legs and back from ankylosing spondylitis.

But, the Foot Angels are almost impossible to get on and off. They are just too small for any foot. When you do get them on you have to be careful because the band on each end can cut off your circulation after a couple of hours.

Also, because they are so small, they pretty much unravel after you wear them a few times.

So, sadly, they are very disappointing and probably not worth the money.

Bottom Line: No, I would not recommend this to a friend

---

1 out 3 people found this review helpful

Cut Off Circulation

By Suzanne

,

Cypress, TX

,

Oct 9, 2016
Verified Reviewer

Terrible Product. First, it took 15 minutes to get them on. Tight as heck. Uncomfortable. After an hour my feet were numb. I removed them. My circulation was totally cut off with red marks where socks were. I threw them in the trash. I purchased from an As Seen on TV store at the mall. All sales final. I was a sucker.

Bottom Line: No, I would not recommend this to a friend

---

1 out 3 people found this review helpful

Horrible

By Sue

,

New Hampshire

,

Sep 24, 2016
Verified Reviewer

I bought XL because I have wide feet for a woman (shoe size 9.5). This was a nightmare to get on and off. It was 'Made in China", hmm not for America's feet to fit into.

Definitely not worth the money! I give this a zero star if I could.

Bottom Line: No, I would not recommend this to a friend

---

5 out 5 people found this review helpful

Awesome

By Love

,

Houston, TX

,

Jul 12, 2016
Verified Reviewer

I have been having heel spurs for the last 2 months. I was using a foot support, but pain was not subsiding. I went to the pharmacy to see what other options I could find that would not break the bank. I walked by the AS SEEN ON TV section and the FOOT ANGEL caught my eye and was in my price range. From the minute I put it on, I could feel the support!

I have been using it for a few days now and the support is so great that my pain is actually going away. It does not hurt to wake up and take those first steps. I love this product. Money well spent!

Bottom Line: Yes, I would recommend this to a friend

---