Fora Financial Reviews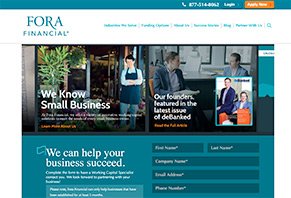 Fora Financial is a small business lender based in New York City. They offer merchant cash advances and loans to business who meet basic requirements.
What is Fora Financial?
Fora Financial says they can give you cash for your business. We examine who they are and what they offer to find out if they're worth your time.
Fora Financial is a small business lending company who offers two types of loans: merchant funding and small business loans. What sets this company apart from other small business lenders we've reviewed is that they give lending data for specific industries according to which type of financing they received.
As you consider a small business loan, you'll need to do a little homework on who the company is, what they offer, their rates and other factors. It can be overwhelming to do this, especially if you spend most of your hours running a small business.
So, we've looked over Fora's website, the fine print about their loans as well as some opinions from customers and experts. We'll explain the information we compiled in the next few sections of our review.
Who Is Fora Financial?
Fora was started in 2008 by Jared Feldman and Dan B. Smith. To date, their website says, the company has lent more than 22,000 loans to more than 13,000 unique clients.
According to their LinkedIn pages, Feldman and Smith are both graduates of Indiana University and, based on what we read, Fora is their first startup. Smith is president of Fora, while Feldman is CEO.
The company is based in New York City.
The Two Types of Financial Products Fora Offers: Merchant Lending and SMB Loans
Fora, like many small business lending companies, offers multiple products that serve different purposes and are designed for different sets of companies, although there is a little overlap. We're going to help you understand what those products are and for whom they're a good fit.
Merchant Funding
Let's say you own a lemonade stand. Times are tough, so you have to go to a friend and ask for some money to buy supplies. Your friend says they'll lend you the cash, but instead of you paying her back with one set sum, she wants a cut of your weekly sales.
So, at the end of each week, she comes to the lemonade stand and takes a percentage of your sales.
How does that look for your relationship with Fora? Well, if you get a merchant funding cash advance, Fora will take a pre-determined percentage of the sales you've made during the business week, and they'll do that until your loan is paid off.
Who Qualifies?
In order to get merchant funding from Fora, you need to meet these qualifications:
Be in business for at least three months
Have at least $5,000 in monthly credit card sales or $15,000 in overall monthly revenue.
The fine print says that not everyone who meets these terms will get funding.
What Are the Terms?
Merchant funding ranges from $5,000 to $500,000 and most benefit the following industries, Fora says:
Restaurants
Medical/Healthcare
Automotive
Retail
Service Industry
Fora's website does not reveal what fees they charge you for their loans. From our experience, you should look out for three things: origination fees, interest rate. and per-transaction payments.
Your origination fee is what you pay for them to do the paperwork and process your loan. The interest rate they charge may be one rate on the whole sum or a weekly rate. Finally, your per-transaction payments will be the total amount they take from each transaction you make during repayment.
Is Merchant Funding Right for You?
It's been our experience that funding companies like Fora brand themselves as a pro-small business, but the interest on their loans are extremely high. When it comes to cash advances like the ones they offer, we give a word of warning based on what we've read in articles like Angus Loten's 2011 piece for The Wall Street Journal titled, "The Lure of Cash Advances".
"Cash advances come with added risks," Loten wrote. "Since the cash advances are technically sales of future assets – rather than direct loans or credit – providers aren't subject to state usury laws or any of the restrictions under the Dodd-Frank Wall Street Reform and Consumer Protection Act."
In other words, small business merchant funding isn't under heavy regulation, so be very clear on all the charges and fees before you sign a funding contract.
Small Business Loans
Merchant funding is money given up front and paid back over time via pre-determined percentages of your future business transactions. Small business loans, on the other hand, is money given up front and paid back, in most cases, on a week-to-week basis within a short period of time.
Fora's small business loans range from $5,000 to $500,000 and can be processed and put in your bank account 72 hours after the loan is approved. The company's website doesn't indicate how long approval takes.
The following industries are the best fit for these loans, Fora says:
Wholesale
Construction
Manufacturing
Transportation
Auto
Who Qualifies?
Fora's website says that the requirements for eligibility are:
In business at least three months
An average bank ledger of more than $1,000
At least $12,000 in gross sales monthly deposited to your business account
What Are the Fees?
Like the merchant funding option, there is no specific information on the Fora website about fees, but, based on our experience, you'll pay an origination fee and be required to make daily or weekly payments.
Based on what we've observed with lenders like Fundbox and BlueVine, you'll end up paying what seems to be a very low weekly percentage on your loan, and that loan will be required to be paid back in less than a year. To give you an idea of how costly this structure is, here's an example:
You borrow $10,000 to be paid back in 26 weeks at an interest rate of 1% a week.
At 1%, you're paying $100 in interest every week, which is $2,600 after 26 weeks.
Over the course of a 52-week year, that's $5,200 in interest or an APR of 52%.
Because these loans can cost you a lot in interest payments, be sure you have all the necessary information before you borrow money from Fora. Our suggestion is to have a list of questions prepared before you call:
What's your origination fee?
Will I pay back my loan weekly or daily?
What's my interest rate?
How long is the repayment period?
Once you've got all your information, end the call and take some time to think about what's in front of you. Calculate how much you'll pay in interest, calculate the APR on the amount you want to borrow and ask yourself if it's worth the cost. The goal is to educate yourself so you can make a wise decision.
What Other People Are Saying About Fora Financial
Many of the reviews we found were on Fora's Yelp page. At the time of research, the company had 12 reviews with an average rating of three stars.
The positive reviews were short and sweet. Reviewers praised the company's efficiency and customer service.
Negative reviews focused on high fees and constant phone calls from Fora salesmen.
Fora Financial's Better Business Bureau page offers insight into more consumer opinions. The company has 12 closed complaints over the past three years. One of those complaints raised a red flag for us.
The customer said he applied for a business loan, then was swarmed with phone calls from other companies. In the days following his interaction with Fora, three hard credit pulls appeared on his credit report.
Fora responded to his complaint by noting that when the customer signed his loan contract, he also consented to Fora giving his information to "other creditors and financial institutions that may partner with Fora Financial on business loans/merchant cash advances."
If you're signing a contract with Fora, read the fine print as closely as possible, and don't be afraid to ask them to remove any "other creditors and financial institutions" language.
Our Final Conclusions About Fora Financial
As we mentioned earlier in this review, small business loans and merchant funding isn't the most cost-effective way to get money for your business. Interest rates can be amazingly high, while payments are required daily or weekly.
However, we understand that sometimes there's no other way to get the cash you need to load up on inventory or pay for daily expenses.
If that's your situation, we get it. Our advice? When you talk with Fora about your merchant funding or your loan, use your first phone call to get all the information you can about your loan amount, origination fees, payment schedule, and interest rate.