Forged in Fire Knife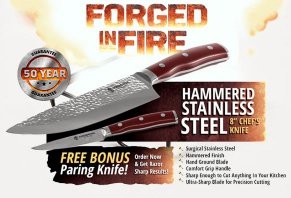 Featuring surgical stainless steel and beautiful visual appeal, the Forged in Fire Knife claims it could be the last knife that you ever need to buy.
About Forged in Fire Knife
The Forged in Fire Knife is an 8-inch chef's knife that claims it may be the last knife you ever own.
A promotional video for the knife shows a man in a flannel shirt using the knife to cut through a variety of things as a testament to how sharp the knife is: grapes, ice blocks, frozen ribs, a phone book, and a pineapple.
The knife seems to glide through each of these materials, leading you to believe that if it can conquer these various things, it should have no problem performing the daily kitchen duties for a which a chef's knife is designed.
The knife is named after Forged in Fire, a History Channel show in which the host recreates weapons used throughout history, including Medieval times.
In our review of this knife, we're going to talk about how it works, analyze the pros and cons of stainless-steel knives and address the Forged in Fire knife's pricing, return policy, and 50-year guarantee.
How the Forged in Fire Knife Works
The video promoting this knife is pretty impressive. In addition to cutting through the things we mentioned just a few seconds ago, the video showed the knife cutting through a series of filled water bottles as well as an ice block.
After each one of these seemingly tough challenges, the knife would go on to do delicate knife work, cutting ultra-thin slices of grapes and gliding its way through a kiwi.
For anyone who's had to deal with a dull knife, these types of images are most certainly a relief.
The key to this blade's effectiveness, its site says, is the fact that its forged from surgical stainless steel and professionally sharpened before it reaches your home. There are no claims to any special hardening processes or techniques.
In addition to what the company claims is a "razor-sharp edge," the knife also touts an ergonomic handle that "won't slip."
What leads to a knife's longevity is the type of material from which it's made. In this case, the material is surgical stainless steel.
According to Science Direct, this phrase refers to a type of steel that can be used in surgical procedures such as dental and joint implants. This type of steel is resistant to corroding, which makes it good for high-demand tasks like cutting.
However, there isn't just one type of surgical steel. There's a grading system for stainless-steel knives – 440, for example – that indicates exactly how good it is.
The Forged in Fire site did not provide any details about the grade of the steel used in the knife.
Through our research of knife forums and various knife sites, we saw several people and one expert say that knives that advertise "surgical stainless steel" tend to be cheap.
However, because we don't know the grade of the Forged in Fire knife's steel, we can't say for sure whether it's low- or high-quality steel.
Comparing the Forged in Fire Knife with Other Materials and Knives
When knifemakers create a stainless-steel knife, they use stainless steel that includes various elements like carbon, chromium and more. The extra elements add strength to the blade as well as rust-resistance.
High-carbon steel knives tend to be a little stronger than stainless-steel knives and have a sharper edge, KnifeWorks.com notes.
Price-wise, the cost of a stainless-steel knife varies, mainly due to what we pointed out earlier – that there are different grades of stainless-steel knives.
We searched "surgical stainless-steel chef's knife" on Amazon and found a long list of results of various types of stainless-steel knives.
Comparable knives included the OOU Pro Chef knife and the Dalstrong Chef's knife. The OOU knife was $29.99 with free shipping along with a high-carbon blade.
More than 25 customers gave this knife an average rating of 4.8 stars.
The Dalstrong wasn't available at the time, although its black-titanium coating and high-carbon blade earned 4.6 stars from more than 30 reviewers.
Forged in Fire Knife Pricing, Returns, and Warranty
At the time of publishing, you could buy one of these knives along with a smaller paring knife for $29.95 plus $8.95 for shipping. If you order a second set of knives, you'll get free shipping.
The company that sells these knives, Halex Holdings, offers a 30-day guarantee for the knife.
According to the fine print, "if you are not completely happy with your Forged in Fire product," you can call 800-300-3465 or email customerservice@shopforgedinfire.com to start your return.
The 30-day deadline begins the day the knife is delivered to your home.
The knife's substantial 50-year warrant, according to the fine print, covers "faulty workmanship or materials." It does not cover any damage of or defects in the knife due to "abuse, mistreatment or accidental damage."
Also, the fine print says that cosmetics and wear and tear that comes from daily use are not included in the warranty, either. In other words, if the knife dulls over time through normal use, you can't make a warranty claim.
You'll have to contact the company through the phone number or email address to start the warranty. Furthermore, you'll have to pay a $9.95 shipping and handling fee to make the warranty claim.
The Bottom Line: Strengths and Weakness of the Forged in Fire Knife
Based on our research of this knife and the prevailing information about various stainless-steel grades, we believe this knife has some clear strengths and weaknesses.
First, we think that the company has done a great job of designing the knife, as it is a great-looking kitchen tool compared to some of the options we viewed on Amazon.
With that in mind, we think that the post-shipping price of around $39 is relatively reasonable considering you also get a paring knife with your purchase.
That being said, we believe that there may be better knives available for purchase on Amazon, especially when you consider there are highly rated knives with high-carbon steels that, according to the experts, will keep their sharpness longer than a stainless-steel knife.
You also have the advantage of using Amazon Prime to ship the knife for free, whereas shipping for one Forged in Fire knife is $8.95.
Don't be fooled

By Tom B.

,

Tahlequah, OK

,

Mar 19, 2020
Verified Reviewer

First off, these are not hand-forged. Every knife looks exactly alike with no difference. All so-called hammer marks are exactly the same on every knife. Not professionally sharpened either. Whatever that means. Also called a chef's knife but not shaped like any other chef knife. A utility knife MAYBE. Mine doesn't hold an edge either. Now I know how to take care of my knives and do so. I have many people from novice to proclaimed professional chefs on a regular basis bring me their knives to be sharpened. Have even sold a few I've made. The return is a joke and way too expensive, better to keep it around as a reminder and have it displayed so that any questions come about I am sure to answer them.

I am not a fan and it is too bad to take an earned name to sell such a cheap Chinese-made knife with less than poor quality materials and label it something that it is not even close to.

Bottom Line: No, I would not recommend this to a friend

---

BE VERY CAREFUL

By Ginny D.

,

Illinois

,

Mar 2, 2020
Verified Reviewer

I ordered these online after seeing their commercial and hype. Their ordering system is the worst. I believed I said yes to one question when, as it turns out, was a totally different question apparently. When the order totaled I was being charged $69.75, which was for two sets, which I did not want. I immediately called but they were already closed. I called first thing the next morning and complained about how misleading their online ordering system was. The person I spoke to said they would waive any return charges and I would get my complete refund. When it appeared on my bank statement I had been credited only $57.85. I called and told them about my previous conversation, plus I had a confirming email per my previous conversation. They would not honor what I was verbally told nor the written confirmation of it. They said they would only give me a $2.95 additional refund. Don't know what that's for since shipping alone is $8.95.

Stay away from this company. Also, Target and Bed Bath & Beyond advertise the same Forged in Fire two knife set for $14.99. If I could give zero stars I would have.

Bottom Line: No, I would not recommend this to a friend

---

Advertisement

---

WON'T CUT BUTTER

I hate to write a bad review but I feel it's best to let any consumer thinking about buying these knives to think twice. First off, it took over a month to get the product. Then the additional steak knives and magnetic rack that I was upsold to are no longer available.

When it came time to put the knife to the test, I found it almost laughable on how dull the knife was. I was cutting a pineapple. The knife performed worse than my dull J A Henckels. To give the knife the benefit of the doubt I tried to cut a piece of paper. The knife failed miserably.

Bottom Line: No, I would not recommend this to a friend

---

Know how to care for your knives.

By Perry B.

,

St. Joseph, MI

,

Feb 18, 2020
Verified Reviewer

I ordered two sets and am about to order another. I don't know of any cutlery that is flawless, they all need proper care, like the proper way to sharpen it, whether a $20.00 or a $200.00 knife, they require maintenance. The only problem, they need to improve communication. Called to check on the order status and was told they had no record of my order. Order received the next day (?). Last but not least, I am very happy with the product.

Bottom Line: Yes, I would recommend this to a friend

---

Advertisement

---

Ordered 6th of January, 2020

By Howard W.

,

New Philadelphia, OH

,

Feb 10, 2020
Verified Reviewer

Have yet to receive knives ordered on the 6th of January, 2020. The order was placed over the phone using a Visa debit gift card, no notice of out of stock, no cash refund. No return phone call, nothing!

Bottom Line: No, I would not recommend this to a friend

---

Not worth the money

By Ben M.

,

Hawaii

,

Jan 16, 2020
Verified Reviewer

Does not hold an edge after around 30 minutes of use.

Cutting radishes, celery, tomatoes, bread, beef, then went to cut up some chicken and the blade was dull. We used two different sets with the same results.

Not worth buying.

Bottom Line: No, I would not recommend this to a friend

---

What a let down

By Terry H.

,

Florida

,

Jan 3, 2020
Verified Reviewer

I was so looking forward to owning this knife, but after only one use, it will not cut a tomato! The knife looks great and the weight is there but the edge will not cut. Would like to try a sharp one!

Bottom Line: No, I would not recommend this to a friend

---

Forged in Fire Knife

By Derek L.

,

Las Vegas, NV

,

Nov 18, 2019
Verified Reviewer

So I'm a chef in a major Vegas hotel and was very skeptical when one of my cooks was using the Forged in Fire set but I broke down and finally tried them, putting them through serious hell for 2 weeks, even dropping the point first to the ground and I have to say I am retiring my Global knife set permanently. These 2 knives have done very well for me, don't be afraid to try them.

Bottom Line: Yes, I would recommend this to a friend

---

Dull knife

By Josiane P.

,

Boston, MA

,

Sep 8, 2019
Verified Reviewer

I bought the knife two weeks ago. At first, it was really sharp. However, it became dull real quick. Disappointed with the knife, I expected much more from it. It was a gift to my husband, who is now also disappointed. We've only used a knife to cut vegetables and meats. We don't understand how it became dull this quickly.

Bottom Line: No, I would not recommend this to a friend

---

Silly materials to work with

By Donn V.

,

Augusta, KS

,

Aug 30, 2019
Verified Reviewer

I don't understand why the competitors can't have the best materials to work with. What real blade smith would ever want to make a product they can be proud of from a motorcycle or a barbers chair? Give them the design challenge, the time to make it and proper materials to create a good viable sharp and study knife!

Bottom Line: Yes, I would recommend this to a friend

---

Buy them, you will love them

By Purple C.

,

South Carolina

,

Aug 5, 2019
Verified Reviewer

I do not own a set yet. I just arrived back in state. I did sign up for the History Channel Store to purchase them.

I was able to use my in-law's for one week while visiting. I am buying them for all my family.

Rod, had a deal of a lifetime while watching Forged In Fire. A complete set with magnet board. For $ 69.00. He bought 2 sets.

They are GREAT GREAT GREAT. You will be greatly surprised.

I was in awe, the weight was perfect.

I loved the handles.

Bottom Line: Yes, I would recommend this to a friend

---