Forged in Fire Knife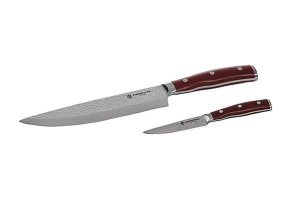 The Forged in Fire knife brand channels the traits of ancient blacksmiths to sell you steel knives for all your kitchen tasks. Despite their appealing price point, you might be better off going in a different direction for quality kitchenware.
Forged in Fire Knife Review
Inspired by the hit History Channel TV show of the same name, Forged in Fire knives claim to be the last knife you will ever need in the kitchen. This American competition show puts blacksmiths to the test crafting high caliber weapons based on historical models.
In the same way, Forged in Fire knives are purportedly engineered to be tough and reliable to give you top tier quality at the faction of the cost of professional models.
Forged in Fire knives claim to have numerous desirable features, including durable surgical steel construction, a razor-sharp edge that won't blunt even when cutting difficult foods, and a professional non-slip handle for safer gripping while you use it.
In this analysis, we'll go beyond the commercial to help you decide whether it's a culinary tool worth investing in.
Two knives in every package
50-year satisfaction guarantee
Forged metal is a prized knife material
Customer reviews indicate quality might be an issue
Stainless steel knives don't keep their sharp edges as long
Pricing varies significantly based on the retailer
Features
According to the manufacturer, both of the knives in this set are hammered straight out of the forge and are delivered to you professionally sharpened.
While you might be picturing a blacksmith sweating over every blade, these knives are actually created through the use of a factory powered hammer forge. The standard knife is 13.5 inches long with an eight-inch blade.
Metallurgy experts like Great Lakes Forge shares that steel is one of the most popular forging materials available today. It combines steel's strength with desirable qualities like heat and corrosion resistance.
The forging process further boosts these benefits by creating a unique, continuous grain flow that adds strength to the blade.
Together, these knives are designed to withstand many kitchen tasks, including prepping challenging to cut vegetables and preparing various cuts of meat.
For best long term use, be sure to wash the knives in warmer water after use and dry immediately. They are also safe for dishwasher use.
Jeremy Owens, a barbeque expert and no stranger to buying the best knives, told us that he recommends people invest in forged knives over stamped knives.
"Although forged knives are more expensive than stamped knives, they require less maintenance, less sharpening, and last longer than stamped variants," he told us.
"Since forged knives undergo intense heat, the process helps reinforce the material and makes it more durable and less prone to bending…a single forged knife becomes a better option in the long run compared to buying multiple stamped counterparts."
In other words, it might be worth spending more on a knife that's hand-forged compared to ones made from different materials. You'll likely make up for the knife's higher price point with its longevity.
Pricing
The Forged in Fire Knife set costs $29.95 on the company website, plus $8.95 for shipping. Shipping is free if you purchase two or more sets.
The knife set is also available from other retailers like Bed Bath & Beyond ($14.99) or Target ($14.89). In each instance, you will receive an 8-inch chef's knife and a smaller paring knife.
Purchase off the company website includes the company's 50-year guarantee. While this sounds like a ticket to receiving free knife upgrades for decades, this guarantee doesn't cover wear and tear from daily use or any damage due to mistreatment.
If you do have a knife problem that qualifies for coverage under this guarantee, you'll need to pay a $10 shipping fee to get your knife repaired or to receive a new one.
Your purchase is also covered with a 30-day satisfaction guarantee. This means you can request a return from customer service for any reason for a refund (minus shipping costs).
Analysis of Customer Reviews
20 customers have left reviews for the Forged in Fire Knife on our website, that average 2.6-stars. Less than 40% of users said they would recommend the company. However, reviews are more positive on Target, Bed, Bath & Beyond, and Walmart, where they average 4.5 stars.
Common Compliments:
High-quality knives that work as promised
Stands up against higher-end models
Gorgeous knives, nice to have displayed
Super sharp right out of the package
Good value
Common Complaints:
Some people unexpectedly ordered extras with their purchase and struggled to get refunds
Many customers never received their orders
Some found that the knife lost its sharp edge fast
Knives are mislabeled for the intended use; the company uses misleading advertisements
Not hand-forged as advertised
Popular Alternatives
If you're looking to purchase a knife made from forged steel, here are some popular alternatives that also deserve consideration:
| | Forged in Fire | Mercer Culinary | Cutluxe Chef Knife | SMTENG Boning Knife |
| --- | --- | --- | --- | --- |
| Price (Amazon) | $27.99–$34.99 | $39 | $42.99 | $29.99 |
| Size/Materials | 8-inch chef's knife and a paring knife/ Forged stainless surgical steel | 8-inch chef's knife/ Figh carbon forged steel from Germany | 8-inch chef's knife/ Forged high carbon German steel | 5.5-inch boning knife/ Handmade forged high carbon stainless steel |
| Quality Guarantee | 50-year satisfaction guarantee | Limited lifetime warranty against workmanship defects | Lifetime warranty against workmanship defects | 100% satisfaction guarantee |
| Average Rating (Amazon) | 4.5 (901 reviews) | 4.8 (2,938 reviews) | 4.8 (447 reviews) | 4.7 (720 reviews) |
There is a difference in material quality that may be a deciding factor. High carbon steel refers to a material that has a higher carbon percentage than is standard for steel, usually between 0.6%–1%. It's less resistant to corrosion than stainless steel.
It's considered the material of choice for high-end knives because it's wear-resistant—meaning that the blade is more durable overall, and you'll need to sharpen it less frequently.
Stainless steel, in contrast, is more malleable and is harder to sharpen.
Thus, despite their similar descriptions and satisfaction guarantees, there's a good chance that each of the high carbon knives listed above will last longer without expert maintenance than Forged in Fire knives.
It might still be worth it to you to go with this brand, so you receive two knives for the price of one, but keep in mind that you'll need to perform more frequent sharpening.
The Bottom Line
Forged in Fire knives benefit from excellent branding and a good dose of historical nostalgia. Though using these kitchen tools might make you feel like an ancient blacksmith, the evidence is lacking that they can truly withstand the test of time.
Customer reviews for Forged in Fire here at HighYa are fair to poor, with the most common complaint being that they just don't last. That makes sense, as their stainless steel construction might fight off rust, but it doesn't do the blades any favors for staying sharp.
Forged in Fire knives seem adequate for most kitchen tasks, but they aren't going to be significantly better than other options available. A good kitchen knife is a tool you'll use multiple times a week, so it's worth paying more for something that will truly last.
---
Not what I expected!

By David N.

,

Youngsville, LA

,

Oct 28, 2020
Verified Reviewer

Length of Use: Less than 3 months

Overall Experience:

I bought these knives knowing they were nowhere near the knives created by the show "Forged in Fire", that being said, I was totally taken, stolen from by these people. They're cheaply made, pairing knife lost its edge after a week of cutting nothing harder than an onion! The 8" knife still has an edge but I haven't used it on anything harder than a stuffed chicken, but judging from the other knife it won't be long before it losses its edge. As far as the sharpening goes, the joke's on me. When I saw the sharpening I thought I was buying a sharpening tool but I learned I paid extra for a sharpening service but I have to pay shipping and handling if I want to have them sharpened. That's totally BS! And the 2 tiny tip protectors are ridiculous, might as well not have anything. Overall I WOULD NOT recommend this product, then again, you get what you pay for!

Pros and Cons:

Handle
Inability to hold an edge
Not hand-forged
Cut from a machine

Bottom Line: No, I would not recommend this to a friend

---

Thieves and liars!

By Randy F.

,

Carson, LA

,

Aug 10, 2020
Verified Reviewer

Overall Experience:

Forged in Fire is a scam! I wonder how many people they have stolen from? They have no shame. I still have not received anything from these thieves. I'm an old man on a fixed income. I hope someone with money sues these shameful things for everything they have! Take my advice and do NOT order anything from Forged in Fire!

Pros and Cons:

No "pros" were specified in this review
I don't like dealing with thieves!
They should be ashamed.
I never received the product!

Bottom Line: No, I would not recommend this to a friend

---

Advertisement

---

Handles were broken

By Shelly G.

,

Laramie, WY

,

Jul 31, 2020
Verified Reviewer

Length of Use: Less than 3 months

Overall Experience:

I ordered 4 sets for Father's Day, for my sons. They came in quickly and looked good, I was happy. On Father's Day as my sons opened them and took them out of the package, I was horrified to find that the handles were broken where they had them zip tied. I will never send these back along with my check for $9.95 as I feel like I will never see my money or the knives again. Shady business. Please don't buy these knives. I wish I hadn't.

Bottom Line: No, I would not recommend this to a friend

---

Attention, this is a scam, do not order!

By Don M.

,

Arlington, TX

,

Jul 31, 2020
Verified Reviewer

Overall Experience:

Purchased knives on 5/30/20, they processed my credit card and emailed me the confirmation number. To this date, no knives have been shipped. I called, the number 800-300-3465 is a joke! Some guy by the name of Steve on the recording says orders are being shipped and to wait 7 days and your order will ship. This has been going on for 4 weeks now and he leaves his email as steve@forgedinfire.com but it bounces. Also, the email on the confirmation order, bff@unitellic.com, bounces as well. What a scam. How do they get away with putting it on national TV?

Pros and Cons:

No "pros" were specified in this review
Scam, never received product!

Bottom Line: No, I would not recommend this to a friend

---

Advertisement

---

Ordered $92.00 nearly 3 months ago, still has not been shipped

By Colin P.

,

Fayetteville, NC

,

Jul 28, 2020
Verified Reviewer

Overall Experience:

Telephone keeps you hanging for 40+ minutes and emails go unanswered.

For over a month they informed me that my items where in transit. When they finally gave me a tracking number for USPS (92612427005044000087475138), upon checking, USPS is awaiting package, it's been like this for over a week. I believe they requested a tracking number with no intention of posting it.

This company is on the rocks and is scamming people.

Pros and Cons:

No "pros" were specified in this review
This company's customer service stinks
Never arrived

Bottom Line: No, I would not recommend this to a friend

---

A scam

By Robert M.

,

Clifton, AZ

,

Jul 25, 2020
Verified Reviewer

Length of Use: 3–6 months

Overall Experience:

I ordered $192.00 in Merchandise on 6/16/20, they took the monies out the same day. Now you cannot get thru because of an automated system wanting you to wait another 7 days. Well, it's been 36 days. I have sent emails, called, soooo I am screwed. Not done yet and have filed a complaint with the BBB. I am 67 and bought it for my wife and daughter. It's monies that I have saved but cannot afford. How sad for the History Channel that is being scammed also.

Pros and Cons:

No "pros" were specified in this review
Paid $192.00 and no merchandise as of 6/16/20

Bottom Line: No, I would not recommend this to a friend

---

Made in China

By Ray D.

,

McDonough, GA

,

Jul 24, 2020
Verified Reviewer

Length of Use: Less than 3 months

Overall Experience:

I thought I was buying a made in USA product, but the package plainly states "Made In China." Very unhappy about this and trying to cut a "baby" carrot, it would not cut them, only break over the blade. Wound up using my Pampered Chef to cut the carrots! This was the first time to use them.

Pros and Cons:

No "pros" were specified in this review
Made in China
Very dull out of the box

Bottom Line: No, I would not recommend this to a friend

---

Very disappointed. I WANT A REFUND.

By George D.

,

San Antonio, TX

,

Jul 24, 2020
Verified Reviewer

Overall Experience:

I ordered three sets of knives on June 18/19th, 2020. It is now July 20th, a month later, and still no knives. I have called over and over again, and get a voicemail telling me to wait five more days and to call back then. I never get a person, just a voicemail. I'm done waiting for the knives. I want a full refund now. If a company is going to sell something, they need to give good customer service if they want to be successful. I WANT A REFUND NOW!

Pros and Cons:

No "pros" were specified in this review
Never received

Bottom Line: No, I would not recommend this to a friend

---

No product for my $119

By John M.

,

Tampa, FL

,

Jul 21, 2020
Verified Reviewer

Overall Experience:

Ordered on May 20, 2020. No contact initiated by them since that day. They took my money within 24 hours. 8 weeks later I have not received any knives.

When I started this review I was on hold at their 800 number. After 20 minutes a person did actually take my call. They looked up my order and said that it was scheduled to be delivered TODAY!

I'll believe it when I see it. I'll let you know.

Pros and Cons:

No "pros" were specified in this review
No feedback, hard to get in touch with
Quick to take money and slow to provide product

Bottom Line: No, I would not recommend this to a friend

---

DO NOT buy this knife!

By Kathleen K.

,

Washington, DC

,

Jul 13, 2020
Verified Reviewer

Length of Use: 3–6 months

Overall Experience:

At first I was excited about this item. Then I used it. Not sharp at all. Totally deceptive commercial.

I am so angry at myself for being taken in like this.

I tried to cut through corn on the cob. Nope. I tried to cut through a bulb of garlic. Nope. Couldn't do it.

They thinly sliced through a grape? I can't see how. Too dull for that.

And they are still selling this knife on TV. The examples they are showing just can not be done with this knife.

And the little knife? Terrible as well.

How are they getting away with this?

Pros and Cons:

No "pros" were specified in this review
Is not sharp

Bottom Line: No, I would not recommend this to a friend

---

Defect in chef knife, but told must pay over $9 to return it

Length of Use: Less than 3 months

Overall Experience:

We purchased two sets of the chef and paring knives. One chef knife was defective, a nick on the blade on the curved area. We called and explained the defect. We were told to send the defective knife back we would need to pay $9.95 for shipping. I refused to pay. I was told to repackage and put "Return to Sender." I refuse to purchase anything from a company that cannot accept shipping charges for a defective product. Also, we contacted forget in fire three days after receiving the knives. Also, only one of the chef knife was razor sharp. They promised us razor sharp knives.

Pros and Cons:

Appearance
Handle construction
Balance
Defect
Not razor sharp
Company refused to pay for return postage of defective knife

Bottom Line: No, I would not recommend this to a friend

---