Forged in Fire Stainless Steel Skillet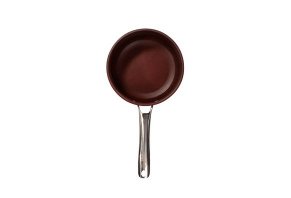 Merging the user-friendliness of a non-stick surface and the durability of stainless steel, the Forged in Fire stainless steel pan provides decent value for such a versatile piece of cookware.
Forged in Fire Stainless Steel Skillet Review
The Forged in Fire stainless steel skillet is branded as a tough, long-lasting pan that shares its name with a popular History Channel blacksmithing show.
Among the claims the pan's page makes is that it's "one of the strongest pans known to man," "a once-in-a-lifetime pan" and "the last one you'll ever buy."
The site goes as far as to say the strength and durability you get out of this pan matches pans that are four times more expensive.
With claims these powerful, it's important to try and look past the marketing and see exactly how the pan works, what it's made out of and what it costs. On top of that, you'll want to compare how much the pan costs to other pans, too.
In this review, we'll cover each of those vital sections to ensure that you're equipped with the information you need to make a smart buying decision about your next pan.
How the Forged in Fire Stainless Steel Skillet Works
According to the pan's website, there are no special instructions about how to use the pan to cook. In fact, the absence of limitations on the pan is part of its marketing.
Between the claims they make on their site and in their promotional videos, you can use the Forged in Fire pan to cook everything from steaks to eggs to cinnamon rolls.
The versatility lies in the pan's stainless-steel construction that allows it to generate enough heat to sear a steak, the site says. The pan's ability to cook eggs is due to the fact that it features a textured, non-stick surface. This cooking surface is one of five layers of material coating the stainless steel.
Part of the reason the pan can be non-stick is that it has a bumpy service. The small bumps on the pan's cooking surface mean that your food is never going to touch the entire cooking surface. Rather, it's making small points of contact with the pan, which reduces the probability of food sticking to the pan.
The Forged in Fire skillet is rated for cooking in an oven up to 500 degrees.
As far as how tough the pan is, it gets hammered while on an anvil and doesn't dent while a nameless competing pant literally folds under a hammering of the Forged in Fire pan.
Our guess is that the pan used in this brutish display of strength was an aluminum pan, as they're lightweight and can bend and warp over time (more on that in a second).
Cost of the Forged in Fire Stainless Steel Pan
At the time of publishing, a single 10" pan was $29.95 plus $8.95 for shipping and handling. Buying two pans will earn you free shipping.
In addition to the pans, you'll also get a downloadable cookbook titled, "Seared & Delicious Recipes".
You have 30 days from your date of purchase to return the pan if you aren't happy with how it performs. To start the return, you'll need to call 800-300-3465 or email customerservice@shopforgedinfire.com.
One of the unique features of this pan is that it comes with a 50-year guarantee. According to the fine print, your warranty kicks in if "any defects develop that are a result of faulty workmanship or materials."
Now, if the pan wears down as the result of normal wear and tear, the warranty won't cover it.
If you need to make a warranty claim, you'll have to send the pan back to Forged in Fire at: Forged in Fire Cookware; 1075 Main Street; 4th floor; Waltham, MA; 02451. Keep in mind that you'll have to pay $9.95 for shipping and handling to get a new pan.
Included in your returned pan must be "your name, address, phone number, email, and an explanation of the issue with the pan."
Pro tip: The pan works on all stovetop types.
Comparing the Forged in Fire With the Graniterock and Gotham Steel
As you research various pans you buy online, you'll inevitably notice the main difference between pans is going to be materials.
It's widely known among professional and home cooks that stainless steel pans are more durable because they're heaving and, typically, their cooking surface is thicker than an aluminum pan.
In addition to this, stainless steel pans tend to hold heat better than aluminum pans, which tend to get very hot and very cold much quicker. Here's an excerpt about aluminum pans from our guide to cookware materials:
"Aluminum is used in approximately 50 percent of all cookware manufactured today because of its excellent heat conduction. However, this soft metal and can scratch and dent easily. It can also react with certain foods, which is why aluminum is generally sandwiched between other metals."
The Graniterock pan is a good example of an aluminum pan, as it's made from one solid piece of aluminum and layered so that it's non-stick. At $19.99, it's around $10 cheaper than the Forged in Fire and it has the same oven rating. The Gotham Steel skillet is another aluminum pan that also costs about $10 less than the Forged in Fire.
The Final Word: Our General Observations About the Forged in Fire Stainless Steel Skillet
Based on our analysis of this pan and its various features, we believe that it offers you the distinct advantage of stainless steel while also offering a non-stick surface. You get the durability and heat retention of stainless steel with the luxury of a non-stick surface you usually get with aluminum pans.
Price-wise, the pan is more expensive than aluminum alternatives. If you're not sure if this is the right steel pan for you, you can find stainless steel pans from big box retailers like Target. Some of their more popular pans are $29.99 but are not non-stick.
They do sell a two-pan set of non-stick stainless-steel pans from Calphalon (8" and 10") for $49.99. Target also has a 12" stainless steel, non-stick pan for $39.99. These pans have 10-year warranties.
In general, we think that the Forged in Fire pan offers decent value compared with similar pans. If you're not convinced this pan is the right fit, take a few minutes to read our guide to buying non-stick cookware.
We explain the main types of non-stick surfaces and help you understand which ones work best and are more durable.
1 out 1 people found this review helpful

Forged in Fire Skillet

By George R.

,

Burrton, KS

,

Mar 11, 2019
Verified Reviewer

We've purchased other non-stick pans before but the Forged in Fire pans have been the ONLY ONE to hold up to their advertisements. I've used them to cook eggs to steaks without one problem. I'm actually looking to purchase the larger 11.5" pans now.

Bottom Line: Yes, I would recommend this to a friend

---

Advertisement

---