Fortiva Personal Loans Reviews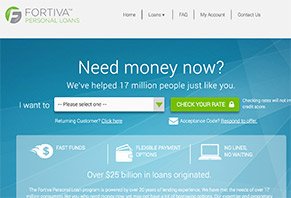 With a fast application and instant prequalification, Fortiva Personal Loans promises to help you pay off expenses, go on a vacation, or whatever else you need.
About Fortiva Personal Loans
Whether you're looking to consolidate credit cards, pay off debt, go on a vacation, buy new furniture, or just about anything else, Fortiva Personal Loans promises to deliver fast funds, flexible payment options, and an instant response.
On top of this, Fortiva tells us that they've been lending to customers with less-than-perfect credit for more than two decades and have helped "17 million people get the money they need." In total, they claim their proprietary data models have helped them originate $25 billion in loans over the past 11 years.
Just because Fortiva is a relatively well-established company though, is taking out one of their personal loans a smart financial choice? Do they have any competition? Here's what we learned during our research.
What Are Personal Loans? Are They a Good Idea?
There are many different kinds of personal loans (i.e. loans used for personal reasons), including auto loans, mortgages, and more. In general though, when using the term, most people think of short-term loans that are unsecured by collateral. Popular examples include payday loans and cash advance loans.
One of the biggest pros about personal loans is that lenders typically don't require you to use the funds for any specific purpose. So, whether you're looking to get your mime career going or build that roadside fruit stand you've always dreamed of, the sky's pretty much the limit.
On the other hand, undoubtedly the biggest drawback with personal loans is that they typically come with extraordinarily high interest rates. So high, in fact, that it's not unusual to pay more in interest than your original loan amount (we'll give some examples of this soon). In a lot of instances, customers can become entangled in a never-ending cycle of debt and find it nearly impossible to escape.
What about Fortiva, though? Are they any different? First, let's find out how the prequalification process works.
How Do Fortiva Personal Loans Work?
In order to prequalify for a Fortiva personal loan, you'll only need to enter basic information like you name, DOB, SS number, address and contact information, employer details, and whether you own or rent.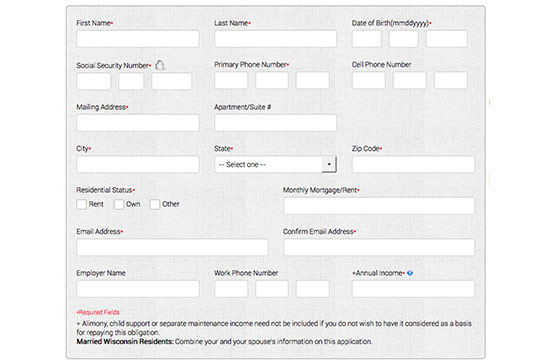 Fortiva allows customers to prequalify for a personal loan in a couple minutes after entering only basic information.
When sending your application, all your data is completely secure and confidential (Pro tip: You can verify this by searching for the lock icon in the left-hand side of your browser's address bar) and checking rates will not impact your score. According to the company, they need your social in order to "among other things, verify your identity and to make sure that we have the correct information from the credit reporting agencies."
From there, Fortiva claims to deliver a prequalified loan within seconds. However, in order to accept your loan offer, it appears you'll need to obtain an acceptance code via a letter sent through the mail, which—although there's no timetable provided—will likely take days.
After entering your acceptable code however, Fortiva claims you should receive the funds in your bank within 2 business days.
How much will you pay for a Fortiva personal loan?
Fortiva's Eligibility Criteria, Rates, & Fees
Will you qualify for a Fortiva personal loan? If you do, will you pay a lot for the pleasure? How much money can you qualify for?
At the time of our research, there was essentially zero information provided on the Fortiva Personal Loans website about their eligibility guidelines, the interest rates you can expect once you're approved, additional fees, and loads of other important information that you'll need to make a smart financial decision.
However, the parent company's website, Fortiva Financial (we'll talk more about them in a second), claims to specialize in "alternative financing solutions for those with less-than-perfect credit." What this means from a real-world eligibility and pricing standpoint isn't clear.
As we mentioned above though, personal loans don't exactly have reputations for low—or even reasonable—interest rates.
After your Fortiva loan has been transferred to your bank account, you can make payments through your online account, by mail or phone, and through Western Union or MoneyGram. If necessary, you can visit your bank and make a payment on your Fortiva account there.
What about flexibility? We're told that Fortiva allows you to change your payment date by calling customer service at 800-901-5687. To test out Fortiva's level of customer service and to provide some more insight into their loans, we contacted the company directly. Here's what we learned:
Our Fortiva Customer Service Experience
During our conversation with a friendly Fortiva representative, we learned that the company offers personal loans ranging from $2K to $10K, with repayment terms ranging between 24 and 48 months.
APRs can go as low as 15% and as high as 35.99%, depending on the amount you're approved for, along with your credit score.
We asked the representative about the company's basic eligibility guidelines (including minimum credit score to qualify), although they didn't know this information. They did tell us that your loan amount, APR, and even your eligibility can change after you've been preapproved, based on documentation requested by underwriting.
What, exactly, kinds of documentation will Fortiva request? Again, the representative didn't know.
Fortunately, other than a $15 late fee and a $35 NSF fee, there are no other fees associated with your Fortiva personal loan.
Bottom line: Although the rep didn't have answers to all of our questions, they were very polite and eager to answer our questions. But what are Fortiva's personal loan customers saying about their experiences?
Are Customers Leaving Positive Reviews For Fortiva?
Despite their length of time in business, there weren't a whole lot of online customer reviews for Fortiva Personal Loans at the time of our research.
In fact, we only came across two Fortiva reviews on SuperMoney.com, where the company only had 2 pieces of feedback and an average rating of 3 stars. One claimed it was difficult to apply for a loan, while another claimed interest rates were high, although their money was deposited quickly.
Outside of this, we found 175 customer complaints for Fortiva Financial, based out of Atlanta, GA, who had a B rating (as of 7/27/16). There, most complaints seemed to revolve around payment issues (e.g. continuing to draft payments after loan paid off, no notifications for late payments, etc.). In all instances, the company responded directly to these complaints.
While we're told relatively little about Fortiva, and there isn't much online feedback, let's see how they compare to other personal lenders.
Fortiva Personal Loans vs. the Competition
Here's something we've learned during our research: Whether you're talking about a personal lender like Fortiva, or competitors like Rise Credit, LoanMe, MoneyLion, and many others, just about everyone these days claims to use some kind of "proprietary data model." In other words, a unique algorithm that underwrites risks to provide speedy prequalifications—usually without involving a live person at all.
Is there anything that differentiates Fortiva's algorithm from other companies? Again, the company doesn't provide us with any information to go on, but these data models generally have more to do with eligibility than they do with providing customers with any real-world benefits (outside of prequalification speed, of course).
From a rate perspective, Rise's interest rates range between 124.67% and 363.97% and LoanMe's between 34% and 204%. Comparatively, at a maximum of 35.99%, Fortiva's rates might seem like a downright bargain. Still, let's run some quick numbers to put things into perspective:
Let's say you take out a $3K loan with a 15% interest rate and a 24-month repayment term. Here, you'd pay about $145 per month and nearly $500 in interest.
Now, let's max it out: If you borrow $10K from Fortiva with a 35.99% interest rate and a 48-month repayment term, your monthly payment will skyrocket to $396. Not only this, but you will have paid a whopping $9K in interest by the time everything's said and done!
As you can see, with such high interest rates, most financial professionals recommend only taking out personal loans if there really are no other options.
Given this, should you send up your information and prequalify for a Fortiva personal loan?
Are Fortiva Personal Loans a Wise Financial Decision?
On one hand, Fortiva seems to offer much lower interest rates than many other personal lenders, despite their focus on customers with credit scores on the lower end of the spectrum. On the other, as we just learned, you can still pay a steep price with accrued interest.
Does this necessarily mean that a Fortiva personal loan is right for you? Ultimately, that's a question only you can answer. With everything we've discussed here though, you're well on your way to making a fully informed decision.
Scams and fraud Fortiva credit

By William L.

,

Utah

,

Oct 22, 2019
Verified Reviewer

This is a zero-star review.

If you have any alternative, DON'T EVER DO BUSINESS WITH FORTIVA CREDIT.

The scams generally involve a claim that Fortiva's computer system made a mistake and didn't make an automatic deduction from your bank account, followed by late charges and negative credit reports.

This is, of course, a violation of federal law, but they're running a numbers game and don't expect anyone to sue them over these charges in federal or state court.

DON'T EVER DO BUSINESS WITH FORTIVA CREDIT.

Bottom Line: No, I would not recommend this to a friend

---

Liars

By Sabina P.

,

Canyon Lake, CA

,

Mar 23, 2019
Verified Reviewer

This company is charging high interest without customer knowledge. This company is very greedy. This company will not help you at all and can even destroy your good credit for $36. This company posted information on Valentine's Day that if you purchase a bike from ProForm and you will pay in 12 months they will not charge you any interest. The truth is they will charge you a lot. They will never compromise with you. They even tell you that they do not care about you and they do not appreciate your business. Fortiva making deals with ProForm and lie to people by misunderstanding or misleading. I want to warn all customers to avoid the mistake I made.

Bottom Line: No, I would not recommend this to a friend

---

Advertisement

---

Loan experience

By Penny S.

,

Ohio

,

Nov 29, 2018
Verified Reviewer

I received a $2500 loan from Fortiva for a bed. I wanted to set up a 12-month same as cash and accidentally had all the money withdrawn at once. I called immediately and they said they would refund, but it would take three weeks. Two months later I am still waiting on my refund. I get exactly the same speech every time I call..."it will take 3-5 business days." Then I call again..."it will take 3-5 business days."Today I complained about getting the same answer every time and they now say 7-10 days.

Bottom Line: No, I would not recommend this to a friend

---

Increased my spending in 6 months

I had this card for 6 months, paid the minimum on time and they increased my spending by $800. So worth the wait, and this helps my credit score since I had one in the low 500's.

This is not a scam credit card! They gave me a starting credit limit of $600, which was the highest around for my score at the time.

Bottom Line: Yes, I would recommend this to a friend

---

Advertisement

---

High interest loan but fast service

By James Brown

,

Milwaukee, WI

,

Oct 2, 2017
Verified Reviewer

I got an offer in the mail for $4k, and they were very quick in depositing the funds. The interest rate was 36%, and payments were $200 for 48 months. They don't mail statements but have info online. Better not to draft your account. You get notices (mailed late) if you are late, and they tend to call and nag at work too.

Overall, I would not repeat the experience, but it was ok compared to Payday Loans. It might be difficult to be approved.

Bottom Line: No, I would not recommend this to a friend

---

Fortiva is horrible

The interest is extremely high. I had some financial difficulty and requested help from them and was denied. Despite being paid in full, they have my account on the three credit bureaus as derogatory.

Bottom Line: No, I would not recommend this to a friend

---

Horrible experience

This has been the worst experience as far as credit cards. Number one issue was the hassle to pay them since they do not receive payments from a business account, and only from a personal account, which I do not have. I had to send them money orders; however, when they received them it would take additional 7 business days to clear. During this period they impacted negatively my credit since they notified continuously the credit bureau as non-received payments.

Finally, customer service is terrible. The people handling customers are illiterate on how to give the right information, and can get one to boil in rage.

Overall, worst credit card.

Bottom Line: No, I would not recommend this to a friend

---