FortuneBuilders Reviews
Claimed This company has claimed this profile, is getting alerted on any new customer reviews entering this page, and may engage in dialogue with its customers to address their matters.

Companies cannot pay money or provide goods in order to remove or alter customer reviews.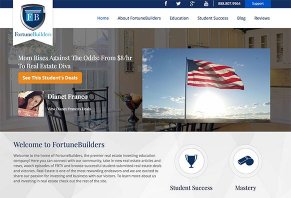 FortuneBuilders is a real estate investment program whose varying levels of 1-on-1 coaching & workshops build an education you can use to become an expert in all phases of a real estate transaction.
About FortuneBuilders
FortuneBuilders is a real estate investment (REI) company that claims to use a proven system to reduce risk and maximize profit.
The company sells its courses and systems to individuals who are interested in making a part-time or full-time career out of REI.
FortuneBuilders is led by Than Merrill, a Yale University grad and former NFL safety who started his own real estate company in 2004 after his playing days were over.
He launched FortuneBuilders in 2006 and his company's conferences attract thousands of people each year, with some choosing to sign up for the company's "Mastery" program (more on that later).
The concept behind the FortuneBuilders is relatively simple. Find real estate through which you can turn a profit, whether it's a run-down home in an up-and-coming neighborhood or a desolate commercial property in a booming business district.
But actually pulling off a profit requires an extensive knowledge set that spans real estate, contracting, property law, business management and risk. That's where FortuneBuilders comes in – they claim to give you these skills.
Make no mistake about it; for those who want to make a full-time career out the FortuneBuilders REI system, you'll need to invest tens of thousands of dollars (the website gives no specific prices).
Is FortuneBuilders another high-priced deception, or do the principles and systems the company shares actually provide individuals like you the tools you need to run an efficient REI enterprise?
To answer that question, we did some research on the FortuneBuilders website, read some consumer reviews and talked with CEO Than Merrill.
Over the next few minutes, we'll investigate what the company offers, how you can sign up, what kind of person can succeed in this program and what other consumers are saying about their FortuneBuilders Experience.
What FortuneBuilders Offers: Real Estate Investment Training
At first glance, FortuneBuilders may seem a little mysterious. Their website doesn't get into specific details about what you'll learn via their two-hour seminar, weekend event or Mastery coaching and workshops.
To get more information about what you'll learn, we talked with Than and asked what the main areas of education are within the FortuneBuilders program.
Understanding what the company teaches its students is critical to understanding what the program offers:
Real estate appraisal/due diligence: Properly assessing the value of a home
Marketing: Finding the right buyer at the right price
Escrow: Ins and outs of what happens after an accepted offer
Financing: How to secure funding for investment properties
Construction management: How to manage a rehab
Property management: Running a property you're renting out
Property disposition: Marketing and selling commercial properties
Business management: Understanding systems, technology and software
People management: Finding and keeping the right people
It's common to find people, Than says, who only want to learn the basics of one or two of these areas. While you might be able to pull off a flip or two, you'll be missing vital information, he told us.
In order to get to the point that you can learn the FortuneBuilders system before buying your first property, you'll have to work through the FortuneBuilders funnel.
The FortuneBuilders Funnel
The funnel works like this: seminar, weekend event, and Mastery courses.
Seminars are typically a two-hour event in a city where those interested in real estate investment can come and learn a bit about FortuneBuilders.
At some point during the seminar, the person leading the event will invite attendees to sign up for a three-day weekend event that costs, based on our research of various consumer testimonials, around $200.
The weekend event shares a little bit more about the company and the systems they have in place to help you succeed in REI, but they don't give away all the secrets.
Just like the two-hour seminar, at some point during the weekend, they'll ask you to invest a considerable amount of money in joining FortuneBuilders and taking part in their Mastery courses, which cover the details of the nine categories we talked about.
During that time, you'll basically get a college-level education on the entire real estate investment process. Than says the principles he learned over 14 years in the industry are condensed into the Mastery program.
How FortuneBuilders' Mastery Education Works
We've mentioned the word "system" several times in this review because it's at the core of the FortuneBuilders business model.
Over the past 14 years, Merrill has nailed down a series of critical software and workflows that make the REI process from appraisal to purchase to renovation to sale.
On top of that, he's assembled a team of trainers who work with you to understand the FortuneBuilders REI process. These trainers have real-world experience they share with you in one-on-one sessions as you work on real estate deals.
Mastery students also get hands-on training with FortuneBuilders software that works very much like a flight simulation.
For example, Than told us, students will log onto the FortuneBuilders rehab app and be presented with a case-study home FortuneBuilders has purchased and rehabbed according to their system and database of construction materials.
The home is presented three-dimensionally to give you a comprehensive project scope. Students go room-by-room and inventory what's there, what needs to be fixed, what needs to be bought and what, if anything, will stay.
Once all this data is recorded, students can access the FortuneBuilders database to find counters, cabinets, appliances, flooring and other products for the rehab.
At that point, your primary estimate is done and you compare it to the actual estimate that FortuneBuilders created. This comparison gives you a good look at where you can refine your process to maximize profit and provide the home's future owner with a great house.
"After having gone through these 10 or 15 case studies with us, you're just going to replicate the construction and décor materials we use in different rooms and apply that to your own product," Than told us.
FortuneBuilders Workshops
The training they offer goes beyond software, though, and the Mastery program is part of a series of learning opportunities the company offers:
Mastery Coaching – Helps you strategically invest in real estate using a team of expert coaches, one-on-one mentoring and support, access to a community of like-minded individuals and much more.

Marketing & Wholesaling Bootcamp – A 4-day intensive that can help you set up your company, create a marketing plan, learn how to evaluate deals, build your buyers list and obtain financing.

Rehabbing Bootcamp – A 4-day intensive that teaches house locating techniques and how to build a rehab team, an onsite bus tour, how to sell your home and obtain insurance and how to set up your accounting software.

REO & Short-sale Intensive – A 3-day intensive that claims to help you take advantage of the unlimited income potential associated with short sales using marketing techniques, insider secrets and systems that can "double your profits."

Online Business Bootcamp – An online-only event that focuses on "creating online funnels for your real estate business." Topics include blogging, affiliate programs, social media marketing, joint ventures and more.​​​​​​​

Insiders Summit – A 3-day investor training series hosted by A&E's "Flip this House" TV stars.​​​​​​​

Courses – Includes topics such as Marketing for Deals, Rehabbing and Maximizing Profits, and Wholesaling for Quick Cash.
Now, the Mastery coaching and workshops – the full-fledged leap into FortuneBuilders – don't come cheap. While their site doesn't list any prices, one HighYa reviewer indicated he was asked to pay between $15,000 and $34,000 for the FortuneBuilders Mastery program.
Some of these reviews have bemoaned the high price and point to it as a reason that they didn't enter the Mastery program.
Others who did enter the program say it wasn't worth the tens of thousands of dollars they invested in it. Still others say it's worth the money.
These varying opinions made us wonder what type of person can succeed with FortuneBuilders.
What Kind of Person Will Succeed in FortuneBuilders?
Than told us that FortuneBuilders can work for just about anybody because the skills you need in order to succeed in the program can be taught.
However, he made it pretty clear that certain types of people will find it easier to excel in the FortuneBuilders program.
People Who Love Routine
One of the first things Than told us is that former or current members of the military tend to do well in the program because they're accustomed to a life of routine.
This is key, Than said, because your FortuneBuilders career thrives on a disciplined approach to learning at least an hour a day.
"People with military backgrounds who come in as students are very used to routines and they're used to being self-disciplined," Than told us. "You're running a business. A lot of your success is going to depend on developing those routines."
People With an Entrepreneurial Mindset
Entrepreneurs, Than said, are people who are more comfortable with risk. Because real estate is risky no matter how experienced you are, you have to be okay with the possibility you might lose money on a deal.
"People with an entrepreneurial mindset who take calculated risks tend to succeed," Than said. "Some people are just not suited to take on risk. Their probability of success is lower."
While the probabilities might be lower for those who aren't used to routine and risk, Than said it's still possible to teach them these mindsets.
"Any of these traits can be learned; these concepts can be taught," he said. "But, your probability of success will increase dramatically if you've already got those skills."
Does FortuneBuilders Eliminate Risk?
This is a huge question for consumers because real estate requires investments than hit six digits and the FortuneBuilders program requires tens of thousands of dollars.
Than says that you can never eliminate risk from real estate – it's a given – but learning how to think like an entrepreneur and being disciplined enough to study REI every day can reduce risk.
"We've bought properties and made mistakes, but the thing that I've learned is that education helps you eliminate 80 to 90 percent of those errors," Than said. "If you consistently educate yourself, you'll avoid the major mistakes."
This is why Than encourages people who are serious about REI to join the Mastery program. You can't become an efficient REI business owner by giving minimal effort, which leads us to our next question.
Is FortuneBuilders a Get Rich Quick Scheme?
There are dozens, if not hundreds, of real estate "experts" who say their methods of doing things can earn you tens of thousands of dollars in a very short amount of time.
While some of these experts are legit – Than is a good example, as is Nick Vertucci – others are not. One of the key factors in differentiating the two? The promise of quick riches.
"It's not an overnight process. There's a lot of risk in real estate, but people try to short-change the process by going to one event or reading one book," Than said. "The thing I always say is build that educational foundation at first. Don't jump in there and try to do a deal with a weekend or a couple of books."
In fact, Than said, his program isn't interested in people who want to one-off a weekend event just so they can learn a few principles and apply them to the real estate market.
"We want people who want a long-term, sustained business," Than said. "There's a lot to learn in regards to systems, protocol and operating procedures. We want serious individuals who realize the work that's entailed and who want to follow the process."
If you're interested in trying out REI as a career, Than says he tells his students to devote at least 15 hours a week to figure out if it's the right career choice.
We also checked the FortuneBuilders website for any income disclaimers and found a pretty extensive page of information that leads with:
"Any income or earnings statements are estimates of income potential only, and there is no assurance that your earnings will match the figures we present. Your reliance on the figures we present is at your own risk."
What Others Are Saying About FortuneBuilders
The most revealing series of reviews and ratings of FortuneBuilders comes from the company's Better Business Bureau page. At the time of publishing, the company had an A+ rating.
However, the BBB indicated it confronted FortuneBuilders in July 2012 about radio ads claiming students could earn between $10,000 and $40,000 per real estate deal in their spare time.
The BBB indicated that FortuneBuilders removed the radio ad in accordance with the BBB's wishes and added disclaimers to its other radio ads with "Earnings vary based on your effort."
We also discovered that FortuneBuilders is required to ask for federal documents proving the real estate profits of students who are used in testimonials.
The BBB page also indicates that FortuneBuilders speakers are active real estate professionals and attend weekly conference calls with Than.
We found reviews on other sites as well, one of which is Bigger Pockets, a forum for real estate investors. The reviews on that site are mixed – some think the high price tag is worth it, while others say you can get the same education from books and meetings.
In our opinion, it's hard to affirm that FortuneBuilders' material is available in a couple of books and local real estate meetings, particularly because of the one-on-one coaching that takes place as well as the company's rehab software and workshops.
FortuneBuilders also has a collection of reviews on Yelp with an average rating of, at the time of publishing, 3.3 stars. Positive comments say the workshops and seminars are helpful, while negative comments focused on the events being too salesy.
The company also has 378 reviews on Google Reviews with a 5 out of 5-star rating and 682 reviews on Facebook with a 4.7 out of 5-star rating.
Our Final Thoughts on FortuneBuilders
The FortuneBuilders program is a tricky one because it takes a big investment on the part of the student to get the information, education and experience that will help them, as Than said, reduce 80-90% of mistakes that you'd normally make in real estate investing if you didn't have a comprehensive education.
Now, that number isn't set in stone – mistakes are made by even the most experienced investors.
However, the principle of education Than is pushing is a pretty sound one, and, just like any formalized education system, it will cost you time and money.
Is FortuneBuilders Right for You?
If you half-heartedly want to learn about real estate, then, in our opinion, we think you might be best served by reading a few books and joining local real estate groups.
The level of time (at least 15 hours a week to start) and money (at least $15,000 for the Mastery program) is so steep that it's not worth your time if you aren't going to commit.
Treat FortuneBuilders like you would if you wanted to start fishing. Buy a rod, reel and some lures and figure out if you actually like it.
Accurate summary

By Jennifer P.

,

Rossville, GA

,

Apr 4, 2020
Verified Reviewer

I was curious about FB reviews...we are FB Mastery students, nearly new, and have been extremely pleased with the support and training we receive as a part of that family. That said, as we build our team, it is difficult to concisely explain exactly what FB is to someone who has no clue. Your review will be my first place to send someone to investigate FB, it was a fair assessment all around!

Bottom Line: Yes, I would recommend this to a friend

---

Full Immersion

By Gail H.

,

Jacksonville, FL

,

Feb 10, 2020
Verified Reviewer

Amazing experience thus far to help us understand and build our business using a system that works. The coaches have all been over the top and incredible to learn from. The Full Immersion and actually going to homes put it all together and gave a perspective of what to look for and when to walk away. So excited and glad to be a part of FortuneBuilders and the Mastery team. Getting ready to CRUSH IT!

Bottom Line: Yes, I would recommend this to a friend

---

Advertisement

---

No fear but confidence in the system

By Claude R.

,

New York

,

Jan 27, 2020
Verified Reviewer

The Full Immersion was an eye-opener. I no longer have the fear of doing an assessment on a property. There is no need to do guesswork. The system helps in every way.

Using the deal analyzer details the work and repairs needed and calculates the cost that you would use in completing your deal and funding.

The marketing session helps you in ways to get your business out the face of potential customers (sellers/buyers).

Bottom Line: Yes, I would recommend this to a friend

---

Full Immersion review

By Verna B.

,

Rockland County, NY

,

Jan 26, 2020
Verified Reviewer

I recently joined the Mastery and completed the Full Immersion this past weekend. I'm so impressed by the wealth of information shared so far.

The 3-day seminar was "off the chart". Sean was very knowledgeable and I just can't wait to start using the tools and the information that everyone has shared.

The Full Immersion was also another great training. We learned a lot and visiting the properties helped as well. There is a lot of information to learn but I'm looking forward to this journey. I am nervous but I know that with the help and support of the coaches I will crush It.

I would also like to mention your support team. They are EXCELLENT. I'm in the customer service field and I can say that they are the most helpful and genuine. They respond to your email/questions almost immediately. I'm really looking forward to doing some rehab and even getting in the commercial space.

I'm very excited and would like to thank you for offering this opportunity to anyone who wants it and have the drive to work the process. I hope to meet you and your team soon. God bless you and your team and continue to do what you are doing - changing one life at a time. Because I know that so far you have changed my life.

Bottom Line: Yes, I would recommend this to a friend

---

Advertisement

---

Don't keep their words.

I attended a 2-hour class and the presenter was the one who pushed to go to the 3-day workshop. I never asked him any questions or spoke with him one-on-one but he was very well-spoken, makes jokes and clear, so that gave me the push. I went to the workshop, the guy was funny, he gave lots of information but he didn't really show how to use them and spoke too fast. For example, I was more interested in the WHOLESALE BUSINESS but he didn't focus on that and when they called me for the 5 mn interview, the interviewer said I have to buy the book on Amazon on how to wholesale from Than since I didn't have the $30k-50k for the mastery.

Bottom Line: No, I would not recommend this to a friend

---

Cost of Mastery

By James C.

,

California

,

Dec 2, 2019
Verified Reviewer

I just attended the 3-day training in Sacramento. Lots of helpful information. A bit overwhelming actually. The presenter, Lee, was excellent. super knowledgeable, and very engaging. I'm confident the product they offer, Mastery, is an excellent product, but the price tag is $50,000, not $25k or $30k as indicated by other reviewers. Maybe FB prices Mastery according to the local market. In any case, too pricey for me and I wasn't sure I had what it takes to succeed.

Bottom Line: No, I would not recommend this to a friend

---

Incredible is all I can say...

By Neal F.

,

Florida

,

Nov 18, 2019
Verified Reviewer

My wife and I joined FortuneBuilders in January 2019. I work full time and my wife is an at-home mother taking care of 4 children. We joined FB because of the incredible educational system they present to learn the real estate business. Our goal is to learn everything throughout our first year, make contacts, and build our team as we are in this for the long haul. It's like going back to college. The systems they have in place and the support they offer can only allow you to succeed if you put in the work. It is by no means a get rich quick scheme. You put in the work, find your niche, be creative, have fun, and follow their systems. It is an eye-opening experience and one we are excited about as we will start looking for deals come January 2020.

Bottom Line: Yes, I would recommend this to a friend

---

They deliver

By B V.

,

Louisville, TN

,

Nov 5, 2019
Verified Reviewer

I was a real estate agent and I have been reading books on investing, watching YouTube videos, researching etc...

Many things they explained I already knew, but what they added was expertise and in-depth knowledge, structure, guidance, examples and better ways to implement things. Warnings and heads up they gave were priceless. I see the value after taking the 3-day class to do the mastery course. Than is basically giving you a franchise in which you can do your own business under your own name. He has gathered professionals and created a system for those who value professionalism and not wanting to get sued or for those who don't want to learn by making mistakes.

Of course, some people will say it's not worth it. Many people who say it's not worth it have not even taken the course. Is college worth it? If a franchise can ask for thousands of dollars and you get no guarantee your business will succeed and not fail, surely Than can do the same. If a college can charge $100,000 for a 4-year college degree and no promise you will even get a job in your field of study, there wouldn't be so many over-educated waiters and bartenders, etc...

If you value education and real estate financial wisdom, a system with checklists, mentors, software, and community support, then it's for you.

If you like to pay less and learn by doing and making mistakes and learning from them to save money than this is not for you. If you don't value someone's expertise and experience, this is not for you. They will annoy you by holding your hand and giving you step by step course of actions. If you don't want all the answers even to questions you didn't have, don't spend a dime.

I personally would rather risk losing $34k to make millions of dollars than to save $34k and risk losing millions and not getting any support. I have been saving for way too long, you must spend money to make money sometimes.

Bottom Line: Yes, I would recommend this to a friend

---

Full Immersion Training

By Grace O.

,

Powder Springs, GA

,

Oct 11, 2019
Verified Reviewer

The course was an excellent review for me of how I can locate a property, analyze it to make sure it's worth the trouble, fund it, rehab and resell for a profit. It's mostly participatory and hands-on, so It helps one remember down the line most, if not all of what was learned.

Bottom Line: Yes, I would recommend this to a friend

---

FortuneBuilders Bootcamps

By Joseph S.

,

New York

,

Oct 5, 2019
Verified Reviewer

I have been a member of FortuneBuilders for 5 years now. I try to attend 2 or 3 Bootcamp locations every year. Many of the classes I have attended multiple times. I have found that the systems and information are constantly updating, and I learn something new every time I go. Being able to network with other investors is also a huge plus.

Bottom Line: Yes, I would recommend this to a friend

---

Full Immersion

By Lynda J.

,

Atlanta, GA

,

Oct 1, 2019
Verified Reviewer

I loved the Full Immersion. The hands-on and all the stuff I learned in just those few days was amazing. Bill Hook was amazing in making this a wonderful learning experience. We had a great group that was uplifting and ready to get this going for them.

Bottom Line: Yes, I would recommend this to a friend

---