FoundersCard Reviews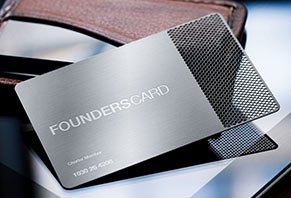 FoudersCard is a program for entrepreneurs and creative professionals that gives exclusive access to networking events and travel perks & discounts.
What Is FoundersCard?
FoundersCard is an exclusive membership group for entrepreneurs and creative professionals that charges a $595 yearly fee and a $95 initiation fee. Membership includes an actual card, access to networking events as well as more than 500 travel and lifestyle benefits.
FoundersCard began as a series of networking events where entrepreneurs could meet, talk shop, and make connections that would encourage and challenge them.
Over time travel brands heard of the FoundersCard community and offered them various elite memberships, discounts, and benefits. There are now around 20,000 FoundersCard members in their 20s, 30s and 40s who are involved in a wide variety of business ventures and whose incomes vary.
Think of the FoundersCard like a luxury travel credit card with all the travel benefits and without the credit card part. Is this membership a good fit for you?
We'll help you answer that question by looking at why and how the FoundersCard was created, what the card offers and what other people are saying about the card. We'll end with our final thoughts about the card.
Why and How FoundersCard Was Started
To get a sense of the history of FoundersCard, we talked with the man who started it, entrepreneur Eric Kuhn.
Eric launched a tech startup back in the early 90's. He experienced the boom most companies did, with his company landing on NASDAQ. However, like most tech business in the 90s, the bubble burst and left his startup gasping for life.
He fought back, though, resurrected the company and eventually sold it. During the hard times, he thought up FoundersCard as a way for entrepreneurs to meet, share their experiences and sharpen each other.
"We really gravitated to the concept of reinventing the membership model in a digital way for entrepreneurs," Eric said. "We built a community I wished I had when I was building my internet company."
Travel Brands Wanted Founder Card's Members
As Eric's group of entrepreneurs grew, brands – particularly hotels and airlines – started to take notice.
And that's when he realized there was an opportunity to make executive-level perks and discounts available to entrepreneurs of all types and incomes.
"My mentality was that entrepreneurs deserve these benefits and not just the execs at top companies," Eric told us. "In most cases, our benefits duplicate or outdo what Fortune 500 execs get, and we have certain benefits you can't get anywhere else."
With membership now at around 20,000, FoundersCard has some clout when it comes to low rates and elite status in loyalty programs.
"We started with hotels in a few U.S. cities and now it's global," Eric told us. "We currently have more than 500 hotels where members can get negotiated rates which are, in most cases, not available on websites."
Membership in FoundersCard requires that you're an entrepreneur or a creative professional and that you fill out an application. The annual fee for the card is $595 and there's an initiation fee of $95, although the company, at the time of research, was offering $495 for the first year without an initiation fee.
What the FoundersCard Offers
This is where things get tricky. Because FoundersCard has significant relationships with top-quality hotels and airlines (as well as other well-known travel brands), they're hesitant to show all the specific tier upgrades and travel discounts to people who are casually interested in the FC membership program.
FoundersCard's Somewhat Secretive List of Travel Benefits
We've seen the list of hotel and airline benefits ourselves, and it's pretty impressive. In fact, it's our opinion that the elite statuses you receive at certain hotel chains are far superior to what you'd get from a credit card like the AmEx Platinum or Chase Sapphire Reserve.
We want to honor FoundersCard request to keep their hotel and flight partners veiled, so we're going to leave those benefits out of this review.
We will say, though, that there were at least eight hotel groups offering discounts and/or elite status at the time of publishing, as well as nine airlines and several chauffeur services and rental car companies.
Day-to-Day Benefits
The membership program's benefits aren't limited to travel partners. As we mentioned earlier, the card offers more than 500 different benefits. Here's a quick list of non-travel perks:
UPS: FoundersCard Members are entitled to discounts of up to 36% on UPS air, international and ground shipping.
AT&T: 15% off standard rates on all voice plans and on data plans greater than $30 in value, excluding unlimited voice and iPad data plans.
MOO: 20% off all MOO orders for FoundersCard members and 15% off orders with MOO Business Services for employees of FoundersCard members.
Dell: FoundersCard Members save up to 46% off standard pricing on select products.
Shopify: New Shopify customers save 35% off any monthly plan and existing Shopify customers with a store created in the past 3 months save 35% off when upgrading an existing plan.
Avis: Complimentary Avis Preferred® Plus membership and up to 25% off rentals.
MailChimp: FoundersCard Members will receive 2,500 MonkeyRewards Credits ($2,500 value).
Bliss Spa: FoundersCard members receive an ongoing preferred savings of 20% on massages, facials, and body treatments at most US Bliss Spa locations.
Adidas: FoundersCard members receive an ongoing discount of 20% off most items on adidas.com.
Entrepreneur Magazine and Inc. Magazine: Complimentary 1-year subscriptions.
In our opinion, these benefits are nice, but certainly not worth the $595 annual fee, which is why the card's travel benefits are so key to its value. But if you ask founder Eric Kuhn why the card is worth its fee, it has everything to do with the networking events FoundersCard plans each year.
FoundersCard Networking Events
Remember how we said FoundersCard was, at first, a membership group focused on networking? Well, at the time that founder Eric Kuhn launched FoundersCard, there were other networking groups focused on entrepreneurs and creative professionals.
However, Eric said, networking events with those groups amounted to glassy-eyed entrepreneurs listening to seminar after seminar.
"I wanted to build an amazing networking event schedule that was different than what I'd experienced which was being stuck listening to seminars when I wanted to be talking with entrepreneurs with similar experiences," Eric said.
So, he designed FoundersCard events to be an open format. Food and drinks are served, there's a brief introduction by a FoundersCard rep and then entrepreneurs spend 2-3 hours chatting the night away. The events typically take place at an upscale hotel, Eric said.
The past few FC get-togethers have taken place at the Hotel Gansevoort in New York City, the Mandarin Oriental in Washington D.C. and San Francisco's Clift Hotel.
FoundersCard Reviews: What People Are Saying About the FoundersCard Membership
There are plenty of reviews about the FoundersCard, both from big-name travel websites, Reddit threads and blogs of lesser-known writers.
Travel-rewards website The Points Guy said the card is a good fit for someone who can take advantage of the airline and hotel benefits.
However, it's important to remember that the card is intended for entrepreneurs and creative professionals who are looking for a dynamic community of like-minded individuals.
Frequent Flyer Book, another travel-rewards website, noted that the card's airline benefits weren't all that amazing, but that smart travelers could really benefit from the card's hotel perks.
In general, we think FoundersCard users are happy with their membership even though they're paying annual fees equivalent to or more than what you'd find with the AmEx Platinum, Chase Sapphire Reserve or Citi Prestige.
And remember, FoundersCard isn't a credit card. You don't get the satisfaction of swiping it every time you make a transaction, nor do you get the excitement of seeing your travel rewards points increase with each statement.
However, you do avoid the hassle of APRs, which can cost the average cardholder hundreds of dollars each year.
Our Final Thoughts on FoundersCard
The FoundersCard is a really interesting product because it floats between a membership-style club and a financial product.
You get exclusive access to a community of 20,000 entrepreneurs who share your struggles and successes. Also, you get to participate in more than 30 networking events every year. The benefit here isn't financial, per se, but more career-oriented.
On the benefits side of things, the card offers some pretty interesting benefits if you spend a lot of time traveling. We like that the benefits allow entrepreneurs of varying levels and incomes to enjoy executive-level perks, but those perks come at a cost of $595 per year for the card's annual fee.
In that sense, we liken the travel benefits of this card to the Chase Sapphire Reserve. Sure, you get some pretty good bang for your annual-fee buck, but only certain types of people can take advantage of that value. The average American doesn't travel much during the year, so airline and hotel benefits aren't a big issue.
However, it's important to remember the card is a networking group first and a travel-benefits card second. Eric Kuhn told us as much when we talked with him. The spirit of this card is the exchange of ideas and experiences between entrepreneurs, not the imparting of crazy good hotel and travel benefits.
In our opinion, the FoundersCard is a very interesting option for entrepreneurs or creative professionals who want to be part of a relatively exclusive group of like-minded individuals and get the occasional travel perk.
If you came to this page because you wanted to find a good travel card you can use to hack your way to cheaper fares and hotel nights or discounted ticket purchases, you may want to stop by our review of the Chase Sapphire Reserve and Sapphire Preferred, as well as the MasterCard Black and the Citi Prestige.