Free 1040 Tax Return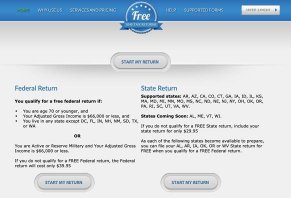 With prices ranging from free to $39.95, Free 1040 Tax Returns provides bare-bones pricing and user-interface that is missing some key tax situations for homeowners and business owners.
Free 1040 Tax Return Review: Should You Use It?
Free 1040 Tax Return is a tax software site you can use to file basic and complex taxes, as well as add a variety of paid services.
The website is one of the dozens offering an online platform through which you can DIY your taxes. Basically, sites like this give you a simpler way to do taxes and one that's far superior to filling out forms by hand.
We did some research on the company behind this website but could not find anything concrete. So, what we'll discuss in this review is based on what we find on the company's website.
In this review, we'll talk about how the site works, which forms the site accepts and how much it costs. We'll also talk about existing reviews at the time of publishing and then do a quick comparison of this site with other tax software.
How Free 1040 Tax Return Works
The website functions like most tax sites. You click on the "Start My Return" button and then answer a series of questions about your personal information, family size and the names and birthdays of your family members.
Then, the site guides you through a long series of questions asking you about your income, deductions and other various things pertinent to your tax situation. Basically, this site's goal is to understand where your money is coming from, which deductions you're eligible for and how all that affects how much money you owed to the IRS or that the IRS owes you.
When it comes to sites like this, one of the most important questions you should as is, "How helpful is the site in answering questions and making the process clear?"
That's not a question we can answer through our personal experience because we only filled out some preliminary questions on the site using fictional information. However, we can say that, by answering preliminary questions, the site's design is extremely basic and doesn't have nearly the same user-friendliness as a site like TurboTax or Credit Karma Tax.
As you can see, they opt for more of a one-size-fits-all approach to their introductory questions, whereas a site like TurboTax will walk you through them one by one.
Since our experience with the site is limited, you'll want to take a look at our section on consumer reviews to get an idea of what people are saying about filing with this site.
The Forms that Free 1040 Tax Return Accepts
One of the keys to using a website like this for complex tax returns is knowing that the site you're using can accept any form you'll need to submit to the IRS. Keep in mind that the site figures out on its own which forms you need; you don't have to do that part of the process.
But, again, it's key that the site accepts forms specific to your tax situation. Some of the more important tax forms that we didn't see on the site were the Schedule K-1, which is a form that companies use to report shareholder losses and profits. It's also somewhat popular among freelancers who file each year as an S-corporation instead of a sole proprietorship.
For this reason, Free1040TaxReturn.com is not a good site for freelancers who file as an S-Corp or businesses with shareholders.
Two other omissions from the forms the site accepts are the form you'd fill out if you have a mortgage credit certificate (8396) and the form you'd use to deduct interest you paid as part of your mortgage (1098).
Therefore, we think another group of people who aren't a good fit for this site are homeowners who want to deduct mortgage interest and get reduced tax liability through their mortgage credit certificate.
Finally, the site does not accept the forms (2555, for example) you'd need to file taxes if you are earning money and paying taxes in another country.
Now, if you're a freelancer who isn't operating as an S-Corp, then you can use the site to file, as they accept 1099 income forms and the various forms related to freelancer deductions.
Many other taxpayers can file with the site, too, as it accepts Schedules A, B, C, D, E, EIC, R, SE and 8812; as well as W2's, a variety of 1099's, the 1095-A and 109-E. You can head to their Supported Forms page to learn more about which forms they accept.
Free 1040 Tax Return's Pricing
According to the site's FAQ page, you'll either pay $0 or $39.95 to file your taxes on this site, plus an additional $29.95 for state returns.
If you're filing state taxes, it's important for us to point out that the site doesn't support state taxes for Alabama, Arkansas, Maine, Rhode Island, Vermont or Wisconsin.
Beyond that, you can pay for additional services, the most important of which we've below:
$3.95 to get an error check on a federal return
$2.95 to get an error check on a state return
$6.95 for the site to store your tax return for three years
$29.95 for audit insurance
We find the error scan to be an interesting charge, as this is something that's free on sites like TurboTax, TaxSlayer, H&R Block and TaxAct.
The same situation applies to the site storage fee. The four main tax return sites don't charge you to store previous years' tax returns.
The final main charge is the audit insurance charge. According to the site, a CPA or enrolled agent (IRS expert) will "handle the entire process" if you get a notice from the IRS saying you'll be audited.
We believe that these various fees are pretty expensive considering that all but the audit insurance is something you can get for free on other sites.
Customer Reviews of Free 1040 Tax Return
The main source of reviews about this site at the time of publishing was Consumer Affairs. Free 1040 Tax Return had 18 reviews for an average rating of 1 star.
Many of the reviews complained about the site's functionality, interactions with customer services and confusing or erroneous handling of their tax returns.
Several customers recommended that others do not use this site to file their taxes and one reviewer said it was the worst customer service he's ever experienced.
In our opinion, customer reviews of this site are pretty poor and may indicate that you won't have a positive experience with the site. If you have questions or make a mistake, reviewers have noted that reaching customer service can be a hassle.
Free 1040 Tax Return Compared to Other Tax-Filing Sites
Based on the points we made in the pricing section, we believe that TurboTax and H&R Block may be better choices for you because they're name-brand sites that have a pretty good reputation among consumers.
Also, we've filed taxes on both sites and believe the user experience is much easier on them than on other sites.
TurboTax and H&R Block will cost more than Free 1040 Tax Return, though. TurboTax's prices range from free to $119 while H&R Block will cost anywhere from $0 to $104.99.
If you don't have the money to spend on those sites but you are a freelancer or someone with a more complex tax situation (homeowner, investments, retirement accounts, etc.) we suggest doing some research about Credit Karma Tax, a free filing site that handles simple and complex returns.
An advantage to using that site is that it's free, they offer audit defense for free and they don't upcharge you for basic features as Free 1040 Tax Return does.
Our Bottom Line on Free 1040 Tax Return
Based on the research and analysis we've done regarding this site, we believe that this site may not be the right choice for you if you want a tax software brand with a large review base as well as a user-friendly platform upon which you can do your taxes.
While the site has a free option, some of the basic features you get for free on other sites are going to cost you on this site: error check and storing your return are two examples.
Also, multiple reviews indicated it's hard to get in touch with and, in some cases, deal with the site's customer service. Tax time can be stressful, so if you find yourself getting confused during your taxes, it helps to have friendly customer service reps who can answer your questions.
While not every user is going to have a negative experience with this site's customer service, there were enough complaints to make us believe that there may be a good chance you might get frustrated.
Site is awful, keeps going in circles

By Louise S.

,

Lebanon, PA

,

Mar 18, 2020
Verified Reviewer

Overall Experience:

Spent hours filing a return, never heard from them again, cannot contact anyone. What is the status? "Click continue button below," NO BUTTON. NO SUPPORT.

Just like the website, cannot submit a review.

THIS IS A SCAM!

Bottom Line: No, I would not recommend this to a friend

---

Advertisement

---