Clear TV Key Antenna Reviews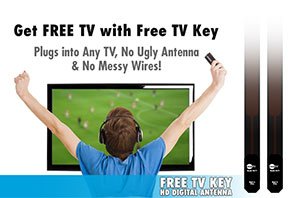 Clear TV Key Antenna is a new, smaller digital antenna that attaches to your TV's cable output and provides access to free, hi-def broadcast television.
What Is Clear TV Key Antenna?
Clear TV Key Antenna is a small digital antenna that helps you watch broadcast television for free.
Just plug it into any TV's cable output, and you'll be watching top-rated shows, local news and weather, and even sporting events on networks like FOX, NBC, CBS, PBS, etc. No ugly antenna or messy wires to worry about.
You can even use Clear TV Key in areas where other antennas might fail, such as in an RV, on a picnic, at the beach, and even on a boat.
Here at HighYa, we've written in-depth reviews about previous versions of this antenna, including the original Clear TV, as well as Clear TV Black Box.
Is there anything meaningfully different with the Clear TV Key? Can you expect it to work any better? Will you really be able to cancel your cable subscription? We'll answer all your important questions below.
How Do Digital Antennas Work?
Without getting too detailed, an antenna works by picking up radio waves sent from broadcast towers, putting the electrical information back together, and then recreating an image on your TV screen.
Whether you're talking about digital or analog signals, the process basically works the same. The biggest difference between the two? Digital signals can be recreated more efficiently (less information loss), resulting in better picture quality.
Why Do You Need a Digital Antenna In the First Place?
The truth? You don't. Here's why:
"TV antennas don't differentiate between analog and digital signals – they're just collections of metal rods that pick up UHF and VHF transmissions at certain frequencies. The antenna doesn't care what it's picking up; it just passes signals along to the tuner (be it a tuner box or an integrated tuner inside your TV), which decodes them into a format that can be displayed on your TV."
In that article, the author shows you how to turn an unused attic antenna into something that can be used to pick up digital. LifeHacker shows us how to do much of the same using a pair of rabbit ears.
At least in the first instance, you'll need to be minimally handy. The rabbit ears option might entail a lot of frustrating trial and error, so it might not be ideal in all circumstances, either.
Either way, keep in mind that if you purchased your TV before 2008 (as a result of the Digital Transition and Public Safety Act of 2005, you may also require a separate box that works as an ATSC tuner.
Does this mean you should rule out purchasing a newer antenna like Clear TV Key?
Are Some Digital Antennas Better Than Others?
If you're looking to watch free network TV with minimal installation, setup, and hassle, a good digital antenna might be a valuable purchase. But is there anything that makes one model better than another?
Types of Antennas – There are 2 main types of digital antennas: omnidirectional, which can receive signals from all sides, or directional, which receive signals from just one direction. If you're in the middle of a metro area with antennas all around you, an omnidirectional antenna might be best. Or, if you're out in the country with signals coming only from the city, directional would likely be better.
UHF vs. VHF – Very High Frequency (VHF) signals travel farther, can't move through most objects, and are lower quality. Ultra High Frequency (UHF) signals don't travel as far, but are better quality and can easily move through wood, steel, and concrete (like your house). Many digital antennas can pick up both, but if you're forced to make a choice, buy one that receives UHF signals.
Indoor vs. Outdoor – Antennas like Clear TV Key and Clear TV (more next) are for indoor use only, which means that signals can be weaker after passing through your home. You'll also have to figure out where to put them to maximize signal strength, while minimizing their appearance.
What Makes Clear TV Key Antenna Different?
Compared to the original Clear TV and the more recent Clear TV Black Box, there are 2 major differences with Clear TV Key Antenna:
First, Clear TV Key Antenna attaches to the cable output in the back of your television. Because of this, you won't have to worry about running a power cord to your digital antenna.
Second, Clear TV Key is much taller and thinner than the previous two versions:
Original Clear TV: 7 ¾ " x 7 ¾ "
Clear TV Black Box: 4" x 7" x 1"
Clear TV Key Antenna: 16" x 1.25" x 1"
What's all this mean? Although the company behind Clear TV Key claims it "hides discreetly behind your TV," this depends on the type of TV you own.
If your TV is 32" or smaller, it's likely that some portion of the Clear TV Key Antenna will appear above the top. And the smaller your television, more of the antenna will show.
Obviously, this depends on where the cable output is located on the back of your set. In most instances though, the 32" guideline could be a good one to follow.
Pro tip: If you're worried about Clear TV Key Antenna appearing behind your set, grab a tape measure, set it to 16", and measure straight up from the cable output. Now you'll know for sure!
What you might not be sure about is exactly which channels you'll be able to receive with Clear TV Key.
Which Channels Can You Get with Clear TV Key Antenna? Can You Cancel Cable?
If you're looking to watch free network TV with minimal installation, setup, and hassle, a good digital antenna might be a valuable purchase. But is there anything that makes one model better than another?
Which channels won't you be able to watch? Premium content networks like HBO, TNT, Lifetime, HGTV, and hundreds of others. One is free, and the other you have to pay for.
The bottom line: Will Clear TV Key allow you to still watch programming if you cancel your cable subscription? Yes. Will you be able to watch all your favorite shows? If any of these shows are on cable-only networks, no.
Even with this restriction, are customers pleased with the Clear TV line of digital antennas?
Will You Experience the Same as Other Clear TV Customers?
Between the original Clear TV review and our updated Clear TV Black Box review, more than 550 HighYa readers have talked about their experiences.
What's the result? Overall, these digital antennas had a 1.9-star average rating. Why? Usually because they didn't live up to customers' expectations.
Primarily, this was based on complaints of poor reception, even though customers were within the recommended 25-30 miles of a broadcast tower. Ultimately—if they worked at all—this meant they only received 1 or 2 channels, not the "hundreds" claimed by Clear TV Key's manufacturer.
And when customers decided to return their Clear TV antenna, they were often met with poor customer service and high, non-refundable S&H charges.
Will you experience the same with the Clear TV Key Antenna? It remains to be seen, but in our opinion, it's certainly worth keeping in mind.
Let's talk about more pricing next.
How Much Does Clear TV Key Antenna Cost?
Clear TV Key Antenna is priced at $14.99 plus $6.99 S&H. During checkout, you can also purchase a second for an additional $6.99 S&H.
Like most Tristar products, Clear TV Key comes with a 60-day refund policy, less S&H charges. Important note: If you choose the BOGO offer and decide to process a return, you'll lose more in S&H than you'll get back as a refund.
See Also: 3 Easy Steps for Cutting the Cord & Saving Money
Regardless, you'll need to contact customer service at 973-287-5193 to request a return.
Is Clear TV Key Antenna a Good Digital Antenna?
We didn't test Clear TV Key firsthand but based on the product's commercial and what we learned during our research, we think it might be a good digital antenna option—as long as you keep your expectations realistic.
Yes, you'll be able to continue watching broadcast TV without an expensive cable subscription. But this also means that you'll no longer have access to cable programming, which might be a drag if this is where you watch most of your shows.
However, it seems that most Clear TV customers reported that they didn't receive the number of channels they were expecting (generally 2-3). Obviously, this doesn't mean you're certain to experience the same with Clear TV Key, but it might be worth keeping in mind.
Add to this that Clear TV Key is attached directly to your TV, so you won't be able to move it around as much as previous versions to improve reception.
Our recommendation? The goal for most ASOTV products is to reach store shelves, so you might want to wait until this happens with Clear TV Key. Why? This can save you a boatload in lost S&H charges if you're dissatisfied.
In the meantime, there are hundreds (maybe even thousands) of digital antennas similar to Clear TV Key, including Mohu Leaf, Winegard Flatwave AIR, HD Free TV Antenna, and TV Free Way Antenna—many of which have stronger online reputations than Clear TV products.
You'll also find plenty of digital antennas at local stores, so you'll definitely want to explore all your options before making a decision.
Read Next: Streaming Services: With So Many Choices, How Can You Pick the Right One?
No better than any other antenna

By Janet T.

,

Virginia

,

Jan 24, 2020
Verified Reviewer

There is nothing special about this antenna, it is no better than any other lousy antenna, half of the time the signal is broken doesn't work in bad weather. It sucks! To put it plainly! Don't waste your time or money.

Bottom Line: No, I would not recommend this to a friend

---

11 out 12 people found this review helpful

Doesn't work

By Keith

,

Kelowna, British Columbia, Canada

,

May 2, 2018
Verified Reviewer

Well, I hooked it up like you are told to and guess what? Do you want to know how many channels you get? Absolutely none, not one channel came in. That was a waste of money, time, and effort.

Bottom Line: No, I would not recommend this to a friend

---

Advertisement

---

33 out 34 people found this review helpful

Garbage!

It does not work! I'm within 20 miles of Cleveland, Ohio and numerous towers in the area. I don't get ONE channel.

The ad was BUY ONE FOR $19.99, GET TWO. So, I assumed I was getting one FREE. When I received the two, individually packaged, they each had a price tag on them marked $10. I had to pay $6.95 for shipping. When I wanted to return them, I was told I had to pay for return shipping too. So, do the math. It was cheaper to just throw them in the trash than to send them back. They would just turn around and send them to someone else who fell for their false advertising.

This is garbage, junk, trash and a rip-off!

I hate that I even had to give them ONE star to get this review to post!

Bottom Line: No, I would not recommend this to a friend

---

34 out 36 people found this review helpful

Disappointed, don't recommended to buy.

What the heck, I only got four local channels. I have spent a lot of money and energy to set it, but yet I did not get what I want. 110% a disappointment! Everyone, please do not buy this thing. You will regret so so so much!

Bottom Line: No, I would not recommend this to a friend

---

Advertisement

---

45 out 46 people found this review helpful

Brief review

I purchased four antennas; one for each TV. I was charged $40 for shipping. You're better off purchasing at your local Walmart. It works well, for the most part. Depending on your TV, you might need an extension.

Bottom Line: No, I would not recommend this to a friend

---

76 out 80 people found this review helpful

Total garbage

By Alex

,

Miami, FL

,

Oct 24, 2017
Verified Reviewer

My mom bought this without talking to me about it and found out the hard way that this is the biggest scam ever. You get hardly any channels, and when you try to return it, you have to pay the shipping, and they don't return any handling charges. This is a total scam. There should be a class action lawsuit against this company. Do not buy this crap!

Bottom Line: No, I would not recommend this to a friend

---

58 out 63 people found this review helpful

This junk is the worst

By Bruce West5

,

Cedar Rapids, IA

,

Sep 20, 2017
Verified Reviewer

This Clear TV Key Antenna should not be on the market. It's a total scam and does not work, plain and simple. I can't get a refund, and if I find any store that has this, I will make sure I spread the word not to shop there.

Bottom Line: No, I would not recommend this to a friend

---

67 out 73 people found this review helpful

Piece of crap!

By Gary Rae

,

Palmdale, CA

,

Sep 8, 2017
Verified Reviewer

I ordered and received two of these antennas. What a waste of money. They only pick up digital channels (no analog, so you can't get any local stations, i.e. 2,4,5,7,9,11, 13 and so on). I got a couple of channels, but they are crappy! Don't waste your time or money!

Bottom Line: No, I would not recommend this to a friend

---

54 out 57 people found this review helpful

Worst thing I ever bought

By Donna Woods

,

Missouri

,

Aug 28, 2017
Verified Reviewer

I would not recommend this to anyone. This is the worst thing I have ever bought. You can get no cable channels, just local channels. They flat out lied. I can get this at Family Dollar.

Bottom Line: No, I would not recommend this to a friend

---

52 out 58 people found this review helpful

Not worth the money

By Edward Stotts

,

Bedford, Indiana

,

Jul 13, 2017
Verified Reviewer

Any amplified digital antenna will pick up, local only channels within 50 miles, if you buy one that mounts on an outside pipe. This antenna is not amplified and cannot be used outdoors. I have not seen any reviews that say anything positive about it.

Bottom Line: No, I would not recommend this to a friend

---

66 out 71 people found this review helpful

This is a joke

This is a total joke, don't fall for it. This does absolutely nothing, so do not waste your money on this product. I wish I had read the reviews first.

Then good luck getting your money back. It will cost you more to send it back then it's worth.

Bottom Line: No, I would not recommend this to a friend

---