FreedomPlus Personal Loans Reviews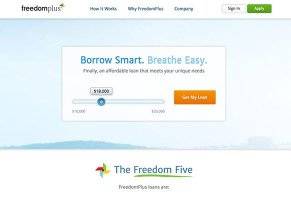 FreedomPlus claims to have the answer with rate discounts if you apply with a qualified co-signer, have $40,000 or more in retirement assets, or let FreedomPlus use the loan to pay off your creditors directly. The lender's APR's range from 4.99% to 29.99%.
About FreedomPlus Personal Loans
FreedomPlus is a lending site who provides personal loans ranging in APR from 4.99% to 29.99%. If you're a homeowner who's planning to use the loan to pay off credit cards or consolidate debt, their lower rates could be ideal.
The company is one of four owned by Freedom Financial Network. The other three are Freedom Debt Relief, Bills.com, and Consolidation Plus.
FreedomPlus was launched in 2014 and is based in San Mateo, CA. The company's founder and CEO is Andrew Housser, a Stanford University grad who has worked at Freedom Financial Network and Bills.com since 2002.
The site advertises low-interest rates and quick processing, although several factors could prolong that process (more on that later).
Is FreedomPlus the right lender for your particular situation? That's a question we want to answer in this review and to do it, we'll talk about the following aspects of their loans:
How the application works
What the rates, fees, and loan amounts are
How FreedomPlus compares to the competition
What other people are saying about their experience with the company
We'll finish up the review with a general overview of the site's pros and cons.
How the FreedomPlus Application Works
The FreedomPlus application is meant to be a quick process to help you get your money as soon as possible. Remember, though, that how fast your application goes has a lot to do with the type of paperwork the company needs in order to give them the fullest picture of your financial life.
We did a test run of the application. Here are the steps we encountered:
Select how much you want to borrow ($10K-$35K)
Reason for borrowing (debt consolidation, home improvement, bills, etc.)
Your credit score
State of residence
Employment status
Identify co-signer (optional)
Zip code
Address
We weren't able to get past the Address screen because it required our real address and a phone number to match.
However, FreedomPlus reps told us that, after this screen, you submit your application. At that point, they do a soft credit pull (doesn't affect your credit) to determine if you're a good enough candidate to pre-qualify for a loan.
If you pre-qualify, they'll call you and take you through the rest of the process. Remember, though, that pre-qualification isn't always a guarantee of loan amounts, repayment periods and rates.
Based on what we saw in the application, we know that FreedomPlus takes a variety of factors into account when determining your loan.
Your reason for using the loan is important because FreedomPlus wants to know if you're using the money to get rid of debt or to go on a vacation (remember, we talked earlier about how homeowners using the loan for debt consolidation will often achieve lower APRs). To a lender, using borrowed money to pay off debt is seen as more responsible for two reasons.
First, you're getting rid of debt instead of adding more. Second, FreedomPlus may be able to reduce your monthly payments either through lower interest rates, longer repayment periods or both, which means you'll have more money freed up to pay off debt and, in theory, stay out of debt. The company even offers a lower rate if you let them use the funds to pay off your debts directly.
Another important note is the co-signer section. A co-signer is someone you can add to your loan application who will become personally responsible for your loan if you don't pay. If you pay late and get negative marks on your credit report, your co-signer will get those negative marks, too.
From the borrower's perspective, a co-signer improves your chances of a getting a loan, especially if they have excellent credit, low debt, and a good income.
FreedomPlus reps told us that they primarily look at a co-signer's existing monthly debt payments and income; therefore, excellent credit may not be necessary.
From FreedomPlus' perspective, the co-signer, assuming he or she has an excellent financial profile, is someone reliable the lender can chase down if you don't pay.
Once you submit your application, one of the company's loan consultants will call you and iron out any details that may be needed in order to qualify you for the loan.
If all goes well, you'll get approval from FreedomPlus, and your money can arrive in your bank account in as little as 48 hours, their website says. Remember, though, not everyone will get their money that fast. FreedomPlus' fine print says that various factors are involved in processing time, and those factors could prolong the process.
FreedomPlus Rates and Fees
One of the things that sets certain lenders apart from others is the range of rates and fees they charge their borrowers.
Here's what we know about FreedomPlus loans:
APR's range from 4.99% to 29.99%
Origination fees range from 0% to 5%
Repayment is two to five years
Understanding APR
APR stands for "annual percentage rate" and is a combination of two things: interest rate and fees. The company will provide you an interest rate and origination fee based on your credit history and financial stability.
Someone with a low credit score (below 650) will most likely get the highest interest rate and origination fee, resulting in an APR of 29.99%.
If you've got excellent credit scores, then you can expect to get a lower interest rate and origination fee.
"Origination fee" refers to the fee lenders charge to process your application and loan.
How to Get the Lowest APR
Most lending websites won't tell you how you can get the lowest rate. FreedomPlus does, and they explain it in the fine print.
The 4.99% APR rate only applies on a loan of $15,000 with a term of 24 months. Also, you have to meet two of the following criteria in addition to having excellent credit scores (740 or above):
Add a co-signer who has a solid income
Use at least half of your loan to pay off existing debts
Provide documentation that proves you have at least $40,000 in a retirement account
As we mentioned, these criteria are set in place so that FreedomPlus can minimize their risk. Keep in mind that these criteria are for the best interest rate and are added on to other factors like how good your credit score is.
How FreedomPlus Compares to the Competition
FreedomPlus is one of many lenders known as non-bank lenders, which are companies that lend money and aren't associated with a bank.
Instead, they raise capital and front their own money to pay for loans that, in theory, they'll earn money on through your interest payments.
As a comparison, we'll show you how FreedomPlus rates and fees compare to what you'd get with one of the (arguably) three most-popular non-bank lenders: Prosper.
| Company | FreedomPlus | Prosper |
| --- | --- | --- |
| APR | 4.99% - 29.99% | 5.99% - 36% |
| Origination Fee | 0% - 5% | 0% - 4.95% |
| Repayment Length | 2-5 Years | 3-5 Years |
| Loan Amount | $10K-$35K | $2K - $35K |
As you can see, FreedomPlus' rates are lower than Prosper's both on the high-end and low-end, while Prosper has the slight edge for the lower high-end origination fee.
The two lenders' minimum loan amounts also add an interesting factor. If you need a loan below $10,000, FreedomPlus isn't the right choice.
If you have a solid income and the means to pay off your $10K+ loan in two years and thus avoid extra interest payments, then FreedomPlus is the better choice because Prosper's minimum repayment period is three years instead of two.
Public Opinion About FreedomPlus
The consumer reviews we read about this company were largely positive. Many consumers said they were pleased with how easy the process was and with the rates and/or monthly payments they received.
The majority of the negative reviews we read addressed denials, something that is, based on our research, a common refrain among negative reviews about lenders.
Several consumers said that when they pressed FreedomPlus about why they were rejected, they were given hard-to-believe explanations.
Our Final Thoughts About FreedomPlus: Pros and Cons
We believe that FreedomPlus' greatest advantage is that it offers two-year repayment terms. This advantage functions best for borrowers who have high monthly income and can afford to pay more every month in order to pay off their loan quicker.
We also think that the ability to bring on a co-signer to get a loan makes your life a little easier, but remember that the co-signer is assuming the same amount of financial risk that you are.
In our opinion, FreedomPlus has two major downsides. If you have a bad credit score (650 or lower) and are approved for a loan, you'll most likely get the highest APR possible: 29.99%.
An interest rate of that type is what you'd expect to pay via a credit card's penalty APR; it's not a normal rate and will cost you a lot of money in interest over the life of the loan.
Second, the company's lowest interest rate, 4.99%, is reserved for one loan amount and repayment period -- $15,000 and 24 months.
Is FreedomPlus the right choice for your situation? The answer to that question depends on what type of situation you're in.
If you want to use the loan to pay off your existing debt, it will only benefit you if you get a lower APR than what you've got on your existing account. And to get that lower APR then you'll need better credit scores than what you had when you signed up for the debt you want to pay off.
Another tip is to do a review of your budget. In which areas are you spending too much? Cutting back on your spending frees up extra money you can use to pay down your debt.
Original Author: J.R. Duren, Revised by Derek Lakin on 4/23/18
Very disappointed; was unable to obtain a loan from them

By Sean K.

,

Illinois

,

Dec 1, 2018
Verified Reviewer

I found this company through an article by 'U.S. News & World Report.' I submitted a request for $25,500 to consolidate a combination of credit card debt and student loans; I received an instant denial.

I was then automatically re-directed to a link with a list of partner lenders making counter-offers, but the dollar amounts were not even close to what I had requested, and on top of that some of the APRs bordered on ridiculous (e.g., a $6,000 loan and 35.32% APR...is that a joke?).

I trust USNWR that this is a legitimate company because I did submit some of my personal information including SSN and DOB. But the counter offers and APRs which I received were so outlandish that now I am second-guessing myself.

My credit score (which I obtained through Credit Karma) is a 737 - which is considered "very good," so it's very frustrating that I can't find a lender who will assist me. Makes me wonder what's even the use of paying my bills and maintaining good credit.

I am trying to be fair with this review, but I am sure it's understandable if I sound frustrated.

Bottom Line: No, I would not recommend this to a friend

---

Just great

By Andrew S.

,

Philadelphia, PA

,

Aug 14, 2018
Verified Reviewer

I had $14,400 in credit cards debt, got sick of minimum payments and never seeing the principal going down, even when I was not using them for months at a time. I had enough of it and went on nerdwallet.com and found Freedom Plus as one of the companies offering the loan. I checked them out, and it was a fair interest rate. I started the loan process at 6:30 at night (eastern time) within a couple of minutes Joseph Powell was calling my phone helping me through the application process. After 40 minutes, I was chasing my 19-month-old around while on the phone. We had just about everything in line (sent pictures of pay stubs, etc.).

He called about 24 hours later and said I have gotten the loan and the money will be sent to the various credit cards for me. I loved that I was able to sign everything via email. (I work two jobs and would have no time to actually go somewhere and sign actual documents.) Now, I am happy, so say I am free from the evil credit cards, trust me you will never pay off by yourself. If you are in the same boat as me, check out Freedom Plus they will help you.

Bottom Line: Yes, I would recommend this to a friend

---

Advertisement

---

Updated review

Update

By Jeff W.

,

Texas

,

Aug 1, 2018
Verified Reviewer

After several hours on the phone with them, they have taken $200 off the interest on the loan. The lady was still not pleasant, but she did what I wanted them to do.

Bottom Line: No, I would not recommend this to a friend

Previous review
Jul 25, 2018

Deceitful and unprofessional. RUN!

Miriam is who handled my loan. First I would like to say, they did fund my loan, but they didn't disclose ALL the details of the loan which has cost me an additional $300.00 Miriam said I'm going to do you a favor and get your first payment pushed until the next month but then did not tell me that I would be getting charged $6.00 per day starting day one.

I told Miriam I would be paying my loan off early so I was not worried about the interest long term. 25% is a freaking joke people! Because of what Miriam told me, my understanding of the "favor" was that nothing was going to start until my first payment, little did I know that that was not the case.

I called the company and have been through 7 different reps to get a manager on the phone, I kept hearing that they're in a conference and they will call you back. I finally got a hold of a lady named LaJava which was very professional and was able to have a genuine conversation with me, although she was not able to help me, she did get the case escalated and told me that I would have a call back within 48 hours from the department that handles this. This did not happen, and I am now 30 minutes into a conversation with Tiffany and not a thing has been done as of yet.

I would HIGHLY recommend you find a more professional company to get a loan from. I have spent over 3 hours on the phone trying to get this resolved and it's yet to have been done. I would also like to state that I suggested that the manager, Miriam, and myself do a 3-way call to get this resolved and they told me that we are no longer allowed to talk to the sales reps after the loan is funded. Quite convenient, huh?

I just hung up the phone with Tiffany, she said she's not sure why I didn't get a callback, but she's escalating this and will follow up with someone tomorrow to make sure I get a callback. The 300 bucks to me is insignificant; it's the practice of their business that pisses me off to no end, and to not accept fault when they're wrong only fuels my dislike for this company.

Do yourself a favor and look elsewhere. I gave them every opportunity to make this right before writing a review. It's their lack of professionalism as to why this review was written.

(

read more

read less

...)

---

Sounds like a scam

By Hossain H.

,

Waco, TX

,

Jul 3, 2018
Verified Reviewer

Watch out, people, it might be a scam. They took all my information, did a personal interview, I emailed all my documents including voided check, then I never heard from them anymore. I called and emailed several times to see why they are not responding to me, but no one answers me back. I am reporting them to Consumer Financial Protection Bureau. Please be careful when with these people.

Bottom Line: No, I would not recommend this to a friend

---

Advertisement

---